"I listen to my favorite tracks on Spotify. However, I personally feel that I get quite a kick by increasing or slowing down the tempo of some selected tracks. Is it possible to alter the speeds in my playlist?" – Linda from Reddit
"I normally watch YouTube videos at 1.5 speed. Are there available options I could use to increase Joe Rogan's Spotify podcast speed? It just isn't ideal without the speed option" – Spotify member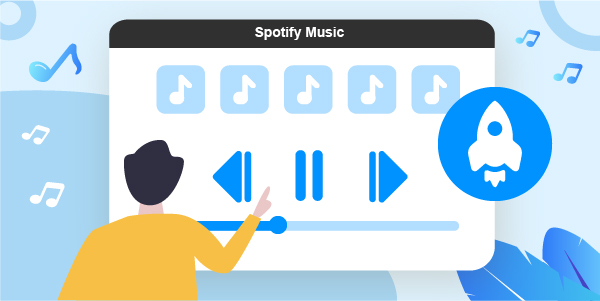 Too often, listeners wish they could savor the moment but eventually get bored with interesting podcasts played by slow-moving speakers. Well, we are here to show you how to change Spotify playback speed to ensure you get the most out of the Spotify app. The fact that it is "quick, easy, and free" is undoubtedly the finest aspect.
Below is a rundown of how to change and adjust Spotify playback speed on mobile/desktop/Web Player. Let's dive in.
---
Part 1. How to Change Spotify Playback Speed for Spotify Podcast on Mobile/Desktop
1.1 Change Podcasts Playback Speed on Spotify Mobile App
As earlier said, there are ways to remedy the situation in case your Spotify podcast's playback speed slows down. Below, you can find the simple procedure you can use to speed up Spotify podcasts on the latest Spotify version on your mobile.
Step 1. Open the Spotify app on your phone.
Step 2. Select and play your Spotify desired podcast.
Step 3. Hit the speed icon on the bottom left of your screen. A drop-down menu appears indicating speeds varying from 0.5X – 3.0X.
Step 4. Select the desired appropriate speeds while listening to your podcast.
1.2 Adjust Podcasts Playback Speed on Spotify Desktop App
When it comes to changing the podcasts' playback speed on Spotify's desktop app, the process is somewhat identical.
Step 1. Double-click the Spotify app on your desktop to launch it.
Step 2. Select your favorite podcast and hit the play button.
Step 3. Head to the change speed icon at the bottom and select from 0.5X to 3X depending on your personal preference.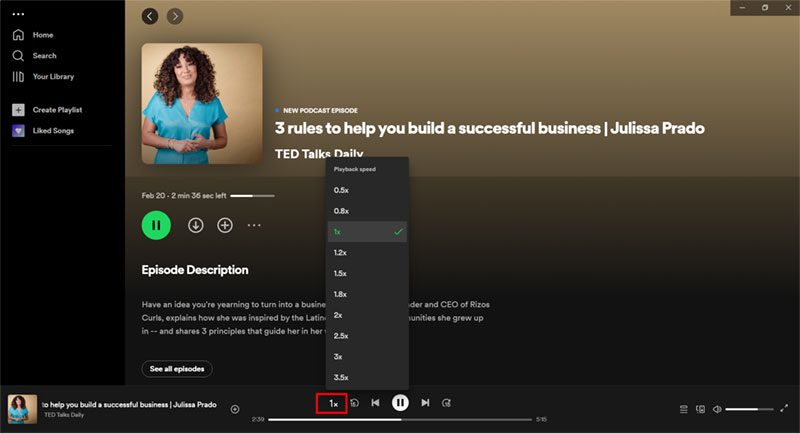 ---
Part 2. How to Speed Up Songs on Spotify Web Player
Loyal Spotify users know that the official speed changer button on the Spotify app is only available for listening to podcasts or audiobooks. As a result, no speed changer button appears when listening to songs or albums on the Spotify app. Some may wonder if the same button exists on the Spotify Web Player. Regrettably, the answer is no. Even if you are listening to podcasts or audiobooks, Spotify Web Player will not display the speed changer button, not to mention songs.
Fortunately, after our search, we discovered Spotify Playback Speed, an excellent extension for Google Chrome. You can use it to speed up or slow down from 0.5X to 2X any Spotify Web Player content, not just podcasts. Simply open the Spotify Web Player after the installation, and a speed changer button will appear next to the Quene button.
Step 1. Open Chrome and access to Chrome Web Store. Search and add Spotify Playback Speed.
Step 2. Once done, you can locate the speed adjuster at the bottom right of your Spotify web page.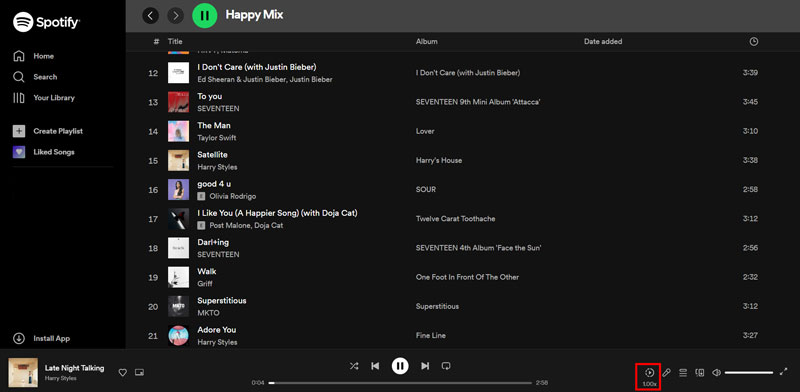 ---
Part 3. How to Download Spotify Content for Changing Playback Speed
There are other various ways in which you can change the speed of Spotify music. You can make it by incorporating third-party software such as AudFun Spotify Music Converter.
AudFun Spotify Music Converter is such a smart tool that can download and convert Spotify to MP3, FLAC, and more without quality loss. It can let you adjust the audio quality, bit rate, and sample rate of Spotify music as you want. Besides, it can work at a rapid conversion speed which can save time of yours. After that, you can save the Spotify music files on your computer as local files for use on any device and platform.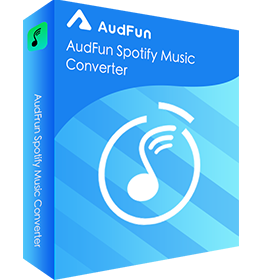 Key Features of AudFun Spotify Music Converter
Convert Spotify songs as FLAC, MP3, W4A, AAC, etc.
Available on Windows and Mac OS
Support playing Spotify downloads on many devices
Keep lossless quality Tidal music and change Spotify playback speed on any media player
Convert up to 5X faster rate and customize the parameters as you like
Tech Requirements of AudFun Spotify Music Converter
Hardware and system requirements – Windows XP, Vista, Windows 7,8, and 10(both 32 and 64-bit). For the Mac, it works on Mac OS X 10.8-10.12 Sierra, 10.13 (High Sierra), 10.14 (Mojave), Catalina (10.15), and Big Sur (11.0).
It requires a processor of 1G Hz or higher for both Windows OS and Mac.
For Windows, it needs 512MB of RAM, and 256MB for the Mac.
Both require a resolution of 1064×768 pixels while supporting input formats such as podcasts, songs, audiobooks, albums, and playlists.
Below, we look at the easy steps to follow in ensuring you get the most out of your Spotify playback experience.
Step 1 Download, register, and activate AudFun Spotify Music Converter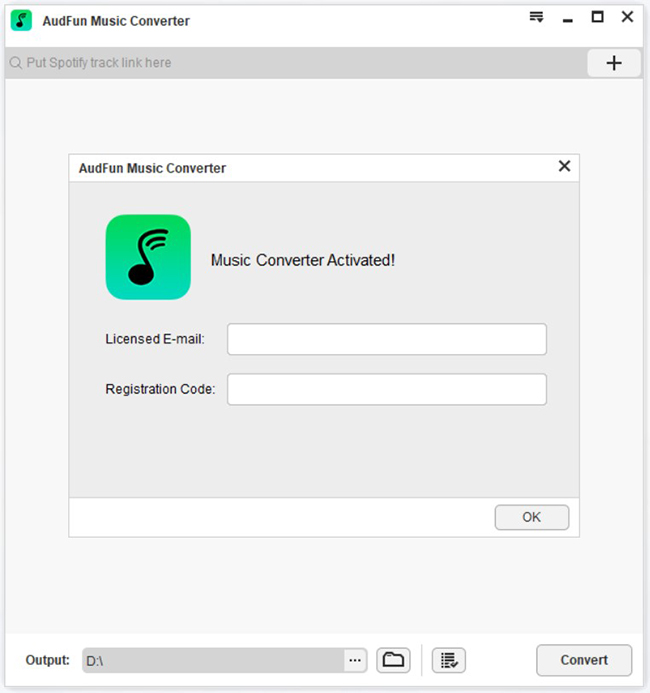 Since the free version is limited to processing only a minute of each track, it's imperative that you buy the app to get the maximum benefit of the software. To activate the full version, you need to go to the three-line button > Register.
Step 2 Add favorite songs from Spotify to AudFun Spotify Music Converter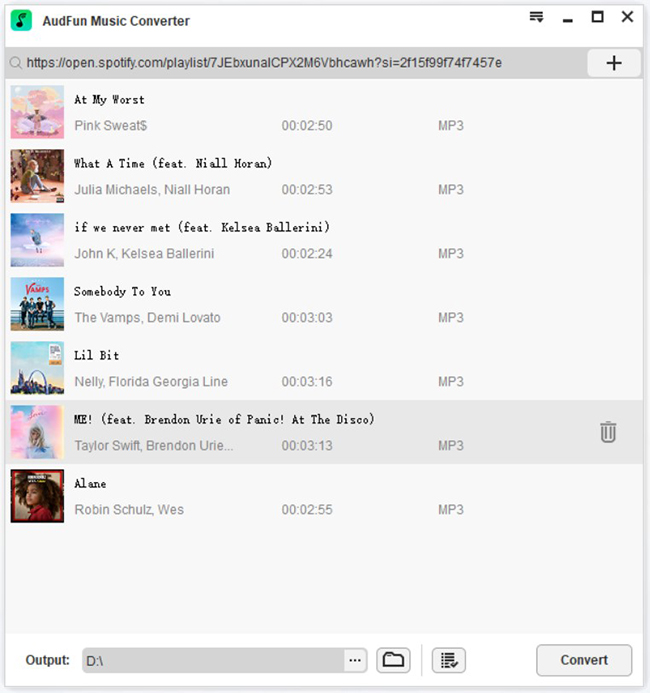 The Spotify app shows immediately after you open AudFun Spotify Music Converter. Choose the songs on Spotify you want to download and copy and paste the link in the AudFun address bar. Hit the + sign to add the music item to the AudFun window.
Step 3 Customize your output audio format for Spotify music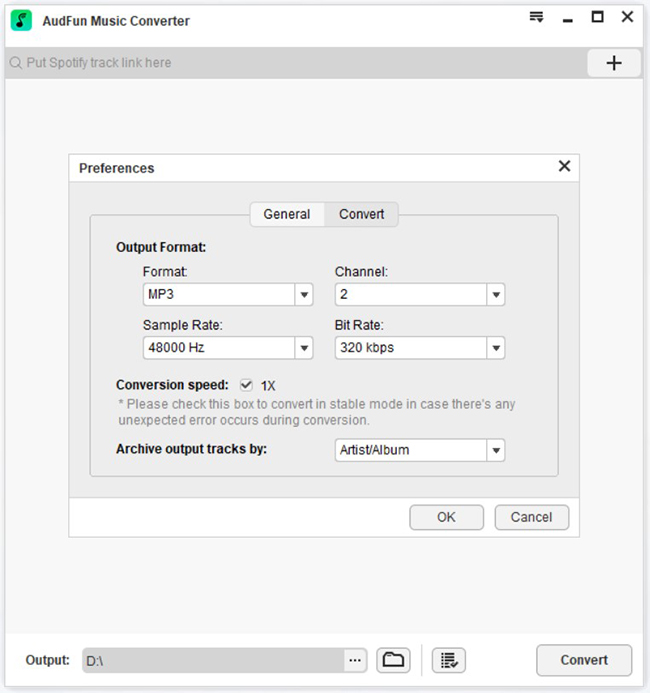 Hit the three-line button > Preference > Convert to personalize your audio output, whether MP3, M4A, FLAC, WAV, or others. Also, you can change the bit rate, sample rate, etc., as you like.
Step 4 Download your songs to the target files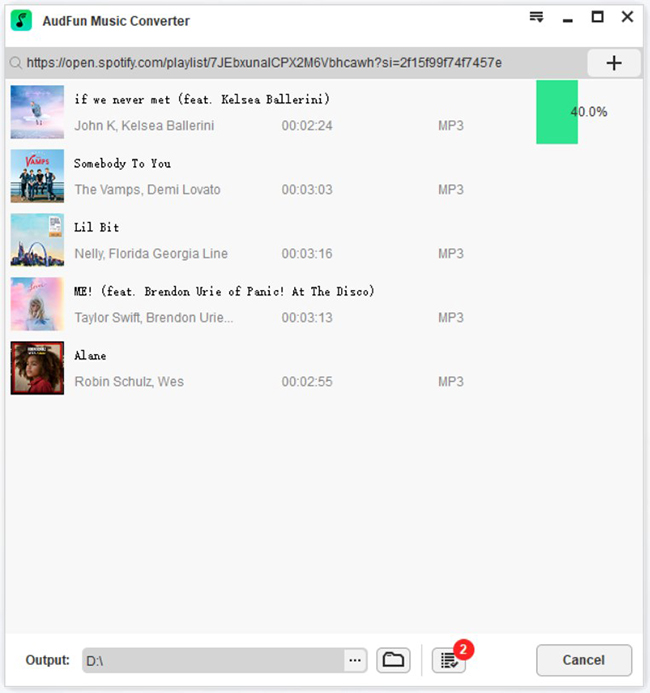 Now, click the Convert button to download Spotify songs without Premium. After then, all the Spotify songs will be kept in the Converted button for you to check.
Once done, you can use other media players, such as VLC Media Player, to alter playback speed of your Spotify downloads. You can see how to change speed of Spotify music downloads via VLC Media Player and Windows Media Player.
---
Part 4. How to Change Speed on Spotify Downloaded Content
4.1 How to Change Spotify Playback Speed using VLC Media Player
Since VLC Media Player is open-source, you can download it from reputable sources such as CNET, Softonic, or videolan.org. After, follow the steps below to alter the Spotify playback speed to your desired level.
Step 1. Open the VLC Media Player. Go to the Media tab and open the video file.
Step 2. Head to playback and hit the speed tab. A drop-down menu appears, giving you five-speed options.
Step 3. Choose your desired speed.
Step 4. Once this is done, hit the spacebar or play option to listen to your podcasts or songs at the desired speeds.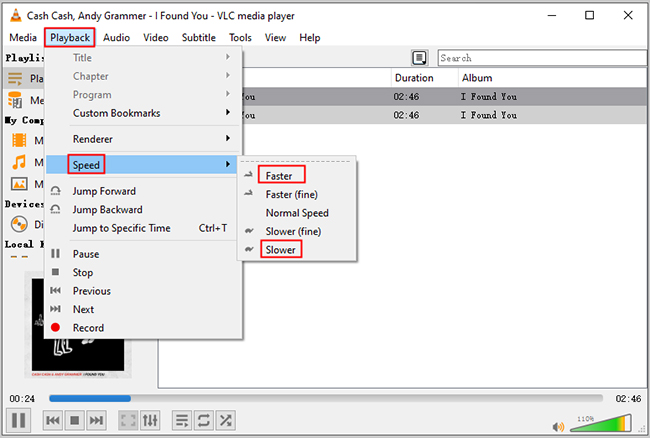 4.2 How to Chang Spotify Playback Speed using Windows Media Player
Windows Media Player is also available for changing playback speed of your downloaded Spotify music. Here are the steps below.
Step 1. Select a song or podcast and choose the view mode out of the library. Sometimes, the menu bar doesn't appear. You could use the Ctrl+M shortcut to activate it.
Step 2. Right-click on the screen's main area and choose the Enhancement > Play Speed option.
Step 3. Select the slow, normal, or fast speed option according to your preference. 1 stand for normal playback speeds while a higher or lower figure subsequently speeds up or slows down the playback.
Note: If Windows Media Player doesn't respond to the changes you've made, reload the podcast or track.
Remember, the above procedure will depend on the version of the media player in use.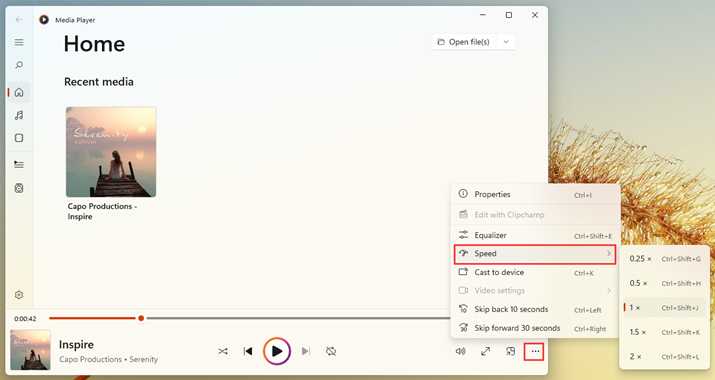 4.3 How to Adjust Spotify Downloads Playback Speed on iPhone/Android Phones
You should try Music Speed Changer if you want to transfer Spotify music downloads to your mobile phone for offline listening and slow down or speed up playback. This is a free music player that is available on Android and iOS systems. It enables you to import your Spotify songs and change their speed without affecting the audio quality.
Step 1. Download and install Music Speed Changer from Google Play or Apple Store. Launch the app and import your Spotify songs.
Step 2. Tap the song you want to change the playback speed. It will start playing, then hit the blue playing bar at the bottom of the screen.
Step 3. Simply drag the Pitch bar or Tempo bar to change the Spotify speed as you like.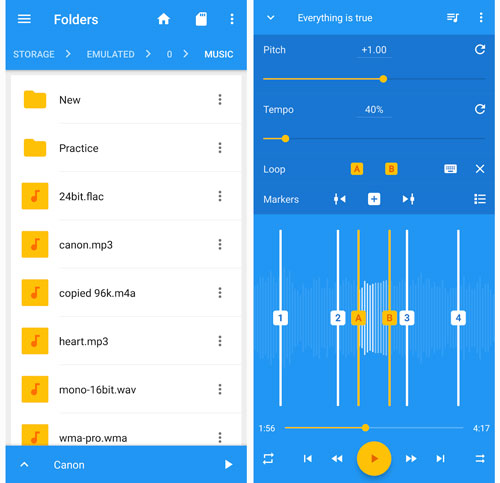 ---
Part 5. The Verdict
Changing Spotify playback speed shouldn't be rocket science as long as you follow the above-laid-down procedure. In this way, you can adjust playback speed of Spotify or speed up podcasts or others on Spotify Web Player. And if you change their speed on VLC and WMP, you should first apply AudFun Spotify Music Converter to get the local files, and then free to use the built-in speed changers of these media players as you need.