When it comes to music streaming, Spotify is one of the greatest options available. There are several features in this software that make it popular with people all around the world. However, did you know that in addition to using the app directly on your PC, you can also access Spotify using a web browser? Have you compared Spotify web player vs desktop?
We'll be comparing the Spotify web player with the desktop player here. Take help from the comparison in this article if you aren't sure which of these two is a superior method to enjoy the music you love on Spotify.
When choosing between them, you may be unaware of the fundamental differences between them. So, let's look at a few things to assist you in determining which one in the Spotify web player vs desktop app debate!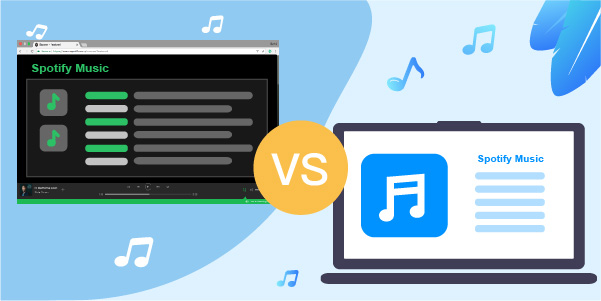 ---
Part 1. Spotify Web Player vs Desktop App: Availability and Portability
Spotify's web player offers the convenience of portability. Any device may be used to listen to your music and podcasts. Using any online browser, you can access your Spotify account and enjoy songs.
On the other hand, the Spotify desktop app requires you to use your PC device to stream your music. It is inconvenient in terms of portability but has a unique user experience. As a result, the web player for Spotify is more portable than the desktop application itself.
---
Part 2. Spotify Web Player vs Desktop Sound Quality
When choosing between the two alternatives, the vast majority of individuals can identify a difference in the sound quality of the music, while some are entirely oblivious to the distinction.
Compared to the desktop version, the Spotify web player often provides less Spotify bitrate for users. Free users of Spotify can only get a bit rate of 128 kbps via the online player, but premium users receive a bit rate of 256 kbps.
On the other hand, users with free desktop client accounts have a maximum of 160 kbps, while customers with paid accounts have access to high-quality 320 kbps.
If you're hesitating about which is better in Spotify web player vs desktop quality, the desktop app will be the first choice for enjoying high-quality music.
| | | |
| --- | --- | --- |
| | Spotify Web Player | Spotify Desktop App |
| Free Users | 128 kbps | 160 kbps |
| Premium Users | 256 kbps | 320 kbps |
---
Part 3. Spotify Desktop App vs Web Player: Lyrics
If knowing the song lyrics is important to you, then we are sorry to inform you that none of the available solutions provide this function.
A third-party program called Musixmatch must often be downloaded and installed before it can be used in conjunction with Spotify. Users of the Spotify online player will need to either access the website known as Genius or download an extension known as Lyrics for both Chrome and Firefox.
You can't access lyrics on Spotify directly regardless of whether you are using the web player or the desktop.
---
Part 4. Spotify Desktop vs Web Player: Hotkeys
Using shortcut keys, also known as hotkeys, makes navigating much easier. In general, having access to hotkeys is essential for any program.
Fortunately, hotkey support is included in the Spotify online player. However, you will need to download and install an extension for Firefox or Chrome called Spotify Hotkeys to take advantage of this support.
Simultaneously, the Spotify desktop app allows you to control the playing of Spotify music on your computer using keyboard shortcuts.
You can do activities much more quickly if you use keyboard shortcuts. For instance, to play a piece of music on a personal computer, just hit the Space bar, and pressing Ctrl+L will bring up a text box for searching. To download your favorite albums and playlists, turn on the Download button.
In hotkeys, the desktop version of Spotify will be quicker to take you to the Spotify app using the hotkeys without an extension.
---
Part 5. Spotify Desktop vs Web Player: Space Occupation
If the storage capacity of your computer is limited, you can find that accessing music from Spotify via the online player is a more convenient choice. Before installing the Spotify program on your computer, you must ensure that it has enough storage space to support its operation.
Because just like any other app, the Spotify desktop app needs space on your computer to stream music. Additionally, it has a propensity to produce log files, making it an undesirable application for a machine with limited storage space. It will affect how the computer performs in its entirety.
It would help if you had a browser to get started, and once you do, you can bookmark the Spotify web player for quick access in the future.
---
Part 6. Spotify Web Player vs Desktop: Offline Listening Feature
Without a doubt, the Spotify desktop app is a convenient choice in this regard. Spotify songs can be downloaded to the desktop app for offline listening.
Users using the web player, on the other hand, do not have this feature. This function is not available to anybody with a free or paid account. Spotify fans worldwide have been worried about this for a long time. They may take a closer look at this in the future.
When using the desktop app, you must have a Spotify Premium account to download tracks for offline listening. However, unfortunately, the downloads are only possible to listen to within the app. So, a music converter is your best bet if you wish to download and enjoy high-quality Spotify songs offline on any device.
Best Advice: AudFun Spotify Music Converter
Good news, we have just the tool for you! Using the AudFun Spotify Music Converter, you can get around the restriction that prevents you from listening to Spotify music offline. You can download and convert any available Spotify playlist, album, track, or podcast to a local format. FLAC, WAV, MP3, and AAC are popular formats supported by this powerful tool. And the AudFun program makes the conversion faster with its 5X conversion speed.
AudFun Spotify Music Converter also enables the offline playing of Spotify music files on many devices and media players. You can listen to songs, albums, and playlists from Spotify on various devices. Furthermore, it gives you complete control over the originality and quality of the music you produce by letting you choose parameters such as sampling rate, bit rate, and channel.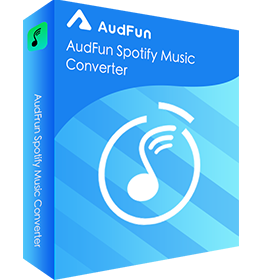 Key Features of AudFun Spotify Music Converter
Export Spotify to numerous formats, like AAC, WAV, MP3, etc.
Download music from Spotify in bulk at a 5X quicker pace
Have its ID3 tags, and original quality kept intact 100 percent
Automatically arranges the music by the artist or album
Download and Save Music from the Spotify Desktop App Offline for Use
Here we will provide a comprehensive tutorial on downloading music from Spotify so that you can listen to them offline by AudFun Spotify Music Converter.
Step 1 Import songs from the Spotify desktop app to AudFun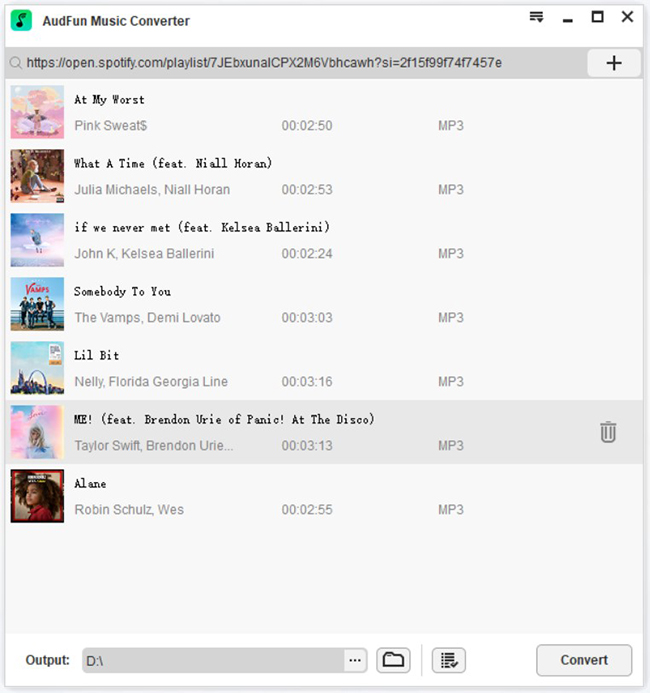 Launch the AudFun Spotify Music Converter when it has been successfully installed on your PC. Drag and drop the tracks from the Spotify app onto the main interface of AudFun. Or you also have the option to choose playlists or albums from Spotify and then copy and paste the share link into the search window on DRmare. When you click the plus sign (+), all of the songs from the playlist will be uploaded.
Step 2 Reset the Spotify output format for offline playback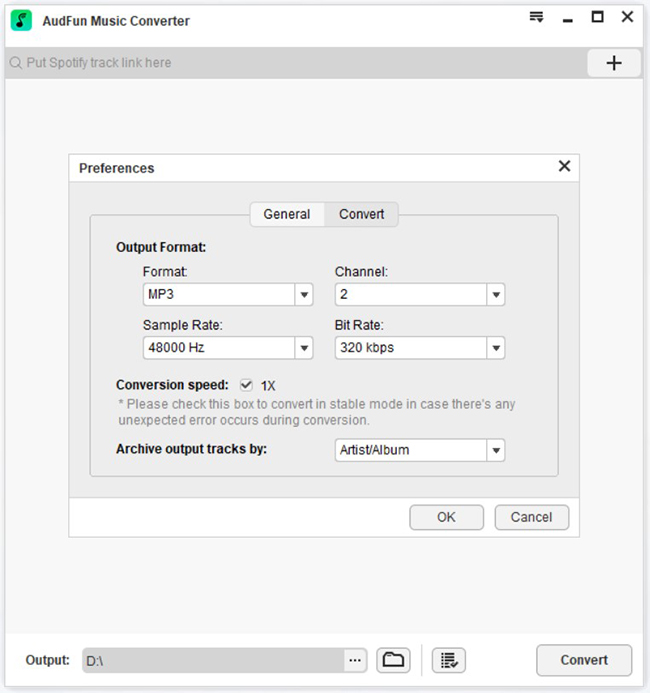 Position the mouse pointer at the top right-hand corner of the AudFun interface. Then use the top bar of the screen to access the menu and choose the Preferences > Convert option. You then will be shown the output window to adjust the audio format, channel, sample rate and etc. Save the changed Spotify parameters by clicking the OK button.
Step 3 Convert playlist from Spotify desktop offline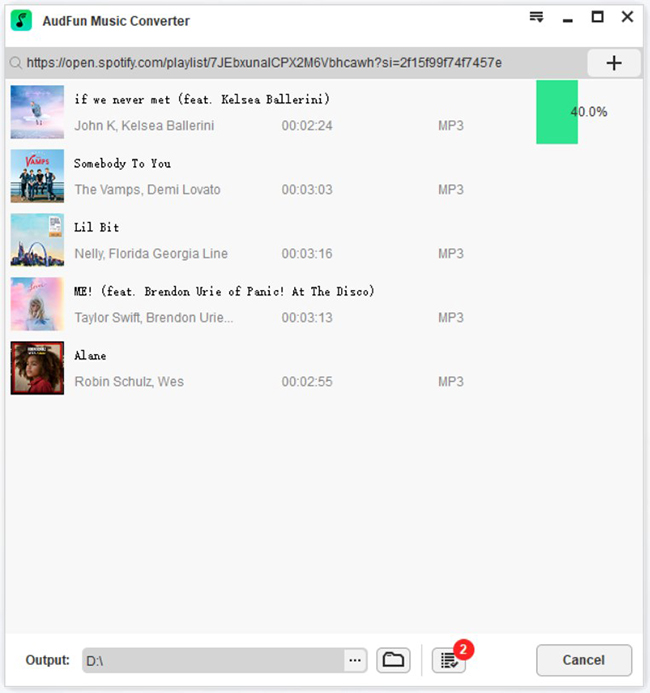 In the bottom right-hand corner of the AudFun Spotify Music Converter, hit the Convert button. This AudFun program will download Spotify music to computer with the preferences you've set before at 5X speed. Once all of the music from Spotify has been downloaded, you can access them by clicking the Converted option to locate them.
---
Part 7. The Bottom Line
Spotify web player vs desktop app both has advantages and disadvantages. But with this article, I believe you can decide which is the best one for your own purpose.
Spotify's online player has its perks. You will be able to play music once you get the web browser on your device, and have enough storage capacity for the computer.
Alternatively, while you can't see the lyrics on the desktop app without using a third-party program, it comes with the amazing offline playback feature. The desktop software version has the upper hand in terms of sound quality and offline listening.
If you plan to stream music without the Internet on many devices, don't forget to try the AudFun Spotify Music Converter to have the best music streaming experience.