A collection of more than 60 million songs is available to Spotify subscribers worldwide. Spotify tracks are played on a unique platform in cyberspace, allowing users to enjoy high-quality music in a stress-free atmosphere. And a wide range of devices, including desktops, laptops, mobile phones, and browsers, can be used to listen to Spotify music. What is the difference between Spotify mobile vs desktop?
There are several distinctions between the Spotify app on mobile and desktop, and this essay will explain will be discussed in-depth in the next section. We will focus on their features and functionalities, and many more to help consumers find which one is for their needs. Read on and see what you can discover.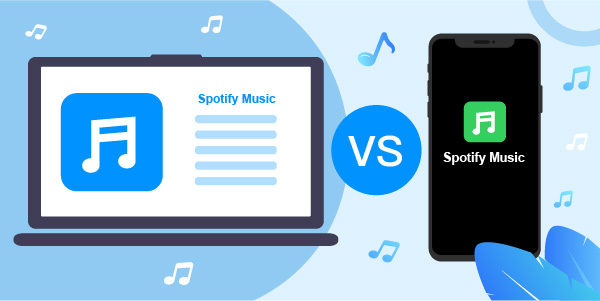 ---
Part 1. What Is Spotify Desktop App and Mobile App
When comparing Spotify desktop vs mobile, it's essential to understand what are they. But just as desktop and mobile in literal, they are the apps you can download and use on your computer and phone.
The Spotify desktop app can be downloaded via Spotify's website and the app stores on your PC. It's compatible with your desktops like Windows, or Mac. If you're using the Spotify web player, it can be cumbersome and time-consuming due to the Internet, so this desktop app for Spotify is a convenient alternative if you're looking for an easy-to-use music player for your desktop.
The Spotify mobile version was created to take advantage of the rise in mobile phone use. You can use it to listen to Spotify's extensive music library right from your phone as long as you hold your cellphone. This is a more straightforward method to listen to your music collection indefinitely. If you have an Android or iOS device, you may download and use the Spotify app via the Play Store or App Store.
---
Part 2. Main Features of Spotify Desktop vs Mobile App
Let's take a closer look at the features of Spotify PC vs mobile. Each platform has its own set of advantages and disadvantages. The following are some of the features available on both the desktop and mobile versions of Spotify. Check out to see what they are.
1. Change the Cover Image
Listening to music on a computer or mobile device is made more personal by the ability to select a custom cover image. If you choose, it's possible to change the cover art that Spotify displays while the music is playing.
2. A Playlist for Email Sharing
Sharing great music with friends is as simple as dragging and dropping it into an Email or Messenger message. Drag and drop the playlist to the medium you want to transmit it from, then select "Send". The recipient will receive a link to the music track using this method.
3. View Your Previous Audio Tracks
Both the desktop and mobile applications allow you to see your song history. It's possible to see all the music you've ever listened to on the desktop program, while the mobile version lets you see playlists and albums.
4. View Lyrics Trackback
Spotify displays the song's lyrics you're listening to for all of its users. This function allows you to sing along with the currently selected music. The lyrics of a song can now be viewed on desktop and mobile devices.
5. One-on-one Coaching
Private Sessions allow you to listen to specific tracks in an intimate setting, away from Spotify's suggestion engine. This is an excellent option if you only play a few times a year.
6. Quality of the Audio
If you have a particular device, plan, or taste in audio, Spotify offers a variety of audio quality options. Spotify desktop and mobile applications allow you to listen to tracks at a rate of about 320 kbit/s if you get the Spotify Premium plan.
---
Part 3. What Are the Differences between Spotify Mobile vs Desktop App
Spotify desktop vs mobile app features allows you to enjoy high-quality audio on all of your devices, regardless of whether you're using the desktop or mobile version. However, there are still some discrepancies between the desktop and mobile versions of the application.
1. Spotify Desktop and Mobile Mix
It's a way for you and a friend to share a playlist of music that you both enjoy. Every day, new songs are added based on what you and your partner want to listen to. You can now create, share, and remove blends using your mobile device.
2. Spotify on Desktop vs Mobile: Equalizer
You may use the equalization to alter the bass and treble levels in music and podcasts to find the optimum sound for you. However, this feature is only available on mobile devices.
3. Spotify Desktop vs Mobile Streaming in the Car
Many third-party applications, such as Google Maps, had partnered with Spotify. If you link Spotify to Google Maps, you'll be able to manage both your route and your music all from one interface. Spotify mobile users, however, are the only ones who may take advantage of this service.
4. Spotify Desktop vs Mobile: Voice Assistants
Spotify may be controlled via voice commands with the help of the voice assistant. The ability to use voice commands on the mobile version expedites the completion of a task. Hold down the Search button for a lengthy period to direct Spotify to any album, playlist, or song you desire. In seconds, you'll be able to access the music you love.
5. Friend Activity on Spotify Desktop vs Mobile app
Friend Activity shows you what your friends are doing on the gaming platform. You may see what your friends listen to on Spotify by turning on this feature in your desktop program. Go to Settings and turn on Friend Activity to see what your friends are up to.
---
Part 4. How to Download Music from Spotify on Desktop vs Mobile App
You may download your favorite tracks from both the desktop and mobile versions of Spotify with a premium subscription. Let's see how to download Spotify music to computer and mobile devices.
Download Music from Spotify Desktop App
Step 1. As soon as you've opened Spotify on your computer, go to the playlist you'd like to download.
Step 2. The downloads will be saved to your library if you click on the download arrow icon.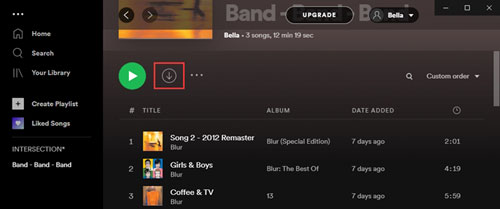 Download Music from Spotify Mobile App
Step 1. To download an album or playlist from Spotify, you must first open the app on your mobile phone and locate the playlist you want to listen to offline.
Step 2. To download your favorite albums and playlists, turn on the Download button.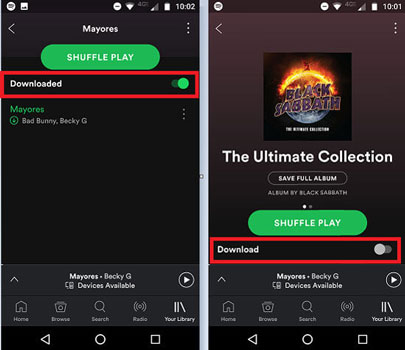 ---
Part 5. How to Download Spotify Music on Desktop App without Premium
For Spotify Premium subscribers, the above method works. So is it possible for free users to download Spotify music for offline playback? It's beyond the bounds of possibility unless you're with the third-party tool.
An application like AudFun Spotify Music Converter is exactly what you need and it allows you to keep your songs from Spotify easily. The AudFun software is for Mac and Windows users. And fortunately, this professional tool can download Spotify songs, playlists, albums, podcasts, and more offline no matter whether you're a Free or Premium Spotify user. Furthermore, it can also save Spotify music in various formats, including MP3, FLAC, WAV, and more in high quality.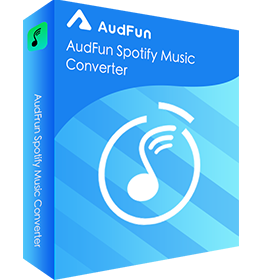 Key Features of AudFun Spotify Music Converter
Rip and convert Spotify tracks, playlists, and albums for offline listening
All Spotify downloads are saved with ID3 tags and lossless sound quality
Convert Spotify at a rate of up to five times faster than normal
Support to play music from Spotify on a variety of players and devices
Download and Convert Spotify to Local Audio Files without a Spotify Premium
To download the Spotify playlist offline for free, you should install the Spotify desktop app and AudFun Spotify Music Converter on your PC. After that, you can follow the guide below step by step.
Step 1 Sign up and activate AudFun Spotify Music Converter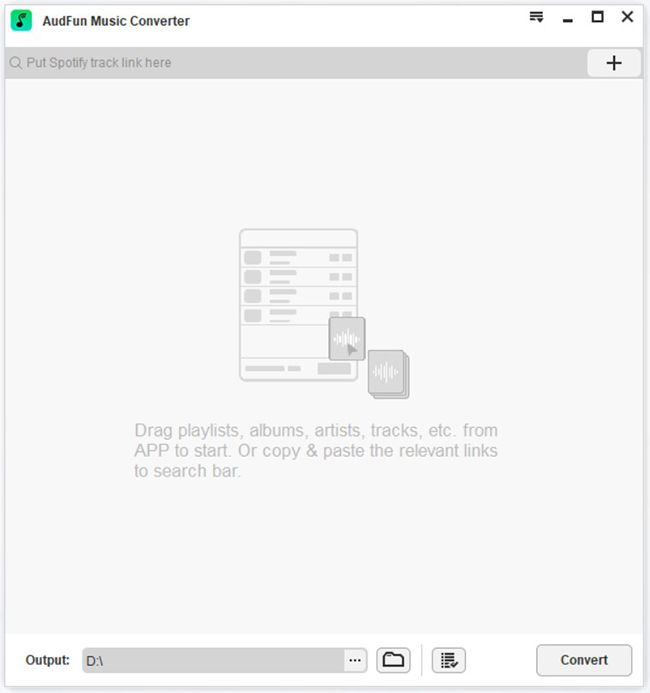 After you've set up the AudFun Spotify Music Converter on your computer, launch it. The next step is to access the main menu by clicking the bar at the top of the screen. Click "Register" and you'll see a new registration screen pop up. Input your licensed email address and code to activate the software. You then are able to convert the whole song not the 1 minute of it.
Step 2 Add playlists from Spotify desktop to AudFun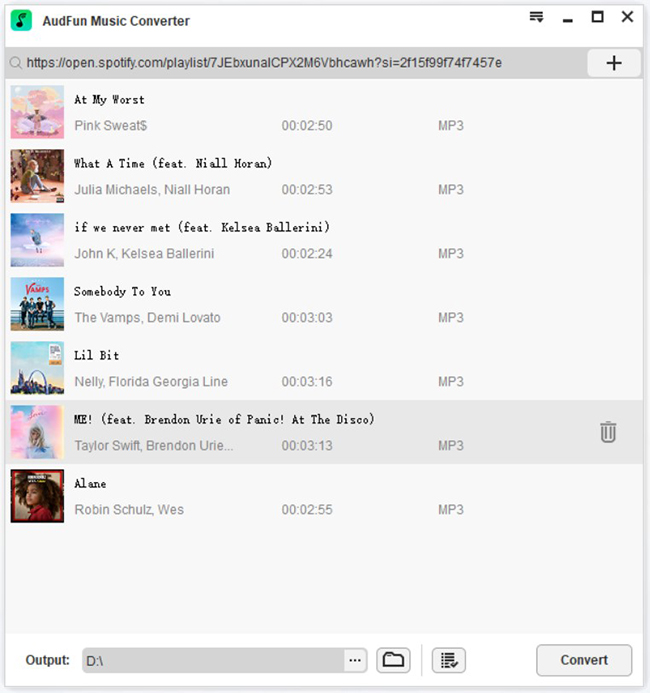 The Spotify app is where you'll find the songs you'd like to download. The song URL can then be copied by clicking on the song, selecting "Share" and selecting "Copy Spotify Link". The link can be pasted into the address bar at the top of the AudFun page. Then, press the "+" button to begin uploading the music. You may also drag and drop the music from Spotify into the AudFun interface.
Step 3 Customize the output audio formats for Spotify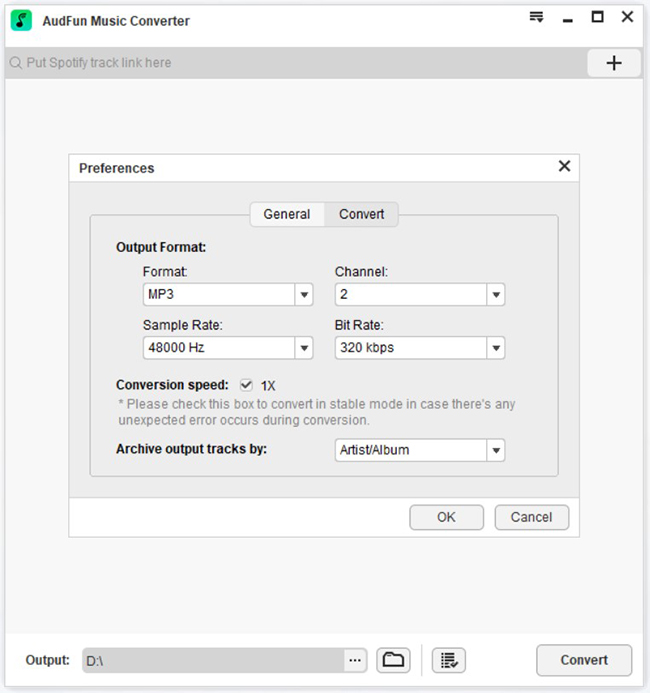 Click on "Preferences" once again in the AudFun menu bar. Once you've selected "Convert", you'll see a window with audio-specific settings. Spotify music can be converted to FLAC, M4A, WAV, AAC, M4B, and MP3 in this section. While the sound quality can be improved by tweaking several aspects of your music files, such as bit rate and other parameters.
Step 4 Convert and save Spotify to the computer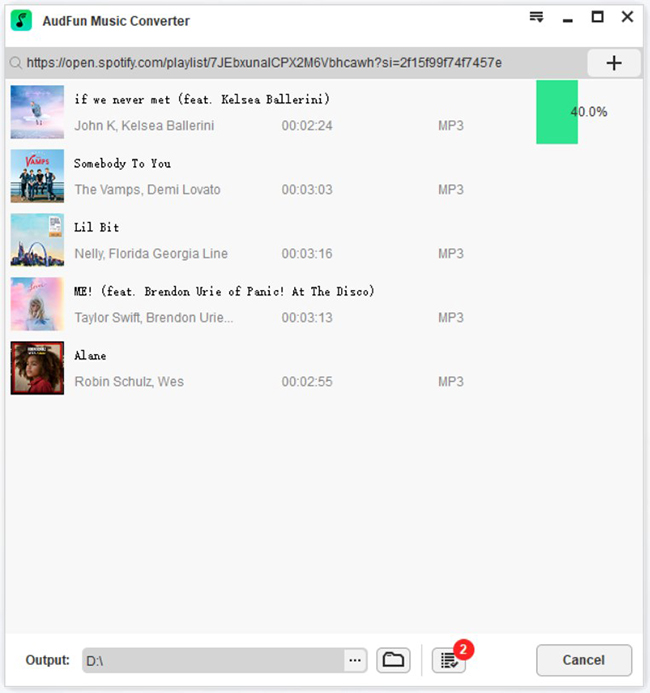 Press "OK" to save your custom audio setting. It's time to download and convert Spotify. To get started, click the "Convert" button. The conversion will soon be initiated to convert Spotify to FLAC, MP3, or other formats you set at the 5X speed. Spotify music files will be stored on your PC after the download is complete. You may now play them offline on any device.
---
Part 6. Conclusion
It's time to decide based on what you learned about the differences between Spotify mobile vs desktop. These two programs are nearly identical in their effectiveness and differ in the number of functions they each offer, but there are still some only available on the mobile or desktop app. Each user's needs are unique, so the best way to get the most out of Spotify is to pick the best version.
Stay tuned to this page for updates on Spotify and other exciting information. You may connect to Spotify to discover new music you'll love and enjoy the Spotify features to listen to music. Besides, the AudFun Spotify Music Converter can help you get songs of your favorite from Spotify with no limit.