When was the last moment you went through the Spotify albums and cleared the Spotify queue? Do you have a bunch of music in your collections that you can't recall when you first loved them? If that's the case, don't panic, you can recover these files. We'll walk you through the queue function and, more crucially, how to clear Spotify queue in this blog. If you've always wanted a continuous music stream that features the best genres and musicians, now's your opportunity.
After years of listening to Spotify, the songs you're hearing may begin to drift away from the preferences. When you touch and press the three-line symbol and drop tracks anywhere they sound right, you can modify the sequence of tracks. You'll like music a lot better if you record them by date, category, or artist. The music will sound new, and you may even uncover some new songs.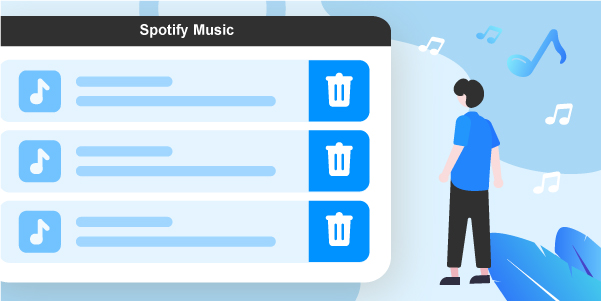 ---
Part 1. How to Clear Queue on Spotify on Computer
If you want to see how to clear Spotify queue on computer, follow these steps:
1. Launch the Spotify program on the Mac/PC and select the queue icon, which appears as a small icon on top of three columns at the bottom. You will find it on the same side of the volume icon.
2. Above the tracks in the list, select the "CLEAR" option on the right edge of the screen to clear queue Spotify PC.
3. You can delete specific tracks from the waiting list by right-clicking those and choosing Delete from Queue. There are no items in the playlist if the clear icon isn't visible.

Eliminating Individual Tracks
You won't be able to completely erase the backlog if you're listening to a song without pausing it or switching to another one. Individual tracks can be removed from the queue. It's attainable if you directly add music to the queue. Click a song in the queue on the Mac and pick the three-dot button symbol to delete it from the queue.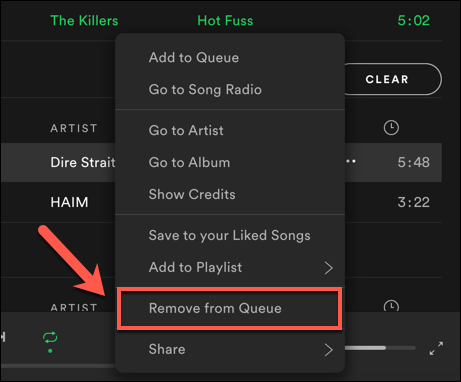 ---
Part 2. How to Clear Spotify Queue on Mobile Phones
If you are thinking about how to clear queue on Spotify Android devices or iPhones, follow these steps:
There's no option to remove the whole list with a simple click in the iPhone or Android program, you must go track by track.
1. Open the record cover and playback options on the display when playing a song or audio. At the bottom, click the queue symbol, which appears like a tiny dot on top of 3 horizontal stripes.
2. Click the circle next to each track you wish to delete from the queue, then select remove present in the bottom-left menu.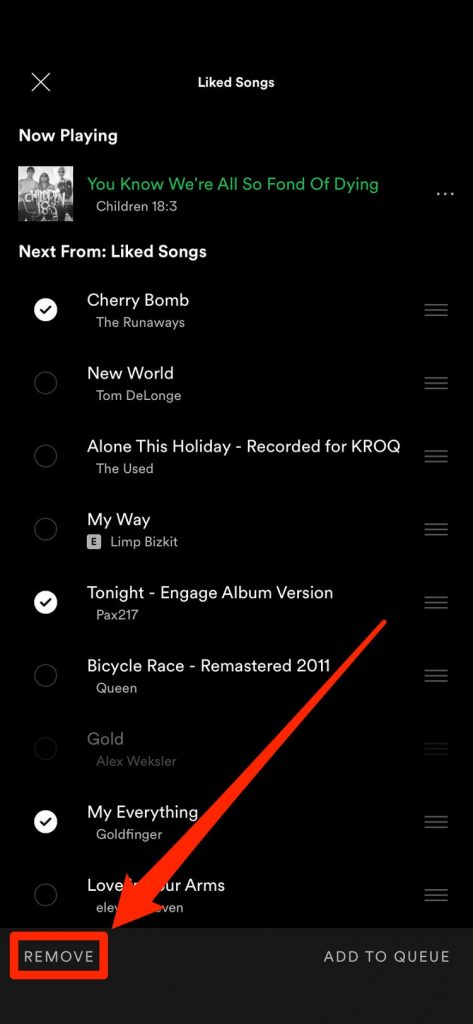 How to Delete Songs from Spotify Mobile Playlist
If you merely want to delete a specific song or group of songs from the queue, there's a quick way to do it.
To see the collection of queued music, select the Queue icon.
Pick the tracks you wish to remove by tapping the Radio icon next to them.
Delete them from the queue by pressing the Remove button in the bottom corner of the screen.
---
Part 3. Fix Spotify Won't Let Me Clear Queue Issue – Best Way
There are a plethora of services and software programs that claim to be able to save and compress Spotify playlists to MP3 format. However, not every site can be deemed safe or reliable. AudFun Spotify Music Converter is a program that we suggest. It's an excellent Spotify music converter for Spotify free and premium users. It allows you to clear Spotify queue issues easily.
Features of AudFun Spotify Music Converter
1. Up to 5x Faster Spotify Conversion
AudFun Spotify Music Downloader uses the most advanced speed technology to improve converting efficiency. It can extract Spotify tracks in groups at around 5X faster conversion rate. Rapidly build a sizable Spotify music library.
Spotify's collection contains a vast range of audios, including playlists, and artists. Regardless of the sort of music you wish to download, AudFun Software's clever Spotify converter can make it happen. It can save Spotify musicians, songs, and playlists to a variety of formats.
2. Save Meta Data
It will save 100 percent of unique ID3 labels and metadata data, like albums, genre, musician, and other information, while saving Spotify songs to 320 kbps sound quality. AudFun Spotify Downloader also allows you to categorize the produced tracks by musician or album.
Users may identify and manage audio files with the help of clear and well-organized ID3 labels and meta information. This property is well-understood by AudFun converter.
3. Check the Downloading Restrictions
You can save up to 10,000 tracks on up to 5 gadgets with Spotify Premium. However, you can only save Spotify tracks without surpassing the download limits. If you're having trouble with Spotify delaying uploading, see if the total amount of music you've saved has reached the limit.
4. The High Degree of Compatibility
From Windows XP to macOS, AudFun Spotify Music Converter covers Mac and Windows platforms. It's updated to operate with the most recent apps.
5. Simple UI
With AudFun Spotify Music Downloader's simple and easy user interface, downloading Spotify tracks with only a few clicks has never been easier. There are no technical skills required.
6. Offline Spotify Classics, Podcasts, and Radios
Do you have a free Spotify registered account and wish to listen to Spotify stations, audiobooks, and talks on the go? AudFun is the best alternative for free Spotify customers who want to enjoy Spotify songs without internet access.
As you had learned the features of AudFun Spotify Music Converter, now follow these steps to use this program.
Step 1 Import your top tracks, playlists, and albums using AudFun Spotify Music Converter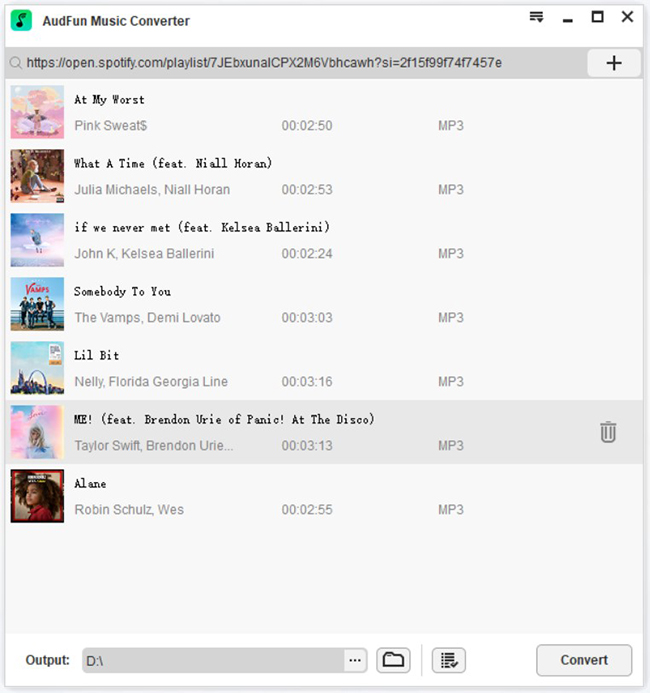 Open the AudFun Spotify Music Converter. Simply go to the Spotify desktop application to locate and download songs that you'd want to turn to MP3 in the first place. Click the option once you've discovered it and select the file. Find Share option. For copying the Spotify URL, use the Copy Spotify URL option.
The AudFun software has an address box. Just put it there and press the Add icon to load files. You can just drag and paste tracks from the queue or albums into the tool if you need to download songs.
Step 2 Modify Spotify's audio formats for conversion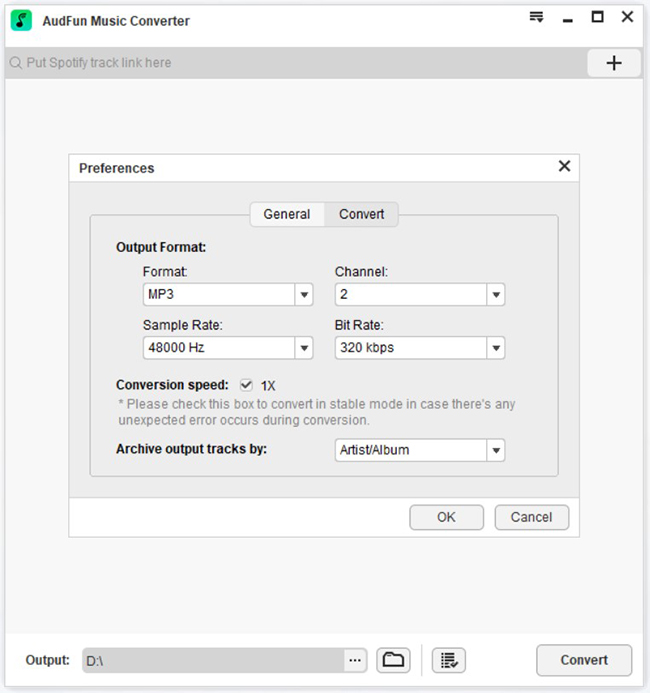 To access the setting box, return to the MacBook or PC's control bar and select Preferences > Convert from the drop-down menu. Spotify's format can be changed to MP3, M4B, or other formats. You may configure other output characteristics like frame rate and sample rate, and categorize output recordings by artists, for a good music sound quality.
Step 3 Get and transfer the Spotify queue to MP3 format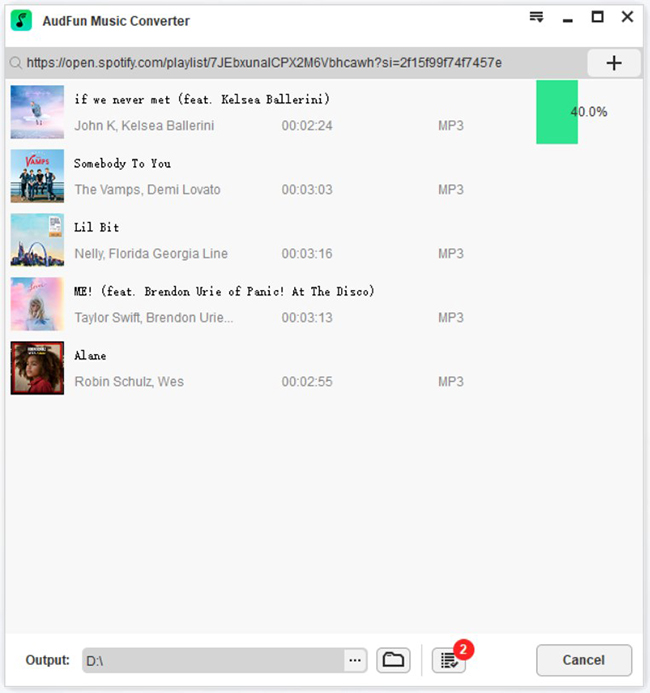 Click the OK button to verify all of the changes you've made so far. To begin the converting process, press the large Convert button on the bottom edge of this software. It will retrieve and convert any Spotify tracks to MP3 to the intended files according to your preferences.
You can locate Spotify songs on the computer's target file after conversion. You may download them to any gadget and play them while you're not connected to the Internet.
---
Part 4. Conclusion
To solve the problem on how to clear queue in Spotify, the methods listed above are enough to help you fix Spotify clear queue issue. AudFun Spotify Music Converter is probably the best way to solve the Spotify queuing to downloading issue. It may allow you to retain Spotify tracks on the device forever. Furthermore, Spotify songs can be played on any platform without restriction.