Spotify is a Swedish music streaming service having 70 million tracks, 2.9 podcasts titles, and 4 billion playlists. While Deezer is a French music streaming service containing more than 70 million music tracks, 32,000 radio stations, and 160,000 podcasts titles.
Although these two highly famous music streaming has a lot in common, for example, users can enjoy top-quality music, unlimited downloads by subscribing to multiple premium plans. But there are some points of distinction as well.
Spotify's highest audio quality remains to be 320 kbps, yet, Deezer has an additional HiFi plan offering 1141 kbps music. The user interface of Deezer looks much more organized as compared to Spotify. Under the "Charts" section of Deezer, the type of content is arranged in an orderly way with a separate portion for the podcasts that allow users to find the right music according to their taste. Whereas Spotify's browse section is all jumbled up with songs from different genres and artists.
Spotify is surely a great music streaming app with lots of songs and podcasts that can keep you occupied for long hours. But users often make a switch from Spotify to Deezer to enjoy two platforms within one app. With our guide, you can convert Spotify to Deezer playlist with a few tricks and simple tools.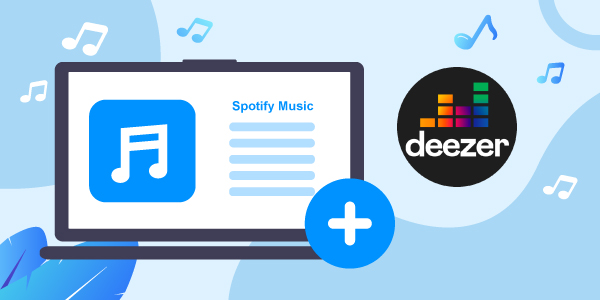 ---
Part 1. Convert Playlist from Spotify to Deezer – Best Way
Want an easy way to export Spotify playlist to Deezer? The simplest, smartest, and easiest way is to use AudFun Spotify Music Converter. With the higher level of compatibility, simple user interface, and the capacity to support both Windows and Mac, this converter is an ideal choice for music lovers who wish to transfer Spotify playlists to their PCs and enjoy them while being offline.
The music and songs on Spotify are encoded in a unique OGG Vorbis format, which makes it impossible for the users to transfer these tracks to any other platform or device. But AudFun converter is a reliable and effective app that converts Spotify music to MP3, WAV, FLAC, and a wide range of downloadable formats without affecting the quality of Spotify music.
The AudFun program also supports users to adjust the output audio parameters like channel and more for Spotify music to Deezer. And they can choose the target folder to save the converted Spotify songs to a computer. Then the Spotify songs can be moved and used on other devices and platforms without any limit.
AudFun Spotify Music Converter was designed to fit all your needs making the downloading and conversion process easy to achieve the task for every user. The extensive features of AudFun Spotify Converter go as follow.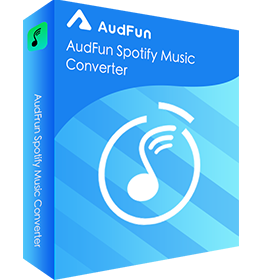 AudFun Spotify Music Converter
Has a very simple user interface
Enables users to listen to Spotify songs on multiple devices, including game consoles, MP3 players, and so on
The acceleration technology within the AudFun converter speeds up the conversion process
Enables you to countless Spotify songs in one go
Saves Spotify songs with their ID3 tags and metadata
Keep 100% original audio quality of Spotify
---
Part 2. How to Convert Playlist from Spotify to Deezer using AudFun Spotify Music Converter
The AudFun converter is pretty straightforward. Convert playlist from Spotify to Deezer using the basic yet advanced technology of AudFun Music Converter. Just follow our guide and you will have millions of Spotify songs saved on your Windows computer for offline listening.
Step 1 Complete the registration process on AudFun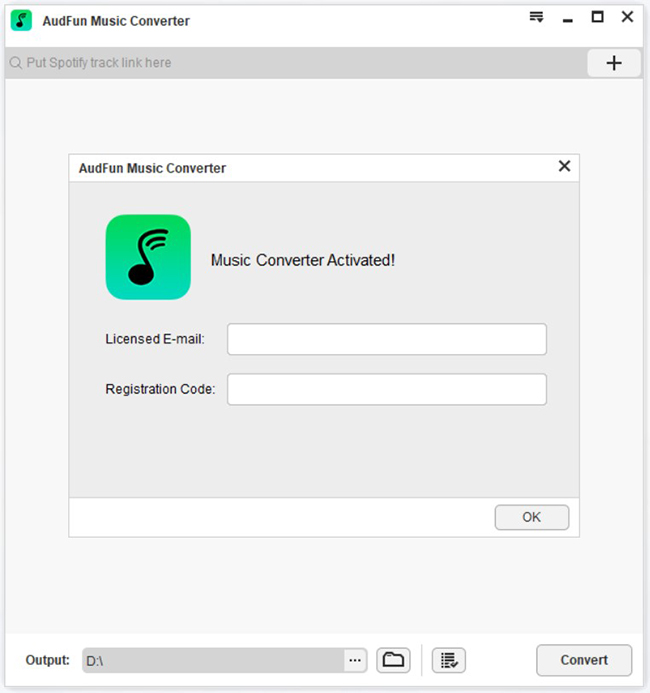 Download and set up the AudFun Music Converter on your Windows or Mac device. Then open it. To begin using AudFun, you need to have a registered account. To make it, you have to order the AudFun program on AudFun website in advance. Once done, then open the Menu from the top bar and click on the "Register" option. A new window will open up requiring your email address and registration code to finish the activation process. Or, you can try the free trial version of AudFun program.
Step 2 Import Spotify playlist to AudFun Converter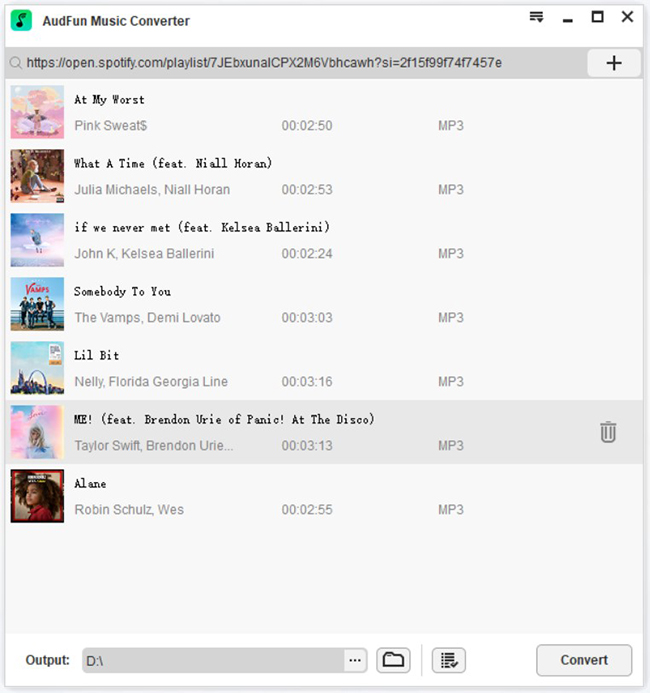 Now, head to the launched Spotify app and copy the links of the songs, tracks, and playlists that you wish to download. Then go to the AudFun converter and paste the links in the top address bar. Click on the "+" button to load the songs on the converter. You can also drag and drop the songs from Spotify directly to the AudFun Converter.
Step 3 Customize output settings for Spotify to Deezer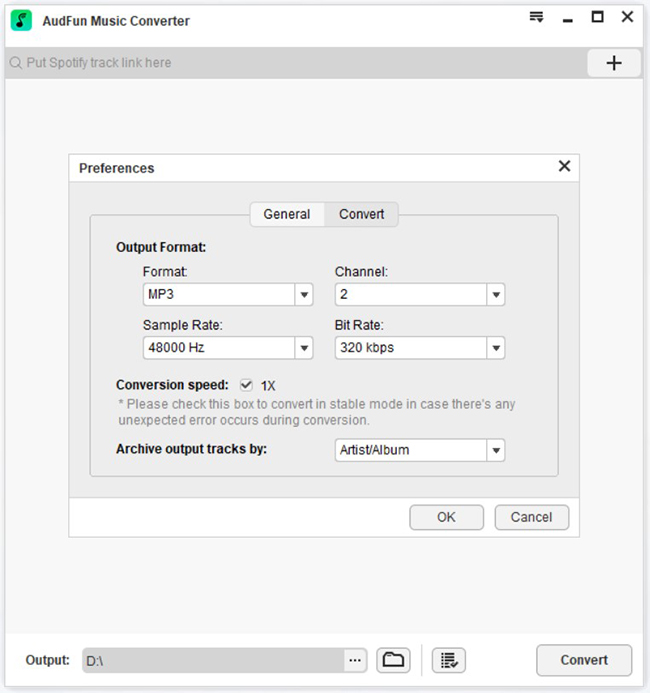 Before starting the converting process, you must adjust the output settings for Spotify to Deezer according to your requirements. Go to the "Menu" option from the top bar. Choose the "Preference" option and select the "Convert" option. A window will pop up where you can customize the output settings to ensure that the high-quality audios from Spotify remain intact.
The setting option adjusts the output format, bit rate, bit rate, sample rate, and the way of archiving for your converted files. Once set, then please touch on the 'OK' button to complete.
Step 4 Start to download playlist from Spotify to Deezer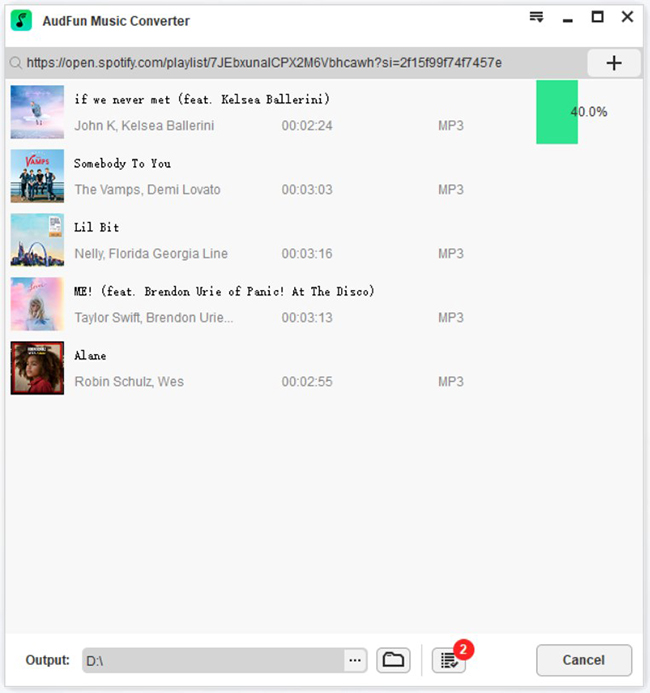 Finally, press the "Convert" button to download and convert playlist from Spotify to Deezer on your computer.
Step 5 Upload Spotify playlist to Deezer
Open the Deezer website. Click "My Music" > More Tab. Then click on "My MP3s". Next, choose the downloaded Spotify MP3 files from your computer and upload the converted playlist from Spotify to Deezer.
---
Part 3. How to Transfer Spotify to Deezer Online
Besides using the AudFun converter, some online tools can help you export Spotify playlist to Deezer also. Here let's check how to do that with these simple online tools.
Method 1. Upload Spotify to Deezer with Mooval
Mooval is an online website that supports users in moving music collections from one streaming service to another. It is free to use, and by using the import-export connection, you can easily transfer playlists, tracks, and songs from one music app to another. It supports 4 famous music streaming apps including Spotify, Deezer, Groove, and Napster.

Steps to Move Playlist from Spotify to Deezer via Mooval
To transfer Spotify to Deezer online, use Mooval with the steps below.
Step 1. Go to the official website of Mooval via this link http://www.mooval.de/.
Step 2. Choose Spotify as the export source and select Deezer as the import source.
Step 3. Then click on 'Connect' to allow Mooval to connect your Deezer and Spotify accounts.
Step 4. Allow Mooval to access your Spotify and Deezer accounts. The website will start analyzing the playlists available on one platform but unavailable on the other.
Step 5. Finally, click on 'Move' to start transferring the playlist from Spotify to Deezer.
Method 2. Export Spotify to Deezer by Soundiiz
Soundiiz is another powerful playlist converter that lets you export Spotify playlist to Deezer and vice versa. With Soundiiz, you can share and transfer playlists and music from famous music streaming services including Tidal, YouTube, SoundCloud, Groove, Dailymotion, Spotify, Deezer, and many more. The only limitation is that the free account only allows you to transfer one playlist at a time.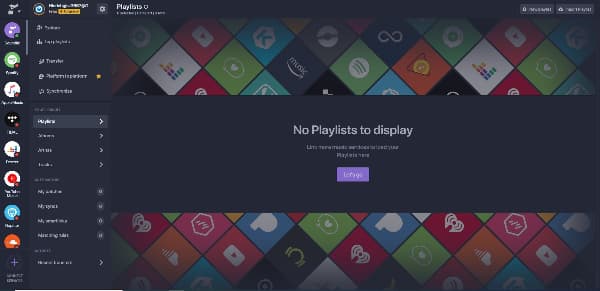 How to Use Soundiiz to Convert Spotify to Deezer
Step 1. Open the official website of Soundiiz by the given link http://soundiiz.com/.
Step 2. Create an account with Soundiiz and click on 'Get Started' to log in to the website.
Step 3. On the left side of the website, you will be able to find all of the music streaming sites. Select the Spotify icon and choose Connect.
Step 4. Soundiiz will require you to give your Spotify account details to secure a connection. Soundiiz will display all your available playlists.
Step 5. Select the Spotify playlist you want to move, and then choose Deezer as the destination.
Step 6. Start converting and transferring the Spotify playlist to Deezer.
---
Part 4. Conclusion
Follow the post to export Spotify to Deezer and enjoy a great variety of music, songs, tracks from two highly famous music streaming sites. Using a reliable music converter such as AudFun Spotify Music Converter allows you to convert and download Spotify playlists and songs into locally saved files. You can then easily add these music files to your Deezer account and combine music from two different music streaming apps.