For a music lover, smooth audio quality is all that matters. Surely, you want to catch every lyric sung by your favorite singer and grab the full flow and rhythm of the tune performed throughout the song. And so music fans subscribe to Spotify, which is a jukebox to millions of songs from all across the world.
Spotify bitrate is one of the many reasons that makes the audio streaming service adored by all. You can adjust the bitrate of the world's largest streaming audio service to the highest quality and enjoy stunning music without disturbing the original sound quality. So, what is the bitrate of Spotify, and how much higher can it be set to give you the best sound quality while listening to audio and podcasts on Spotify. Let's learn this and much more about Spotify bitrate in the article laid out below.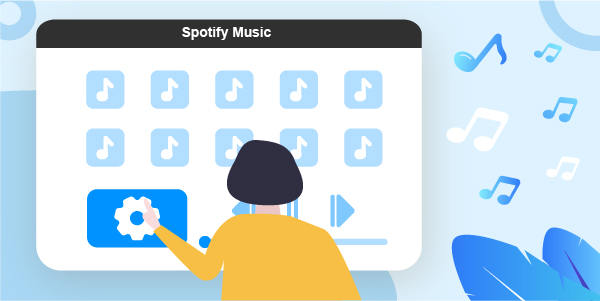 ---
Part 1. Know More about Spotify Bitrate
Bitrate: What Does It Mean?
You might have heard your DJ friend describing a song's quality by using the term "Bitrate". So, what does it mean in the first place?
In layman's terms, bitrate refers to the amount of data or bits processed during a certain time. In music and audio files, bitrate determines the sound quality and is measured in kilobits per second. You may have seen audio files abbreviated as Kbps defining how many kilobits of data are stored in every second of a song. Spotify free bitrate, for instance, starts at 160 kbps (on PC and Mac) which means 160 kilobits of data is stored in every second of a song that is being played in the free Spotify version.
In simpler terms, a higher bitrate specifies higher sound quality, a smooth listening experience, and no distortion while you stream through your favorite songs either on mobile or PC. Whereas having a lower bitrate means the distortion and disturbance in the background of your favorite song.
What Is the Bitrate of Spotify?
Spotify is a music streaming service that gives you access to millions of songs through a single platform. But what bitrate does Spotify stream at?
The music streaming site intends to connect users to the music world irrespective of the device they are using. And so, it allows the subscribers to enjoy low, medium, and high-quality Spotify audio bitrate depending on the devices and subscription plans they use. With a default bitrate, users can listen to their favorite songs and podcasts even with a free Spotify version.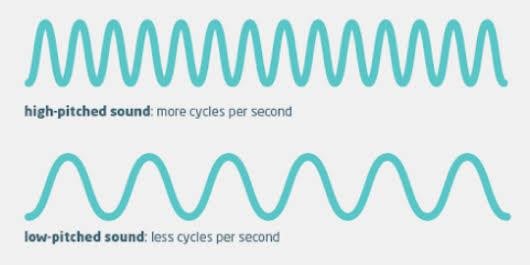 Normal Bitrate: Spotify compressed its file size to as low as 96 Kbps for all the free subscribers using smartphones. The video or audio consumes less space, but the quality of sound gets affected due to low standards. Besides, the low bitrate is usually not supported by PCs and web players.
Standard Bitrate: The desktop clients who intend to enjoy Spotify music with a free subscription will have to go with the default 160 Kbps bitrate. This standard bitrate quality will give you a smooth listening experience while working on your Mac or Windows. But this bit rate is higher for your mobile devices.
High-quality Bitrate: If you wish to have a flawless music interaction and get the most recently produced songs without any sound distortion, then you can use the Spotify premium bitrate of 320 Kbps. Along with acquiring more data, the files with this bitrate give you refined music, whereas mobile users will get extreme quality audios with 320 Kbps bitrate.
---
Part 2. How to Increase Spotify Audio Quality on Computer/Mobile Devices
So, is there a way to adjust the default bitrate in Spotify to improve the sound quality of songs, audio, and podcasts on the popular streaming site?
Besides the default setting, users can also adjust the bitrate of the audio quality in Spotify. By going through some simple steps, desktop and mobile users can enhance sound and audio quality to one step higher.
You can adjust the audio quality on both desktop and mobile versions of the app. But to get the Spotify high-quality bitrate, users need to subscribe to a premium account.
Increase Spotify Audio Quality on Desktop
Open the Spotify desktop app.
Now, to expand the bitrate, sign in to the Spotify app using your email address.
Then, go to the edit option in the top right corner of the dashboard.
From the drop-down menu, select "Setting".
In the "Music Quality" option at the end of the page, select "High-quality streaming". Turn on the toggle to set the limit.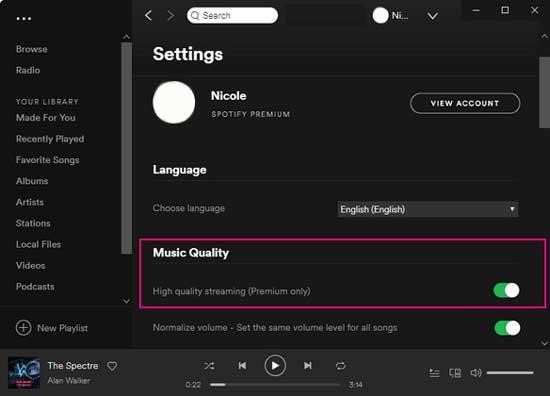 Increase Spotify Audio Quality on Mobile Devices
For Spotify premium mobile users, there are three adjustable options, including extreme quality, normal quality, and high-quality. But if you are a free subscriber, you will only get two options, including normal and high.
Now, to adjust the audio quality in Spotify on your mobile phones, go through the following steps:
Launch Spotify on your mobile device.
Go to the "Your Library" option.
Select "Setting", and a drop-down menu will appear.
From the menu below, go to the "Music Quality" section
Select the audio setting of your choice from Automatic to high.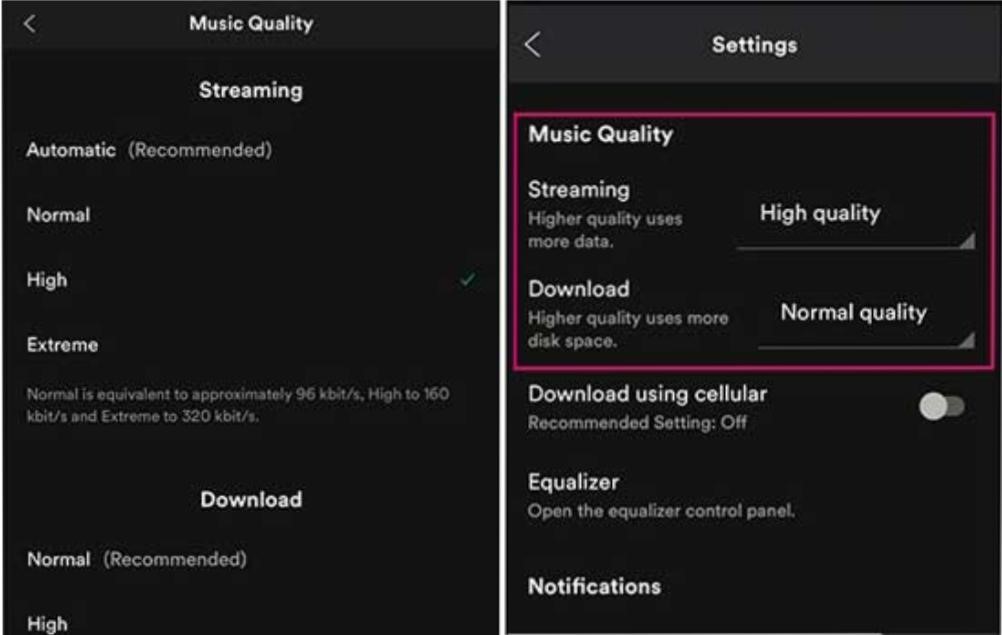 ---
Part 3. How to Get Spotify High Quality Bitrate
Streamers wonder whether they can experience the top-quality Spotify bitrate without subscribing to a premium version of the app. If you are one such music lover, AudFun Spotify Music Converter is the ultimate simple solution for your problem.
AudFun is an efficient, simple, and quick tool for converting Spotify music to high-quality lossless files that can be listened to and enjoyed even when you are offline. Spotify has a massive music library, and with AudFun Spotify Music Converter, you can download Spotify music without a premium account. The advanced technology makes the software work miraculously fast. The intuitive and simple design makes it an effective tool for beginners and professionals alike.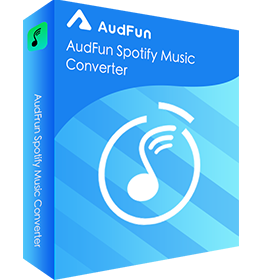 Key Features of AudFun Spotify Audio Converter
Supports to convert Spotify to MP3, FLAC, M4A, WAV, AAC, and many more
The downloading speed is 5 times faster
Supports batch conversion of Spotify songs
Compatible with both Windows and Mac devices
How to Download Spotify Music with AudFun
Step 1. Download and install the AudFun converter. Once the software is installed, launch the software on your desktop. Go to the menu on the top right corner to get yourself registered with the app.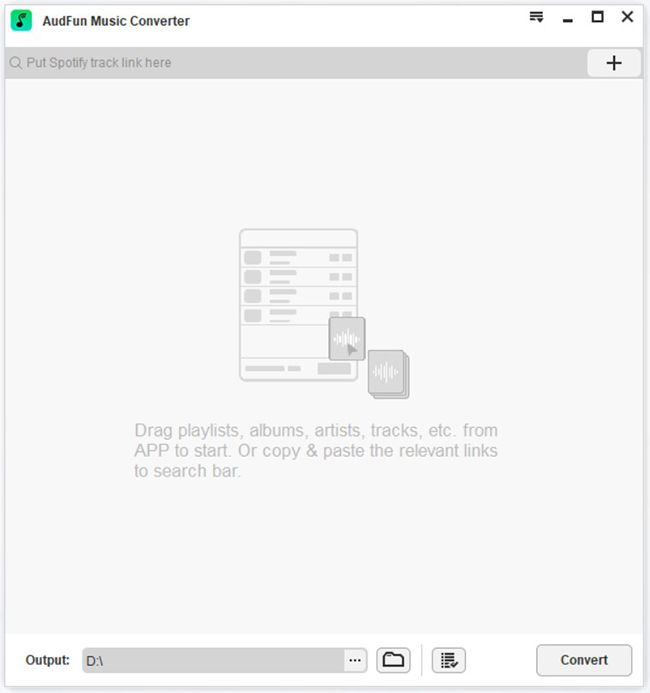 Note: The registration step is for AudFun converter purchased users.
Step 2. You need to register on the software using your licensed email address and the registration code.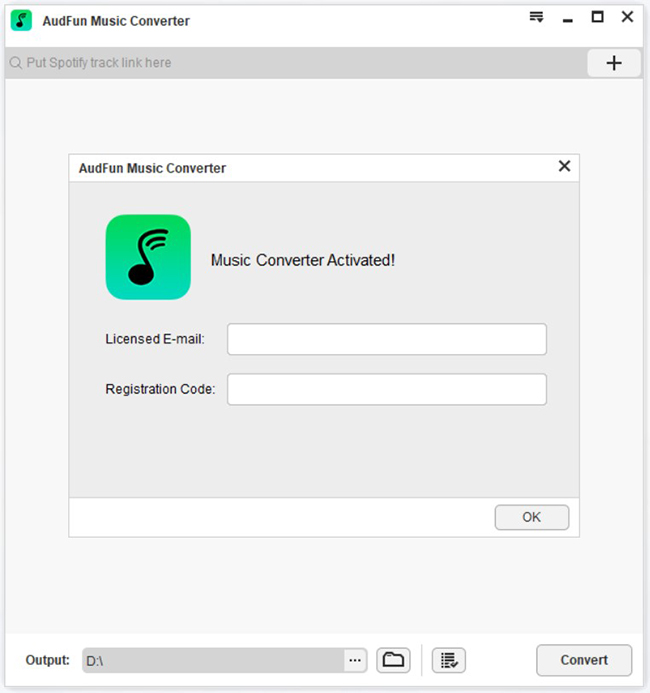 Step 3. Then, you have to import audio and songs from Spotify to the converter to download and listen to them offline. You can either copy-paste the URL from Spotify, or you can drag and drop your favorite songs into the converter.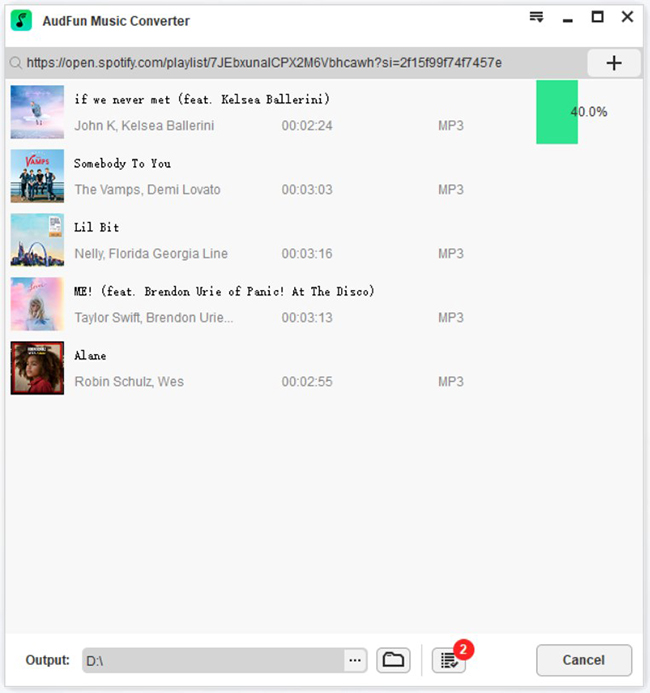 Step 4. Now, go to the Menu bar and choose "Preferences", and then finally choose the "Convert" option.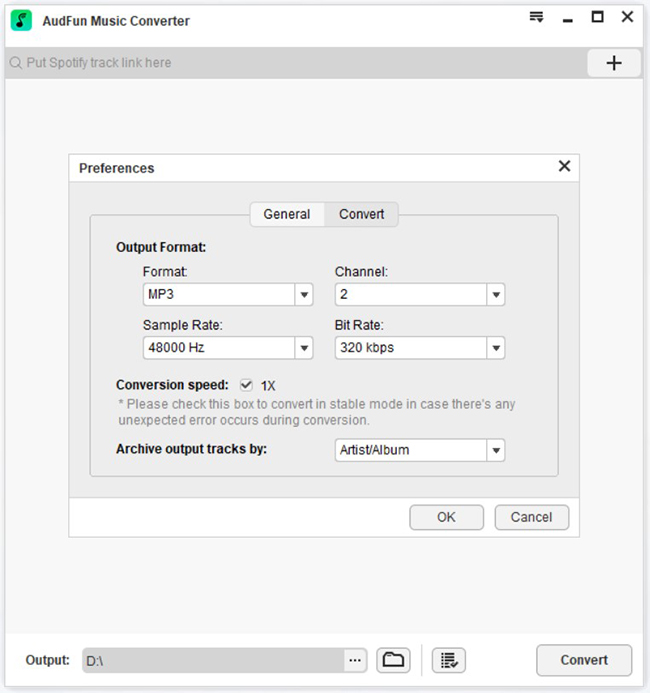 Step 5. When you choose the "Convert" option, it will open up a setting window where you can adjust the bitrate of Spotify audios as high as 320 Kbps.
Step 6. Then press OK and finally "Convert". The converter will automatically start converting your chosen files into high-quality audio formats that you can listen to and enjoy while still being offline.
---
Part 4. Conclusion
With all the lengthy discussion above, you have all the answers to what Spotify is and what bitrate does Spotify use. Spotify is undoubtedly the best streaming service with millions of songs to keep you entertained but to enjoy them while being offline you need tools like AudFun Spotify Music Converter.