When acquiring local Spotify music files, recording technology should be one of the recommended ways. With Spotify Recorder, we can enjoy Spotify music and podcasts offline on any device and platform.
Today, in this post, we will focus on the 7 best Spotify recorder in the market for you. It covers Spotify recorder for Windows, Mac, Linux, Android, Spotify web recorder, and free Spotify recorder. No matter which tool you choose, you can record music from Spotify and easily save Spotify songs as local files.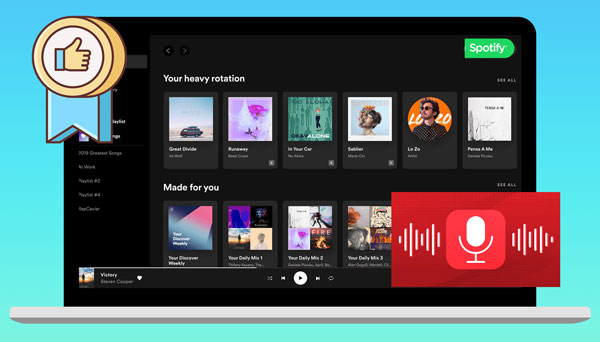 ---
#1. AudFun Spotify Music Converter – Spotify Recorder for Mac/Windows
For the best Spotify recorder tool to record Spotify music, AudFun Spotify Music Converter is the best answer. It is not only a powerful Spotify music recorder but also an all-in-one Spotify converter and downloader.
Unlike the free online Spotify recorder, AudFun Spotify Music Converter uses innovative download technology. Thus, it can download Spotify music at five times the speed without Premium.
Whether you use a free Spotify account or a premium account, AudFun Spotify Recorder can work well for you. It is designed to record Spotify as high-quality MP3, FLAC, WAV, AAC, M4A, and M4B files. With it, you can listen to Spotify music offline on all devices without ads.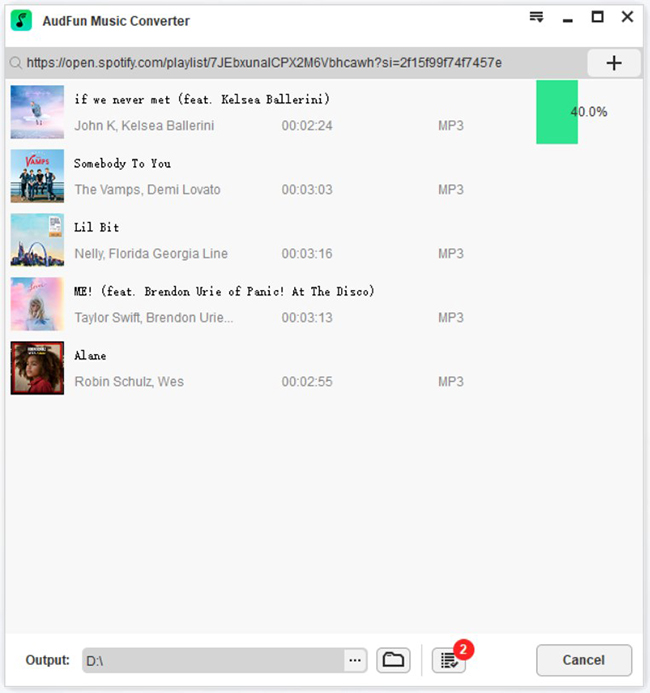 How to Record Music from Spotify on Mac/Windows Computer
Step 1. Launch the AudFun Spotify Recorder on your Mac or PC. And then you can load the Spotify songs you want to record. Please drag and drop Spotify tracks from the Spotify application to the AudFun interface.
Step 2. Hit on the menu icon in the upper right corner. Then choose "Preferences" > "Convert" to open the AudFun's settings window. You can adjust the output format, audio quality, conversion speed, etc. here as you want.
Step 3. Click the "Convert" button to start recording Spotify on Mac and Windows at 5X faster speed.
Pros:
* Download all contents from Spotify at 5X speed losslessly
* Record and convert Spotify to MP3, FLAC, AAC, etc.
* Detect and maintain all Spotify music metadata in music files
*Automatically classify the artist or album of Spotify output songs
Cons:
*The full version is priced at $14.95
*Record each Spotify song at 1 minute with a free trial version
---
#2. Audacity – Free Spotify Recorder for Linux/Mac/Windows
If you are on Linux and want a free Spotify recorder for Linux, then you can opt for Audacity. Audacity can work on Linux, Mac, and Windows operating systems. It is a free, professional, and open-source audio editing and recording software.
Audacity can capture live audio via a microphone or mixer, or digitize recordings from other media. Thus, you can use Audacity to record Spotify music with the built-in speakers of your computer.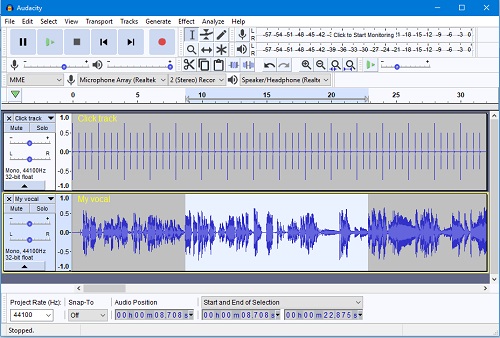 How to Use Audacity to Record Spotify on Linux/Mac/Windows
Step 1. Start Audacity and click the "Edit" button on the toolbar in the upper left corner. Touch on the "Preferences" > "Audio Host Box" > "Windows WASAPI" button.
Step 2. Choose "Transport" > "Transport Options" > "Software Playthrough" to turn off Software Playthrough when recording playback sounds on the computer. Or you can click "Recording" under "Audacity Preferences".
Step 3. Hit on the red "Record" button in Audacity. Then please play the Spotify music you want to record. It will record songs from Spotify. After the recording is complete, just click the "Stop" icon to save the Spotify recording to your computer.
Pros:
*Record audios from Spotify, microphone, or other audio sources
* A Spotify recorder for Linux
Cons:
*The user interface is a bit complicated for most users
*Real-time recording takes a long time to finish the whole process
---
#3. Apowersoft Free Online Audio Recorder – Free Spotify Web Recorder
Apowersoft Free Online Audio Recorder is a network tool for recording audio from computer sound cards and microphones with high quality. It can record songs from streaming music websites, radio stations, game sounds, voice chats, etc. online.
You don't need to download additional applications to your computer to record Spotify songs. Using a clean and safe website, you can record Spotify music at 256kpbs and retain ID3 tags such as album pictures, titles, and artists. Using this Spotify web recorder, you can convert and save Spotify songs as MP3, WMA, AAC, M4A, OGG, and more.

How Does Spotify Web Recorder Work
Step 1. Browse Apowersoft official website and hit the "Start Recording" button in the middle. Then you can select the audio source, such as a computer sound card.
Step 2. Find the Spotify audios you like and play them. In the meantime, please click the red "Start" button.
Step 3. Press the "Pause" and "Stop" buttons to control other recording operations. Then all Spotify songs are recorded and saved in the target output directory.
Pros:
*Easy to use and completely free
* ID3 tags can be saved in the recorded audio
Cons:
*The audio quality is degraded during recording
*Unstable, heavily dependent on Internet connection
---
#4. CodePlex Spotify Recorder – Spotify Web Recorder
CodePlex Spotify Recorder is also an open-source and free Spotify web recorder. But its implementation is totally different from online recording tools.
It functions as a built-in Spotify web player that allows users to record music from Spotify Web Player to MP3 audio files. All files can be saved to the hard disk offline. This software is mainly used to play Spotify music on MP3 players and car stereos.
However, the CodePlex Spotify Recorder will be shut down in the near future.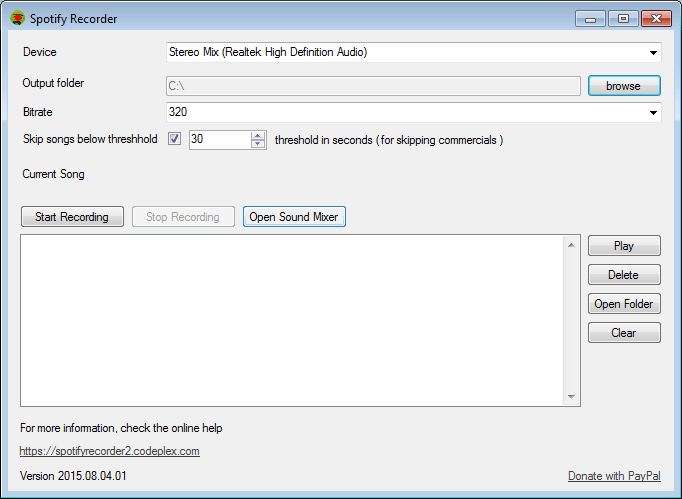 Pros:
*Download music from Spotify Web Player
Cons:
*It will be unusable soon
*Unstable conversion process
---
#5. Dojotech Spotify Recorder – Free Spotify Recorder for Windows
Dojotech Spotify Recorder is a free Spotify ripper, and it runs well on Windows XP and lower versions.
As one of the best free Spotify recorders, the operation process for Dojotech is very simple. When playing Spotify music, it will work automatically and save all tracks as MP3. It can mark the generated files well and also allows you to customize ID3 tags. Many other options are also provided. You can change the bit rate, recording folder, recording device, standard volume, etc.
To avoid recording errors, please make sure that the sound on the PC is not muted. In addition, when recording from Spotify, the volume needs to be large enough.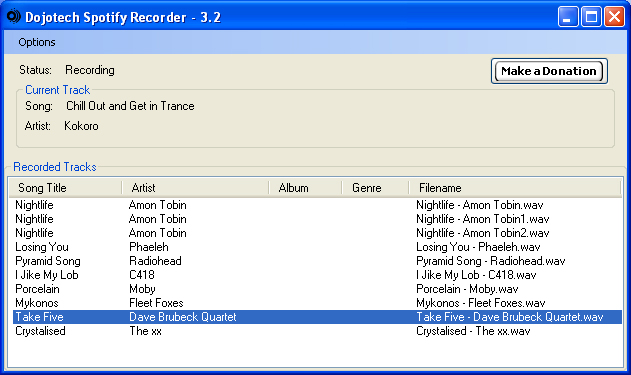 Pros:
* Free Spotify recorder and easy to use
*Record Spotify to MP3 for free on Windows XP and lower versions
Cons:
*The latest Windows operating system is not supported
*No Mac or Linux version
---
#6. Free Sound Recorder – Free Spotify Recorder for Windows/Mac
For free Spotify recorder tools, you can also consider Free Sound Recorder. This tool ranks the best audio recorder for 10 years.
The Free Sound Recorder now supports Windows and Mac operating systems. It can capture songs through computer sound cards, such as streaming services and online meetings.
As a free Spotify music recorder, it can record Spotify into high-quality MP3, WMA, WAV, or OGG files. In addition, it is an excellent free digital audio editor. It allows you to edit recordings with the editing functions (such as cut, copy, paste, crop, delete) and cool audio effects (such as echo, fade in/fade out, zoom in, chorus, etc.).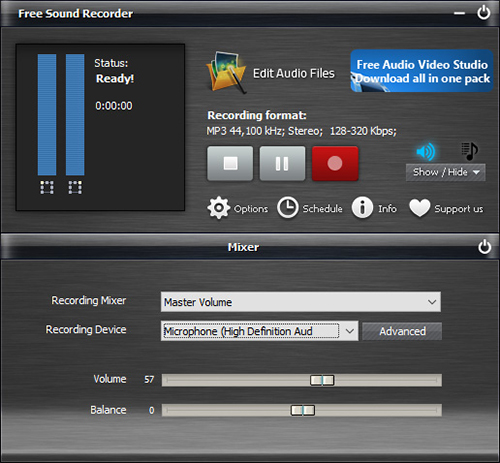 Pros:
*Support multiple editing functions and sound effects
* Record Spotify tracks and other audio resources
Cons:
*Only 4 output formats are supported: MP3, WMA, WAV or OGG
*Not support edit ID3 tags
---
#7. Syncios Spotify Recorder – Spotify Recorder for Android
The 6 Spotify recorder we talked about above is for computers. Here we will show a Spotify recorder for Android for you. With it, you can play Spotify music on Android with ease.
Syncios Audio Recorder is a perfect tool for easily recording Spotify music on Android. What you need to do is to launch this application, play Spotify music, and click the "Record" icon. After that, Spotify music will be recorded in the local folder of your Android phone.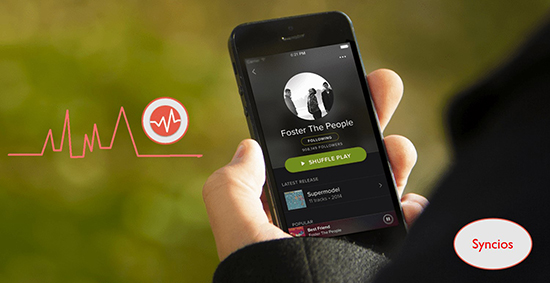 Pros:
* The only Spotify recorder for Android
Cons:
* Slow conversion speed
---
Conclusion: Which Is the Best Spotify Recorder
Before choosing the best Spotify recorder, now let's take a look at the complete comparison of the top 7 Spotify recorders in the table below:
AudFun Spotify Music Converter
Audacity
Apowersoft
CodePlex Spotify Recorder
Dojotech Spotify Recorder
Free Sound Recorder
Syncios Audio Recorder
Compatible OS
Windows/Mac
Windows/Mac/
Linux
Web
Windows
Windows
Windows/Mac
Android
Supported Input Audio Format
All Spotify contents
Any sound
Any music
Spotify tracks
Spotify tracks
Any tracks
Spotify tracks
Supported Output Audio Format
MP3/AAC/FLAC/M4A/M4B/WAV
AIFF/Ogg Vorbis/FLAC/
WAV/MP2
MP3/FLAC/WMA/AAC/OGG/
WAV/M4A
MP3
MP3
MP3
MP3
Audio Channel
√
X
X
X
X
X
X
Bit Rate
8-320kbps
X
X
X
X
X
X
Sample Rate
8000-48000Hz
X
X
X
X
X
X
Conversion Speed
5X
1X
1X
1X
1X
1X
1X
Cut/Merge Function
X
√
√
X
X
X
√
Alter Output Quality
√
X
X
X
X
X
√
Price
$14.95
Free
Free
Free
Free
Free
Free
Undoubtedly, AudFun Spotify Music Converter has won the competition. Recording Spotify music on Mac and Windows may be your best choice. It downloads and records 100% original quality Spotify music at a rapid speed. And it can make your Spotify listening experience more enjoyable.
But if you want to record various songs, you can choose Audacity or Free Sound Recorder as needed. For Spotify web recorder, Apowersoft and CodePlex are both good choices. For Android users, the only Spotify recorder that suits you is Syncios Audio Recorder.
No matter which Spotify recorder you select, you can play Spotify music offline on any device or media player without ads. Do you have any suggestions for a Spotify recorder to share with us?