A Spotify music ripper allows you to enjoy over 70 million of your Spotify favorite songs. Folks out there wonder or get amused by the fact that they can download music to their hard drives. This may be due to various reasons such as preventing interruptions during internet downtime or downloading it on portable devices and listening on the go.
Whatever your reasons, we are going to shed light on the 6 best Spotify ripper in 2021. We've compiled a list of the 6 best rippers for Spotify out there to help you pick what works for you. We shed light on what's the best overall, what to pick for Windows, Mac, Android, the free version, and the online one.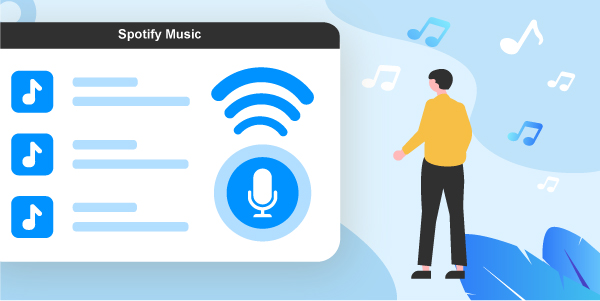 ---
1. AudFun Spotify Music Converter – Best Spotify Ripper
The AudFun Spotify Music Converter tops our list as the best Spotify ripper Mac/Windows. Not only does it help bypass Spotify copy restrictions, but it can also convert Spotify to MP3 or other desired format. Also, it allows you to adjust the audio quality, sample rate, and more for Spotify music as you like. Then you can save the Spotify songs as local files on your own computer for use anywhere and anytime.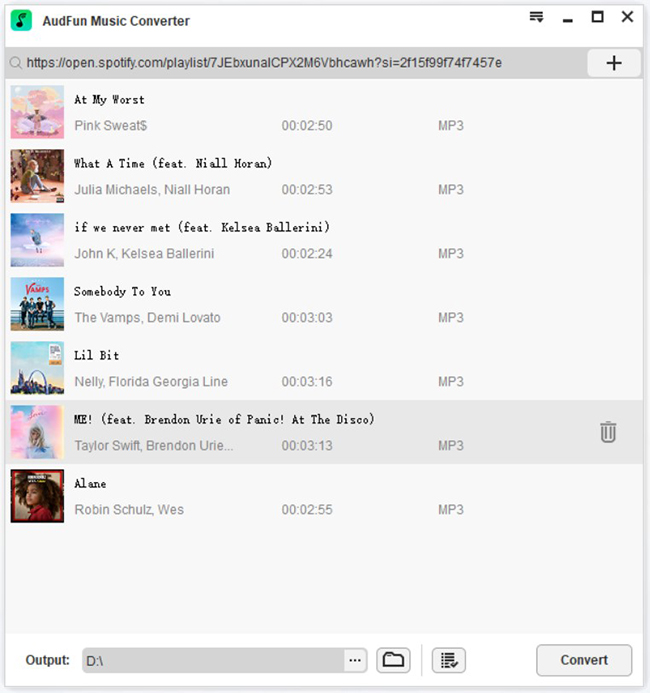 How to Use AudFun Spotify Music Converter
Download, register and activate AudFun on your PC.
Add your favorite playlist, songs, or album to your AudFun Spotify ripper.
Customize your audio output into the desired format – MP3, M4A, FLAC, etc. Then press OK button.
Proceed by pressing the Convert button to initiate the download and conversion process.
Pros:
It works with both premium and free Spotify accounts, both of which don't compromise music quality
Retains meta info and ID3 tags
The conversion and download is quite fast
It comes with high compatibility, supporting players and other multi-devices
Has a user-friendly interface with lifetime support and update
Cons:
The only downside to the AudFun Spotify music ripper is that it doesn't come with a Linux version
---
2. Dojotech Spotify Recorder for Windows – Spotify Ripper Windows
Developed by Dojotech company, it's one of the free Windows recorders that can smartly detect and rip from Spotify tracks and save them to MP3 format. Moreover, it tags the songs with info such as the album and genre.
The software allows one to change the bit rate, choose a recording device, and change the record folder. It stands as one of the best solutions for users with a free Spotify account. With an old PC, one can download the Dojotech Spotify ripper for Windows and play songs offline at no extra cost.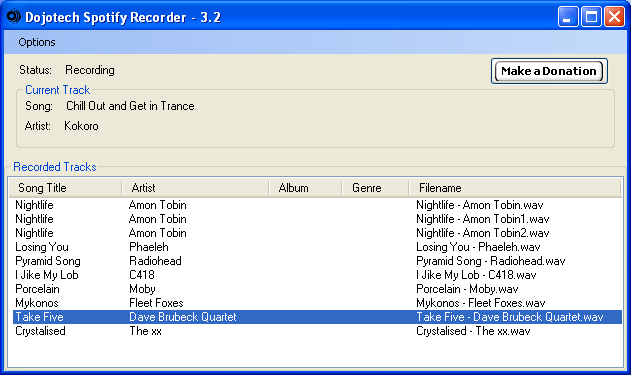 Pros:
The software is completely free
It's compatible with Windows XP, etc.
The user interface is quite simple
Cons:
The only disadvantage with this Spotify MP3 ripper is that it doesn't support some of the newest operating systems such as Linux, Mac, and Windows 10
---
3. DRmare Audio Recorder for Mac/Windows – Spotify Ripper Mac/Windows
DRmare Audio Recorder is hailed as the best Spotify ripper due to its overall performance and features. You can download audiobooks, podcasts, songs, and playlists. It comes packed with an easy user interface with a beautiful and clean screen, minimizing confusion from any bells and rings. Further, it comes with various output formats such as WAV, FLAC, AAC, M4A, and MP3.
Apart from its stunning conversion speed, one can customize the sample rate and bit rate, not to mention archiving output files by artist/album. Its output maintains its ID3 tags and other metadata like artist, title, and album without compromising on output quality.
Though not free, you don't need a Spotify premium subscription to use it. If you care about your music output quality, energy, and time, this is the software to get your hands on. Moreover, you can use this tool can capture more sounds from different sources on your computer.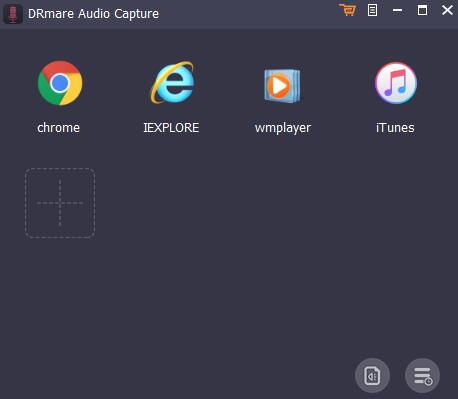 How to Use DRmare Audio Recorder
Install DRmare on your PC and add the Spotify icon to its main screen.
Hit the audio icon to set up audio format for Spotify music.
Click the Spotify icon to find selected songs to record.
Hit the edit or save button to manage your playlist.
Finally, head over to history to locate your playlist on your PC.
Pros:
High-quality output without Spotify premium subscription at a fast speed
The music output is compatible with any devices and players
Detects archive songs with artists/album and ID3 tags
Record any audio tracks from your computer
Cons:
---
4. Fildo Spotify Ripper Android
Fildo comes across as one of the best Spotify music rippers when it comes to Android. Download your favorite music tunes on Spotify to your Android device with just a few clicks. However, note that Fildo is only downloadable from its website since it's not on the Google Play Store. Recently, it launched its Spotify ripper Windows desktop version known as the Fildo Lite (Flite).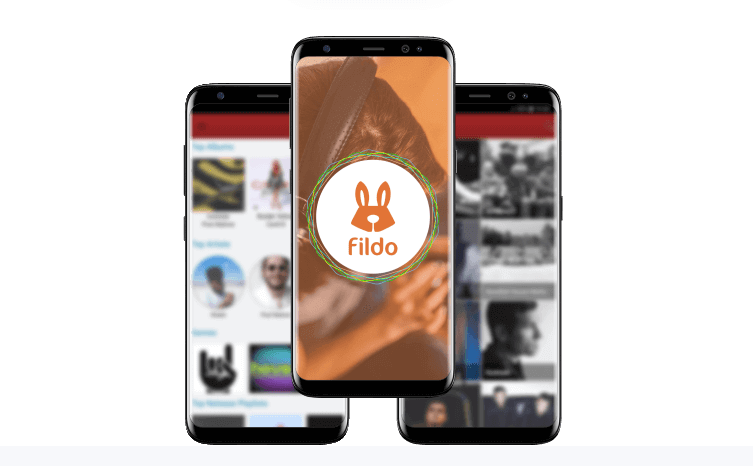 How It Works
Head to the Fildo website, install, and launch the Spotify downloader app on your Android device.
Log into your Spotify account by selecting the more & import Spotify option, effectively syncing Fildo to your favorite songs, albums, or playlist.
Hit the download button to transfer your Spotify list to your Android device.
Pros:
It's a powerful app for both desktop and Android iOS version that records tracks from video websites, music streaming services, and local devices
Supports other music streaming sites apart from Spotify
Works well with an Android operating system
Cons:
The music output is a little bit low in quality
Comes with limited audio output formats
---
5. Audacity Free Spotify Ripper
Audacity features in our list as the best Spotify ripper free with an excellent digital open-source editor and recorder. It supports both Mac and Windows and could be the only Spotify music ripper for Linux. It's a tremendous audio editor, adjusting pitch, treble, and bass.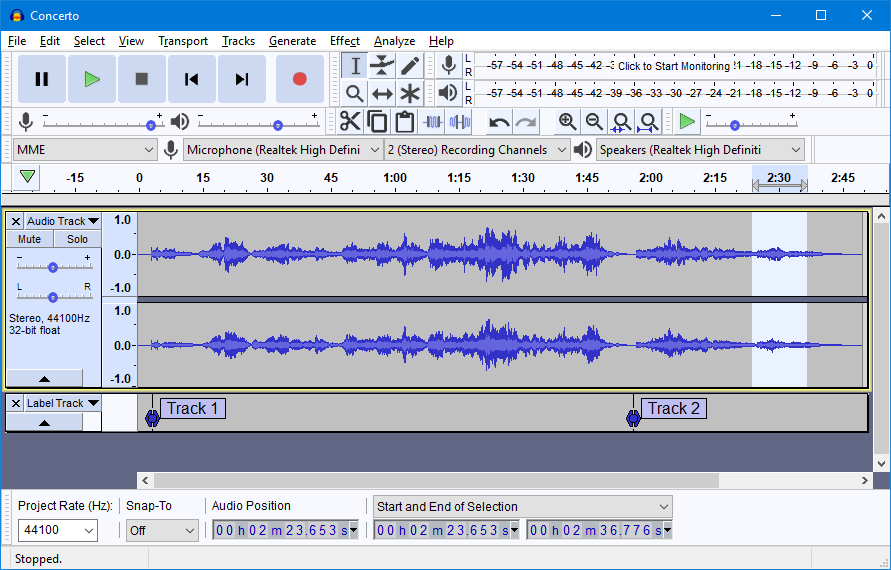 How It Works
Set up the free Audacity download program after downloading.
Choose the recording device followed by the audio host.
Hit the stereo recording followed by the audio playback device.
Hit the record button as you head to Spotify app to begin playing your track.
Finally, hit the file & export to commence your Spotify free audio download.
Pros:
The only advantage is that it's a free, all-in-one recorder and editing tool for Linux, Mac, and Windows
Cons:
Its downside is that the editing function may distort the original output quality
---
6. Spotify Deezer Music Downloader and Ripper Online
Termed as the best Spotify ripper online, it helps music lovers download their favorite playlist from the Spotify Web Player. Also known as DZR, it can extract music from SoundCloud and Deezer. Save your songs as M4A, MP3, etc. into any device without a Spotify account with outstanding audio quality.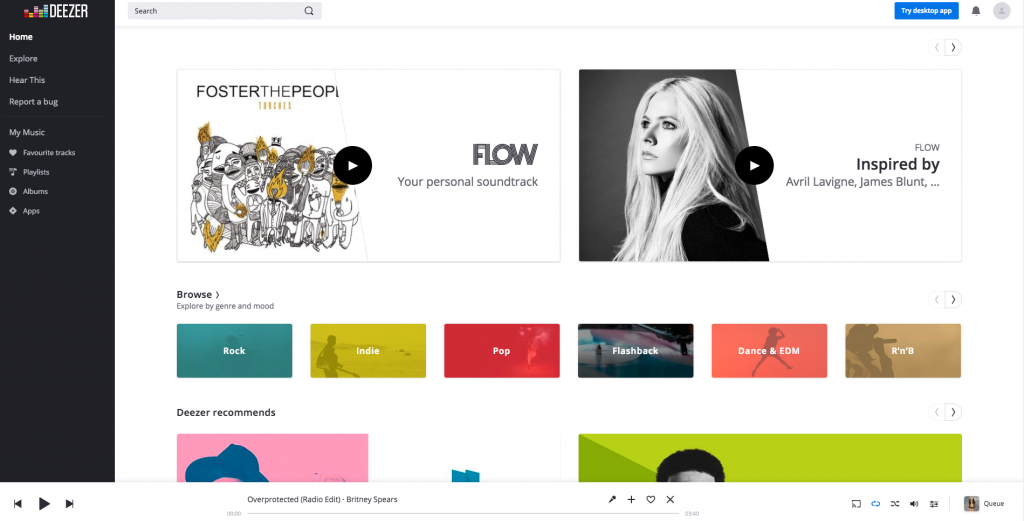 How It Works
Add Spotify Deezer Music Downloader extensions to your Chrome browser.
Click the Spotify software on your browser's top bar. Spotify Web Player will pop up.
Log in to your free Spotify account and select your downloadable playlist.
Hit the download option to get your offline Spotify hits.
Pros:
Easy to use with just a few clicks
Work with both SoundCloud and Deezer
No need for a third-party app on your PC
Cons:
Allows for only single downloads at a time
Unstable conversion process
---
Wrapping Up
The above top six Spotify rippers can come in handy for a seamless entertainment experience. You just need to know the appropriate Spotify app. We hope that this article sheds light and answers your pertinent Spotify queries.