Like many streaming services, Spotify also adds DRM protection to its files. Digital Rights Management is meant to protect Spotify files from piracy and playing outside the Spotify app or browser. But such restriction has caused Spotify users disturbance as they can't stream music offline or on other devices. The way out is to remove DRM from Spotify and get your music freely.
How then do you remove DRM restriction? You need a third-party tool to help you out. This article will walk you through a painless process to remove all restrictions and enjoy all rights without a Spotify Premium subscription.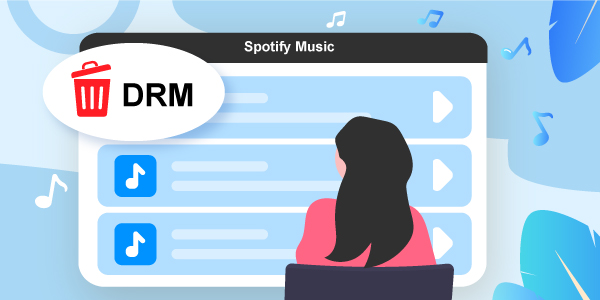 ---
Part 1. Why Do We Need to Remove DRM from Spotify?
Spotify is keen on the content you can stream from its platform. It enforces DRM protection technology to safeguard the usage of their files outside the recommended Spotify app and browser. Likewise, it inhibits the downloading of Spotify music on other unauthorized devices. But worry not, removing DRM will open all doors and let you stream your music on a Free subscription, eradicating the annoying ads and giving you access on several players and devices.
---
Part 2. Does Spotify Premium Help Remove DRM from Spotify?
It is a mix of reactions whether Spotify Premium helps you to remove DRM from Spotify downloads. All in all, the Premium version lets you download music for offline listening, get your music without adverts, get unlimited skips, and access an updated music library, among others. You can easily download playlists, albums, podcasts, among other content.
But the bottom line is that the Premium version only allows you to download your music in OGG Vorbis format. This is still not playable on most media players and devices. It is good enough that Spotify Premium offers you more perks but canceling the subscription will inhibit you from accessing your music offline on other devices and players. So, Spotify Premium doesn't totally remove the DRM protection. You still need an alternative to help you keep your music forever.
---
Part 3. Is it Legal to Remove DRM from Spotify?
To remove Spotify DRM is legal or not, this falls back to your country's regulations. Some do allow it but others are a bit hesitant. However, there are not many restrictions if you remove DRM from Spotify music offline for personal music enjoyment. It only becomes illegal when you embark on using it commercially for some gain.
---
Part 4. How to Remove DRM from Spotify – Best Tool
Our next focus is how to remove DRM from downloaded Spotify music to get them for offline playback. You need a reliable tool to break the restriction. AudFun Spotify Music Converter is the best tool that will offer you a lossless output format. It quickly converts your Spotify music to common output formats like MP3, FLAC, WAV, among others.
The speed is also on another level. AudFun works at a rate of X5 for batch conversion of your files. You then get to listen to Spotify offline without Premium on any device and media player after the conversion process.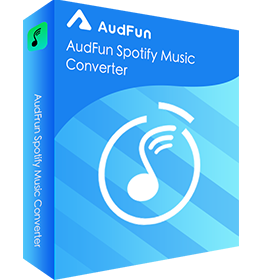 Main Features of AudFun Spotify Music Converter
It supports playing Spotify on multi-devices and players offline
The speed is good, going up to X5 rate and enabling batch conversion
Save lossless ID3 tags and meta information
It allows you to set output parameters like channel, bit rate, etc.
How to Download Songs from Spotify and Remove DRM by Using AudFun Spotify Music Converter
These steps will guide you on how to remove DRM from Spotify in simple ways for offline listening.
Step 1 Download and install AudFun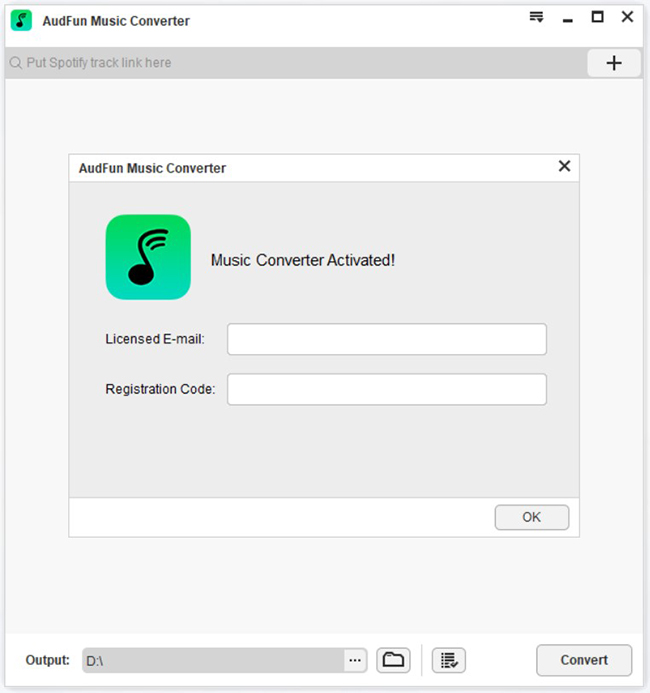 Check the AudFun Spotify Music Converter website and download the app. Then install & launch it from your computer. The Spotify app should also be installed on your computer before you start the conversion process.
You need to remember that the free trial will only convert the first 1-minute of your music. Simply remove this limitation by registering AudFun converter. So, click on the "Register" button and fill in your licensed email address and code to activate the AudFun app.
Step 2 Add Spotify playlists to AudFun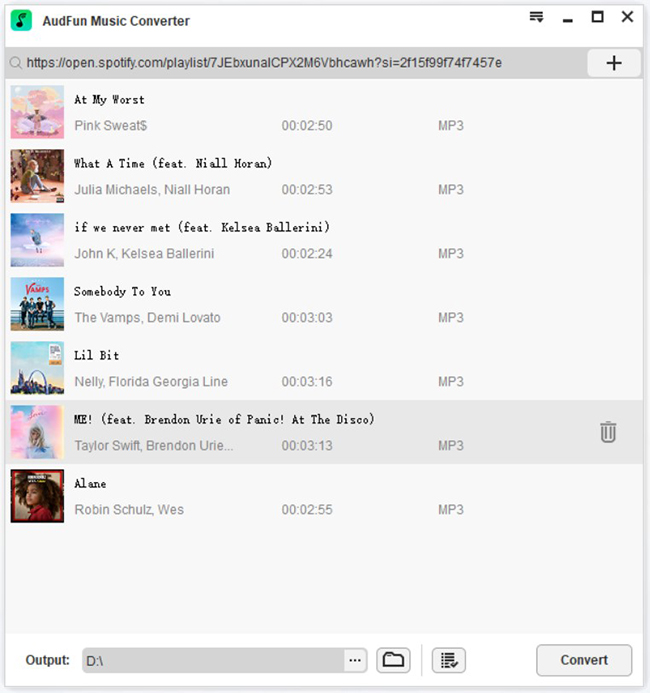 Check from the Spotify music library for the playlist that you wish to download and convert. Next, tap on the item and click the "Share" > "Copy Spotify Link" option to get the URL of the playlist. Then paste it to AudFun's address bar and hit the "+" button to load the files. You can also get Spotify URI and convert Spotify URI to MP3 format. Or you can use the "Drag and Drop" feature to load the tracks if you just have a couple of songs to add.
Step 3 Customize output format for Spotify playlist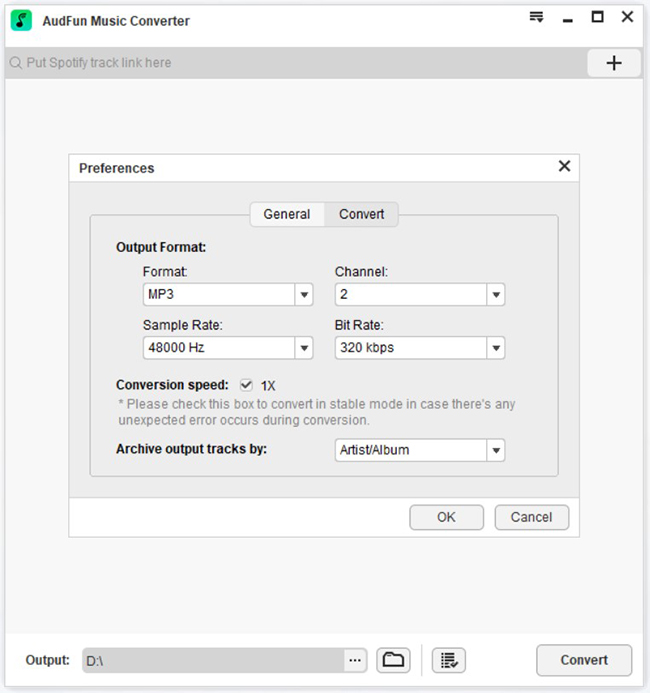 Choose the format you want. Go to the "Menu" tab and hit on the "Preferences" > "Convert" option. Wait for the Settings window to open and start to adjust the output format and parameters.
Step 4 Remove DRM from Spotify and convert Spotify music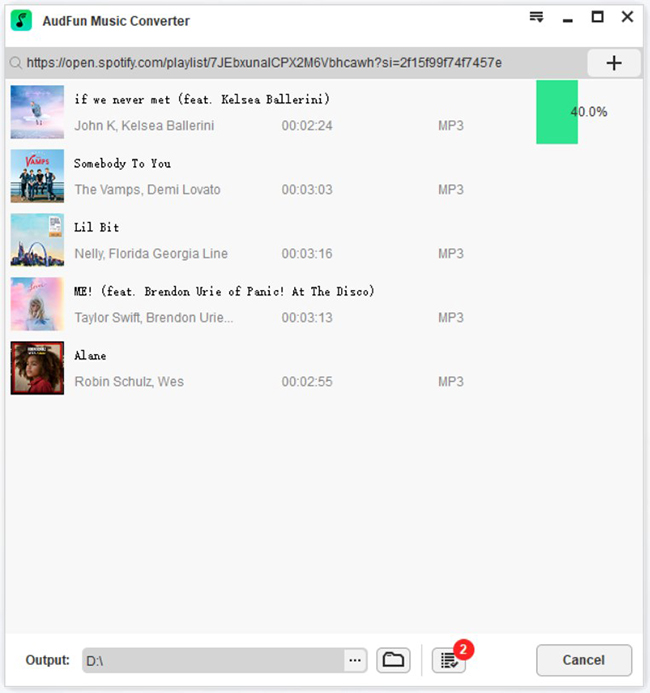 Finally, confirm your entries and click on the "OK" button to proceed. Then hit on the "Convert" tab once more to allow the AudFun app to download Spotify playlists to MP3 or other formats that you set. When done, check in the "Converted" Spotify folder on your computer to get DRM-free Spotify playlists for offline playback.
---
Part 5. How to Remove DRM from Spotify Free
If you don't want to spend a dime to eliminate DRM, then you can use free software to remove DRM from Spotify. You can remove DRM from Spotify free with the Audacity tool. Check these steps.
Step 1. Download the "Audacity" app from the official website then install it on your computer.
Step 2. Click on the "Edit" tab and hit the "Preferences" option.
Step 3. Next, click on the "Devices" option and check under the "Interface" section. Then set the "Windows WASAPI" for "Host".
Step 4. Click the "OK" button and you'll be taken to the main window. Next, click on the "Record" button as you play your Spotify music and it will be recorded automatically.
Step 5. Once the recording process is completed, go to the "File" tab, choose the "Export" option, and click on the "Export as MP3". You'll finally get your Spotify playlist DRM-free.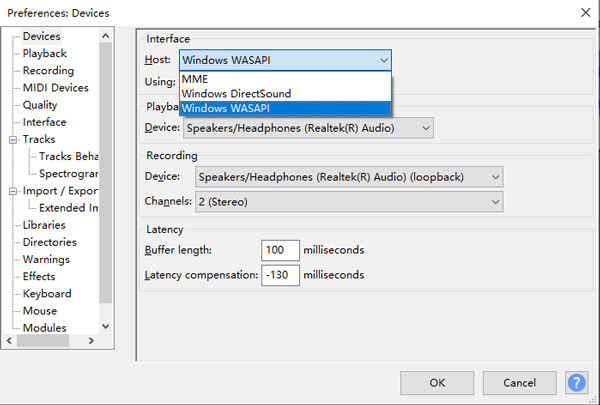 ---
Part 6. How to Remove DRM from Spotify Android/iPhone
How to remove DRM from Spotify Android/iPhone? It is easy to remove DRM from your mobile phone. Follow these procedures to remove Spotify DRM Android and iPhone.
Remove DRM from Spotify on Android
For Android users, the Fildo application is the best choice to remove DRM from Spotify on Android. Here is the guide for you.
Step 1. Download and install Fildo for Android devices.
Step 2. Then go to the "More" tab and click on the "Import Spotify" button. Next, sign in to your Spotify account to start importing your playlist.
Step 3. Your Spotify songs will be imported to your device. Now, click on the "Dot" icon alongside each track that you want to download and play on your Android device.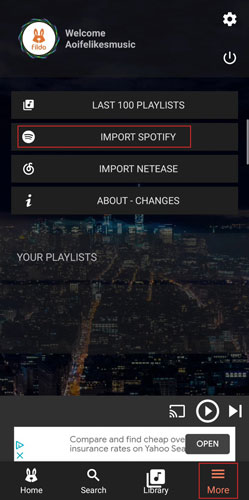 Remove DRM from Spotify on iPhone
If you use iPhone, you can use Telegram bots without adding your phone numbers during the setup process. Let's check how it works.
Step 1. First, go to the "Apple Store" and download the "Telegram" app. Then install it on your iPhone.
Step 2. Next, copy the Spotify playlist that you need to download for DRM removal.
Step 3. Now, open the "Telegram" app on your device and start to search for "Spotify Music Downloader" from the search tab, and click on the "Start" option.
Step 4. Paste the Spotify playlist link that you copied in "Step 2" and click on the "Send" button.
Step 5. Telegram bot will then download your Spotify playlist in common output format, bearing no DRM protection. Easily play it offline without restrictions.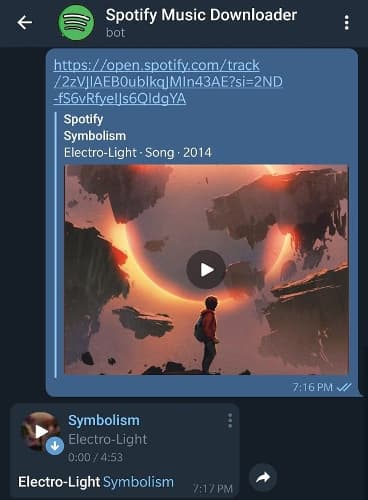 ---
Conclusion
It is possible and easy to remove DRM from Spotify songs without any prior knowledge. Just use the best tool – AudFun Spotify Music Converter. Then you can effortlessly convert your Spotify to any format for offline playback. It will also retain the lossless audio quality of your Spotify tracks that bears no DRM restriction.