Music lovers are always in search of options that could support them in wrapping up music albums, songs, and tracks that are saved in the music folder of their personal computer. And AIMP being the perfect music player supports them in managing their vast music library.
AIMP is considered a great freeware music player where you can import songs from different sources and play any audio format smoothly. It supports 32-bit digital audio and more than 20 audio file formats including FLAC, WAV, MP3, MP4, OGG Vorbis, Lossless, and audio CD.
This Windows and Android supportive audio player was developed in 2006 by a Russian developer known as Artem Izmaylov and is designed to facilitate music fans in adding filters and sound effects to the songs available in their music library. Being a comprehensive media player AIMP comes in with a lot of features including bookmark, playback queue creation, audio library file organizer, multiuser mode support, playlist and tag editor, and much more. Moreover, you can also customize AIMP with Winamp add-ons.
But what if one needs to enjoy music from Spotify on AIMP? Can I listen to Spotify through AIMP? If not, then is there a way to transfer Spotify tracks on this extraordinary music player. Learn all this through the content below.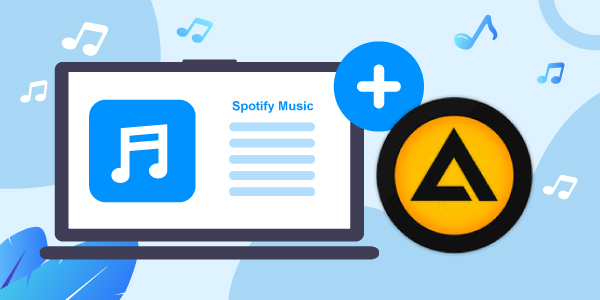 ---
Part 1. Why Can't I Listen to Spotify on AIMP
Although Spotify's audio format is supported by AIMP, you can't play Spotify music on AIMP. This is because you don't own Spotify songs even when you have a subscribed account. When you download songs through a music streaming app the files are still under digital protection and appear in your system as cache files only.
AIMP is an effective music management tool. If you have Spotify tracks and playlists saved as your local files, you can organize Spotify on AIMP. But how to create an AIMP Spotify plugin?
To import Spotify songs on AIMP, you must first convert Spotify songs with the help of AudFun Spotify Converter. Then play it on the AIMP media player and add music effects of your choice.
---
Part 2. Make AIMP Spotify to Work – Tool Required
AudFun Spotify Music Converter with its uncomplicated user interface, the converter is easy to use and suitable for both beginners and professionals. This music converter supports both Windows and Mac and makes the conversion process fun and interesting. This extraordinary software allows you to convert countless music tracks, playlists, and albums from Spotify to any format of your choice.
Spotify music streaming apps protect their music files within a unique OGG Vorbis format which restricts even the subscribed users in transferring music tracks to any other platform or device. With AudFun, you can easily convert Spotify music to MP3 and a wide range of downloadable formats such as WAV, FLAC, and more without affecting the quality of Spotify music. If you have the AudFun Music Converter installed on your desktop, you can easily convert and play Spotify on AIMP.
The extensive features of AudFun Converter are what make this music converter a perfect choice among music lovers. The converter utilized simple techniques and advanced technology to effectively convert and download Spotify tracks to the computer.
Some notable features of the AudFun Spotify Music Converter go on as follows.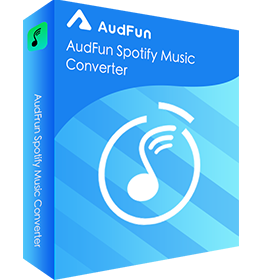 AudFun Spotify Music Converter for AIMP
Compatible with both Windows and Mac computer
Transfer and listen to Spotify songs on all your smart devices including AIMP, game consoles, MP3 players, and so on
The conversion speed of the app is 5 times faster as compared to other music converters
Supports batch conversion and save time
Saves Spotify songs with their ID3 tags and metadata
While converting the Spotify songs to lossless format, the converter keeps the lossless audio quality of Spotify tracks
---
Part 3. How to Get Spotify on AIMP – Detailed Steps
To convert Spotify songs in AudFun Spotify Music Converter, you just need to follow some quick simple steps. Whether you are a Windows or Mac user, follow our guide below and get hundreds of Spotify songs saved on your Windows computer for offline listening.
Step 1 Begin with the registration process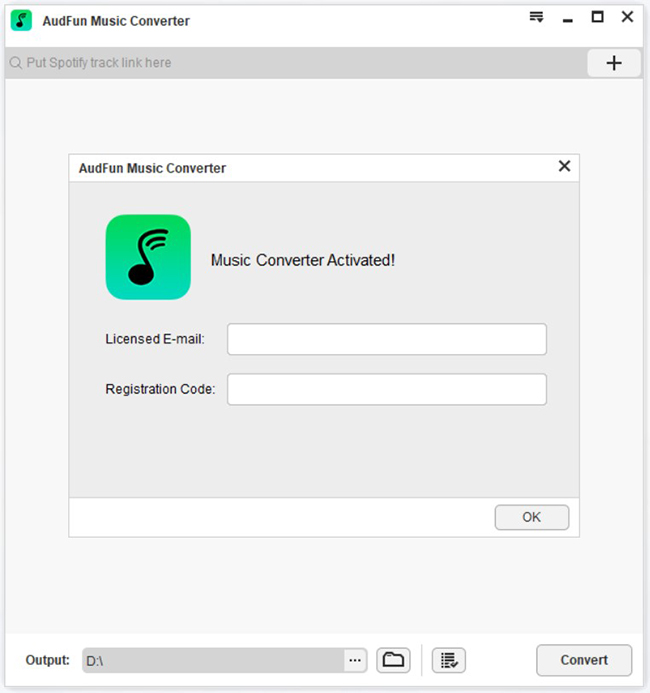 Before you can start uploading songs from Spotify on AudFun, you must first install and download AudFun Music Converter on your device. After downloading the app, you must register an account on AudFun to convert Spotify songs in batches.
From the toolbar at the top, open Menu. Then click on the "Register" option. In the next window, the tool will demand a licensed email address and registration code to finish the activation process. To do that, you need to purchase the tool in advance.
Step 2 Import playlist from Spotify to AudFun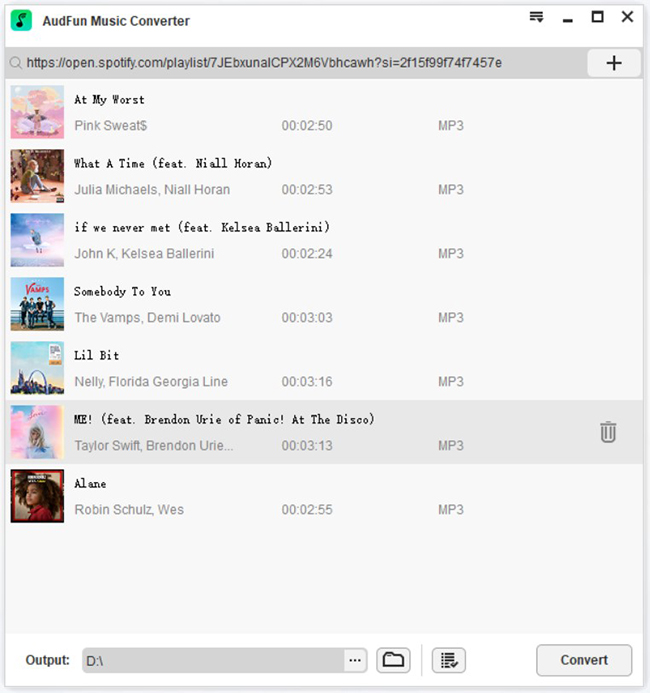 Now launch AudFun on your desktop and start uploading playlists from Spotify. There are two ways to upload songs on AudFun Converter. You can either copy-paste the link of Spotify songs in the search bar, or you can also drag and drop the songs from Spotify directly to the AudFun Converter.
Step 3 Adjust the output settings for Spotify music on AIMP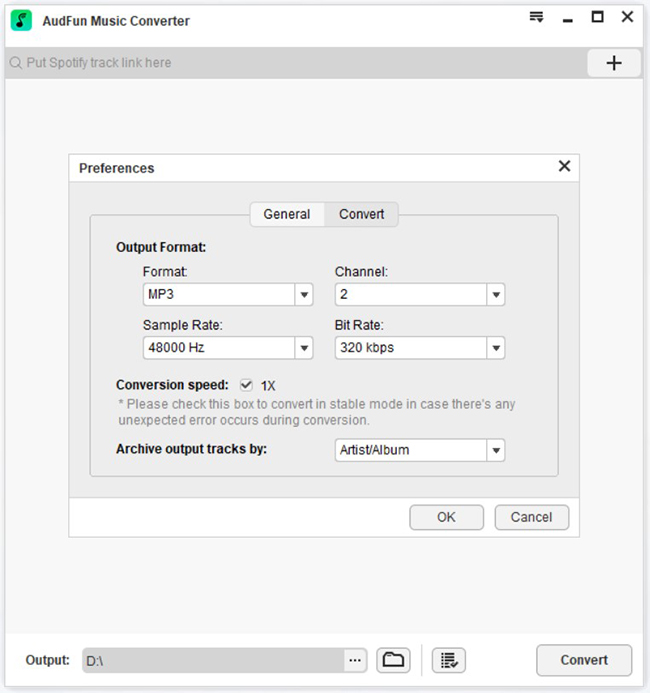 To ensure high-quality conversion, customize the output settings according to your preference. Open the "Menu" option from the top bar. Choose the "Preference" option and select "Convert". A window will pop up where you can customize the output settings to ensure that the high-quality audios from Spotify remain intact.
You can adjust the output format, bit rate, bit rate, sample rate, and the way of archiving for your converted files.
Step 4 Start converting music from Spotify on AIMP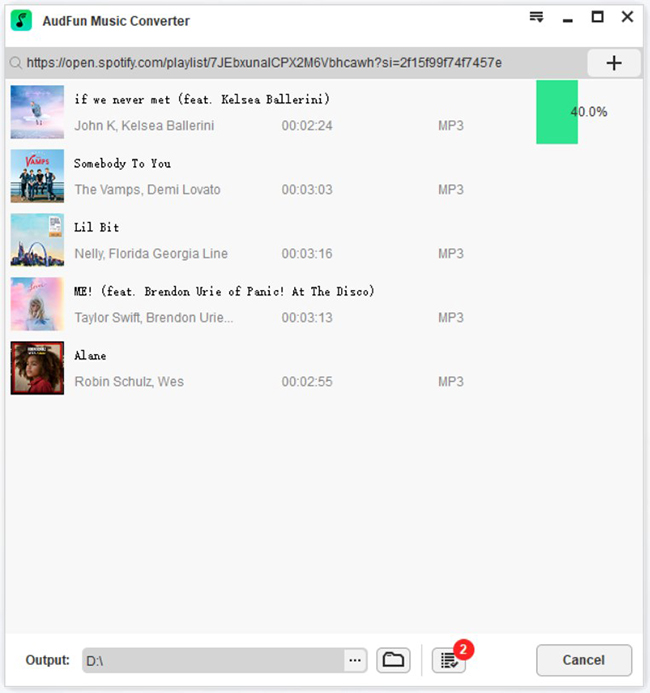 After making all the adjustments, click on the "OK" option and finally press "Convert" to download and convert Spotify songs for AIMP at the same time. The converter will automatically save all the songs as local music files.
---
Part 4. How to Play Spotify on AIMP Music Player
Now, to enjoy the AIMP Spotify combination, all you need to do is download AIMP music player in your Windows and follow the steps outlined below.
Step 1. Open "Menu".
Step 2. Then choose "Open Files" or "Open Folder" to import the converted Spotify tracks to the AIMP player.
Step 3. Or you can also click on the "Add items Menu" icon, then select "Files" > "Folders" or "Playlists" to upload the converted Spotify music on AIMP.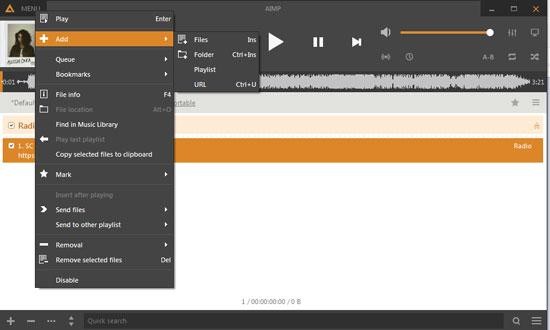 Step 4. Now enjoy and play Spotify on AIMP.
---
Part 5. Conclusion
Getting millions of Spotify songs to enjoy on AIMP is now easy with the availability of AudFun Spotify Music Converter. A simple tool designed to help users who do not own a premium account on Spotify. And it can help get high-quality music and tracks from Spotify and listen to Spotify on AIMP or other platforms for free.