Spotify is now one of the largest music streaming platforms worldwide. The audience can find a massive and beautiful collection of music and soundtracks on this audio streaming platform. It is a loved digital music and podcast streaming program that can give you access to millions of MP3 songs and audio content from artists worldwide. With several attractive features to customize the user accounts to enjoy music effortlessly, Spotify has given many options to use the app comfortably. One of the most sought-after options is the Spotify free trial 6 months plan.
This Spotify 6 months free trial option has inspired many music lovers to turn to Spotify to discover music without ads or data interruption. Some might think why to get Spotify Premium offer since I already have Amazon Prime Music or other free music streaming apps.
But Spotify can give you a way better experience with its streaming plan. It gives you the best music suggestions and playlists according to the user's preferences, and the great thing is most podcast creators and popular and new music artists are publishing their songs on this platform. So with the Spotify Premium plan, you can listen to music offline, access all podcasts, listen to what your friends are listening to, start your podcast streaming, and many more. With the Premium subscription, you can enjoy much more than a free Spotify account user. There are many ways to avail Spotify Premium for six months for free. If you are wondering how to get Spotify free trial 6 months, check out the below tips to get the best experience with Spotify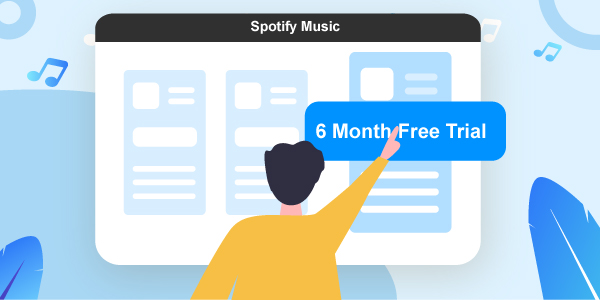 ---
Part 1. Get Spotify Free Trial 6 months via OnePlus Red Cable Club Spotify Premium Offer
Are you a Red Club member of OnePlus? If so, then you are eligible to sign-up for the six-month free trial offer of Spotify Premium subscription. Follow through the below steps to know how to claim the Red Cable Club Spotify Premium Offer.
Step 1. Go to the Settings app of the OnePlus Mobile Phone. Then click on your profile to access your plans. If you are a Red Cable Club member, then choose the Red Cable Club option to discover the various plans available for the OnePlus community. Moreover, if you are not a Red Cable Club member, sign up for Red Club membership to access various offers.
Step 2. Then go to the "Discover" option of the OnePlus Red Club. Scroll down to find the banner for Spotify Premium and click on it. Now you can claim the available offer to get Spotify free trial 6 months, just click on the "Activate Free Trial" button.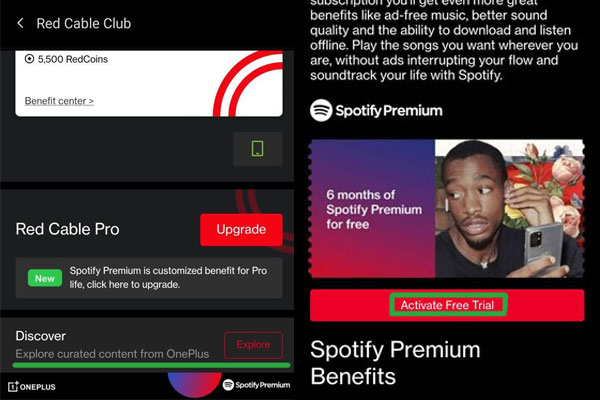 Terms and Conditions for the OnePlus Red Cable Club Spotify Premium Offer
OnePlus smartphone users with Red Cable Club membership would receive voucher codes for a free Spotify Premium Trial. But this offer is only available for new subscribers for Spotify Premium. It is not applicable for Spotify listeners who are previously using the Spotify Premium service.
Note: This offer is valid for eligible OnePlus Red Cable Club members till October 2022.
---
Part 2. Get Spotify Free Trial 6 Months Extend to Forever
If you are wondering whether Spotify offers free premium service for forever, then yes, it does. However, you have to be a Spotify Premium subscriber to enjoy this service without limit, which you can find at a high price. There are some ways to extend the Spotify Free trial 6 month period, such as using AudFun Spotify Music Converter, joining in someone's family plan, registering with multiple free trial accounts, and installing a third-party Spotify mod app to play Spotify songs offline after 6-month free trial expiration.
1. AudFun Spotify Music Converter
AudFun Spotify Music Converter is a noteworthy application that enables music lovers to download MP3 files, playlists, various albums and audiobooks available in the Spotify application without a premium subscription.
This application converts the music you want from the Spotify library and downloads Spotify music to MP3 or any other format. And then you can listen to them offline for free and use them forever. It downloads files without compromising the quality and with fast conversion speed. Anyone can use AudFun due to its user-friendly interface. Below are the steps to use the application.
Step 1. Install the Audfun Spotify Music Converter on your device and register in the application to activate it.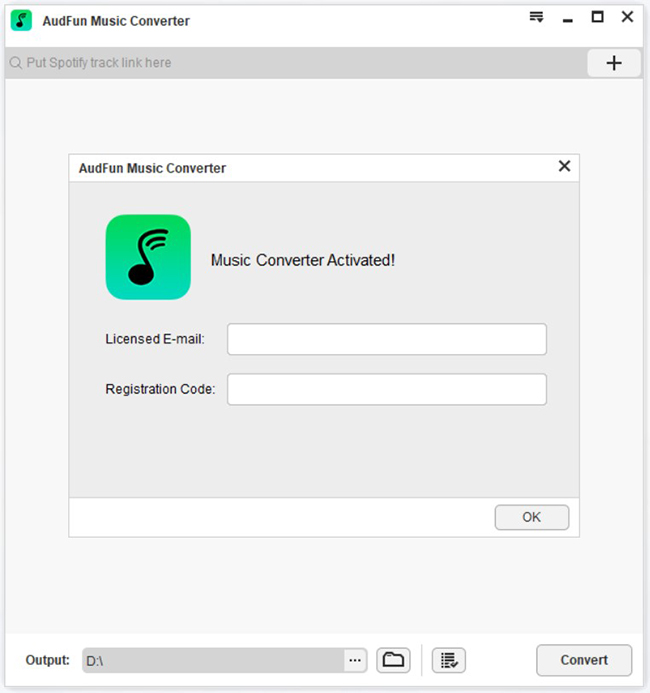 Step 2. After opening the application, the Spotify app comes up, where you can find the songs, albums, or playlists you want to download and convert. Click on the item to copy its Spotify link. Afterward, you can paste the song's link in the AudFun address bar and hit the '+' button to upload the music on AudFun.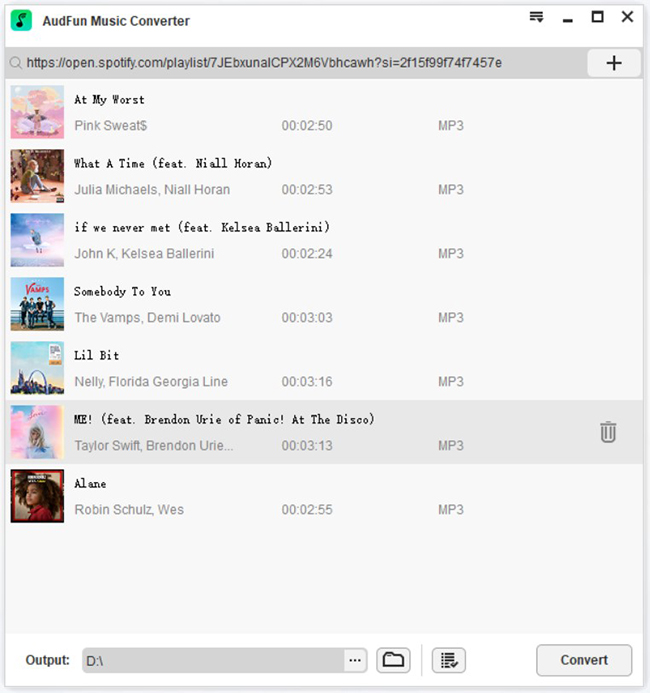 Step 3. If you want to customize the audio format, go to the menu bar and select "Preferences", then hit the "Convert" option to begin the audio converting window. Select your preferred format, bit rate, channel and click the "Convert" button. Then AudFun application would automatically download the Spotify tracks.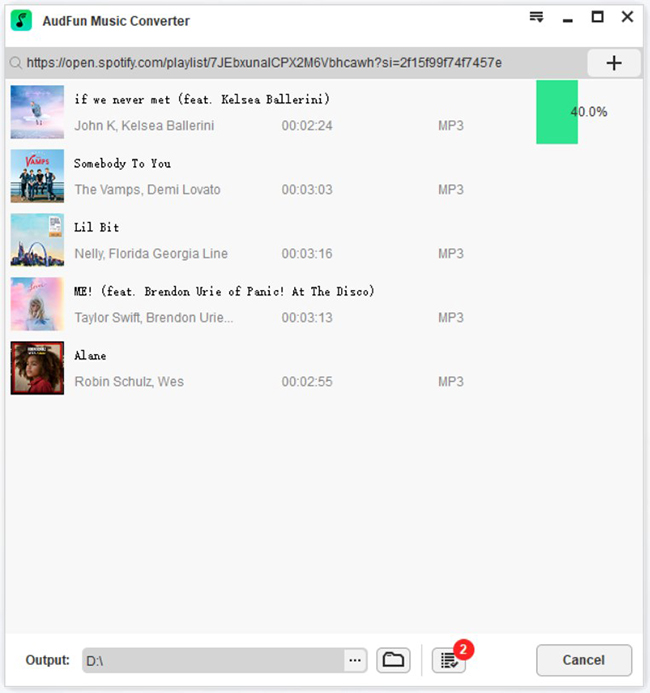 2. Use Multiple Spotify Premium Free Trial Accounts
You can utilize multiple one-month free trial accounts to use Spotify Premium subscription forever. On the Spotify Premium page, choose your Premium option, then choose "Individual". Then choose a payment method to start the premium service. When the free trial period is about to expire, cancel the subscription. Then you can log in to Spotify with a new email account and follow the premium subscription method to use the free service forever.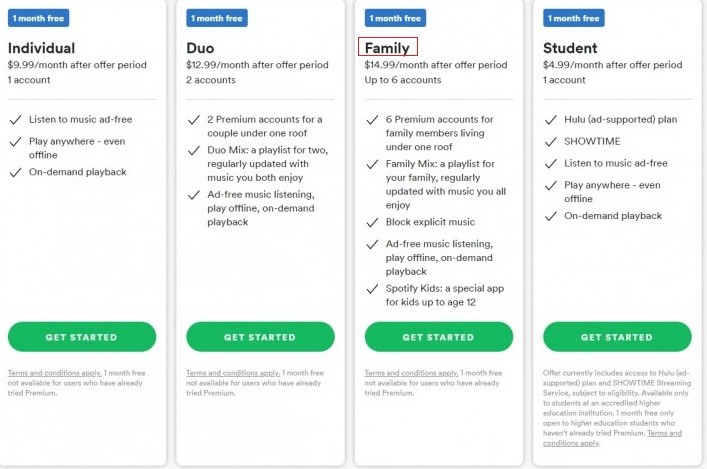 3. Use Spotify Mod Apps
The Spotify Mod apps are the modified version of the original app that offers all the premium features of the paid service. However, only Android devices can install these apps. You can just Google for the "Spotify Premium App 2021" to find the best-recommended app with the latest version for your Android device and install it. Then sign in to access all the premium features forever.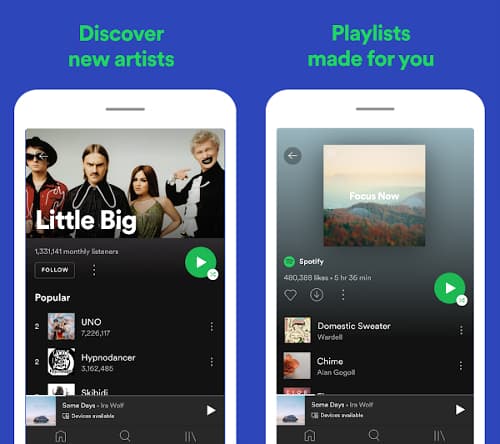 Now enjoy Spotify music for free forever without a Spotify subscription.
---
Part 3. Other Ways to Get Spotify Free Trial 6 Months
1. Currys PC World Offer
Spotify listeners can use Spotify free trial 6 months with making reliable purchases from Curry PC World instore. This Curry PC World Offer involves the buyer getting an offer code for Spotify 6 months free trial. However, this code must be redeemed within two weeks counting from the sale date. Use this offer code to enjoy Spotify's premium features.
Note: This offer is valid till the end of November 2021.
2. Xbox Game Pass Offer
Are you a new user of Xbox and Spotify? Then don't miss out on this lucrative opportunity to grab dual offers to access their premium features.
First, claim your discount subscription to obtain your access to Xbox games. Then, you can get your premium access for Spotify free trial 6 months without needing to pay for it.
Every new Xbox Premium user would receive Spotify Premium free access code. However, the user must redeem the code within ten days from the sale date. Xbox Game pass offer has a long-term validity period to get Spotify free trial 6 months period.
3. Chase Credit Card Offer
The Chase Credit Card system offers exciting benefits for both new and existing Spotify Premium users. Every chase credit card member that is new to Spotify Premium subscription would receive an email to sign-up for Spotify Premium users and enjoy the premium features for free for about six months. If the Chase Credit Cardmember wishes to continue with the Spotify Premium subscription, it would be with paying for the subscription at a 5% statement credit.
Note: Chase Credit Cardmembers can redeem this offer till May 31, 2021.
4. AT&T Offer
Are you a user of AT&T products? Then you are an eligible candidate to get this service to access Spotify free trial 6 months. If you are an AT&T-connected car customer or an AT&T Thanks user as a Gold and Platinum member, you can gain a subscription to Spotify Premium plan on request. The AT&T user would receive a link for the Spotify Premium subscription to stream music without interruptions.
Note: This offer is valid till August 2021.
5. Samsung Smart Phone Offer
With the Galaxy S10 series smartphone launch, Samsung has announced to offer the new buyers complimentary access to Spotify 6 month free trial for the platform's premium subscription. The eligible users have to install a Spotify mobile app on their new Samsung smartphone device and access its Premium Destination tab to redeem this offer.
After completing the redeeming process, users can enjoy the Spotify free trial 6 month offer. You have to give your payment details to enjoy the premium subscription after the free period for uninterrupted service.
Note: This Samsung 6 month trial offer for Spotify Premium is valid till March 2021.
---
Part 4. Conclusion
You have now found some excellent course of action to get Spotify free trial 6 months. Then you can enjoy music streaming on Spotify no ads interruption-free. Go through the above tips to get unlimited freedom to download and listen to your favorite songs with Spotify Premium free trial 6 months.