The awesome collection of over 100 million songs that Spotify offers is the primary factor in the company's rise to the top. As a music lover, you would have no trouble locating your favorite songs on Spotify. Users have access to an extensive music archive from which they may choose and play any song. The good news is, that even users with free Spotify accounts can perform such an action.
On the flip side, if you wish to download music from Spotify for offline listening, you need to upgrade to a Premium account. The Digital Rights Management Protection policy does not allow you to keep such tracks permanently stored on your personal computer or any other device, which can be quite frustrating. To ease this, this article covers the finest Spotify downloader Chrome extensions to download Spotify songs and save them as local files. Let's get going!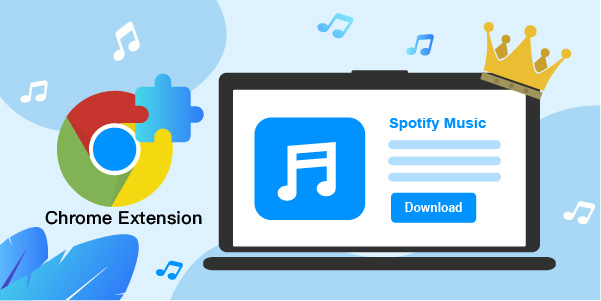 ---
Part 1. Top 3 Spotify Downloader Chrome Extensions
In the following parts, we'll recommend the 3 best Chrome extensions to download Spotify songs for free. With a Spotify downloader Chrome extension, you can easily download Spotify music tracks and play them on any device you want. Now just check out the useful ones below.
1. Spotify Deezer Music Downloader
Spotify Deezer is a Google Chrome plugin that lets you download whole Spotify playlists and tracks. It is possible to download songs from your Spotify Web Player immediately. The Spotify download Chrome extension adds a download link to the player's online interface. It is straightforward to download Spotify songs when you have the Google Chrome browser loaded and an internet connection. The Spotify Deezer music downloader looks for and downloads Spotify tunes from various MP3 libraries.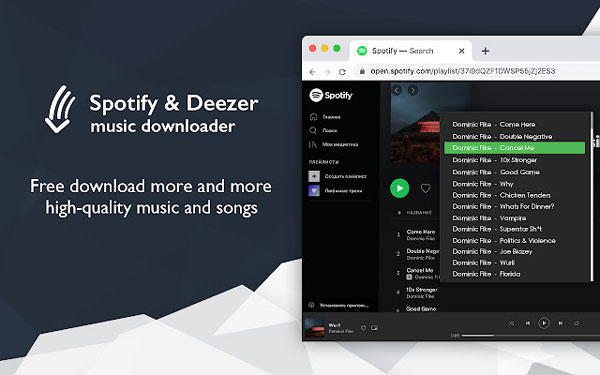 To download Spotify music using this extension, follow these steps:
Step 1: Go to Spotify Deezer downloader Chrome extension and download it. After that, click on the extension's icon, immediately bringing up the Spotify Web Player for you to use.
Step 2: Discover some songs, albums, artists, or playlists you wish to save to your computer.
Step 3: Click the Download button next to each track, and the MP3 will be stored in the folder designated for your downloads.
Pros
Free of cost
Does not require a third-party tool
Easy to download music
Cons
2. Spotify VK Downloader Chrome Extension
Spotify VK Downloader, now known as Spotiload, is a free extension for Google Chrome that has a user interface optimized for VK users. It gives users of VK a method to download music from Spotify, play it offline on their player, and access playlists. You will need to sign up for a VK account to utilize this professional-grade, free Spotify downloader.
The Spotify VK Downloader Chrome extension functionality is not difficult to grasp at all. Users of VK may use this website to upload MP3 files from their local computers and give the file any title they choose. When you use Spotify VK Downloader to download music from Spotify for free, it will analyze the song titles to determine whether or not such songs are accessible on vk.com.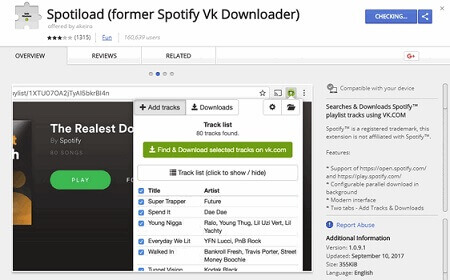 To download music using this Spotify song downloader Chrome extension, follow these steps:
Step 1: Go to the Chrome browser and download the Spotify VK Downloader Chrome extension.
Step 2: Enter Spotify Web Player and search for the Spotify songs you want to download. Please copy and paste the Spotify URL.
Step 3: Go to vk.com and enter your account information. Please open the Spotify VK Downloader from the Chrome tool settings bar. Then, to load Spotify files, kindly click the Add songs button.
Note: If you don't already have a Spotify account, create one using your email or Facebook account.
Step 4: Spotify VK Downloader will automatically display matching music. After clicking the Find & Download chosen music on the vk.com button, the downloading procedure will begin.
Pros
No need to install extra software
Compatible with all major OS
It plays Spotify music on every device
Cons
Lack of ID3 tags
Limited output format
3. DZR Music Downloader
The DZR Music Downloader Chrome extension is a free Spotify playlist downloader Chrome extension that enables you to save your favorite audio songs from Spotify, Deezer, SoundCloud, and other websites. Anyone may download music of high quality with this plugin with only a single click and in minutes rather than hours.
By clicking on a button that appears next to the artist or song you want to download, the extension allows you to download music directly from the website. Keep your music until the day when you may play it for your friends and share it with them. The application can identify the songs hosted on a website and provide a single button that can be used to download them. Listen to the music you want, with no limits, even when you're not online.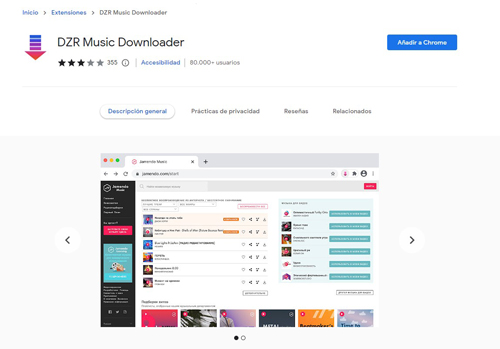 To get Spotify music for free using this Spotify MP3 downloader Chrome extension, follow these steps:
Step 1: Open the Chrome web store on your preferred browser, and download the DZR Music Downloader extension.
Step 2: Pressing the small extension icon will take you to the Spotify Web Player.
Note: You must enter your Spotify account information. If you do not have a Spotify-free account, create one.
Step 3: Search for the songs you want to download. Then, in each song, you'll see a Download button. To begin the downloading process, please click the Download option.
Pros
Easy to download songs
Includes ID3 tags
Cons
Limitations on downloading
---
Part 2. Best Spotify Downloader Chrome Extension Alternative
Looking for the best Spotify Chrome extension downloader alternative? You'll find the right answer in this section. Although Chrome extensions are free and easy to use, they have some download limits. To avoid those download limits, you need a third-party Spotify music converter. If that's the case, AudFun Spotify Music Converter is your best option.
Users of Spotify, free and premium, can benefit from the professional quality and functional capabilities of the AudFun Spotify Music Converter. It allows users to download music from Spotify, including songs, playlists, albums, etc. Additionally, it is dedicated to converting Spotify to a wide range of audio recordings, including MP3, WAV, FLAC, AAC, etc. With the help of this incredible Spotify downloader, you can take your music with you everywhere you go and listen to it without an internet connection.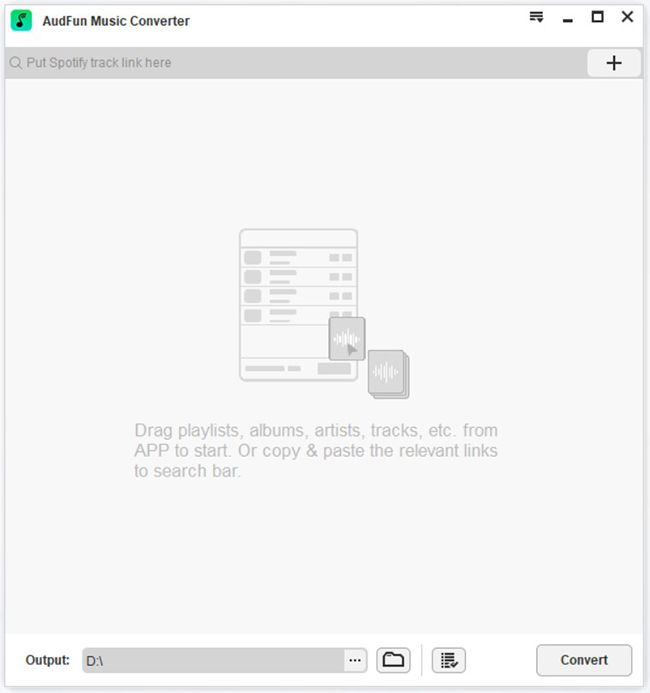 Check the following steps to download Spotify songs offline without premium using AudFun Spotify Music Converter.
Step 1: Download and install AudFun Music Converter and launch it on your PC. Go to the Spotify app, navigate to the song you wish to download, and copy its URL.
Step 2: Now, paste the URL in the address bar of AudFun Spotify Music Converter and click on the + icon to load them.
Step 3: Go to the Menu bar and then select Preferences. Then, go to the Convert section to open the settings box. Customize the output format parameters now.
Step 4: Once you're done, click on OK. After that, select Convert to download the selected Spotify music.
---
Part 3. 2 Other Spotify Downloader Extensions for Other Browsers
Except for Chrome extensions, there are some other Spotify download extensions you can use for other browsers. The following are 2 useful ones for your reference.
1. Audio Downloader Prime
Audio Downloader Prime is a Firefox web browser extension. It may assist users in fast downloading tunes and movies using the Firefox web browser. You may get Spotify songs for free by installing this plugin in your Firefox web browser.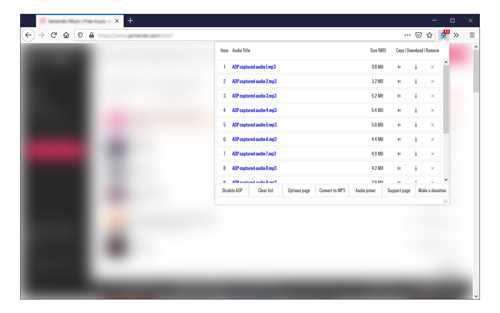 Let's take a look at the guidelines on how to get Spotify songs downloaded with this Spotify music downloader extension.
1) Go to the Firefox store, download the Audio Downloader Prime extension, and add it to your browser.
2) Open Spotify Web Player and copy the URL of the song you wish to download.
3) Now, go to this extension, paste the URL, and click on Download Song to download the Spotify music.
Pros
Free of cost
Works for Opera and Firefox
Stable output
Cons
2. Skyload
Skyload is an excellent add-on for Opera users. It allows you to download music and videos from Spotify, VK, and various other websites. Meanwhile, all downloaded audio files include ID3 tags and a cover. You can preview and listen to music before downloading it.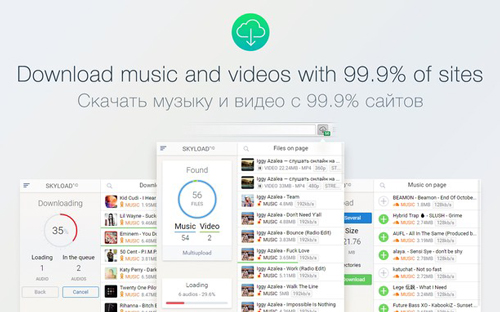 Follow the below steps to download Spotify music using this downloader extension on Opera.
1) Go to the Opera store, download Skyload, and add it to your browser.
2) Click on the extension icon to load the Spotify web player. Navigate to the song you wish to download.
3) Now, press the Download option to download the Spotify music.
Pros
Preview Mode
Keep ID3 tags
Cons
Only MP3 format supported
---
Part 4. Conclusion
Spotify is among the top music streaming platforms, and millions of people use it to listen to music. However, the platform is not free, and you cannot listen to every song in a free version. But we hope that you know how to download Spotify music for free using the Spotify downloader Chrome extension after reading this article. Moreover, we recommend using AudFun Spotify Music Converter to download Spotify music in high quality. It gets no limits and converts Spotify music files to many other formats like MP3, FLAC, WAV, etc.