Several formats are available that music streaming services use to store their files. Generally, such formats are compressed and used to restrict access. Spotify uses the Ogg Vorbis format to keep its files only accessible via the Spotify app and browser. That's why Spotify music is not playable outside the set jurisdictions.
For this, you have to convert Spotify Ogg Vorbis to MP3 so that you can play it offline on local devices and media players. This article brings you a straightforward way to convert Spotify files and easily access them without further restrictions. But first, let's get a deep insight into the Ogg Vorbis format.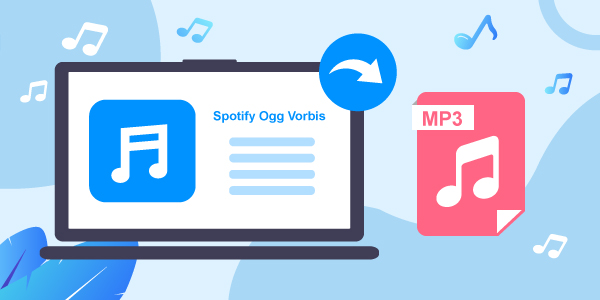 ---
Part 1. Know More about Ogg Vorbis Format
Even though it is a compressed format, Ogg Vorbis is still not accessible on common devices. What does this mean?
What Is Ogg Vorbis Format?
This is an open-source audio compressed format that is majorly used by music streaming services to restrict access to their files. The "Ogg file extension" does compress files to very small sizes, reducing the bandwidth and storage needs. Likewise, such files produce better sound quality than other commonly used file formats like MP3.
Is Ogg Vorbis the Same with Ogg?
Ogg Vorbis is the same as Ogg to some extent because they are used interchangeably. Vorbis is software that encodes or decodes music channels. In other words, it is an audio compression development that was initially started and launched in 1933 by Chris Montgomery at MIT. Chris felt the need to make a free MP3 alternative available for many in business. On the other hand, Ogg is the container format that is used with the Vorbis software.
---
Part 2. Why Spotify Uses Ogg Vorbis Format
Spotify settles on the Ogg Vorbis format because it's open-source in the public domain that encrypts data securely while giving no loopholes of decryption. It is generally free and occupies very minimal space capacity as compared to other file formats like MP3. Additionally, the Ogg Vorbis format delivers a high-quality output that is quite relative to the bandwidth that is required to stream files.
---
Part 3. How to Convert Spotify Ogg Vorbis to MP3 Format – Best Tool
Since Ogg Vorbis encrypts Spotify files and inhibits direct access, you need to convert your Spotify tracks to common output formats. Use AudFun Spotify Music Converter to get your Spotify playlist in MP3 format. AudFun encompasses high technology algorithm that converts your files to any format such as FLAC, M4A, MP3, WAV, among others.
It works at a quality speed of X5 rate to manage a batch conversion of your files in a short time. More so, you get lossless quality Spotify music output as it retains all the ID3 tags and metadata information like genre among others.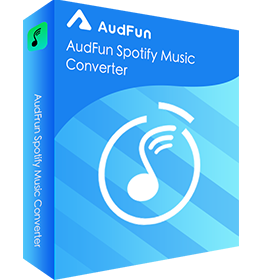 Main Features of AudFun Spotify Music Converter
Supports offline playback of your converted Spotify playlist
Retain ID3 tags and metadata information
Can handle the batch conversion of your files
Convert Ogg Vorbis format to common output formats like WAV, MP3, etc.
How to Convert Ogg Vorbis to MP3 with AudFun Spotify Music Converter
Here is a step-by-step guide to convert and download Spotify songs to MP3 or other common output formats by AudFun Spotify Music Converter. Just go ahead and take a look at it.
Step 1 Download and install AudFun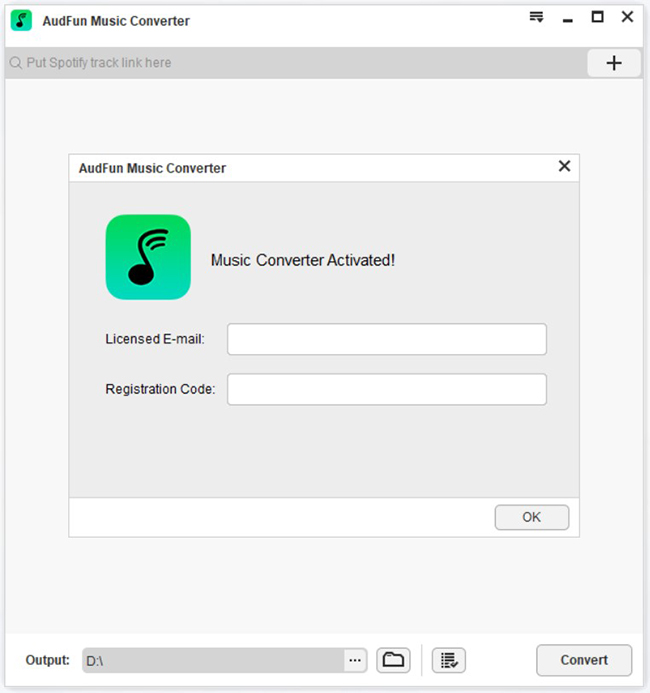 Download either Windows or Mac OS version of the AudFun program. Then install the app on your computer. Next, launch the app and ensure that the Spotify app is also installed on the computer in advance. Note that you won't convert more than one minute of your song with the free version. To curb this, you need to buy and register your application. Click on the "Register" button and key in your licensed email address and code information in the boxes.
Step 2 Add Spotify songs to AudFun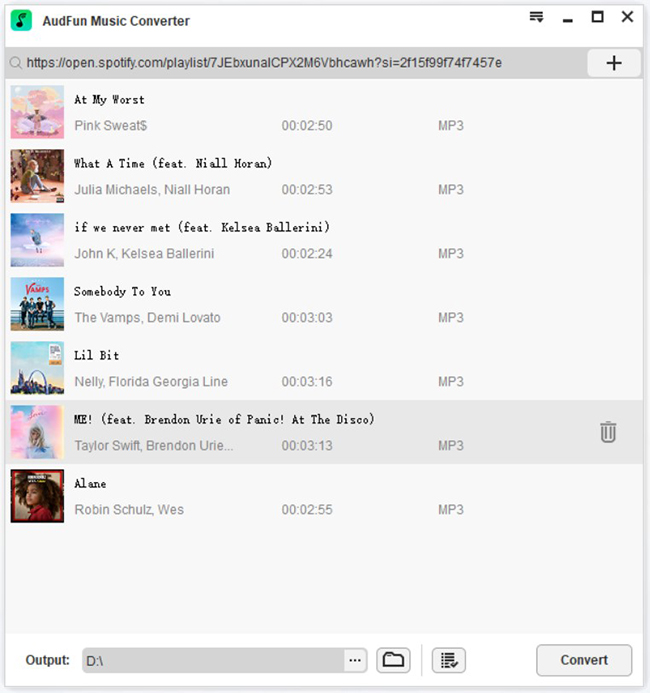 Pick the Spotify songs that you want to convert to MP3 format. Next, hit on the item and click the "Share" button. Then go to the "Copy Spotify Link" option to copy the song URL link and paste it to AudFun's address bar. Hit on the "+" icon to now load your Spotify songs to the AudFun interface.
Step 3 Customize format and parameters for Spotify Ogg Vorbis files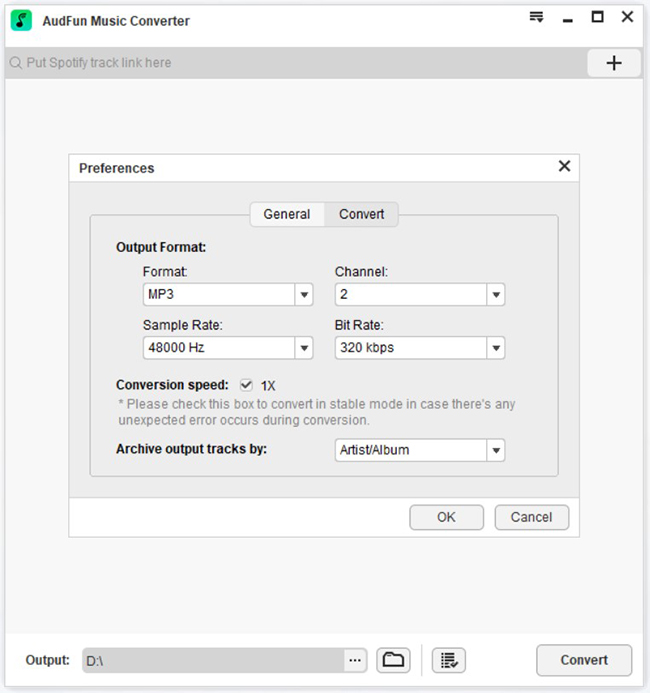 Choose the output format as MP3, then continue to set other parameters. Just click the "Menu" tab and choose the "Preferences" > "Convert" options to enter parameters. Then you can start to set the output parameters for Spotify music files as you want.
Step 4 Convert Spotify Ogg Vorbis to MP3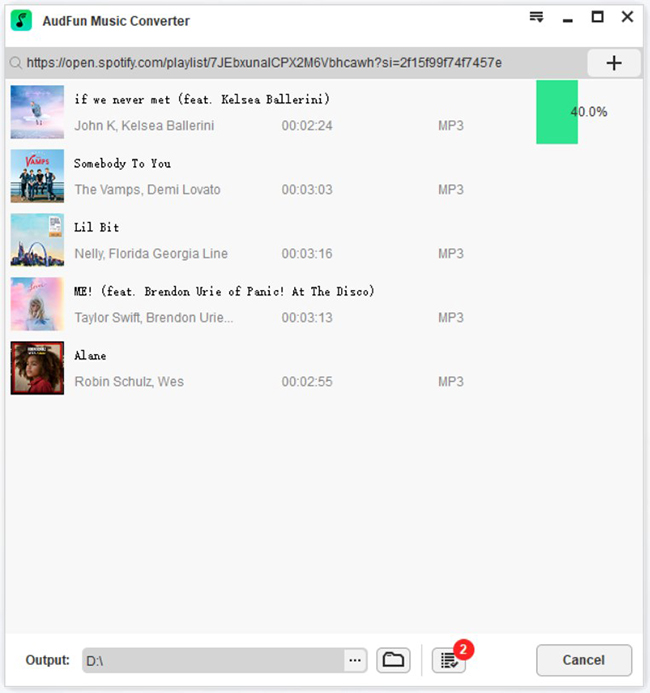 Confirm your settings, then click on the "OK" > "Convert" button. AudFun Spotify Music Converter will then download and convert your Spotify playlist to the set parameters. Finally, locate the Spotify playlist in MP3 in the "Converted" Spotify folder of your computer's local storage disk. Then you can listen to the local Spotify songs anywhere offline.
---
Part 4. Spotify Ogg Vorbis vs MP3: Differences
You need not only to know how to convert Spotify Ogg to MP3 but also to know the differences between Ogg Vorbis and MP3 format.
Despite being the two most commonly used music output formats, Spotify Ogg Vorbis vs MP3 differs from each other. MP3 format is regarded as the universal music format. Short form for MPEG-1 audio layer 3, this file format holds a packet of other small files while retaining the original quality and supports playback of your music on any device.
Ogg Vorbis format is pretty compressed and smaller than MP3. It is an encrypted audio format that the music industry uses to restrict access to their files. It is a widely used open-source format as it appears not to be patented by any individual or organization. The added layer of protection makes it the perfect choice to emphasize security and protection on important files more than any other file format.
---
Extra Tips: Convert Ogg to MP3 Online
Online conversion tools are also widely used especially when you are running out of space on your device. You don't need to install the app but just hop online and boom! You convert your files in a few clicks. Here are two online converters you can use to convert Ogg to MP3 online.
1. Online-Convert
Firstly, access Online-Convert from any browser on your computer. It supports up to 200MB file size to convert. Follow these steps to convert Ogg files to MP3 with Online-Convert.
Step 1. Visit the official site then select the "Ogg Files" to "MP3". Next, click on the "Choose Files" button to add your files and then select the "Convert to MP3" option.
Step 2. You can choose files from your computer, Dropbox, Google Drive, among other points. Alternatively, just drag and drop the Ogg files to the online converter tool.
Step 3. You can opt to adjust the output parameters like resolution, sample rate, channels, etc., before converting your files. Once your file is uploaded to the app, click the "Start Conversion" button to convert from Ogg to MP3 format. Save your files on the computer and manage them offline.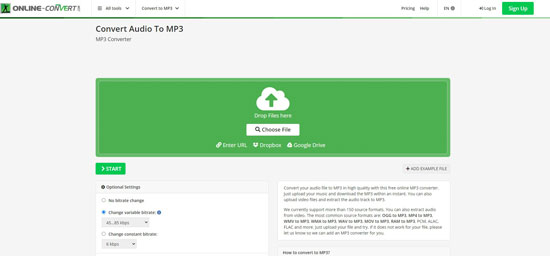 2. CloudConvert
This is another online conversion application that you can use to convert Ogg to MP3 files. CloudConvert supports over 200 formats like images, presentations, eBooks, audio, etc. Follow this guideline to convert Ogg to MP3 format.
Step 1. Visit the official website of "CloudConvert" and choose the convert file format from Ogg to MP3 format option.
Step 2. Click on the "Select Files" tab to select your Ogg files. Choose from where to get them such as Google Drive, OneDrive, URL link, or from your computer storage.
Step 3. Then hit on the "Start Conversion" tab to convert your Ogg files to MP3 format to listen to Spotify offline without premium.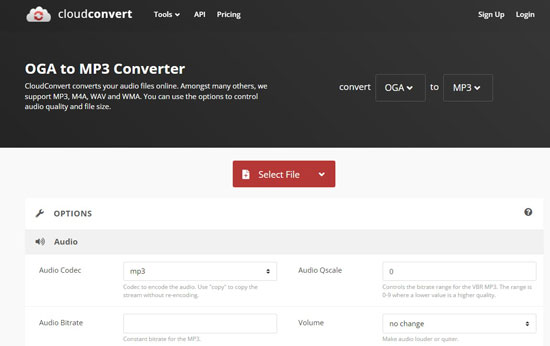 ---
Conclusion
They differ in their distinct ways. You are now away what it takes to convert Spotify Ogg Vorbis to MP3. The latter is highly accessible on numerous devices and media players. Meanwhile, the Ogg Vorbis format emphasizes security additions, making it a perfect choice to encrypt files like Spotify music.
However, the best app that makes it possible for you to convert and access Ogg Vorbis in other famous formats is to use AudFun Spotify Music Converter for lossless output quality. But if the quality doesn't matter to you much, these two online converters can also get you off the hook and convert Ogg to MP3 online in a few clicks.