Spotify is indisputably the greatest audio streaming platform in the world, hosting an infinite collection of music from a varied spectrum of genres and performers. This popular music service houses over 155 million paying customers, with 345 million active users per month. It allows the consumers a handy platform to look for and listen to their favorite songs. However, the app has certain limits.
Although Spotify enables users to download music for offline playing, you can only do so on an approved device or player. For instance, if you wish to download Spotify tracks to play them later on a local computer, you will fail. Fortunately, there are some Spotify downloader online free that can help you download and enjoy Spotify music. So, read ahead to explore the best 8 Spotify downloaders that are online and free.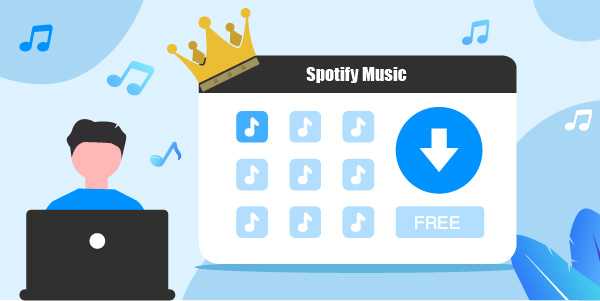 ---
Part 1. Free Spotify Downloader Online for Windows/Mac
In this part, we will introduce 5 Spotify downloader free online on Windows and Mac computers for you. Please check out the detail of each one below.
1. 4Hub Spotify Downloader
The 4Hub Spotify Downloader is a free Spotify downloader that can be accessed online. It gives you the ability to download songs that you like from Spotify.
It is simple for you to begin the conversion process or download songs or playlists from Spotify thanks to the app's user-friendly interface, which is aesthetically pleasing and uncomplicated. Utilizing this tool would result in lossy sound recording, which is the only drawback.

Step 1: Log in to your Spotify account using the player connected to your network, and then go to the playlist page.
Step 2: You will need to copy the page's URL to paste it into the search box of this free Spotify downloader online.
Step 3: Click the Download button shown below the box, and downloading your file will start immediately.
Step 4: You may examine the files by going to the Downloads section of your web browser at this time.
Pros:
Easy to download music from Spotify via the song's URL
Its website can be easily accessed and used on any device
Cons:
The downloading speed is quite low
Couldn't download some songs sometimes
Can't download Spotify songs in a batch
May crash sometimes before downloading Spotify music
2. AllToMP3
AllToMP3 is a Windows program that allows us to download music from digital streaming services such as Spotify, YouTube, and SoundCloud, amongst other audio and video platforms. So, it is also a great free online Spotify music downloader.
Using this approach, downloading music from Spotify is both the simplest and most comprehensive option. You only need to copy the URL to the source file and then enter it into the needed bar shown in the application.
After that, you will be able to download music in high quality at 256 kbps. As output formats, it is compatible with both MP3 and WMA. It also provides similar services on its website if you do not choose to install the program on your computer.

Step 1: To install AllToMP3, open a new tab in your browser and go to the AllToMP3 website.
Step 2: To download a song from Spotify, open it and copy the artist's name and track title.
Step 3: Launch AllToMP3 and put the URL into AllToMP3's research area so that it may be added to the download queue.
Step 4: To begin downloading Spotify songs, press the Enter key on your keyboard. The instrument will then save the music in MP3 format to your computer.
Pros:
Totally free to use
Support multiple operating systems
Cons:
Low conversion speed
Can't download some songs from Spotify
Always get unknown errors
3. Spytify
To record and extract Spotify songs on a Windows computer, try out Spytify, a free and open-source desktop application. Songs from Spotify may be downloaded and skipped over. As a result, it can record Spotify to MP3, including ID3 information like album name and artist.
It can also automatically separate Spotify tracks while recording. Music from Spotify may be easily downloaded to an MP3 device with the help of Spytify.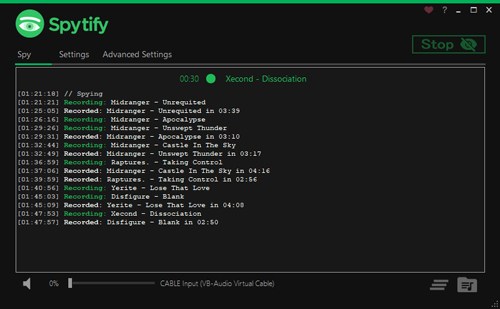 Step 1: Install Spytify on your PC by downloading it from GitHub.
Step 2: Launch the Spytify Spotify downloader online free and the Spotify desktop application you previously installed.
Step 3: Spytify's 'Start' button may be found in the upper-right corner. Then hit on it and go to play the Spotify music you want to download.
Step 4: Spytify will begin to record and download music from Spotify. After the process, you can find the Spotify music tracks at: …/My Music/ folder on your computer.
Pros:
Free of charge
Can block ads from Spotify
Support to split audio
Preserve metadata of Spotify music
Cons:
Not available on Mac computers
Can't work with the Spotify web player
The output sound quality is quite low
4. Spotify Deezer Music Downloader
Spotify Deezer Music Downloader is another Spotify downloader online free we'd like to recommend. It's a Chrome add-on that lets you download Spotify playlists. It can download Spotify playlists using the Spotify Web Player rather than the Spotify app. It is also capable of downloading music from third-party providers like SoundCloud and Deezer.
This well-known Spotify MP3 downloader online free eliminates the need for any other software installed on your PC. Instead, you'll want to add it to Chrome's extensions list.
You can now add a "Download" button to the Spotify Web Player's interface with the help of this ingenious Spotify downloader free online. If you have a free Spotify account, you may use it to download songs, playlists, and other content from Spotify.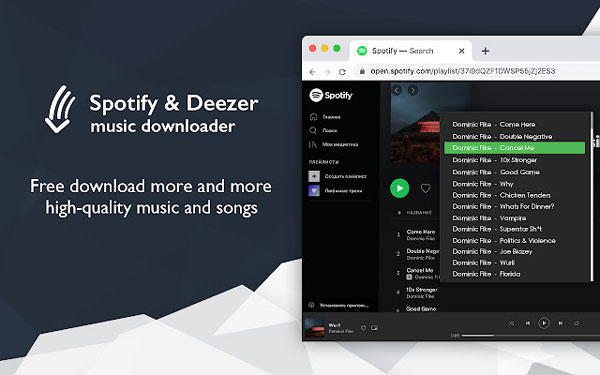 Step 1: You may find Spotify Deezer Music Downloader by going to the 'More Tools' > 'Extensions' button on your browser and click on the three-dot symbol.
Step 2: The utility may be installed by clicking on the 'Add to Chrome' button after finding it. When you click on the tool icon, the Spotify Web Player will open instantly.
Step 3: Select the playlists you want to download by logging into your Spotify account. You may download the Spotify playlist by clicking the "Download" button.
Pros:
Free
No need to download any extra third-party program on your computer
Cons:
The conversion rate is not stable enough
Only support to output MP3 files
5. Spotiload
Spotify VK Downloader is another name for Spotiload. Users of VK.com may utilize this Chrome add-on. VK.com users may download Spotify tracks and playlists to MP3 using the Web Player. It's also a free Chrome plugin for Spotify downloads.
There isn't a version for the Firefox web browser for the record. As a result, this free online Spotify music downloader should not be used in other browsers. Some nations may be able to prohibit the use of Spotify music downloaders online. This is because Spotify has not accepted it.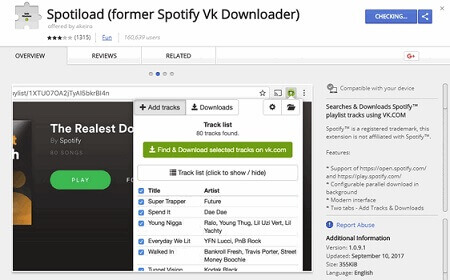 Step 1: Use Google to find this Spotify music downloader. Please install this Chrome extension as well.
Step 2: Use the vk.com social network to find and download your favorite Spotify music.
Step 3: Begin downloading songs from Spotify by clicking on the "Download" button.
Pros:
A free Spotify downloader online
Can be used on Windows, Mac, Chrome OS, etc.
Cons:
The output audio files lack ID3 tags
Doesn't support setting other audio parameters
Can only download 10 songs at once
Need to have a vk.com account
Only MP3 output audio format is available
---
Part 2. Spotify Downloader Free Online for Android/iOS
Now, in this part, it is time to show the Spotify downloader online free for Android and iOS to you. There are two tools here. Please check them out below.
1. SpotiFlyer
The name of the free online Spotify downloader APK for Android is SpotiFlyer. You have the option to download your favorite Spotify sounds to your Android phones directly, including albums, singles, playlists, and more.
This option is available to you via Spotify. It will store all of the Spotify songs you have listened to without the advertisements. In addition to that, it is compatible with services like Gaana, YouTube Music, Jio-Saavn, and SoundCloud.
Step 1: To quickly download the music using SpotiFlyer, users need to copy the URL to the song and paste it into the search box of the program.
Step 2: Click on the 'Search' button to let SpotiFlyer download Spotify songs. The download speed is fairly rapid, which ensures the user's safety and saves them time.
Pros:
Can download songs from multiple platforms
Free and easy to access
Cons:
Output audio quality is a little bit low
2. Telegram
Telegram is a cross-platform messaging app used by iOS and Android users alike. You would be able to access the Spotify database thanks to the presence of a bot on the platform.
After that, not only will you be able to share your cherished playlist with the people who follow you on Telegram, but you'll also be able to take pleasure in the activity of downloading music from Spotify.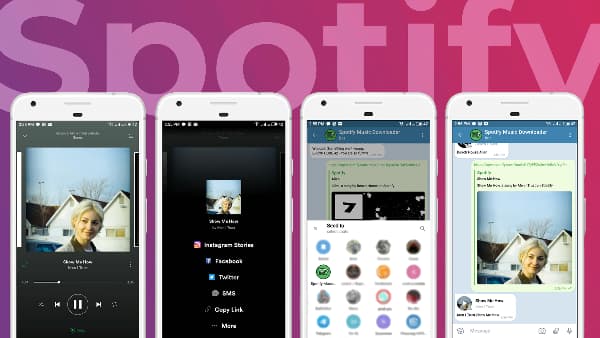 Step 1: You may get Telegram from the App Store and then download and install it.
Step 2: Launch Spotify on your mobile device and copy the URL of the track or playlist you want to save to your device from Spotify.
Step 3: The next step is to activate Telegram and search inside Telegram for a Spotify music downloader.
Step 4: After that, under the searching solution, choose the Telegram Spotify bot, and then select the Start yellow journalism option.
Pros:
Available for both Android and iOS devices
Cons:
Only output MP3 audio format
Can't download the playlist from Spotify
---
Part 3. Best Spotify Downloader – AudFun Spotify Music Converter
Above we had shown you the Spotify downloader online free on Windows/Mac/Android/iOS. Here we will introduce a professional Spotify downloader to you. It is AudFun Spotify Music Converter. And it is a Spotify track downloader and converter. No quality is lost during the download and conversion process from Spotify to MP3 and other common formats.
Innovative and inventive decryption technology allows it to operate at a 5X speed increase. Furthermore, it may save the original ID3 tags, such as the title of a track, the artist, the album, etc. Changing audio settings allows you to alter the quality of Spotify music output. The bit rate, audio channel, sample rate, and more are all included in this section.
Free and paid users may access it to download any music from Spotify they want. By using this tool, playing Spotify on various popular music players and devices is a unique experience.
How to Use AudFun Spotify Music Converter
Step 1: Open the AudFun Spotify Downloader on your PC or Mac. Using the launching Spotify app, drag & drop your music or playlists to the main interface of this program.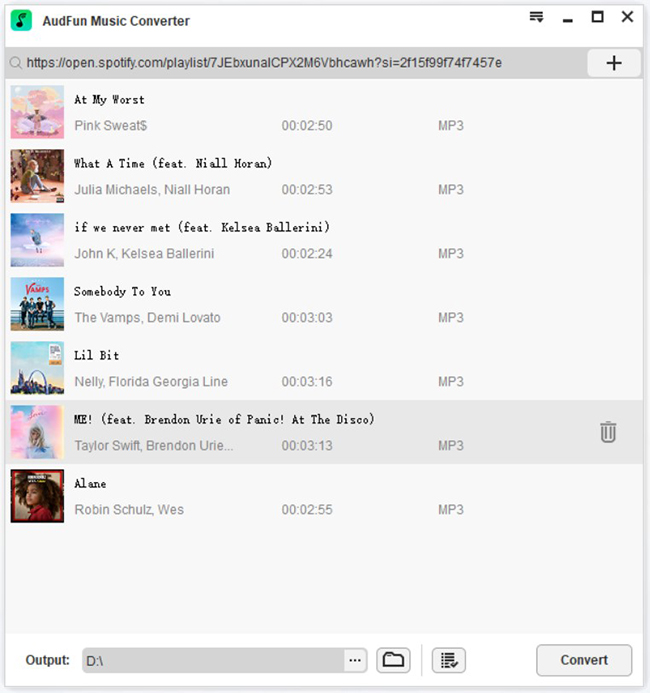 Step 2: Spotify's output format and other options may be customized if required. You can choose the Preferences option from the menu icon on the top-right corner of AudFun, then hit on the Convert tab on the settings window.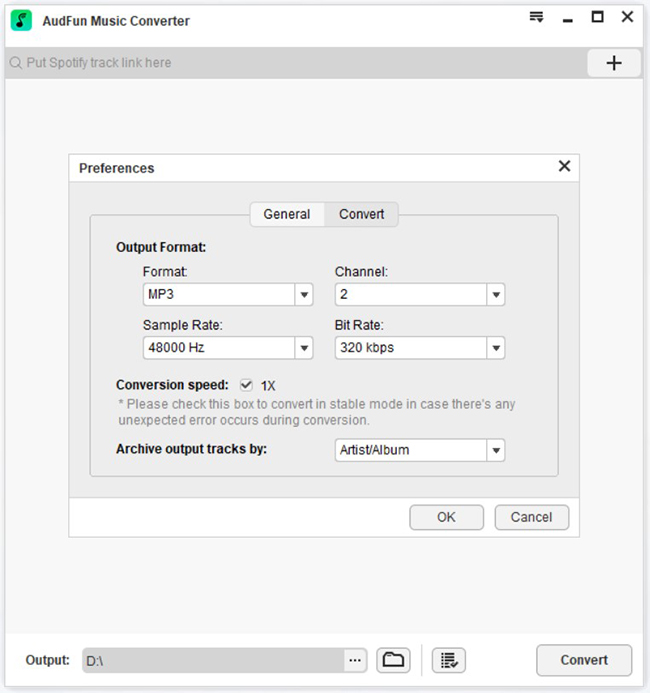 Step 3: Now, click on the 'Convert' button to download and convert Spotify songs. All Spotify playlists will be downloaded at 5X speed to your local computer. After that, find the downloaded Spotify music files on your computer via the 'history' icon on AudFun.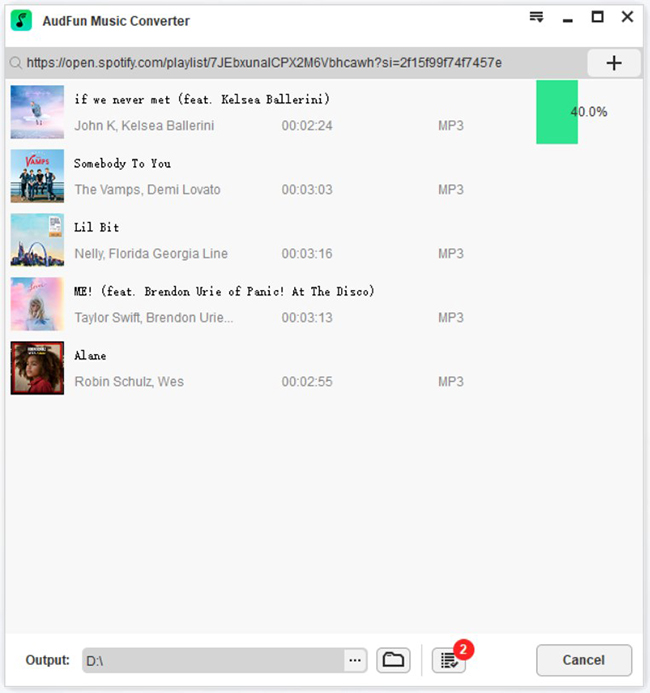 ---
Part 4. Conclusion
All of the Spotify downloader online free mentioned above allow you to save Spotify music as an MP3 file for offline listening. To download Spotify music for free without installing a faulty application, select a free online Spotify music downloader that suits your needs.
However, AudFun Spotify Music Converter is the best Spotify playlist downloader available. If you're looking for an app that allows you to store Spotify tracks on your phone or tablet, this one is a must-have. By using this smart program, you can easily get songs from Spotify with original quality and then you can enjoy Spotify music on any device and platform offline.