Speaking of making videos more engaging, one of the ways is to add some cool, unique effects to videos with video editors. And another recommended workaround we can't ignore is adding providential songs as background music. Music can create a special atmosphere for people watching videos.
To search and find appropriate background music for videos, Spotify, the world's largest streaming service ranks No. 1. It provides over 70 million songs in our selection of favorite music tracks for exclusive videos. After you found music on Spotify, you might consider how to add Spotify music to video.
Because it's an uphill task if you don't have a professional third-party tool to help you, here, we will walk you through the tutorial on using a video editor with Spotify music.

---
Part 1. Can You Add Spotify Music to Video Officially
Have you ever tried using a video editor with Spotify music? If yes, you probably already know that adding music from Spotify to a video directly is impossible. When you search the Spotify community for the answer to whether Spotify users can move Spotify songs as background music to video projects, the official announcement may be disappointed. You are able to play and use Spotify songs and playlists within the Spotify app itself only.
As a matter of fact, other popular streaming services are no exception, even subscribing to premium plans. They are protected by digital rights management, including Spotify songs and playlists. Spotify music is encoded in unique Ogg Vorbis format, which can be used in its official app and authorized devices.
Therefore, even if you can enjoy offline playback, downloaded Spotify music is cached files rather than local ones. You can't locate Spotify music download files locally. So, you can't add Spotify music to video apps for editing and mixing.
---
Part 2. Add Spotify Music to Video App – Tool Required
To add music from Spotify to a video, the premise is to download Spotify music to computers locally. Besides, not any video editor app is compatible with Ogg Vorbis files. It's highly recommended to convert Spotify songs and playlists to common formats, like MP3.
To satisfy the above two conditions at the same time, you can draw support from AudFun Spotify Music Converter. It's a professional Spotify music downloader and converter for both free and premium Spotify users. It is designed to download and convert Spotify music to MP3, FLAC, WAV, and other common audio formats that all popular video editing apps can recognize. Without a doubt, all Spotify music files are local tracks, and you can find them on your computer.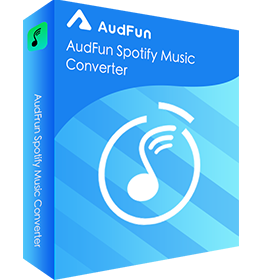 AudFun Spotify Music Converter
Download Spotify music and playlists locally for free
Convert Spotify to video editor-supported audio tracks
Add Spotify music to video editing tools
Lossless audio-quality background music for videos
---
Part 3. How to Add Spotify Music to Video
Before getting started to download and add Spotify music to video apps, please install the Spotify app and AudFun Spotify Music Converter on your computer ahead of time. No need to upgrade to the Spotify Premium subscription, you can just sign in to your Spotify free account. But it's better to purchase the full version of AudFun Spotify Music Converter to unlock file conversion length.
Step 1 Add Spotify music to download locally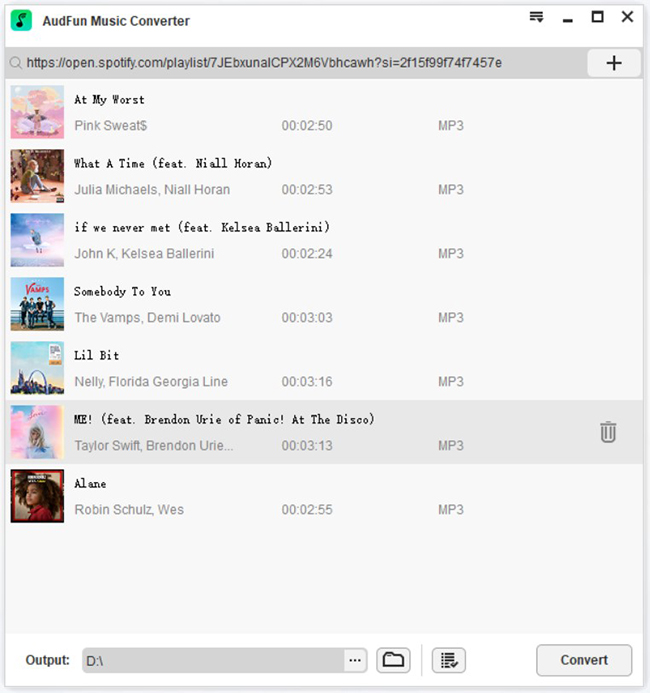 First of all, please start AudFun Music Converter for Spotify on your Mac or Windows computer. Then you need to import the Spotify music or playlists from the opening Spotify app into AudFun Software. To do this, you can either drag and drop Spotify music directly into the conversion window or copy and paste Spotify's URL into AudFun's search box and click the '+' button to upload them.
Step 2 Customize Spotify output format for a video editor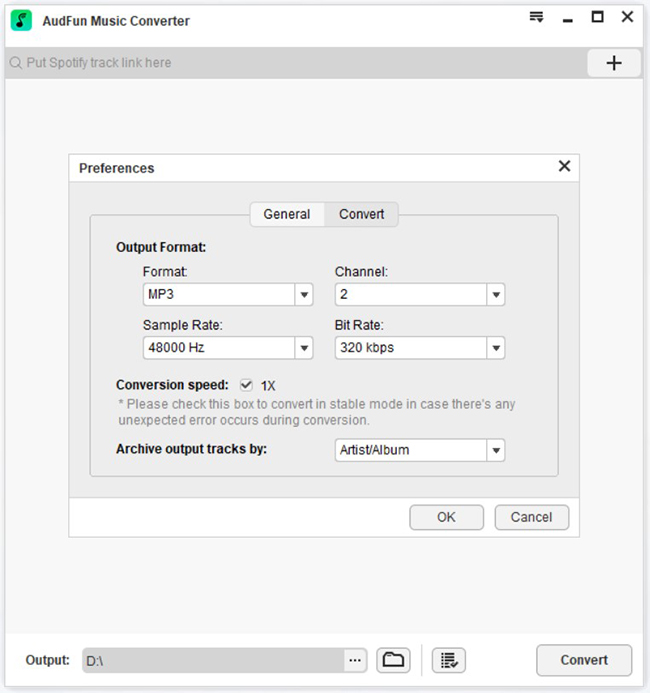 AudFun Spotify Music Converter supports multiple output formats, including M4A, MP3, FLAC, WAV, AAC, and M4B. With this feature, it couldn't be easier to add Spotify music to videos. Hit on the top menu bar -> Preferences -> Convert button to set the correct output format according to video editor compatibility. In addition, you can customize other audio parameters, like bit rate, sample rate as needed.
Step 3 Download and convert Spotify music for the video editor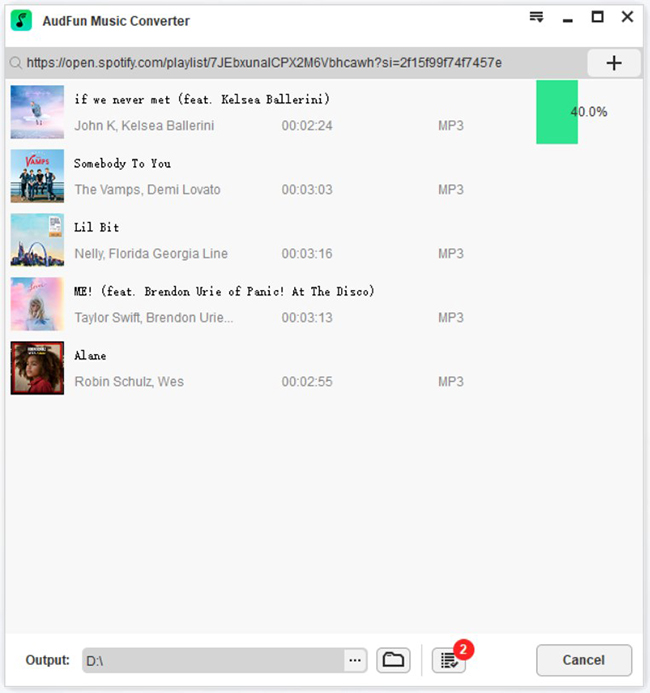 When all the settings are in place, simply press the Convert button in the lower right corner of AudFun's main screen. The real-time conversion process will show a percentage. Typically, it can work up to 5X faster conversion speed without losing mass.
Step 4 Add Spotify music to video on the phone
Connect your phone to the computer via the network connection or a USB cable. To add Spotify music to videos on iPhone, you can use iTunes as the bridge. Please upload and transfer Spotify playlists to the iTunes library on your computer firstly. And then you can access Spotify music via iTunes on iPhone with the same Apple ID.
For Android users, you can directly copy and paste your Spotify music to your phone. When you're done, you can easily add music from Spotify to the video app for setting as background music for videos on your phone.
---
Part 4. How to Use Video Editor with Spotify Music
All common Spotify MP3 files are saved in the target folder. You now have the freedom to import local Spotify music downloads to video editors and make them as background music.
Then, what're the complete steps for using the video editor app with Spotify music? Here, we will take Splice and iMovie as examples to explain clearly the detailed tutorial.
How to Import Music from Spotify to Splice
Step 1. Choose the converted Spotify music and add Spotify music to Splice, and then open the Sharing option.
Step 2. Choose the Copy to Splice button and then you can find the Music option.
Step 3. Please navigate to this section and go to the Imported Music option to find Spotify music for editing on Splice.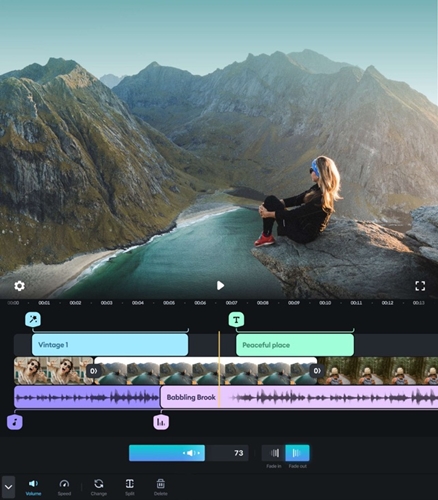 How to Add Music to iMovie from Spotify
Step 1. Please transfer Spotify music to your iTunes library in advance. Open iMovie from your computer or iPhone and launch your iMovie video project.
Step 2. Hit on the Add Media option to select Spotify music from your iTunes library for a review.
Step 3. To add Spotify music to iMovie video projects, please press the Plus button next to each Spotify song.