"I wanted to edit my TikTok videos before publishing them. My friend said that KineMaster is the perfect software that can do the job for me. After downloading KineMaster, I checked all the options but I could not add Spotify music to KineMaster. I am looking for a free way to import Spotify to KineMaster. Thanks!" – User on the Internet
Are you finding an answer for how to add music to KineMaster from Spotify? If yes, then our article provides an extensive guide to using Spotify with KineMaster. You can add Spotify music to KineMaster using a simple tool that you will see in this article. To understand better, make sure to read the whole article.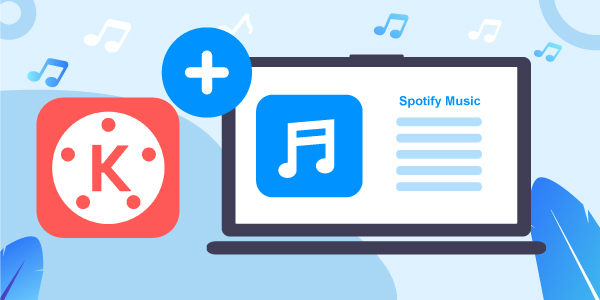 ---
Part 1. KineMaster: More You Need to Know
If you are new to KineMaster, it is better to understand the software before you continue to the part where you add Spotify music to it. Let's see below what is KineMaster.
What Is KineMaster?
KineMaster is a dedicated video editing software for phones, tablets, and Chromebook devices. Video editing is a tough job and requires computers or heavy machines. But, KineMaster makes thing simpler and allow all the powerful video editing feature in your hand through its mobile application.
It gives you all the cool features you would expect from professional video editing software. So, if you edit videos for social media, specially TikTok, then KineMaster is perfect for you.
What Kind of Media Formats that KineMaster Supports?
Whenever you add any music/video in KineMaster, there is some restriction on the kind of media that you can add to the software. Therefore, you must see the media format before adding it to the KineMaster software.
Below are the supported media formats of KineMaster:
Video Formats: 3GP, MP4, MOV
Audio Formats: MP3, AAC, WAV, M4A
Image Formats: PNG, GIF, WebP, JPEG, BMP
These are the supported formats that are provided by the KineMaster software. Any format except that would not be allowed to be imported by the software.
Can You Use Spotify with KineMaster?
The second question explained the supported formats for KineMaster. Unfortunately, Spotify music does not come with any supported audio formats. It comes in a protected format and cannot directly work with KineMaster.
But don't worry, as our guide will help you convert Spotify music into the KineMaster-supported format. Once you have it converted, you can import it into your KineMaster software and add it to your videos.
---
Part 2. How to Download Spotify Music for KineMaster – Best Tool
As stated in the previous section, you need a tool that can help you download and convert Spotify into a KineMaster-supported format. The best tool for this job is the AudFun Spotify Music Converter.
AudFun Spotify Music Converter is a tool that lets you convert and download Spotify playlists to plain audio files. You can convert Spotify music into KineMaster-supported formats such as MP3, FLAC, WAV, etc. Once you have Spotify music downloaded through it, you can play it offline on any device.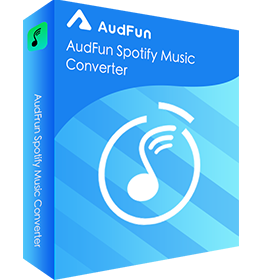 Key Features of AudFun Spotify Music Converter
Download Spotify music for free in original quality
Any content can be seamlessly downloaded from Spotify
Multiple output formats including MP3, FLAC, M4A, WAV, M4B and more
Support to add music from Spotify to KineMaster
---
Part 3. How to Convert Spotify Music for KineMaster
You can begin converting Spotify music for KineMaster by downloading and installing AudFun Spotify Music Converter from their official website. Once done, proceed to follow the steps below.
Step 1 Add Spotify music to AudFun Spotify Music Converter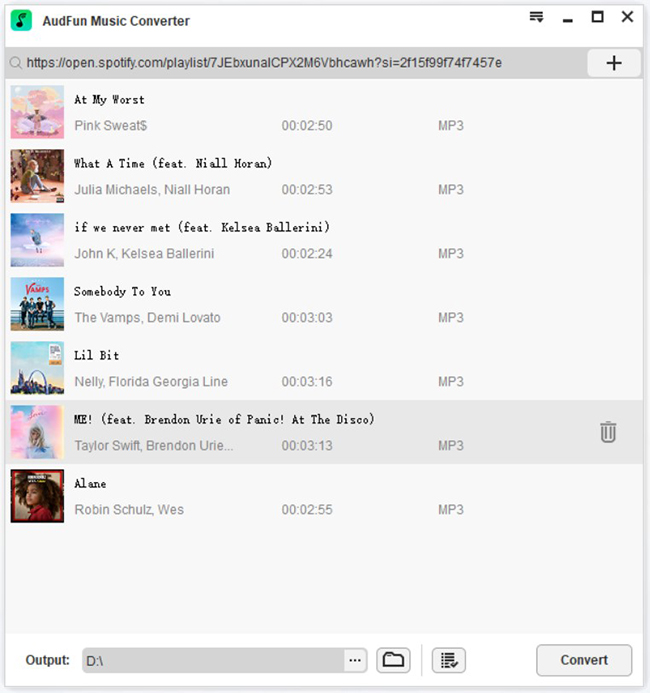 Now open the AudFun Spotify Music Converter. Find any Spotify song that you want to add to KineMaster. You can search it directly from the Spotify desktop application or by the Spotify web player. Once found, you need to copy the link to that Spotify music track. You can copy it by right-clicking on it and clicking on the Share > Copy Spotify Link option, and it will copy that song's URL.
And then paste the link in the search box displayed on the AudFun main interface. Once pasted, click on the + button, and the song will automatically be loaded to AudFun. Alternatively, you can drag and drop songs directly from Spotify to the AudFun software.
Step 2 Set the output format of Spotify song for KineMaster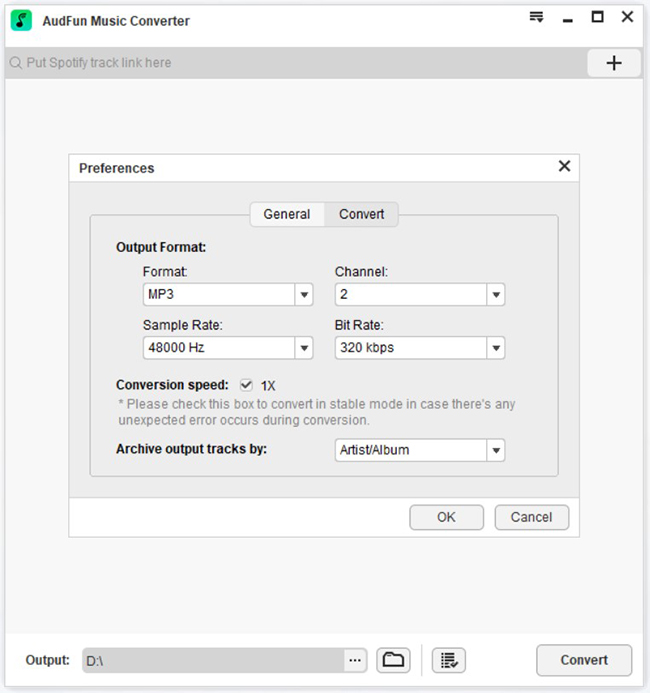 Click on Preferences from the Menu icon on AudFun. And then click on Convert in the new window to set the output audio parameters for your Spotify music. Here, the main thing is to select the output format such as MP3, FLAC, etc. Apart from that, you can also manipulate things like bit rate, sample rate, and sort tracks by artists or albums.
Step 3 Start converting and downloading Spotify music for KineMaster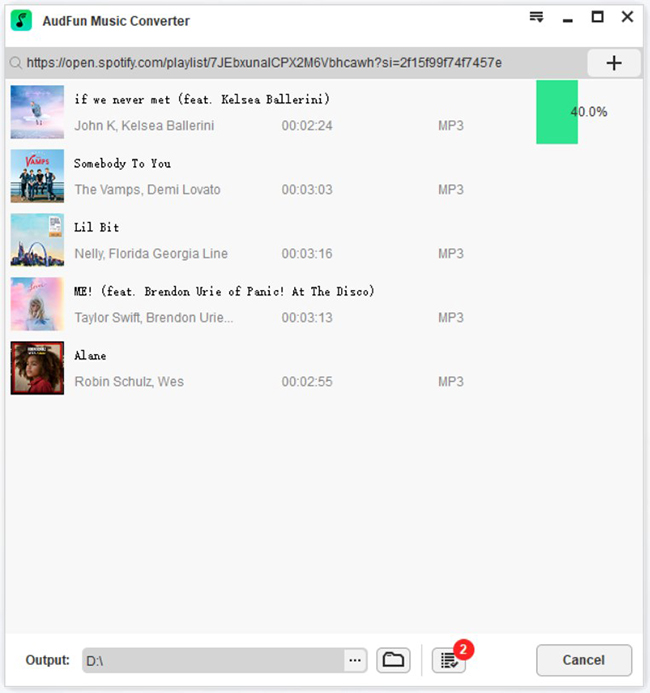 After finishing up the parameters tuning, click on the OK button, and all the settings will be saved. Now, you need to click the Convert button, and it will convert your Spotify song into KineMaster supported format. Once converted, all the converted Spotify songs will be placed inside your computer.
---
Part 4. How to Add Music from Spotify to KineMaster
Once you have the Spotify music downloaded for offline playback, you can add it to KineMaster. Let's see in upcoming sections how you can add Spotify music to KineMaster.
Add Spotify Music to KineMaster on Android Devices
Step 1. Connect your Android phone with your computer
After connecting the phone, copy all the download Spotify music to Android phone.
Step 2. Launch KineMaster and import the Spotify music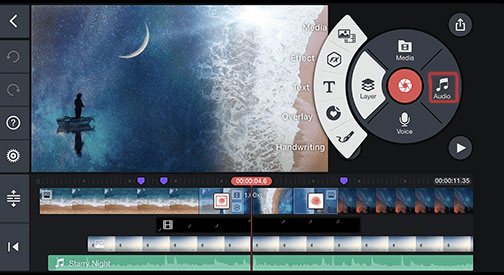 Open the KineMaster app on your phone. Then tap on the Music note icon and add the downloaded Spotify audio track. Once added, you can use any video you wish to edit through KineMaster.
Import Spotify Music to KineMaster on iOS Devices
Step 1. Add downloaded Spotify music to iTunes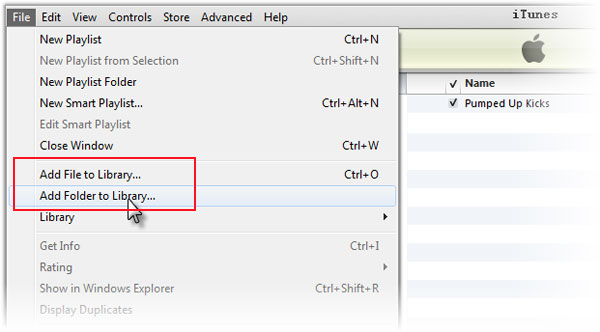 Launch iTunes on your desktop computer, and from there, you can select files and choose the option of Add Files to Library. It will add the downloaded Spotify music to your iTunes account.
Step 2. Sync iTunes with your iOS device
All you have to do is attach your iOS device to your computer using the USB cable. Once done, click on the device icon, choose Music > Sync Music, and hit the Apply button, and all the music will be transferred to your iOS device.
Step 3. Import music in the KineMaster application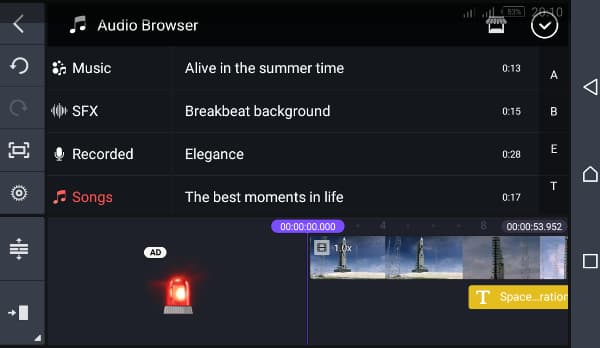 On your phone, just launch the KineMaser application and tap on the Music note icon. It will allow you to add the downloaded Spotify music files. You can add it to KineMaster and use any of the videos edited from KineMaster.
---
Part 5. Conclusion
KineMaster allows you to edit videos directly from your mobile device professionally. You get all the professional video editing tools with the help of this software. But unfortunately, KineMaster does not support Spotify music audio format.
Spotify music is protected and must be converted to KineMaster supported audio format. AudFun Spotify Music Converter is the best choice for converting and downloading Spotify music. It allows you to download Spotify music without losing original quality. Once you have the music downloaded through AudFun software, you can add it to your phone and use Spotify with KineMaster.