Fedora has developed into an excellent operating system as a free and open-source Linux distribution. If you have a large number of computers, you can install Fedora on all of them for free without worrying about malware or virus issues.
Additionally, it has several significant downsides. Despite being one of the most powerful operating systems available, Fedora is still unable to run specific programs, such as the music streaming service Spotify. In the meantime, many Spotify music fans wonder aloud: Is it feasible to play Spotify music on Fedora?
The answer is yes. In this post, we will show you how to get Spotify Fedora to work. Then you can use Spotify on Fedora with ease. Now, just follow the steps below and learn more.
---
Part 1. How to Get and Install Spotify on Fedora
For instance, Fedora promotes the use of free software and discourages the use of software that is subject to patents. Conversely, Fedora does not provide official support for the closed-source music streaming platform Spotify. The Spotify client, however, can still be installed on Linux with the help of the following method, which was made possible by the work of Spotify's software developers.
Here you can install Spotify on Fedora by using the Fedora Snap Repository.
Step 1: Use the Ctrl+Alt+T keyboard shortcut to open a terminal. Execute the following command if you wish: sudo apt-get install snapd. Then you will get Snap installed on your Fedora system.
Step 2: Now that Snap has been installed. To get Spotify on your Fedora, follow the command: sudo snap install Spotify and hit Enter.
Step 3: Spotify for Fedora can now be launched directly from the Applications menu or the terminal. Then, on Fedora, you can use Spotify on Fedora and listen to Spotify music you like.

---
Part 2. How to Use Spotify on Fedora – Best Way
Maybe the method above is a little bit hard for some people. If you have trouble installing Spotify on Fedora using the approach described above, don't worry, a far easier alternative is waiting for you. You can save Spotify music as a regular audio file on your computer, then synchronize it with Fedora's local storage. Isn't this the most practical option? Let's find it out below.
Customers of both the free and premium versions of Spotify can benefit from AudFun Spotify Music Converter. It is a music downloader and converter that includes all of the available features. Downloading music from Spotify is feasible on a track-by-track, album-by-album, and even playlist basis.
Using AudFun Spotify Music Converter is possible for you to circumvent the download limit that Spotify music imposes on users and convert Spotify music to standard audio formats such as MP3, FLAC, M4B, and more. All music conversions done by Spotify are lossless. Because of this, all of the essential aspects of the song, like its title, genre, composer, and so on, are preserved in the finished output.
Thanks to this fantastic Spotify downloader, you can now listen to Spotify music without an internet connection on all of your devices and platforms, like Fedora and so on.
Now, let's look at how simple it is to use this program to download Spotify music and convert Spotify to MP3 format! Before you can get started, you will need to download and install the AudFun Spotify Music Converter software on your computer. Once installed, please follow the instructions provided below in order to install Spotify on Fedora successfully.
Step 1 Import your Spotify playlist into AudFun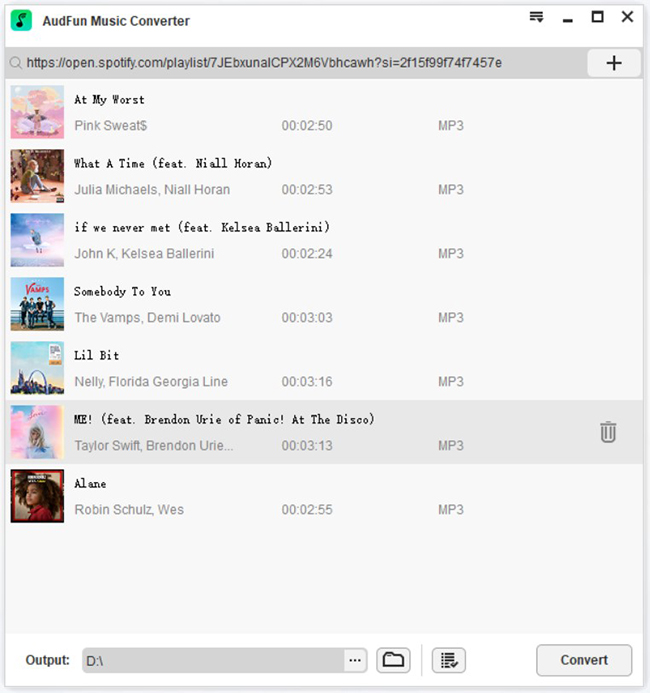 First, open the AudFun program on your PC/Mac computer and the Spotify app will show as well. Drag and drop your favorite Spotify playlists from the Spotify app into the AudFun's main window. Alternatively, you can copy the Spotify music URL and paste it into the search box at the top of the converter's interface. Then click the Add button next to the search box to finish the import of Spotify music.
Step 2 Customize the output format of Spotify for Fedora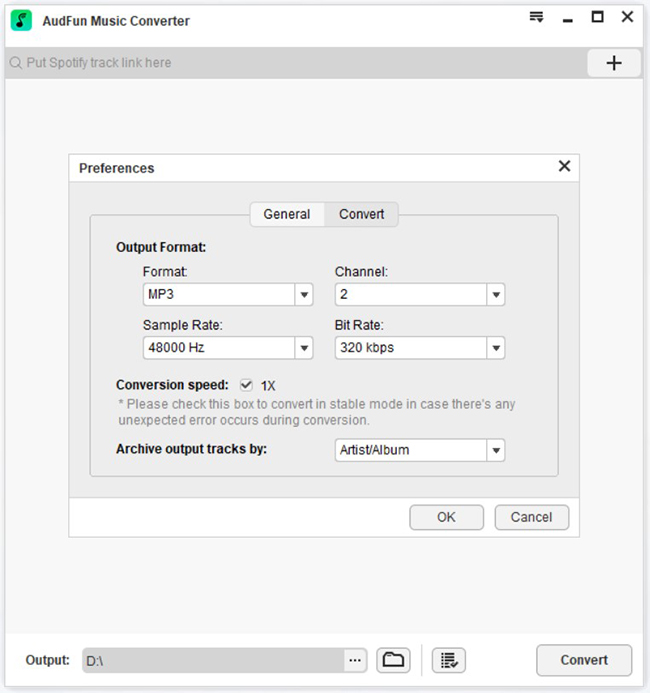 Click on the Preferences icon in the top menu bar, selecting the Convert option in the pop-up window. You may change the output format and other audio characteristics. You can, for example, convert Spotify to FLAC or any standard audio file for your use. The bit rate should be increased to 320 kbps if you want better audio quality.
Step 3 Download and convert Spotify music for use on Fedora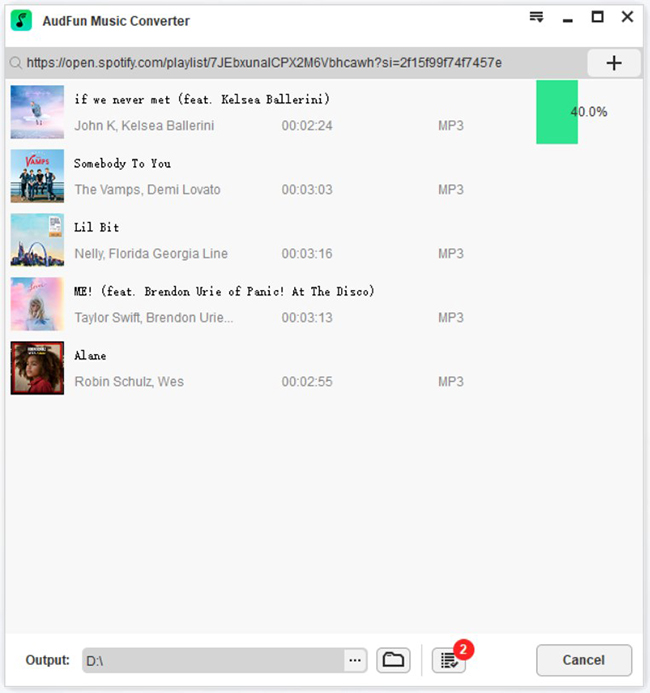 Click on the Convert button in the window's lower right corner when you're finished with the previous stages. AudFun will automatically download and convert the added Spotify music tracks to MP3 or other audio formats supported by Fedora. Offline listening to Spotify music is also possible on any device or platform, even if you don't have a premium subscription.
Step 4 Sync and play music from Spotify on Fedora
To begin, navigate to the destination folder on your Mac or Windows computer and locate the Spotify music files converted. Use a USB flash drive and then transfer the music files to Fedora. At last, you can use any music player to play Spotify music on Fedora once the synchronizing process is complete.
---
Part 3. FAQs about Fedora Spotify
In this part, there are some frequently asked questions that you can check and learn more about.
Q1: What Is Fedora?
A: Linux-based OS Fedora is a fast-developing Linux distribution that incorporates the most recent software, libraries and tools to keep it fresh. Computer users who enjoy learning about and using newer software versions will appreciate how versatile and powerful this operating system is. It is regarded as a cutting-edge, adaptable platform for PCs, laptops, and other electronics.
Q2: Why Fedora Linux Is the Best?
A: There are several advantages to using Fedora, including a solid foundation, a wide selection of available software, fast new additions, and support for Flatpak and Snap. Even though other Linux distributions have their unique qualities, Ubuntu Linux and Linux Mint both manage to be both visually appealing and intuitive to use. That doesn't mean that Fedora isn't regarded as a viable operating system by Linux fans.
Q3: Is Spotify Available for Fedora?
A: Spotify has lately launched a Snap subscription service. Spotify may now be installed on any Linux distribution that supports Snap, including Fedora. After Fedora's Snap package has been installed, adding the Spotify Snap application is a cinch.
---
Part 4. In Conclusion
Installing Spotify on Fedora will be difficult for you, and that's understandable. To quickly download and sync Spotify music to Fedora Linux, utilize AudFun Spotify Music Converter! With this powerful tool, you can save Spotify songs to your computer as local files. Then you can move the Spotify music to USB drive for use on Fedora and other platforms with ease. Just follow the steps above to bring wonderful music into your life with Fedora with Spotify music.