Powered by the Linux-based Chrome OS, Chromebook is a laptop or tablet computer. It's well-designed to be compatible with Google's education suite of applications. Therefore, Chromebooks are used to study by students. But when I searched for the hot topic of Chromebooks, I found that many people were confused about how to get Spotify on school Chromebook for listening.
Through the searching, I found out why students need to find a solution to download Spotify songs on Chromebook. Streaming music services, including Spotify, are blocked by network filters on school Chromebooks.
The Spotify for Chromebook app for Android is available, but students still cannot listen to Spotify on Chromebook. Thus, we will walk you through how to listen to Spotify on Chrome as well as get Spotify unblocked download to Chromebook.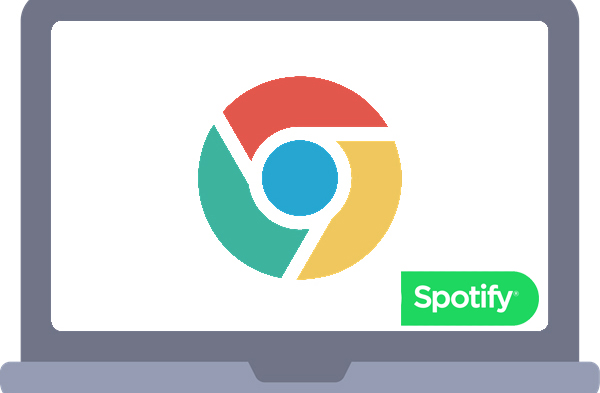 ---
Part 1. How to Get Unblocked Spotify Download on Chromebook
To begin with, we'll troubleshoot the most concerning question: how to get unblocked Spotify music downloads to Chromebook, even if a school Chromebook.
For people who use Chromebooks at work or school, you might not have the option to add the Google Play Store, let alone download Android apps on the Chromebook. What's more, Spotify not working on Chromebooks happens when your device is an old model.
If you want to get Spotify downloads to your Chromebook, here, we recommend AudFun Spotify Music Converter for Mac and Windows. Although the process is a little trouble, you can enjoy any Spotify music or playlists on your Chromebook later.
With its help, you can download your favorite Spotify track to a USB stick and then transfer them to your Chromebook for offline listening. Besides, it can not only download Spotify music tracks without Premium but also convert them to popular formats, like MP3, FLAC, WAV, AAC, etc., without damaging the original audio quality.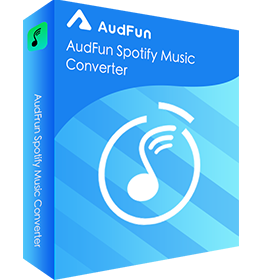 AudFun Spotify Music Converter for Chromebook
Get music from Spotify without Premium at 5X speed
Listen to Spotify unblocked for school Chromebook
Convert Spotify songs to Chromebook-supported audio tracks
Transfer and sync Spotify music to Chromebook, Chromecast, etc.
Keep 320 kbps high-quality music experience on Chromebook
Note: AudFree Spotify Music Converter is not available for Chrome OS. Please kindly utilize a Mac or Windows computer to download Spotify songs to MP3 and save them as local files on your computer. Then you can sync and transfer these downloaded music files for listening on your Chromebook.
How to Get Spotify Songs for Chromebook Without Premium
Step 1 Import Music from Spotify to Chromebook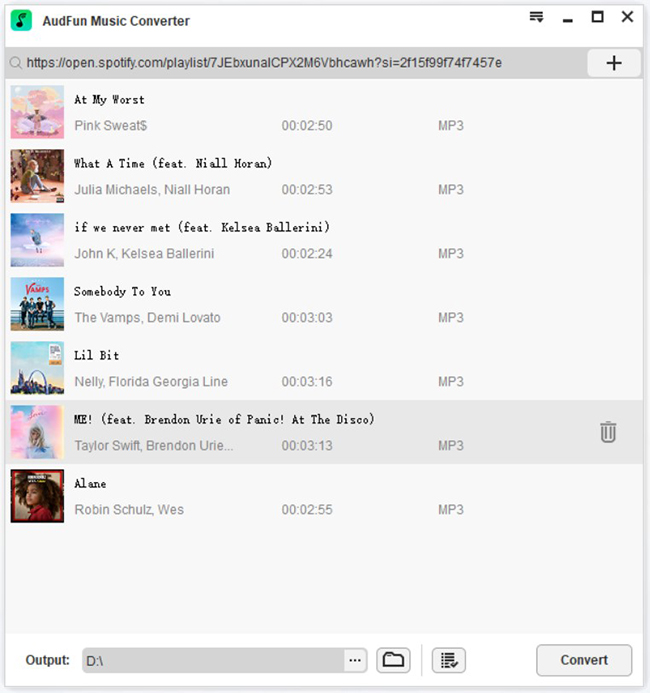 Launch AudFun Spotify Music Converter on your Windows or Mac PC and the Spotify desktop app will be opened instantly. Next, you need to copy and paste the music link to the search box of AudFun software and click the + button to confirm it. Alternatively, you can drag and drop the Spotify songs from the app to the AudFun conversion window.
Step 2 Customize Spotify Output Parameters for Chromebook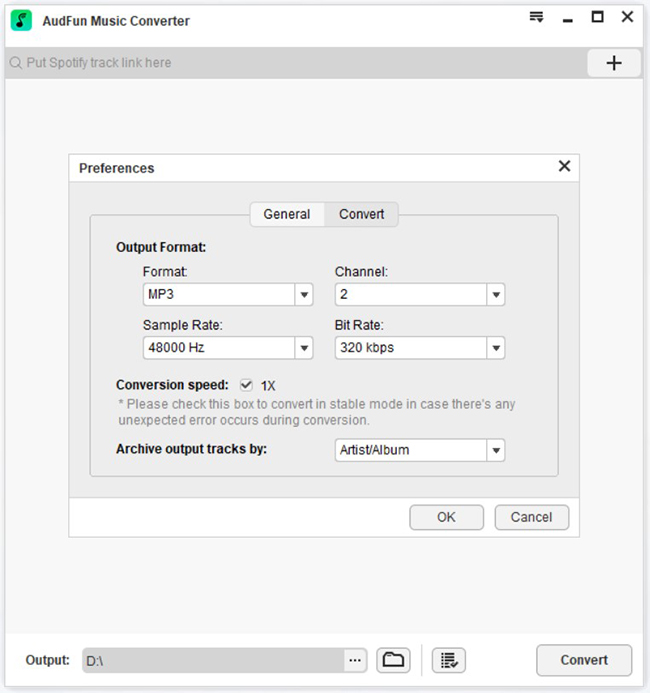 It's well-known that Spotify tracks feature a unique Ogg Vorbis audio format, which can be playable on Chromebooks' music players. Please open the setting window by clicking the Preferences > Convert button to adjust the Spotify output format as MP3, which is of high compatibility.
Step 3 Download Spotify Songs for Chromebook Without Premium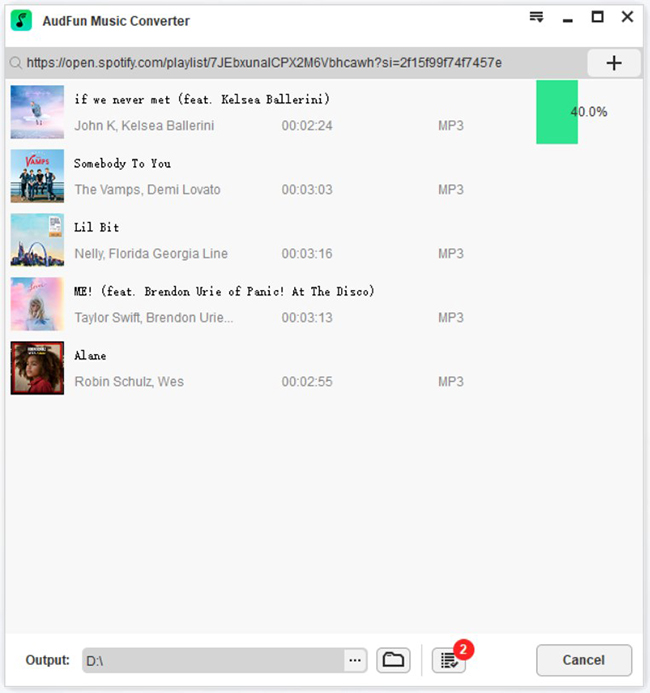 Next, simply press the Convert button at the bottom-right corner. It will convert Spotify music to MP3 or another Chromebook-compatible audio format you set earlier. It runs at a 5X faster speed to do this conversion. You can locate Spotify MP3 songs from the Converted button.
Step 4 Sync Spotify MP3 Music to School Chromebook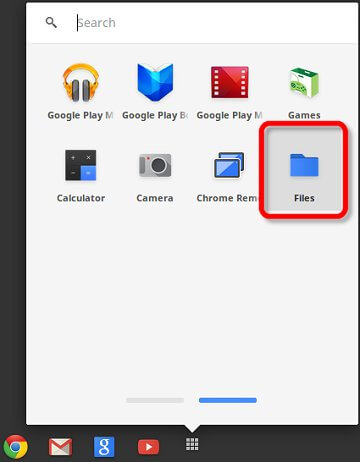 You are able to transfer the Spotify music downloads to your USB flash drive in order to play Spotify songs on your school Chromebook without a network connection. By doing so, you can sync Spotify music files to the local folder of your Chromebook via the USB port.
---
Part 2. How to Use Spotify for Chromebook via Web Browser
As a Chrome OS laptop, there is no doubt that Chromebook can use the Google Chrome browser to perform a variety of tasks. Of course, one of the often practiced activities is accessing Spotify Web Player through the Chrome browser and listening to your favorite music.
There is no official Spotify Chrome OS version for Chromebook. Let's use the unblocked Spotify Web Player to explore music entertainment on this lightweight Chromebook. In this part, we'll show you first how to listen to Spotify music on a common Chromebook.
Step 1. Launch the Chrome browser on your Chromebook laptop, and navigate to the Spotify Web Player by typing https://open.spotify.com/ on the browser address bar.
Step 2. Log into your Spotify account, and now you can listen to the music or playlist on your Chromebook.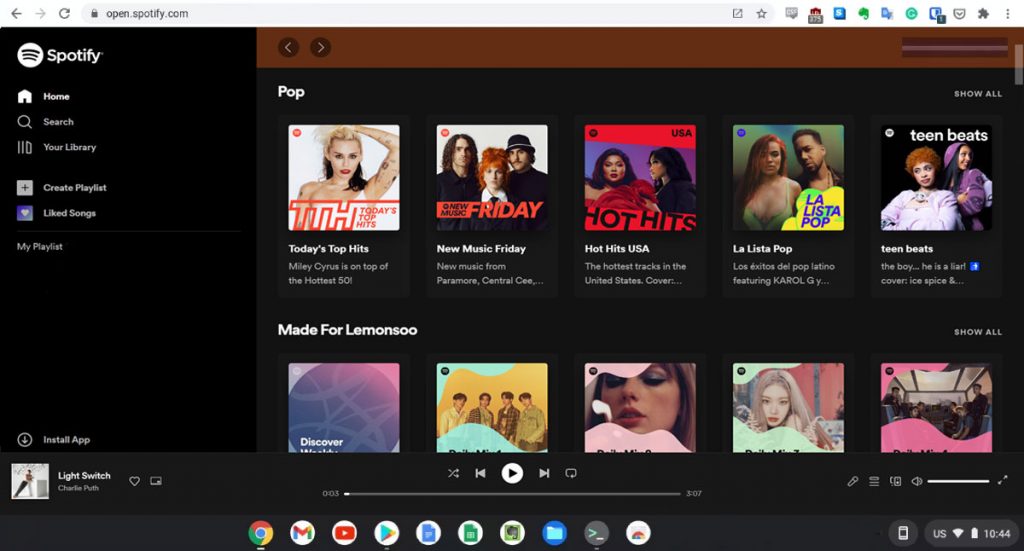 ---
Part 3. How to Unlock Spotify on School Chromebook
As you know, many school Chromebooks are set up so that they cannot access any entertainment services, including listening to music. Therefore, if you want to listen to unblocked Spotify for your school Chromebook, your best bet is to use a tool that can bypass internet censorship. You may follow the steps below.
Step 1: Open Chrome and type in Spotify. You don't need to visit the Spotify website, just copy its URL.
Step 2. Then access momentumcalculator.org, and paste the link into the search bar.
Step 3. It will take some time for the URL to load. Once this is done, you are able to play the music you want on this Spotify web player.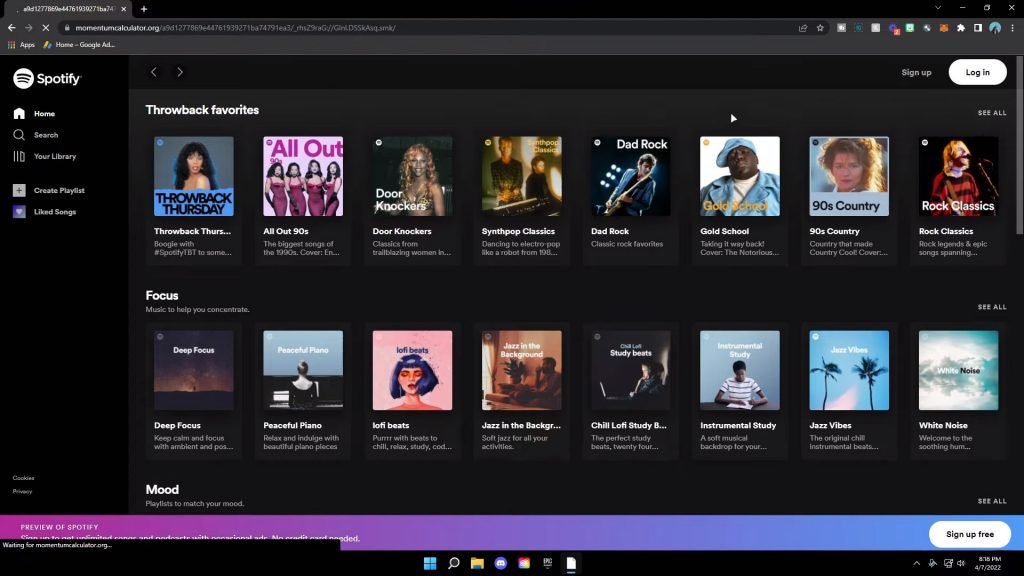 ---
Part 4. How to Get Spotify on Chromebook via Android App
From what we mentioned above, Spotify for Chromebook app is not available currently. And from the official announcement, it's not a great thought to expect it to come soon. "Sorry for everyone, at this moment we are marking this feature as 'Not Right Now' as we don't have plans for this," said Chromebook teams officially.
Fortunately, since 2017 Chromebook can also run Android apps. Meanwhile, Spotify has an Android app. That's to say, users can use Spotify for Android app on the school Chromebook to control Spotify music playback offline. Let's take a quick look at how to get Spotify on the school Chromebook below:
Step 1. Please make sure your Chromebook Chrome OS is updated to the latest version. And then select the Time > Settings at the bottom right.
Step 2. Navigate to the Google Play Store option, and turn on the Install apps and games from Google Play on your Chromebook button.
Step 3. Search and find the Spotify for Android app, and click on it to download Spotify on Chromebook. With your Spotify Premium subscription, you can listen to and download playlists and albums as offline files.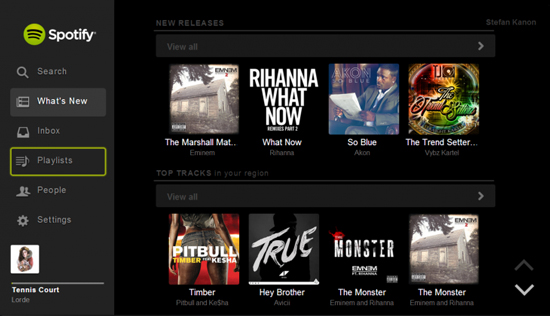 ---
Part 5. FAQs Related to Spotify to Chromebook
Q1: Can I get Spotify on my Chromebook?
Yes. Chromebook allows you to access Spotify web player or download the Spotify Android app version from Google Play. But if you want to listen to Spotify unblocked for school Chromebook, you can refer to part 3 to listen to them online.
Q2: Can I download Spotify music on my Chromebook?
If there are no listening limits on Spotify on your Chromebook, you can download the Spotify Android app from Google Play and then log into your premium account to download any music you want. Incidentally, you can try AudFun Spotify Converter to help you download music from Spotify without limitations and expiration.
Q3: Can I bypass the school restrictions and listen to Spotify?
Sure. To listen to Spotify unblocked for school Chromebook, you should resort to a bypassing tool, such as Rammerhead Proxy, and you can refer to part 3 for more details. By the way, we suggest you use AudFun Spotify Music Converter to download any Spotify music you want and then you can transfer your favorite music to your Chromebook via a USB stick for offline listening.
---
Conclusion
Now you know how to listen to Spotify music on your Chromebook. There are three solutions on how to get Spotify on Chromebook for your reference. And to get Spotify downloads to Chromebook, we advise you to AudFun Spotify Music Converter, which has the ability to download Spotify music via your free account.