"I am an iOS user, and I use InShot to edit videos. However, when I insert music downloaded from Spotify to InShot on my iPhone, it failed. So, is that possible to use Spotify on InShot? If yes, how to do that?" – William from Quora
InShot is a free powerful video editing app that allows users to edit pictures and videos on iOS and Android devices. Also, users can add any copyright-free background music files to the video on InShot. Spotify is a popular streaming music service, with all songs encrypted for playing within Spotify only. So, you can't directly use Spotify-downloaded music files on any video editor.
Fortunately, in this article, we will introduce a useful tool that lets you know how to get music from Spotify to InShot. Now keep reading the content below carefully to learn more details.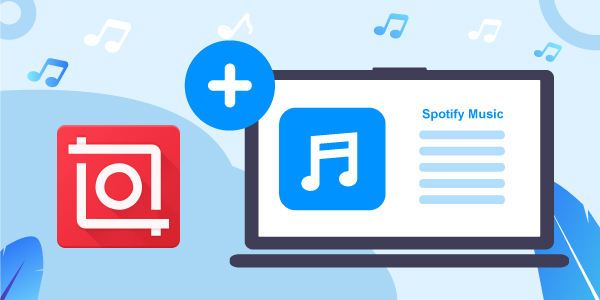 ---
Part 1. Can you use Spotify on InShot?
InShot
InShot is a video editing application for iOS and Android. It allows you to create, edit and make necessary changes to pictures and videos of your choice. With the help of this tool, you can trim, edit, add effects, and give your video a whole new professional look. You can also add multiple sound effects in the video according to your ease.
Spotify
Spotify is an audio streaming service that is popular all over the world. With the help of this streaming service, users can gain access to its huge online library of music and podcasts, which lets you listen to different kinds of content of your choice whenever you need to.
Can you add music from Spotify to InShot?
The answer to this question is YES. Though Spotify doesn't give its service to InShot directly, you still have other ways to add it as background music. One of the useful solutions is to download and convert Spotify tracks to common files that are InShot-supported. In this case, what you need is a professional Spotify music converter. This allows you to achieve your purpose without any trouble.
---
Part 2. How to use Spotify in InShot [complete guide]
In this section, we'll show you a complete guide on how to use Spotify music on the InShot video editor, including the tool you'll require, how to use it, and how to import music to the video editing tool. Here we go.
2.1 The tool you'll need: AudFun Music Converter
Seeking a useful tool to convert Spotify songs? Your best call is to go for AudFun Spotify Music Converter. AudFun is a trustworthy music converter and downloader, specifically for Spotify. With its help, you can easily download and convert Spotify music to InShot-supported formats. As we know, InShot-supported audio formats include MP3, WAV, M4A, and AAC.
The good thing is that AudFun Music Converter supports a wide range of output formats and all InShot-supported audio formats are included. In addition, users don't have to be worried about losing the real quality of the converted songs. Thanks to the advanced technology adopted in AudFun, all the work will be done within a couple of minutes.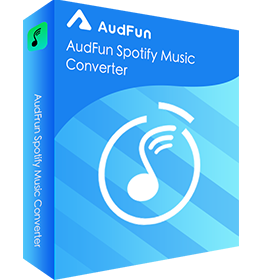 AudFun Music Converter for InShot
Converts songs from Spotify to InShot at 5X speed
Download Spotify music to MP3, WAV, FLAC, M4A, M4B and AAC
Save Spotify music files without losing the original quality
It's available on Windows and Mac systems
Easy to use with a friendly UI
2.2 How to use AudFun to download and convert Spotify music for InShot
Next, you will learn how to convert and download Spotify music to MP3 by using the AudFun Spotify Music Converter. Here you can check out the detailed steps below.
Step 1 Set up AudFun Spotify Music Converter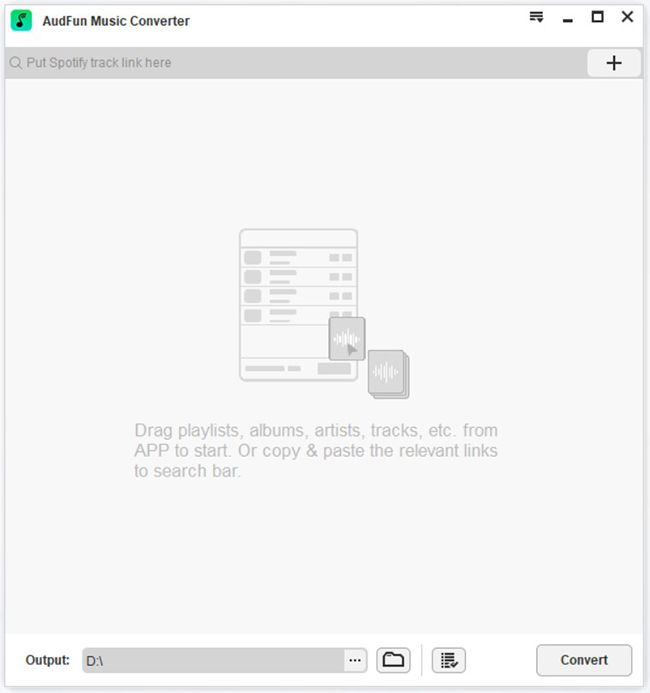 At the start, launch AudFun Spotify Music Converter on your PC or Mac, and the Spotify application will open via automatic processing. There are two ways to load Spotify music into AudFun for converting that you can add to InShot. One is by dragging & dropping Spotify songs to the AudFun main interface. The other is by copying & pasting the Spotify link to the search box of AudFun and then tapping the '+' button.
Step 2 Set the output format of Spotify for InShot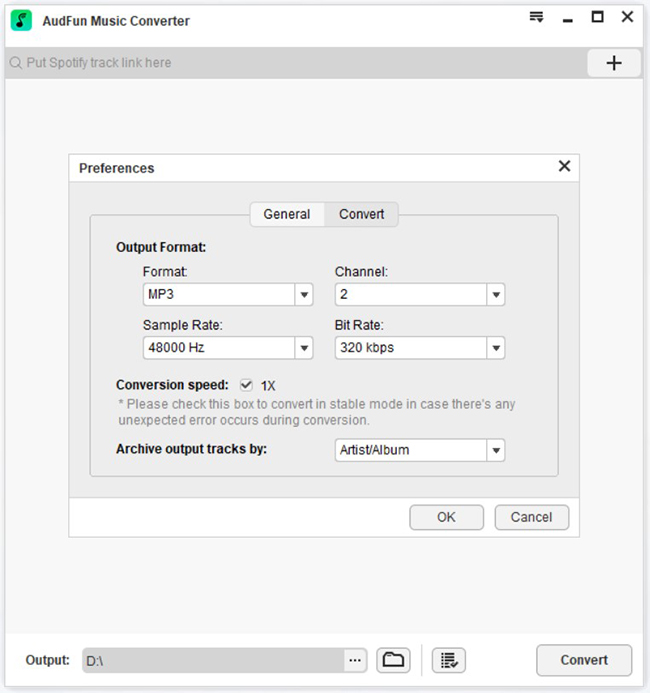 Now, Mac users can find and hit on the Apple menu bar to pick the option that says 'AudFun Spotify Music Converter' > 'Preferences' > 'Convert' to choose the Spotify output format for InShot. Windows users can click the Menu icon and then go to 'Preferences' > 'Convert' to set the output format such as MP3.
You can also arrange other audio parameters like the bit rate, audio channel, and sample rate.
Step 3 Convert Spotify for InShot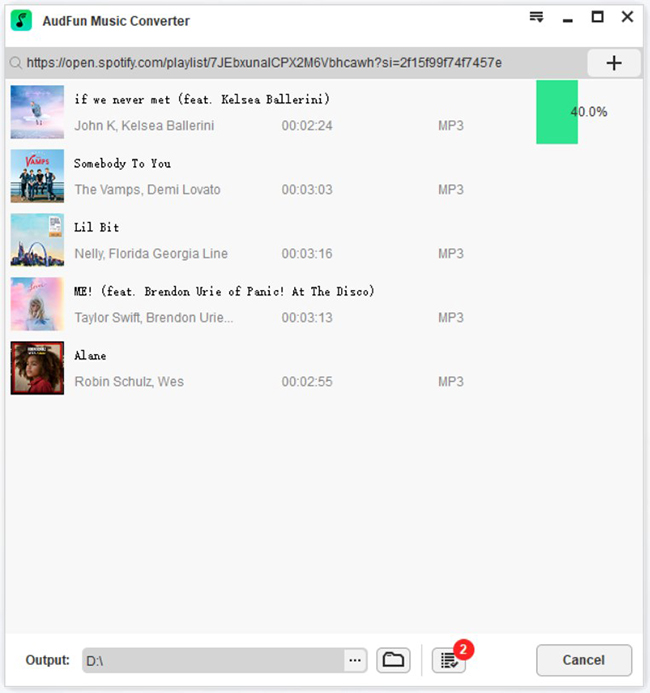 In the end, you can download Spotify songs to MP3 for InShot audio files by pressing the option 'Convert'. When the process is done, click the Converted icon to locate the downloaded Spotify music files.
2.3 How to add Spotify music to InShot on iPhone/Android
Now you can transfer all the converted Spotify songs to your iPhone or Android phone using a USB cable. Then import Spotify music to InShot video. To find out how to add Spotify songs to InShot, go for the steps below.
Step 1. At the start, launch InShot on your phone, make a new video, and press the option that says Music to get into the Music section.
Step 2. Now drag the timeline to which you need to add the song, and press on the option that says Track.
Step 3. In the end, click the option of Imported music. Select the option of Files to include Spotify music in the InShot video.

---
Part 3. Tips on how to use InShot video editor
The below tips will help you to know how to use InShot, so check them out.
3.1 How to use InShot to edit videos
Step 1. To import the video, you need to press the option of Video, which will open the gallery folder of your phone. Select the video you like to edit and select the portrait mode or landscape mode.
Step 2. To trim and split the video, you can trim the part that you don't need to have in the video. Click the option that says Trim, arrange the sliders to select the part you like, and choose the checkmark. Users can split their video by picking the Split button, moving the bar where they like to split, and selecting the checkmark.
Step 3. To add filters to the video, you need to click the Filter option, where you will see 3 sections: Effect, Filter, and Adjust. The Filter option guides you to choose the lighting you need to add to your video.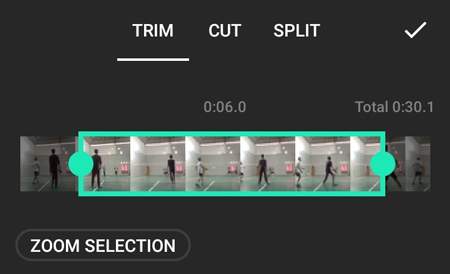 3.2 How to add Spotify music to Instagram Story and TikTok videos with InShot
We hope that so far users will be able to know how to download music from Spotify to InShot, but what to do when it comes to adding Spotify music to Instagram and TikTok video with InShot, then have a look at the below steps to find out how all of this works.
Add Spotify music to Instagram with InShot
Step 1. At the start, open InShot on your Android or iOS device, tap Video to create an Instagram story or choose photos for the Instagram story.
Step 2. Now choose an Instagram ratio, trim or split video, and add Spotify music to the video.
Step 3. When you are done, click on Save on the screen to save your edits.
Step 4. In the end, you can share your video to Instagram by choosing Instagram and then tapping on Share to Instagram.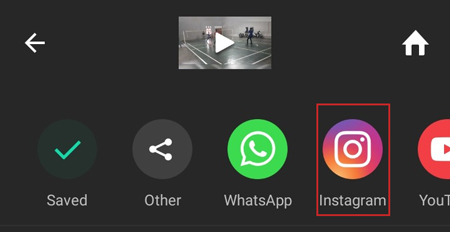 Add Spotify music to TikTok with InShot
Step 1. At the start, just open InShot on your iPhone or Android phone, touch Video to add TikTok videos or you can record a video from TikTok.
Step 2. Now press on the Canva button to choose the TikTok ratio and then start editing the video.
Step 3. You can add Spotify songs to TikTok videos by clicking on the Music icon to import Spotify music.
Step 4. In the end, you can share this video with TikTok by tapping the option of Save to save the video and choose Share to TikTok.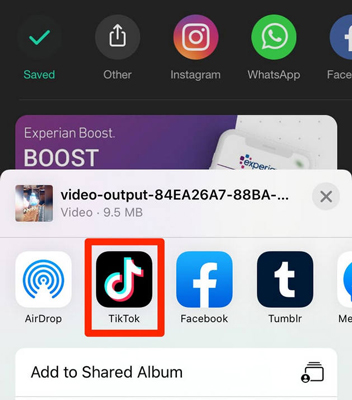 ---
Part 4. Final words
So, here are all the tips about how to get music from Spotify to InShot. The important part is to use the AudFun Spotify Music Converter tool to download and convert Spotify songs to common formats. Then you can easily add them to InShot as background music. This amazing music converter is one of the best options that one can lay their hands on. Just get the free download of it and have a try. Leave your voice below if you have any questions.