Canva, a solid and free graphic creation platform, is gaining many users. Slideshows, lesson plans, invitations, and much more can be created with Canva's drag-and-drop interface. And you don't need to know a lot about editing to use Canva's services, including professionally-designed templates and how-to videos.
Even more impressive is that you can create films on Canva just as quickly as build a slideshow. Using images, movies, and music from Canva's library will help you create a stunning video. Choosing the proper background music for your film is half the battle because, as you all know, the piece is critical in videos.
Because Spotify is a popular music streaming service with an extensive song catalogue, it is likely that when people think about music apps, Spotify is the first thing that comes to mind.
Someone will ask if Spotify music may be used as the background music in Canva. Here, we'll show you how to add Spotify music to Canva step by step. You may follow our guide and learn more information about both apps.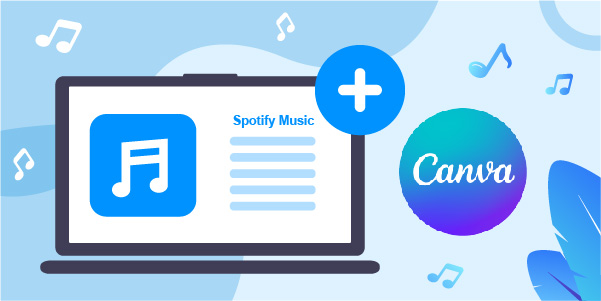 ---
Part 1. How to Get Canva Spotify to Work – Best Tool
Can you add Spotify music to Canva? The answer is yes and no. No is for the audio protection on the Spotify app, leading to no access on other platforms. But fortunately, there is a professional tool to help convert and get Canva Spotify to work. That's the AudFun Spotify Music Converter for your consideration.
The AudFun app can download Spotify songs, playlists, and more on the computer with them all under the management. It can convert music from Spotify to other formats that you can upload Spotify to Canva for use, such as MP3 and WAV, etc. The music you added to the video project for editing will be with no compression. You can play the downloaded Spotify files on any device or platform, or save them on your Dropbox, or iCloud for backup.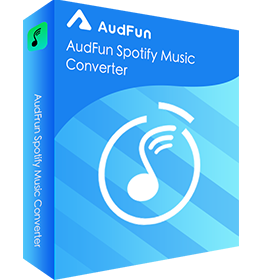 Key Features of AudFun Spotify Music Converter
Ensure the conversion speed of Spotify playlists run at a 5X speed
Download tracks from Spotify to the audio formats compatible with Canva
Keep every Spotify song with lossless quality and ID3 tags
Support to add Spotify to Google Drive, and Dropbox for uploading music to Canva
---
Part 2. How to Convert Spotify Music for Canva Video
To learn how to add Spotify to Canva, it's necessary for you to catch up on this part to download your picked songs from Spotify offline first. We separate the process into several steps so that you can easily understand and follow, please go on.
Step 1 Install AudFun Spotify Music Converter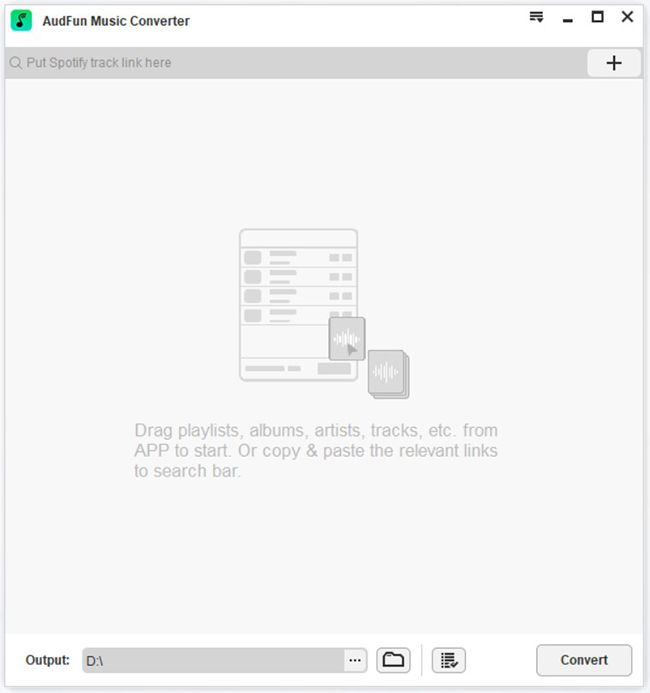 In the beginning, you need to download and install AudFun Spotify Music Converter on your Windows or Mac to convert Spotify to audio tracks that can be used in Canva. To download the app, click the 'Download' button located above or go to the official product page. In addition, you must make sure that the Spotify app has been set up on your computer. If you don't have it already, please do so.
Step 2 Import your favorite Spotify tunes to AudFun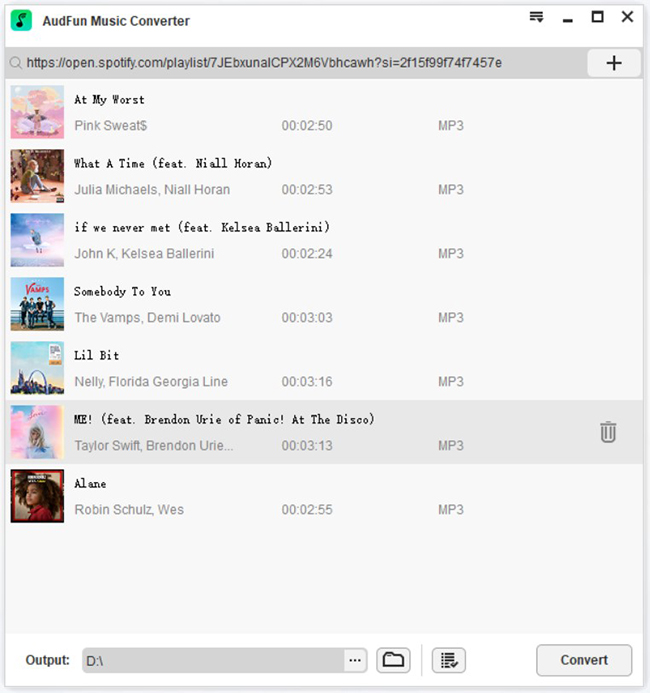 Launch the AudFun program once you've set it up on the PC, and the Spotify app will also be activated simultaneously. Now, go to Spotify and search for the songs you want to use on Canva. Then, copy the audio track's URL. Next, return to the AudFun program's main interface and paste the link to the search box. Finally, click on the '+' icon to add Spotify tracks to AudFun.
Step 3 Reset Spotify audio output format supported by Canva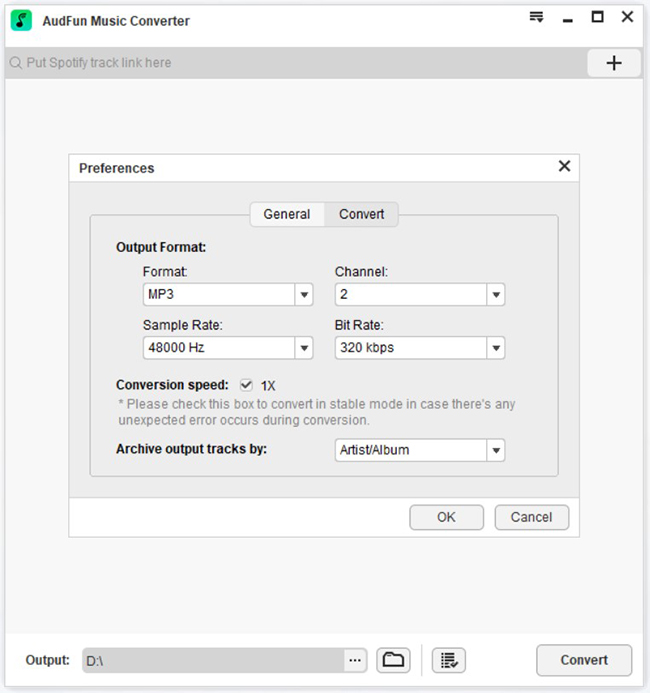 To get Spotify to work with Canva, you'll first need to change the output format for Spotify. Please click the Menu bar to access the 'Preferences' option. After that, you'll be able to begin configuring Spotify to use Canva's audio output types on the 'Convert' section. You can convert Spotify to MP3 or any other audio file. In addition, you can change the channel and different settings to your heart's content. Finally, press "OK" to save all the changes.
Step 4 Export Spotify audio files to add them to Canva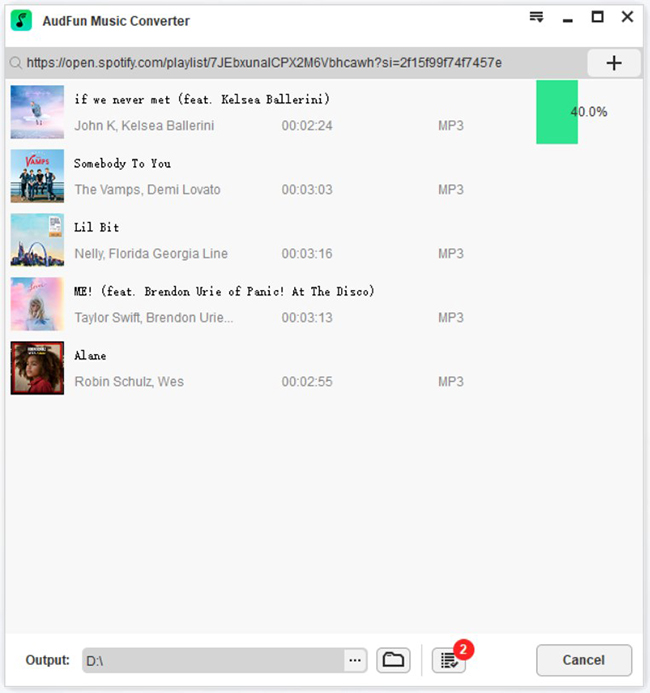 Now, click on the 'Convert' button to begin downloading Spotify songs to audio files compatible with Canva. Once the conversion is complete, you may access the converted Spotify tracks by clicking on the 'history' button. After that, you're ready to learn how to add Spotify song to Canva.
---
Part 3. How to Add Spotify Music to Canva
Spotify music may be easily added to your Canva videos after the conversion. Editing a Canva video with your own Spotify audio is simple. Please take the time to follow the below instructions on how to add Spotify music to Canva:
Step 1. The first step is to open Canva and begin creating a video. The Upload tab can be found in the left menu bar. Then select the newly appeared 'Upload media' option after clicking the Upload button.
Step 2. Next, select Spotify music files from your computer. You may upload Spotify music tracks directly to Canva by tapping on the folder you store them. It's also possible to drag audio files of Spotify into the editor from your computer's file system.
Step 3. You'll be able to see the Spotify songs you've already uploaded to Canva in the Audio section. To add them to the video, you can hold the mouse over it and drop them to the video timeline for use.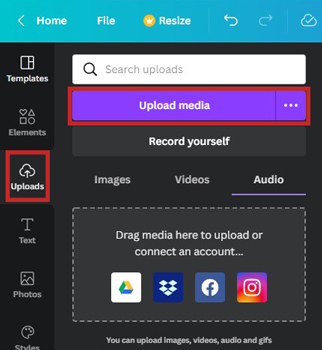 ---
Part 4. FAQs about Canva Spotify
Q1: How Can I Add Spotify Music to Canva?
The first step to solving the problem is to remove Spotify music's protection. The best tool to assist you is AudFun Spotify Music Converter. Spotify songs can be downloaded as local files on your computer by using it to remove DRM from Spotify. Spotify music can then be added directly to Canva for an edit.
Q2: How Do I Share Spotify with Canva?
Copy the embed code by selecting Share > Copy Embed Code from the Share menu. To add Spotify content to a Canvas page, go to the page and click the Edit button. To view the page's HTML source code, select HTML Editor from the drop-down menu. Paste the Spotify code into the HTML editor once you are in the editor.
Q3: Can I Upload My Songs to Canva?
Yes, you can. Due to the Canva only supports M4A, MP3, OGG, WAV, or WEBM audio format and the file size cannot be more than 250MB, your own music should meet its requirements for uploading.
Q4: Can I Add Multiple Audio in Canva?
As long as you make your songs uploaded to the editing platform, Canva, you can select and put anyone of them to the video projects with simply one click. You can adjust the volume and length of the audio to fit the video on Canva.
---
Part 5. The Bottom Line
When you use AudFun Spotify Music Converter, you can quickly and effortlessly incorporate Spotify music into your Canva video. With this application, you can download and convert Spotify music to Canva-compatible audio files. For video projects, you can store and transfer music from Spotify to Canva. In addition, these converted Spotify tracks can be used offline on any device or platform of your choice.