Smartwatches play a vital role in this digital world. You can connect with your smart devices and online resources efficiently using smartwatches.
In this article, you will discover the smartwatches with Spotify. As you all know that Spotify excels in entertaining individuals to the fullest with the latest music tracks in different languages. Millions of soundtracks are available in a well-organized format and you can quickly access them when you are in need. And you can connect your smartwatches with Spotify offline and enjoy playing your favorite playlist anywhere based on your requirement.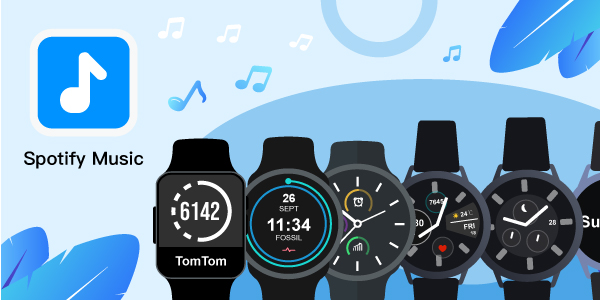 ---
Part 1. Which Smartwatches Support Spotify?
Spotify has enabled the Wear OS app to make this app compatible with Android wearables. Many Samsung smartwatches support streaming the Spotify soundtracks precisely. The Galaxy versions of the Samsung watch play the Spotify playlists flawlessly. The latest update of Spotify assists in streaming the songs to the Android and iOS smartwatches. It has extended its compatibility options thereby assisting in playing the songs on smartwatches without any complexities.
---
Part 2. Top 6 Smartwatches with Spotify
In this section, you will be learning about 6 smartwatches with Spotify that helps in the precise streaming of desired playlists from the Spotify app.
Here are some insights on the best wearables that support Spotify streaming.
1. Garmin Forerunner 245 Music
This Garmin Forerunner 245 Music smartwatch supports Spotify and stores more than 500 songs for offline listening. The Spotify Premium users can try downloads of their favorite playlist from Spotify to enjoy offline listening of their desired songs.
You can play the soundtracks for 6 hours along with GPS enabled. It is enough if you drag and drop the songs in its media interface to play them. It is also integrated with running features to count your footsteps during your workouts.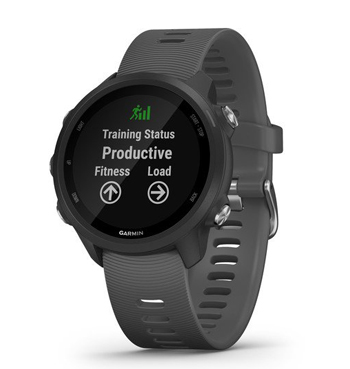 Price: The cost of this smartwatch is $349.
Pros:
Supports many music applications like iHeartRadio, Deezer and Spotify
Synchronize your watch with Spotify for offline listening supported the premium users
Cons:
This model does not look trendy and is little expensive too
2. Apple Watch Series
Most of the Apple Watch series support the streaming of Spotify songs. It has customizable screens and is best used as a workout measuring device. By connecting with the Wi-Fi, allow your smartwatch to communicate with the Spotify app. You can store songs and play them during the workouts. You can also measure the optical heart rate and monitor it whenever required.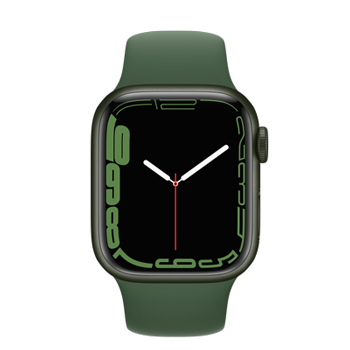 Price: The price tags for Apple series smartwatches are from $199 to $279.
Pros:
Uninterrupted streaming of Spotify playlists on this smartwatch
Cons:
Only supports 3 hours of music playback
3. Samsung Galaxy Series
The Samsung Galaxy smartwatches series are specially designed for fitness and it is accompanied by supporting music tracks. Access the Spotify playlists while performing your workouts. You can find this smartwatch in various sizes and choose it as per your desires. It also offers offline support for Spotify Premium users.
Price: The price ranges from $249 to high value based on its advanced versions.
Pros:
This smartwatch provides you with 16GB of storage space
You can synchronize the songs in an offline mode
Cons:
Difficulty in selecting the smartwatch because there are many models of different sizes
4. Garmin Fenix 7
This smartwatch connects with Spotify, iHeartRadio, and Deezer applications. The cost varies with the type of display you choose. The AMOLED type display costs nearly $899. Garmin Fenix 7 model allows you to play soundtracks for more than 10 hours and it keeps with the GPS tracking as well. The latest models of this smartwatch come with solar editions that boost the battery life making it stay active for a few more hours than the older versions.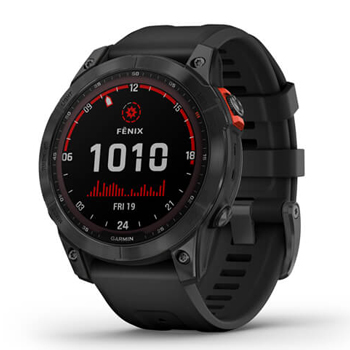 Price: The cost ranges from $599.99 to $699.
Pros:
Can store nearly 1000 songs for offline listening
Connects with Amazon, Spotify, Deezer and iHeartRadio
Remains active even if you play soundtracks for 10 hours
Cons:
It is an expensive smartwatch and the solar edition models require extra care
5. Garmin Vivoactive
Garmin Vivoactive is well-designed to support a wide range of sports activities like cycling, swimming, golf, and indoor workouts. The sports tracking feature assists the users to monitor their health progress and making respective changes to their workouts based on the results.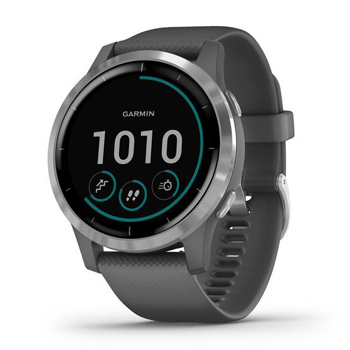 Price: The price tag is $279.99 to $349.99.
Pros:
Stores nearly 500 songs
Supports Spotify, Amazon Music, Deezer, iHeartRadio applications
You can play 5 hours of music
Cons:
The controls are complex and newbie users take some time to follow up
6. Garmin Venu 2
Play the songs for eight hours along with the GPS features and connect with Spotify, Amazon Music, Deezer and iHeartRadio apps. There are different modes for tracking your sports activities. It has customizable screens with round and square versions of the display.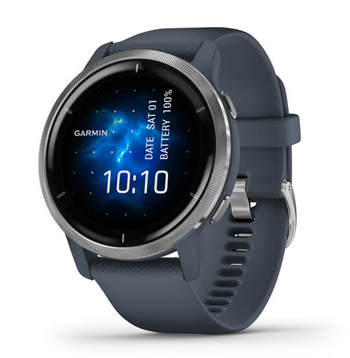 Price: $349.99 to $399
Pros:
Stores nearly 2000 songs for offline listening
Connects with Spotify, Deezer, Amazon Music and iHeartRadio
Stream the songs for 8 hours with GPS
Cons:
It is less attractive when compared to other models
---
Part 3. How to Listen to Spotify Music on Smartwatches Offline
In this section, you can find an alternative method to stream Spotify songs on smartwatches precisely. The AudFun Spotify Music Converter is a great tool to assist you to enjoy offline streaming of Spotify songs into your smartwatch.
The AudFun Spotify Music Converter eases you to get the soundtracks from Spotify. It will also help get rid of the protection format of Spotify songs. Then you will get the common audio files of Spotify songs for use on your smartwatch and other platforms.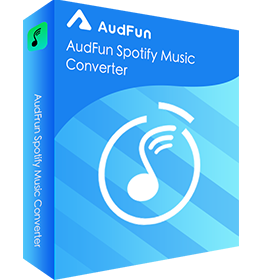 Key Features of AudFun Spotify Music Converter
Convert and download Spotify songs as local audio tracks for use offline
Faster conversion speed of Spotify music
Retain the metadata and ID3 tags of Spotify music tracks
Allows you to get offline listening of Spotify songs on smartwatches
How to Convert Spotify Music for Use on Smartwatch Offline by AudFun Music Converter
In this section, you will learn how to use AudFun Spotify Music Converter to convert and use smartwatches with offline Spotify. Here please follow the guidance below and learn more.
Step 1 Install the AudFun Spotify Music Converter on the computer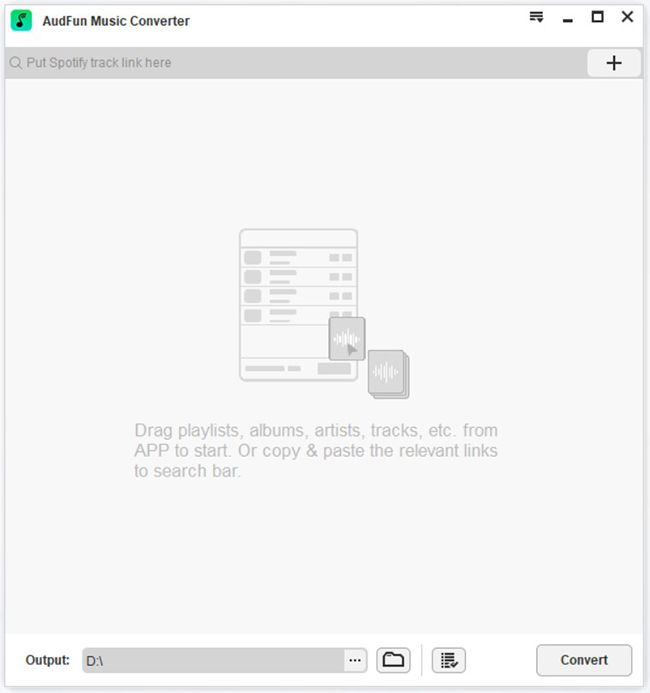 Download the AudFun Spotify Music Converter program and install it. Then, launch the program at once when installed.
Step 2 Reset audio format for Spotify music on smartwatch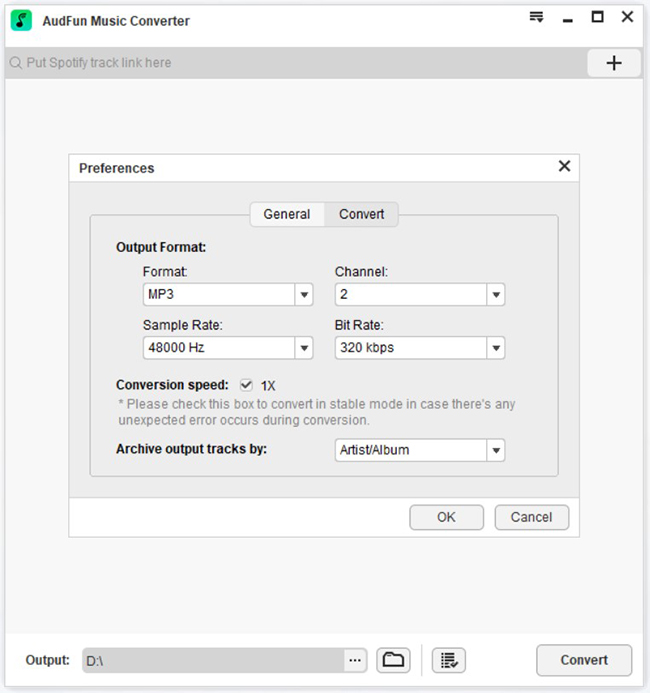 Go to the pop-up Spotify app, copy the link of the Spotify song you like, and paste it on the AudFun Spotify Music Converter search bar near the + symbol. After then, tap the Preference icon from the Menu bar. Then you can go ahead to change the output file format, bit rate and sample rate. Finally, click the OK button to save the changes.
Step 3 Convert Spotify songs for use on smartwatch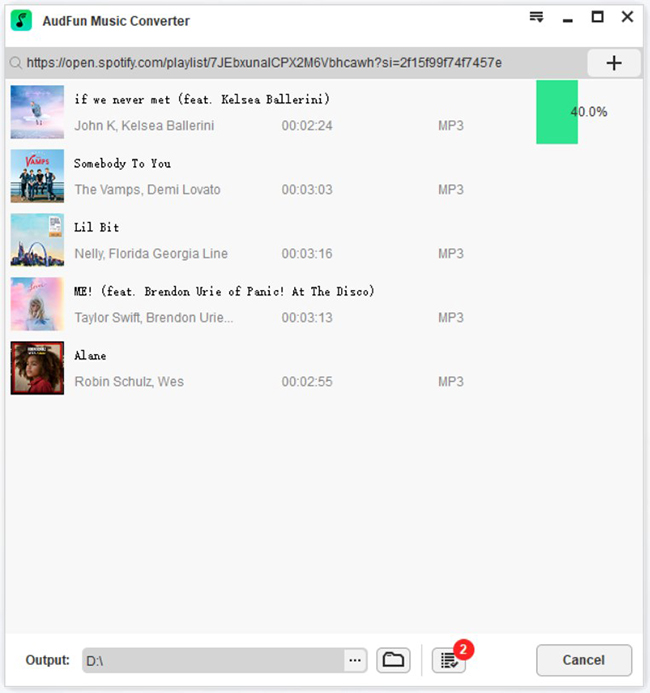 Press the Convert button to start to convert and download Spotify songs. You must wait for a few minutes until the conversion process completes. Once done, the downloaded Spotify music tracks are available at the History menu. You can click on the 'converted' icon to get them on your computer. Then you can move them to smartwatches to enjoy Spotify music offline.
---
Part 4. Conclusion
Thus, this article had guided you about how to use smartwatches with Spotify. You can use the smartwatches that play Spotify as you want. Or, you can connect with the AudFun Spotify Music Converter and enjoy the Spotify songs on any device and platform without any compatibility issues.