Garmin smartwatches are also becoming unique and enjoyable with the advancement of time and other technologies. Due to the partnership between Garmin and music streaming platforms, it's easy to listen to Spotify music, podcasts and playlists on the Garmin watch. For premium users, it's easy to directly connect Spotify music to their watches and enjoy Spotify offline. But what about Spotify-free users? Can't they play Spotify on Garmin Fenix 5?
Surely, the answer is 'Yes'. Through this article, you'll get useful guides for your queries related to Garmin Fenix 5 Spotify. Suppose you are searching for a method of how to put songs from Spotify on your watch with premium. In that case, we have the detailed steps to control Spotify on Garmin Fenix 5 in an official way.
Also, suppose you are a Spotify-free user and wondering can you use Spotify on Garmin Fenix 5. In that case, you still get our back. We'll introduce the best tool, 'AudFun Spotify Music Converter', which will convert your Spotify tracks to one common format. Go through the article and have in-depth solutions to your problems.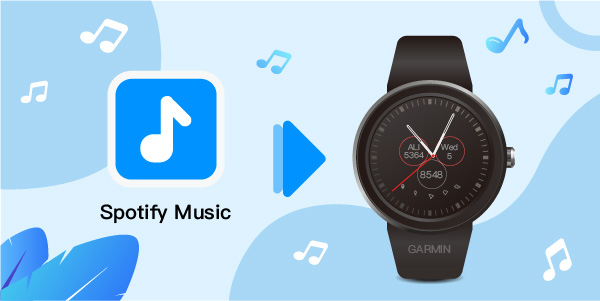 ---
Part 1. How to Use Spotify on Garmin Fenix 5 with Premium
Garmin is a great option for users of sports watches, as it allows you to download Garmin Fenix 5 Spotify offline and listen to your favorite songs on your workout journey. Learn how to download the Spotify application on the Garmin watch in the following section.
Remember: Ensure to have a Spotify Premium account.
Download Spotify App on Garmin Fenix 5 Music
Step 1: Install the Garmin Connect IQ app
You have to install and launch the Garmin Connect IQ app on your smartphone to download Spotify App on your Garmin watch. Connect the app with your Garmin Fenix 5.
Step 2: Download the Spotify app
For downloading Spotify app on your Garmin watch, you have two options. Either type the Spotify app in the search box of Connect IQ app or download it from the store of Connect IQ app.
Remember: After successfully installing the Spotify app on your device, you'll receive a notification about the addition of a music provider on your Garmin Fenix watch. Dismiss the alert by pressing the Down button.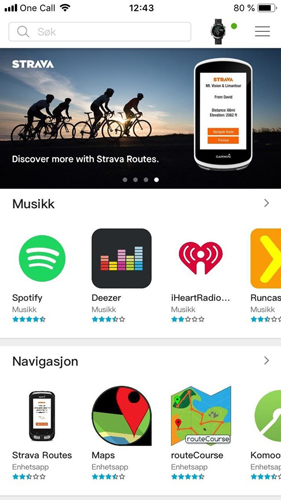 Step 3: Sign in to Spotify Premium
You'll see an option of signing in to your Spotify account in the Garmin Connect IQ app. Tap the 'Sign in' button and enter your Spotify Premium account username and password. After that, click on the 'Confirm' button.
You have now successfully connected Spotify to your Garmin Fenix watch. Let's see how to play Spotify on your Garmin watch.
Play Spotify on Garmin Fenix 5
Follow the above for downloading and connecting Spotify on Fenix 5 watch. Then, you'll be able to control Spotify music on your Garmin watch.
Step 1: Open the 'Your Library' option on your Garmin Fenix 5 watch.
Step 2: Click on the option of 'Add Music and Podcasts'. Then select your favorite Spotify song, playlist, and artist.
Point to remember: If you don't have any playlist of Spotify music, create one on your Spotify app and then connect it with your Garmin Fenix 5 via Connect IQ app.
Step 3: After selecting Spotify music, tap the 'Add' button. Your selected Spotify music will automatically add to your watch. You can now control and listen to the playlists you love from Spotify on the Garmin Fenix.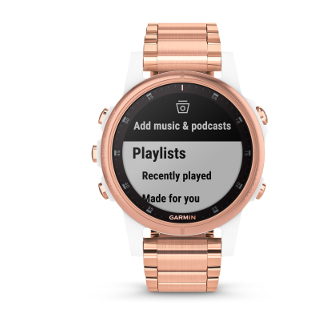 ---
Part 2. How to Play Spotify on Garmin Fenix 5 without Premium
Spotify Premium users can easily get Spotify Garmin Fenix 5 to work. Still, it's difficult for free users to do it. Since Spotify allows its users to convert Spotify music to audio formats, you can listen to it using a third-party app. For this purpose, we are recommending you AudFun Spotify Music Converter for downloading music files from Spotify offline and playing them on your preferred devices and players with high quality.
It's known for its great preservation of Spotify sound quality during its downloading process, not to say it happens at the 5X conversion speed. You may also get modifications on the output formats that allow you to convert Spotify songs to MP3, FLAC, WAV, and others. With the AudFun software, you can enjoy the songs yourself on any device as Garmin Fenix watches without getting a premium subscription to Spotify.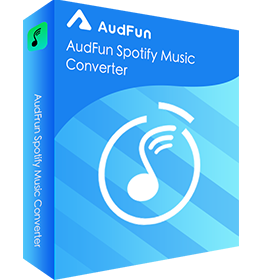 Key Features of AudFun Spotify Music Converter
Supports all audio formats available to play on Garmin Fenix 5
Offers an easy-to-use interface
Downloads music for both Spotify Free and Premium users
Converts Spotify music with up to 5x faster speed
Provides high quality along with your selected output preferences
Remember to download and install the AudFun Spotify Music Converter on your device. The tool is compatible with Windows and Mac computers. And the method for using AudFun Spotify Music Converter is as follows:
Step 1 Add Spotify music to the AudFun software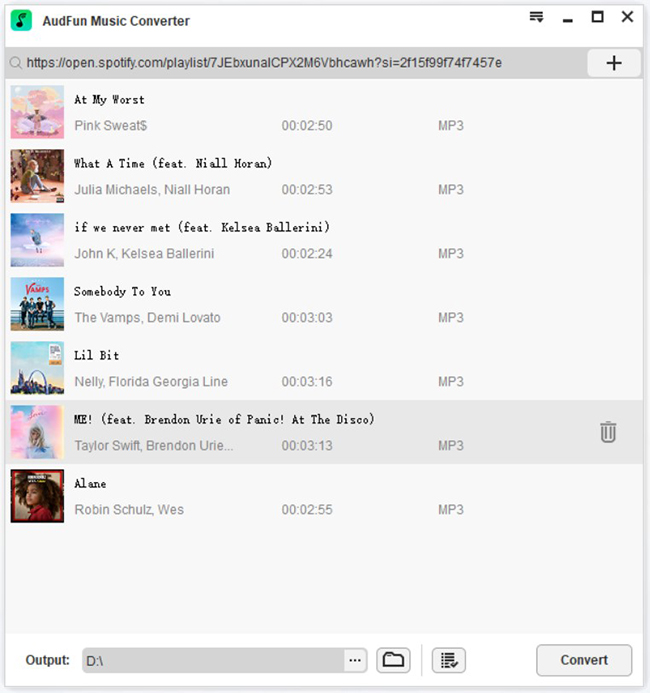 Once you have installed AudFun Spotify Music Converter, double-click the app and run it, and Spotify will launch itself automatically at the same time. Please copy the link of your favorite Spotify music track and paste it onto the search bar of the AudFun software. Also, you can drag and drop the songs to the software's main interface.
Step 2 Set the Spotify output preferences for Garmin Fenix 5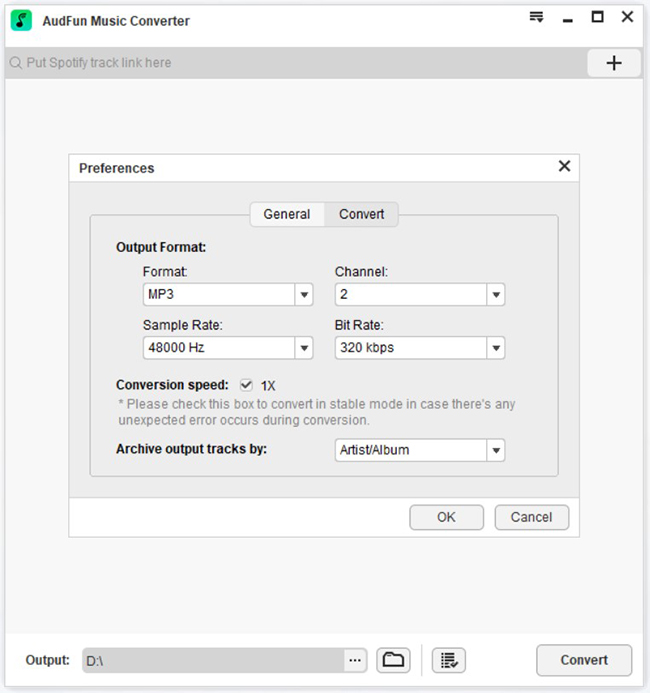 You'll see a menu option in the top right corner of the page. Tap on 'Preferences' and make changes to the settings. Here, select the output parameters of audio format, bit rate, channel, and sample rate. You can choose to download music files from Spotify to AAC, MP3, M4B, etc., and most of them can be imported to Garmin watches. After setting everything, click on the 'OK' button for confirmation.
Step 3 Convert Spotify files for Garmin Fenix 5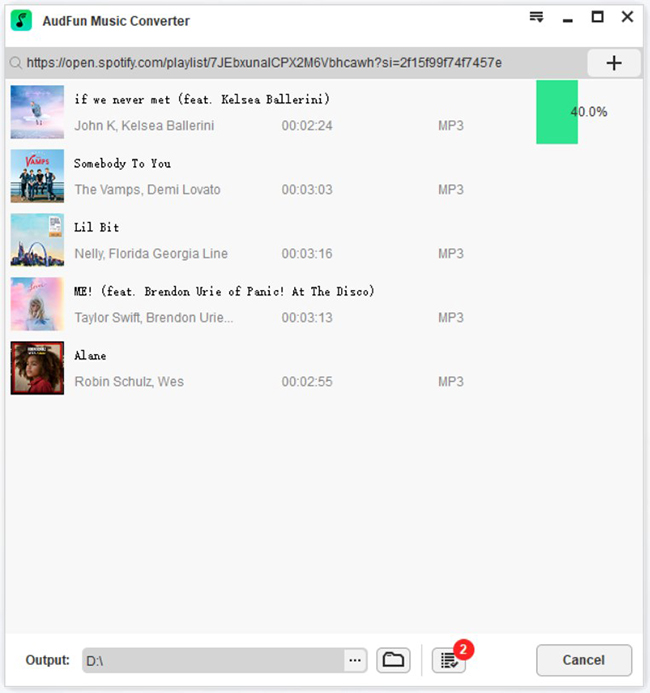 Click on the 'Convert and start the conversion process. Once the process is complete, you can locate the converted songs by tapping the 'Converted' icon. Click on one specific song and you will be direct to the folder where you store Spotify playlists. You now can play them on any device you like.
To transfer and control Spotify Garmin Fenix 5 offline, follow this guide.
Step 1. Connect the watch to your computer using a USB cable.
Step 2. Open the Garmin Express you should set up on the PC.
Step 3. Select your watch, and then press Music to choose songs from the computer.
Step 4. You then can sync songs to your watch by clicking the Send To Device. Now you may stream Spotify with no limit on Garmin Fenix 5.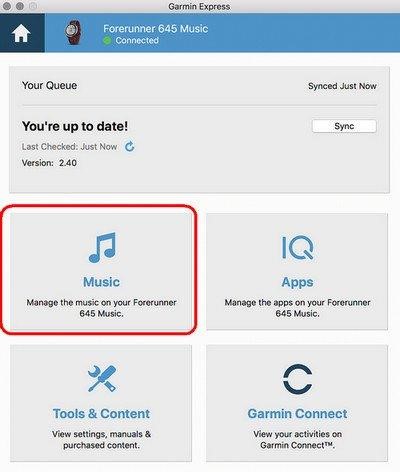 ---
Part 3. FAQs about Garmin Fenix 5 Music Spotify
Users have asked some questions about Garmin Fenix 5 Spotify, and here are some of them.
Q1: What Garmin Devices Support Spotify?
Following are the Garmin devices that support Spotify:
Forerunner 245 Music
Forerunner 645 Music
Forerunner 745
Forerunner 945
Vivoactuve 4/4S
Venu/Venu 2/Venu Sq
Garmin Marq
Fenix 5 and 5 plus
Fenix 6 Pro Versions
Fenix 7
Q2: How Many Songs Can I Save on My Garmin Watch?
The Garmin watch has the capability of holding songs having a 500 MB capacity. It also depends on your song's source to have higher or lower quality.
Q3: Can I Remove a Song from My Watch?
You can remove a song, podcast, or even a playlist. All you have to do is:
Step 1: Open 'My Music' on your watch and then select 'Songs or Podcasts'.
Step 2: Select the song or playlist you want to remove and tap on 'Remove'. The song or playlist you select will delete from your watch.
Q4: Why My Spotify Playlist Disappear from My Garmin Watch?
There are some reasons for the disappearance of your Spotify playlist on your Garmin watch.
1. Your Spotify Premium subscription has expired, and you no longer have it. Join the Spotify Premium subscription to have Spotify music available on your Garmin watch.
2. There might be a possibility that your Garmin watch has not been synced through the Spotify app over your WiFi. Check the syncing settings and solve this issue.
3. The other possibility is that you have connected the required number of offline devices on your Spotify account, and it is no longer connecting with your Garmin watch. To remove the extra offline devices connected to your Spotify account, sign in to your Spotify account and remove the extras.
---
Part 4. In Conclusion
With the partnership of Spotify and Garmin, it's easy to listen to Spotify music on Garmin Fenix watches. This article provides a detailed method for downloading and playing Spotify on Garmin Fenix 5 separately.
Also, for Spotify's free users, we have recommended the best converting assistant, AudFun Spotify Music Converter which gets high-quality music downloads with no loss to the audio formats supported by Garmin watch at a fast conversion speed. The method for using the AudFun software is very easy. Just follow the above step-by-step guide to solve your issue of how to put Spotify on Garmin Fenix 5.