"I recently purchased the Wear OS Smartwatch and want to ask whether I can play Spotify on Wear OS".
You can't deny the number of features Spotify comes up with to make the users' listening experience flawless and memorable. Apart from offering you millions of songs in high quality, Spotify allows you to listen to Spotify songs on myriad devices, including Apple Watch or Samsung smartwatches. It implies that you can indeed listen to Spotify on Wear OS, but setting it up could be a challenge, especially if you're a newbie.
To help you escape this situation, we've created an insightful post about how to use and enjoy Spotify tracks on your watch with Premium or for free. Moving on!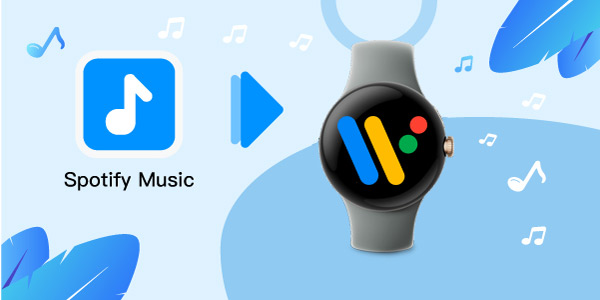 ---
Part 1. How to Use Spotify on Wear OS with Premium
Many Wear OS smartwatches come with pre-installed Spotify. You can easily play Spotify on it, provided you've got Spotify Premium. Moreover, you'll need to maintain the Wear OS 2.2 or higher version to listen to Spotify on it.
Follow the step-by-step guide below to set up and play Spotify on WearOS smartwatch.
Step 1: Launch the Google Play Store on the Wear Watch and search for the Spotify app there.
Step 2: Upon finding the Spotify app, you'll need to tap on the "Install" button to begin installing Spotify on your Wear OS watch.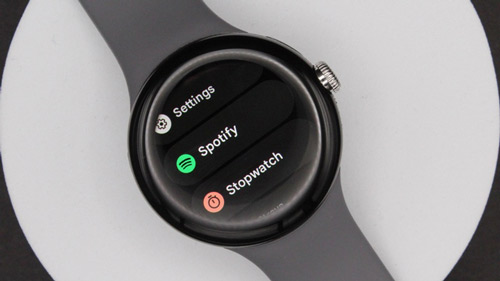 (Installing the app on your Wear OS will take only a few minutes, and then you'll be able to open it on the watch for use.)
Step 3: Launch the Spotify app on the watch. Doing so will help you show the paring page to pair your Wear OS watch with the phone.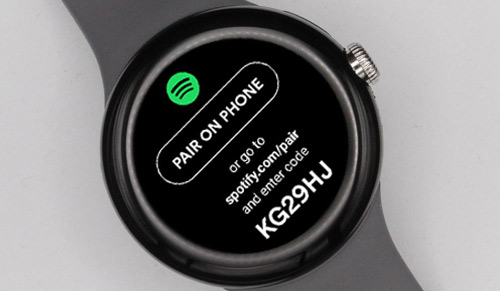 Step 4: Next, you must log in with Spotify by entering the code on your screen. After putting everything in order, you can quickly stream Spotify songs on the watch.
Step 5: To download the Spotify playlist, you can swipe left to find the playlist and then click on the "Download to Watch" button.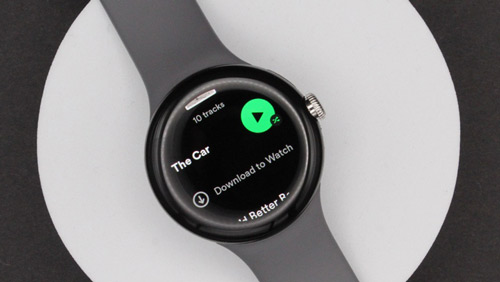 ---
Part 2. How to Play Spotify on Wear OS without Premium
Listening to Spotify on Wear OS is excellent, but you will need to get the premium package of Spotify to be able to stream music offline. Luckily, the WearOS smartwatch supports playing local songs, so you can download Spotify songs on your device to transfer them. And you should be aware of the fact that MP3, FLAC, M4A, AAX, and AA, and you need to convert Spotify content into formats that are playable on WearOS. To do this, AudFun Spotify Music Converter is there to help you out.
It is a remarkable Spotify music converter that supports various audio formats and allows you to convert Spotify songs in lossless quality. The output formats include MP3, FLAC, WAV, AAC, M4A, and M4B. Moreover, with the 5X conversion speed and ability to download multiple Spotify songs simultaneously, AudFun Spotify Music Converter has been one of the best Spotify music converters as it can maintain the metadata and ID3 tags while converting tracks from Spotify offline without subscriptions.
Advantages of AudFun Spotify Music Converter
Allows you to download Spotify songs without premium in lossless quality
Comes up with the 5x conversion speed
Blesses you with the effortless and user-friendly interface
Supports the batch conversion of Spotify (up to 100 songs)
Supports multiple audio formats, including WAV, FLAC, MP3, and more
Maintains the ID3 tags and metadata information
Comes up with the brilliant customer support
100% safe
Steps to Download Music from Spotify for Free
Step 1 Import tracks from Spotify to AudFun software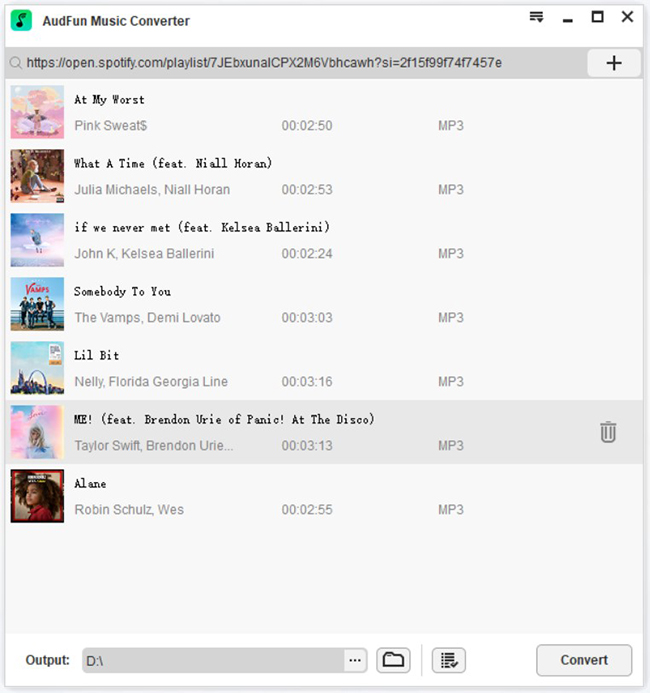 First, all you need to do is visit the official website of AudFun Spotify Music Converter and then install the latest version of AudFun Spotify Music Converter without wasting any time. Upon installing the Spotify music converter, you'll need to launch the AudFun Music Converter for Spotify and then navigate to the Spotify app.
After reaching there, select the Spotify songs, podcasts, playlists, or anything you'd like to listen to on the WearOS watch. Next, copy the link of the song and then return to the main interface of AudFun Spotify Music Converter and paste that URL link there. Finally, hit the "+" button and it will load your selected Spotify songs.
Step 2 Customize Spotify output for Wear OS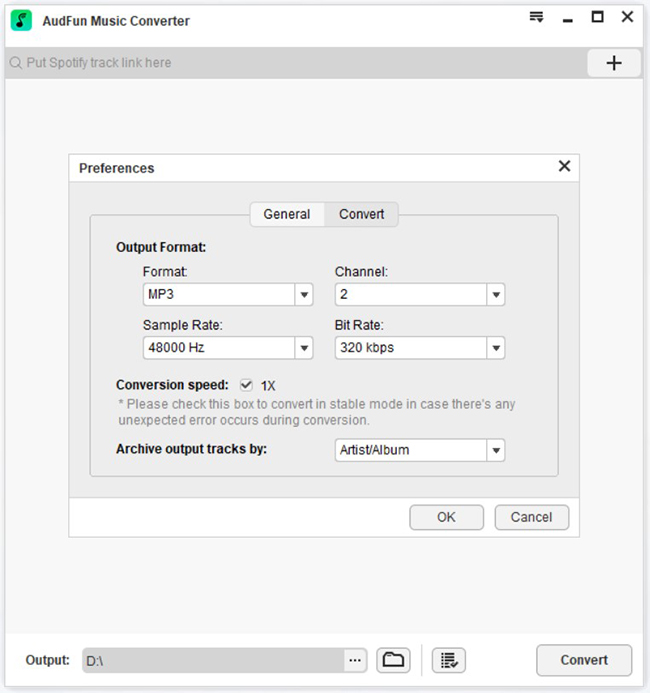 After pasting the URL link, you'll need to select the audio format you'd like to convert the Spotify songs into. You can do it by tapping the "Preferences" from the menu and then the "Convert" icon. Choose to convert Spotify to MP3, or other formats supported by WearOS. The AudFun converter also empowers you to adjust the audio parameters of Spotify songs like sample rate, etc., as it tends to retain all the metadata information and ID3 tags.
Step 3 Download to get Spotify Wear OS offline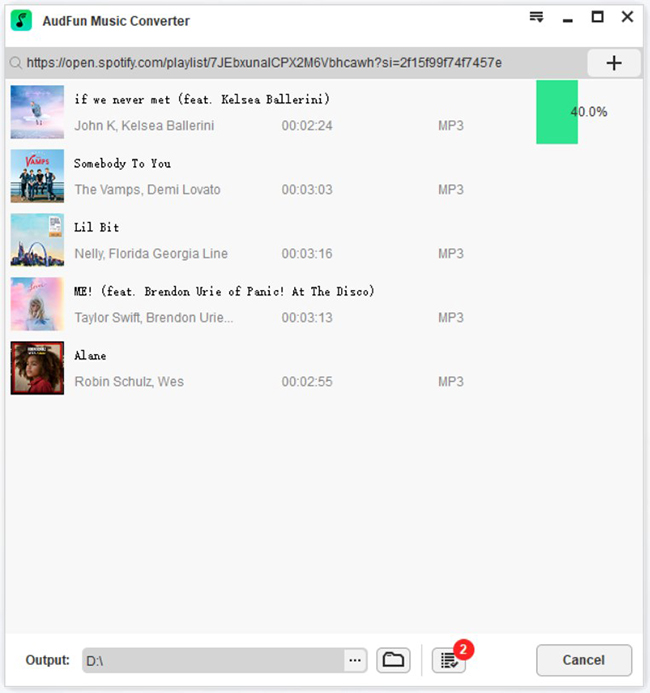 Now, you can download Spotify music with the courtesy of AudFun Spotify Music Converter. Hitting the "Convert" button to initiate downloading the Spotify songs to the desired audio format. The Spotify songs should be saved on your computer drive, so you can transfer those music files to the Wear OS watch for offline listening without using Spotify Premium.
---
Part 3. FAQs about Spotify on Wear OS Watch
1. Can you use Spotify offline on WearOS?
To use Spotify offline on that smartwatch, getting the premium package of Spotify is necessary. However, if you don't acquire a Spotify Premium subscription, you can use the AudFun Spotify Music Converter to download Spotify to play them on Wear OS offline.
2. Which Watch is compatible with Wear OS 3?
Fossil Gen 6 smartwatches (2022), Samsung Galaxy Watch 4/Classic, and Mobvoi TicWatch E3 run with Wear OS 3.
3. Is Wear OS the same as Android?
Several people nowadays ask this question, and the clear answer is that Wear OS doesn't seem like Android. Instead, it is based on Android and has been used for the wrist.
4. Can I play Spotify on any WearOS offline?
Unfortunately, not all Wear OS smartwatches support Spotify offline. Hence, if you intend to play Spotify Wear OS offline, you can take the services of AudFun Spotify Music Converter. Using this terrific Spotify music converter, you can download songs for offline listening and sync those downloaded songs with the WearOS watch.
---
Part 4. Final Words
Playing Spotify on Wear OS smartwatch directly is possible if you are a Spotify Premium user. You can take assistance from this post to learn how to enjoy music from Spotify on WearOS with premium.
However, if you don't get a Spotify subscription and want to play Spotify Wear OS offline, taking the AudFun Spotify Music Converter makes complete sense. This way, you can download the Spotify songs in your local file and then upload the songs to your watch using USB to begin streaming without the network.