The Fossil series is one of the most popular smartwatches, which attracts many people based on its features and aesthetics. It is majorly used in exercise, allowing wearers to track their workouts. Also, it is an important device for playing music.
So, can you play Spotify on a Fossil smartwatch, such as the latest Gen 6? Yes, Spotify is available on Fossil smartwatch, but it only works as a control. In other words, you can easily access Spotify on your wearable device and control your music, save your favorites, and get info on the tracks being played. If you don't know how to play Spotif on Fossil Gen 6, then this article will show an ultimate guide for you.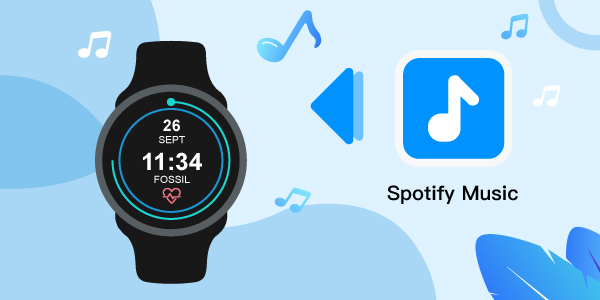 ---
Solution 1. How to Use Spotify on Fossil Gen 6 – Official Way
Using Spotify on a Fossil Sport smartwatch is an easy process. You only need to download and install the Spotify application on your Fossil smartwatch and connect to your Spotify account. Here is a detailed guide on how to do that.
Install the Spotify App on Fossil Smartwatch
Follow the steps below to install the Spotify app on your smartwatch.
Step 1. On your watch and navigate to Google Play Store.
Step 2. Search for the Spotify app. Then download and install it on your watch.
Step 3. Launch the Spotify application on your watch.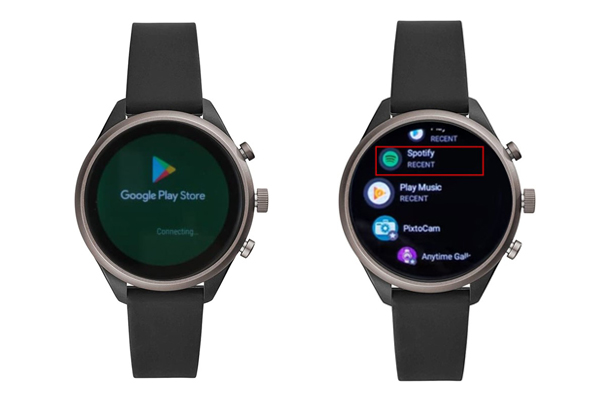 Play Spotify Music on Fossil Gen 6
To do that, you must log in or sign up for your Spotify Premium account on the watch. Now, follow the steps below on how to link Spotify and Fossil Gen 6.
Step 1. Open the Spotify application on your watch, and it will display a code.
Step 2. On your mobile device or computer, navigate to Spotify.com/pair and log in to your Spotify Premium account. (Sign up if you don't have an account.)
Step 3. Enter the code on the watch to pair.
Step 4. Check through your Spotify playlists and play your songs on Fossil Gen 6.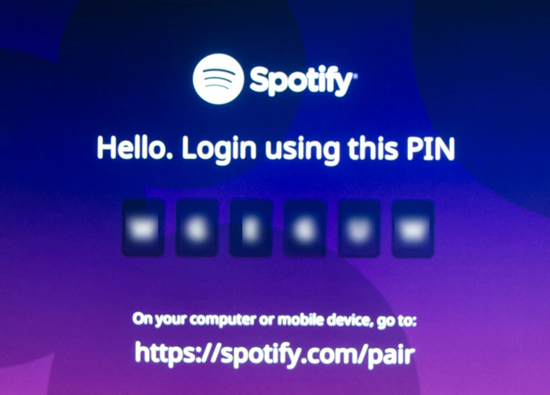 ---
Solution 2. How to Play Spotify on Fossil Gen 6 – Best Way
Even though Spotify supports the Fossil watch, it has DRM protection. It means that songs downloaded are locked and are available based on a subscription. So, when your subscription expires, you won't be able to access such songs again.
It is possible to make use of downloaded music files as a Fossil smartwatch is compatible with that. However, there might be an issue of losing the quality of Spotify music. Consequently, people use AudFun Spotify Music Converter as it guarantees the retainment of the music quality after extraction.
The Tool Required: AudFun Spotify Music Converter
AudFun Spotify Music Converter is the perfect software to download Spotify music without loss in quality. Also, it can convert Spotify music into several formats such as MP3, FLAC, WAV, and so on.
Moreover, it works fast and it can download Spotify playlists and convert them at five times the speed. You can use this tool on Mac and Windows OS. AudFun Spotify Music Converter is easier to operate as it has a simple user interface. After using it to get music from Spotify, you can then enjoy Spotify songs on multiple devices without the loss of quality or any limit.
How to Download Spotify Playlist to MP3
First, you need to download AudFun Spotify Music Converter on your Mac or Windows computer. And then please follow the step-by-step guide below to download the Spotify playlist to Fossil smartwatch.
Step 1 Add songs from Spotify to AudFun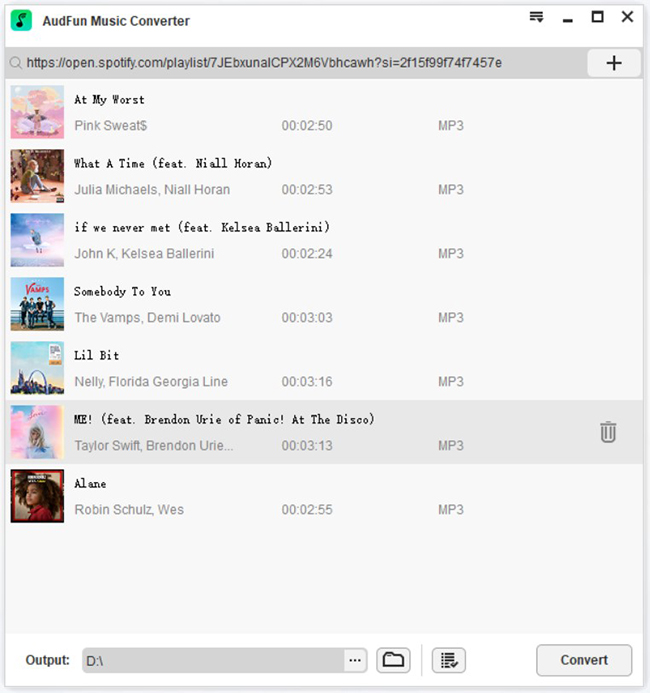 Launch the AudFun Spotify Music Converter program on your computer. Here you will also see the Spotify app shown. Then open the Spotify app to get the songs that you want to download and convert for your watch. Once found, copy the link of the songs, and paste it into the search bar on the AudFun program. Or, you can directly drag and drop the target Spotify songs you want to download to AudFun.
What's more, AudFun also supports converting Spotify via URI. You can copy the song URI and add it to AudFun also.
Step 2 Reset the audio parameters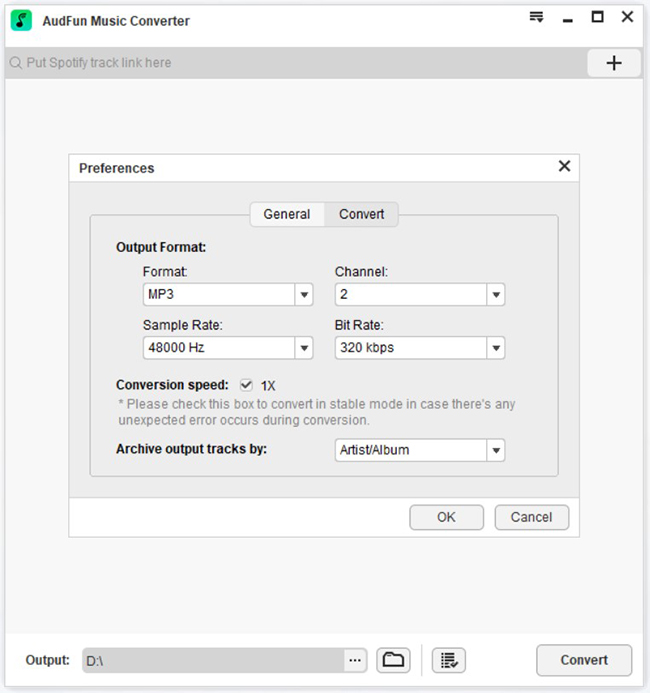 To make Spotify music compatible with Fossil, you need to set the target audio format here. Please click on Menu > Preferences > Convert option. Here you can choose MP3 as the output format that is supported by Fossil Gen 6 or other watches. You can change the output format, sample rate, etc. for Spotify music.
Step 3 Download Spotify music to the computer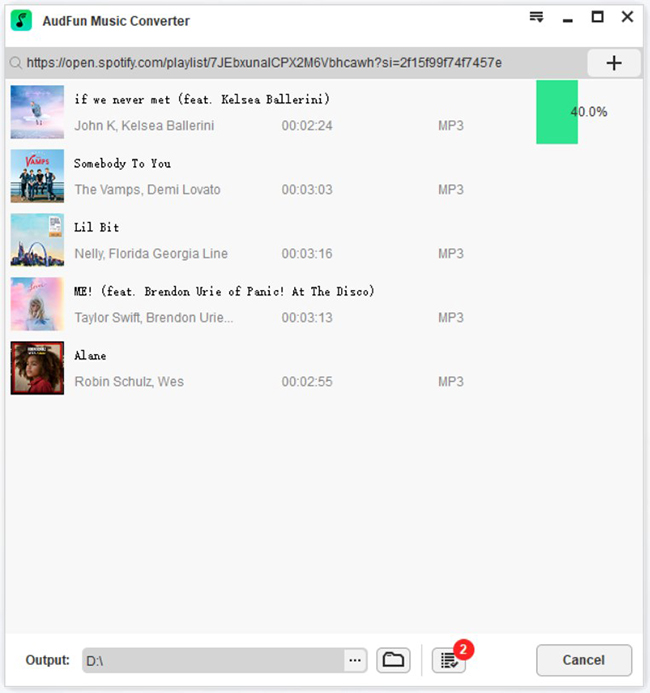 When set, then hit on the Convert button to convert and download tracks from Spotify. After the conversion process, you can find the converted Spotify music on your computer by visiting the Converted icon on AudFun software.
How to Play Spotify on Fossil Smartwatch
Since you had got Spotify songs as local files on your computer, you can then add Spotify music to Fossil Gen 6 and listen to them on your watch. Now, follow the steps below.
Step 1. Sync Spotify Songs into Google Play Music
On your mobile device or computer, open the Google Play Music website and login into your Google account. Click on Menu > Upload Music to upload the downloaded Spotify tracks into Google Play.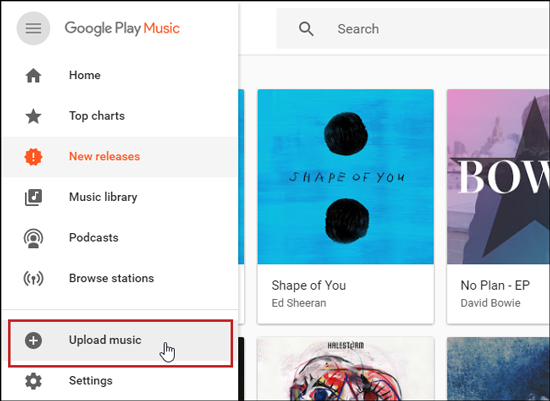 Step 2. Download Google Play Music App to Fossil Gen 6
If your Fossil watch does not have the Google Play Music application, navigate to Google Play Store, and download it.
Step 3. Download Spotify Playlist to Fossil Gen 6
Open Google Play Music on your smartwatch and sync the Spotify songs you uploaded to your watch. And make sure your smartwatch is connected to a good network for fast synchronization.
Step 4. Play Spotify Music on Fossil Gen 6
Now, you can click the Spotify song and play it on Google Play Music on the watch. You can also pair Bluetooth headphones with your Fossil smartwatch and enjoy Spotify music.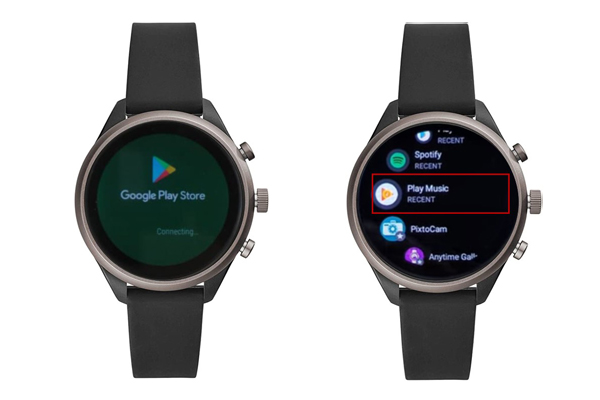 ---
FAQs about Fossil Smartwatch
Q1: Can Fossil play music?
Yes. Fossil Smartwatch connects to several music streaming platforms such as Spotify, YouTube Music, Apple Music, etc.
Q2: Does the Fossil smartwatch have a speaker?
No, the Fossil does not have a speaker. However, it has a microphone for accessing Google Assistant.
Q3: Can you make phone calls on a Fossil smartwatch?
No, you cannot make a call from the watch as it does not have a speaker.
Q4: Does Fossil work with iPhone?
Yes, it is compatible with iPhone. You can download the Wear OS by Google on your App Store.
Q5: Which Fossil smartwatch is the best?
The best Fossil smartwatch is based on your budget and love for function and aesthetics. Therefore, choosing the best one will be a little subjective. However, the Fossil Gen 6 has been considered the best Fossil Smartwatch to date.
---
Conclusion
Fossil smartwatch users can access several music streaming services such as Spotify, Google Play, iTunes, or Apple Music. For Spotify users, the smartwatch supports the application and can be accessed by free or premium users. However, offline listening when the subscription has expired is a problem faced by many users. Therefore, you can use the AudFun Music Converter to get Spotify Fossil to work without any limitations. With this program, you can then convert Spotify music and listen to Spotify offline anywhere you want.