When it comes to "Spotify on Fitbit", many Spotify enthusiasts would love to know when does Spotify works with Fitbit Versa or Ionic? Is it available to allow Spotify to store offline songs to Fitbit?
Now, with Spotify joining the list of music streaming services supported by Fitbit, everything is perfect. If you have a higher-end Fitbit smartwatch, including Versa, Versa 2, Ionic, and Versa Lite, you can use it to control Spotify music playback.
If you are interested in this topic, you can use your Spotify Premium account to download and use Spotify on Fitbit watch. In addition, to make Spotify Fitbit music play better, we will introduce another way to play Spotify on Fitbit Ionic/Versa.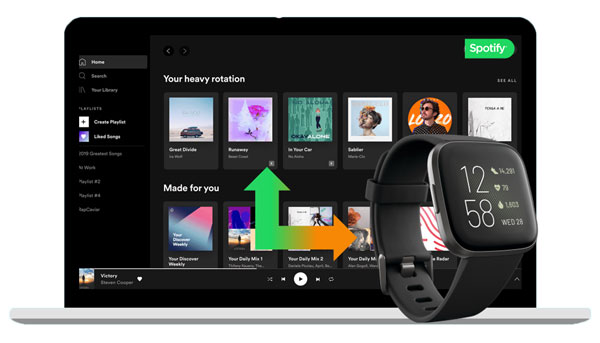 ---
Part 1. Download Spotify on Fitbit Ionic/Versa with Spotify Premium
In order to download Spotify music on Fitbit Versa and Fitbit Ionic, you are required to use a Spotify Premium account. That is because only Spotify-paid users can play Spotify on Fitbit. If you are a Fitbit watch and Spotify Premium user, then you can download the Spotify app and use Spotify on Fitbit Ionic and Versa by following the steps below.
Step 1. Open the Fitbit app from your mobile device. Click the "Profile" icon in the upper right corner to enter your profile section.
Step 2. Select your Fitbit smartwatch and click "Apps".
Step 3. Search for "Spotify" in the "All Apps" section to download the Spotify app.
Step 4. After you get the "Spotify" icon, click the "Install" to install it.
Step 5. Log in to your Spotify Premium account and link Spotify with Fitbit Versa.
Now, please authorize Fitbit to use the Spotify app in the background. Please make sure your Fitbit Versa and Ionic are both on the WiFi network, and let your phone nearby. Since Fitbit does not have speakers, you need to connect external speakers, such as Bluetooth headsets.
What You Can Do via Spotify on Fitbit Versa/Ionic
1. Browse the playlist, play songs randomly, pause music, skip forward and backward.
2. You can still control the music playback through the Spotify Fitbit app when you mirror Spotify music to other devices.
3. Hit the heart icon to add the music to your Spotify library while playing music.
What You Can't Do with Spotify on Fitbit Versa/Ionic
1. You can't use Fitbit Versa to listen to Spotify music outdoors without having to carry a mobile phone.
2. Fitbit's Spotify app itself does not have a "search" function for artists, songs, and albums.
3. Even if you are using a Spotify Premium account, you can't download Spotify songs for offline listening.
---
Part 2. How to Play Spotify on Fitbit Ionic/Versa without Premium
As we had shown above, there are some limits while using the Spotify Fitbit app. Thus, is there any better way to play Spotify on Fitbit Versa and Ionic?
Fitbit Ionic and Versa smartwatches have 2.5 GB of large-capacity music storage space, which are ideal devices for playing music during exercise. Luckily, I found an integrated Spotify to Fitbit converter – AudFun Spotify Music Converter.
It can download Spotify music and convert Spotify songs to MP3, FLAC, M4B, WAV, AAC, and M4A. Through it, you can get and add Spotify music to Fitbit Versa, Fitbit Ionic, and other devices for use. Besides, this smart application can maintain 100% of the lossless audio quality at 5 times the speed. It will lift all restrictions between Fitbit and Spotify.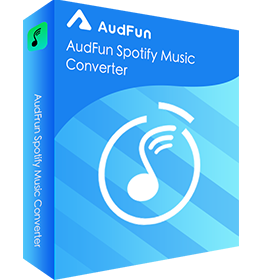 Key Features of AudFun Spotify Music Converter
Download Spotify songs to computer for playing offline anywhere
Convert Spotify music to FLAC, AAC, MP3, M4A, WAV, etc.
Play Spotify on Fitbit Ionic/Versa and other devices
Work at 5X speed, edit Spotify music quality and other parameters
How to Convert and Play Spotify on Fitbit Versa/Ionic
In the tutorial below, you can see how to download Spotify playlists to MP3 with AudFun Spotify Music Converter. Then you can move Spotify music to Fitbit Versa and other devices for playing. In addition, please make sure you have downloaded the Spotify application on a Mac or Windows operating system.
Step 1 Add Spotify songs to AudFun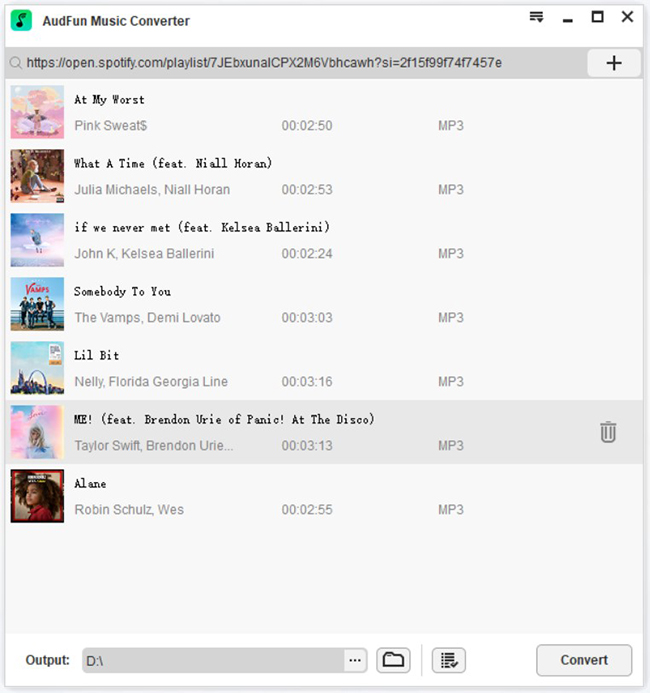 After the installation of AudFun Spotify Music Converter is complete, click the AudFun shortcut icon to start it from the computer desktop. Then you can add Spotify playlists you want to convert and play on Fitbit Ionic. You can add Spotify music to AudFun by copying and pasting the URL of the Spotify song or dragging the Spotify playlist.
Step 2 Set the output format of Spotify Fitbit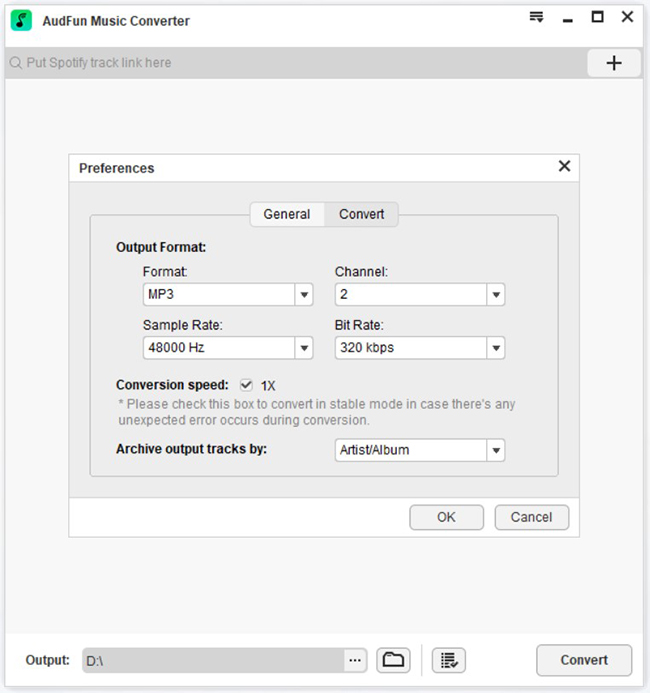 To get the settings window of AudFun program, you can go to Menu > Preferences > Convert options. Now you can alter the output audio settings of Spotify for Fitbit. You can define the output format as MP3 or other common audio formats that supported by Fitbit. You can change the bit rate, sample rate, codec, etc.
Step 3 Convert Spotify for Fitbit Ionic/Versa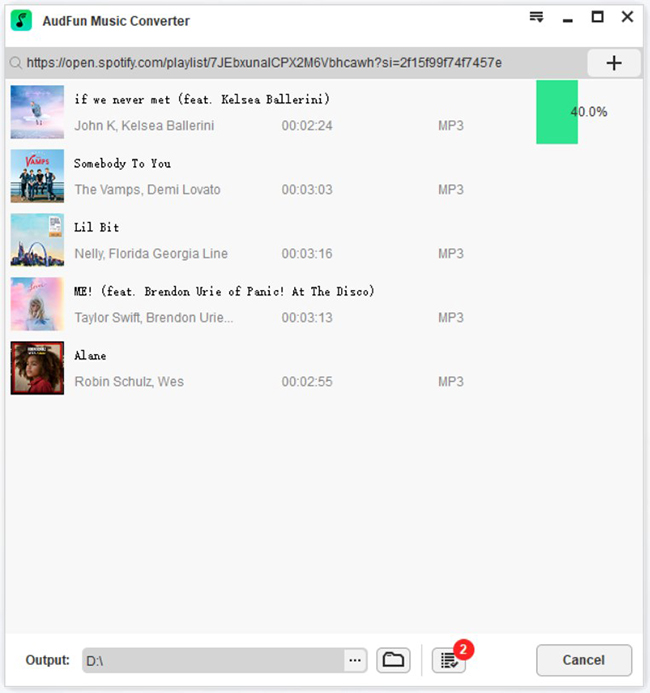 Before starting, you can also set the target folder as needed. After all the customizations are completed, you can start the conversion process by clicking the "Convert" button. AudFun Spotify Music Converter will download and convert songs from Spotify onto your computer.
Step 4 Play Spotify on Fitbit Versa
To use Spotify on Fitbit Versa and Ionic, you have to install the Fitbit desktop application on your computer. Please check the specific guides as follows:
1. Create a new Spotify playlist via the iTunes application or Windows Media Player. For iTunes users, you are required to authorize iTunes to share iTunes Library XML with your Fitbit Ionic/Versa watch.
2. Set up the Fitbit connect app and enter your Fitbit account details to log in. Then click the Account icon > Ionic/Versa title > Media > Personal Music option to move and add music from Spotify to Fitbit Ion.
3. Link your Fitbit Ionic or Versa and your computer to the same Wi-Fi network. Then open the Music application on the watch. Scroll down to select "Transfer Music" and confirm to use the Fitbit desktop app to transfer music.
4. Wait for the download process to end.
Now you can play Spotify on Fitbit Ionic and Versa through the Music app.
---
Part 3. Know More about Fitbit Ionic and Fitbit Versa
Fitbit Ionic: It is the successor of Blaze and Surge, and Fitbit has stopped providing these products. Ionic has a built-in GPS and can access global satellites. It provides better accuracy when recording exercises through GLONASS. In Ionic's Fitbit app, it supports SmartTrack to automatically recognize user activity. Moreover, it has interchangeable straps, waterproof, new tactile buttons, and more great features.
Fitbit Versa: The first impression of Fitbit Versa is that it is surprisingly similar to Apple Watch 3 and Pebble watches. They all have a square design and rounded edges. It retains most of the Ionic performance, but the price is $100 which is lower than the Ionic. Yet, as there is no built-in GPS, the connected GPS needs to be used by a smartphone. Besides, Fitbit Versa can track women's menstrual cycles.
Fitbit Versa and Fitbit Ionic are both smart choices for listening to Spotify music. No matter which Fitbit watch you own, you can use and play Spotify on Fitbit Ionic or Versa in two ways above. Just enjoy the fun of Spotify, Fitbit Versa, and Ionic.