Gone are the days you used to buy a $15 CD just because of your favorite song while the rest of the other tracks sucked. Nowadays, we don't buy music anymore. Blame it on piracy, the weather, or whatever you want. With time, new players such as downloadable and iTunes dominated and killed the market. Well, it so happens that they too are got served and a new player is causing havoc in the streets.
People literally play Spotify in car. The demand for the app is so insatiable – and for good reasons. Just search through your favorite artist playlist. The awesome bit about Spotify is that it gives you the option of getting other related artists or music and BAM!! Just like that, you create your favorite monster playlist. But do options exist as to how to use Spotify in car and listen to your compiled list? Stick around and find out.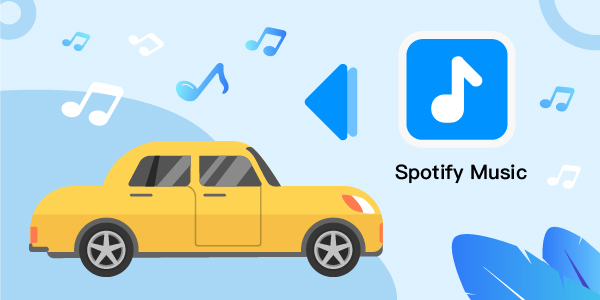 ---
Part 1. How to Play Spotify in Car using USB Drive
You've created a monster playlist that you want to listen to in your car. The problem is, your phone just doesn't have the capacity to hold them in. You smile since you've got your USB stick. Sorted!
Well, sorry to burst your bubble! Spotify music can't be directly transferred to your USB simply because Spotify streams audio. It limits one from transferring accumulated Spotify tracks to other audio devices for streaming. Any way to break the restrictions?
Sure. The AudFun Spotify Music Converter is among the top and most preferred software required for the conversion of Spotify music. It can download and then convert Spotify to MP3 or other plain audio formats with lossless quality. And it can work at a rapid speed which will save you time. Besides, it supports adjusting audio quality, audio bitrate, sample rate, and more as you want. After the conversion, you can save Spotify songs to a computer for use offline. You can move Spotify to a USB drive for playing in your car.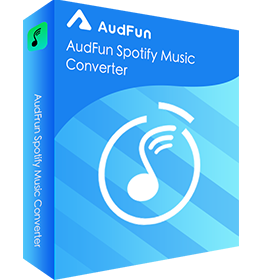 AudFun Spotify Music Converter
Download songs from Spotify to play in car
Convert Spotify as car-supported files, such as FLAC, MP3, M4A, AAC, etc.
Get and play Spotify in car offline without any limit
Easy to operate the downloaded process and convert at a faster speed
Guide on How to Play Spotify in Car USB
Below are the steps to ensure you carry your selected Spotify playlist with you. Here you can learn how to convert and download Spotify music to USB for playing in the car by AudFun Spotify Music Converter.
Step 1. Download, register, and activate AudFun software on your PC. Register option is for those who've bought the AudFun premium version. You can overlook this step if you chose to use the free trial version.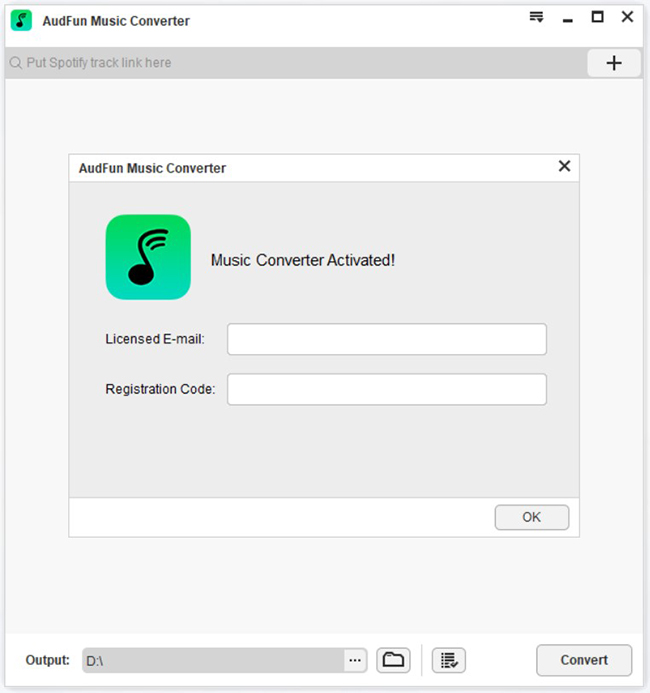 Step 2. Add your favorite Spotify album songs, or artists to the converter. When you launch the AudFun converter, the Spotify app appears. Select the corresponding links to the songs and select the Share and the Copy Link option.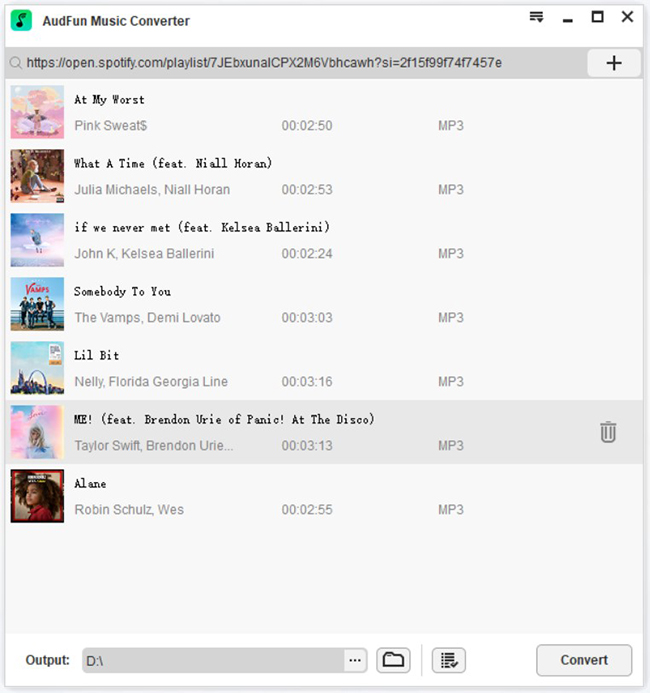 Step 3. Customize your selected Spotify audio into the desired format, in this case, MP3 or others. You can do that via the Menu > Preferences > Convert option.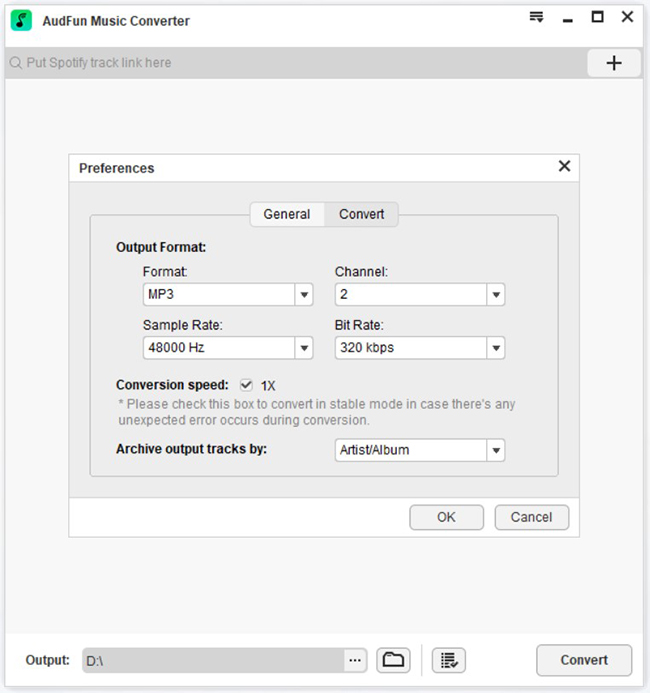 Step 4. Hit the OK button to commence the conversion and download process. Locate the target folder from where you'll later transfer the converted audio files to your USB.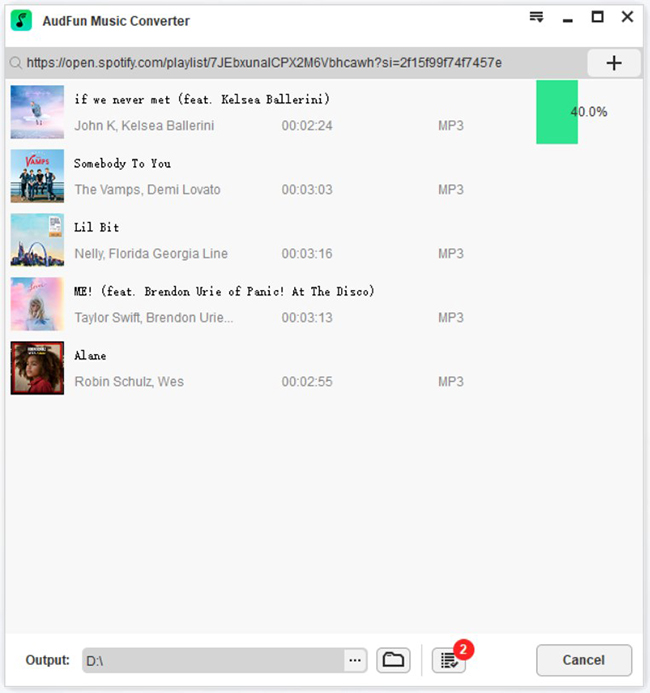 Step 5. Connect the USB drive to your computer to move the Spotify songs to it. After then, you are now ready to play Spotify in car and enjoy your songs from your USB.
---
Part 2. How to Play Spotify in Car with Apple CarPlay/Android Auto
If you have CarPlay or Android Auto, you are already halfway there. This means that your vehicle is already Spotify integrated. Follow the below steps on how to play Spotify in car Android Auto and Apple CarPlay on the go.
For Android Auto, it's as simple as plugging in your phone in your car's USB port and playing Spotify in car.
For Apple CarPlay, ensure that Siri is on after turning on the ignition. After, plug the phone into your car's USB port and wirelessly connect your device.
Select settings > General > CarPlay. Choose your car and listen away.
You could use Explore Spotify to check whether your car comes with an inbuilt Spotify app in its dashboard. However, be advised that not all cars support Spotify's free version. If you want a Spotify Premium account, you can learn how to get Spotify Premium free.
---
Part 3. How to Play Spotify in Car Bluetooth
You can play Spotify on Bluetooth-enabled devices such as headphones, speakers, and your car. You need to have Spotify on any Bluetooth-enabled device and an audio device that supports Bluetooth.
Head to settings in your car dashboard to access the Bluetooth menu.
Choose the pair option to establish a link to your device. Ensure that Bluetooth is activated on both devices.
Choose your car and enter the pairing code if needed.
Open up your Spotify and select play.
You will notice large icons on your phone in the now playing section, making it possible to quickly sift through tracks with the chosen music icon at the bottom of the screen. Alternatively, you can select different songs if your car's steering comes with inbuilt controls.
In some cases, the connection may be a bit problematic. Ensure to do the following for a seamless experience:
Check that your connecting devices are in the range of one another. It's always recommended that you maintain 3 feet or 1-meter distance.
Try disconnecting other devices since some others only require you to maintain a connection at a time.
Check your device with the Spotify app whether media sharing is activated.
Ensure that both devices are sufficiently charged.
---
Part 4. How to Listen to Spotify in Car through Aux-Cable
If your car comes with an Aux port, then connecting your device with a cable remains to be the fastest option.
Check that you've got the correct or recommended cable to establish a connection between your device and the car. Consult your car's manufacturer in case you have a problem with this. However, don't throw away the dongle that comes with the phone. You may need it since some phones don't come with a phone jack.
Locate the Aux port in your vehicle and plug in the cable.
Select the Aux input after turning on your car and open Spotify. Tap play and enjoy.
---
Part 5. Play Spotify in Car by CD Burning
Who the hell burns song on a CD anyway. Though it sounds old and outdated, people still carry their favorite lyrics on their CDs. Most people want to burn their Spotify playlist in CDs to listen to. Is there a Spotify to CD converting software? Even if you pay a Spotify monthly subscription, there's no option to allow you to burn songs on the platform. But you can use the AudFun Spotify Music Converter mentioned above to download Spotify songs offline. Then you can burn Spotify to CD to play Spotify in car.
Below are just some of the two ways to burn Spotify to CD for use in the car.
Burn CD from Spotify using Windows Media Player
Insert a blank or empty CD in your computer's disc drive.
Open Window Media Player and hit the Burn option on the right.
Select Spotify songs and drag them in your burn list.
Press the Burn button to initiate burn transfer.
Burn Spotify to CD via VLC
Launch your VLC media player and create a list for your Spotify music.
Drag and drop your favorite songs onto the playlist dock.
Go to the Media menu and hit the save/convert option.
Click on the disc button while inserting a blanc disc in the drive.
Click on the audio CD followed by inserted disc. Finally, click the convert/save button to initiate burning.
Hit the browse button to choose your playlist location.
---
Part 6. Conclusion
The Spotify restrictions don't necessarily mean you need to cap your enjoyment. There are various ways to ensure that you carry your favorite playlist with you. We hope that this article has equipped you with the necessary knowledge to ensure you get the best out of your Spotify account and guide you on how to play Spotify in the car with ease. By the way, with AudFun Spotify Music Converter, you can enjoy Spotify songs as more as you like on any device offline.