Are you a big fan of the Spotify app? If you are, you may be one of the many music fans who continue to listen to the top and popular songs all the time. Spotify has been identified as one of the best streaming music platforms, with vast numbers of tracks and interesting features. It is ideal to have access to all of your favorite Spotify playlists in any media or music player.
Throughout this article, we'll go over how to play Spotify in Foobar2000 using the best method. As a result, you can now fully enjoy those tracks as often as you want. If you are one of the many individuals who enjoy using Foobar2000, you will benefit prominently from this guide.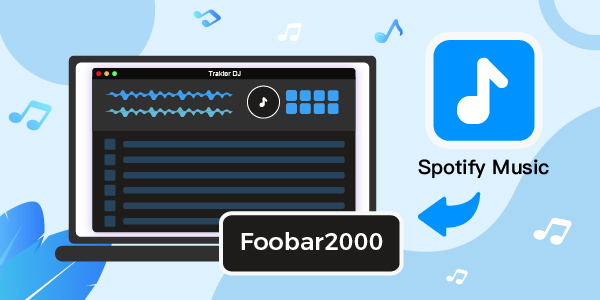 ---
Part 1. What is Foobar2000 & What Does it Do?
Among the various audio players used in the city, the most used one is Foobar2000. It is commonly known as "fb2k" and is recognized as the suitable free software audio stream for several phones. Many devices, including Android, gadgets, and even Windows computers support it. It was created by Peter Pawlowski and became widely known in December 2002, as a result of its appealing integration features and configuration functionality. It supports a variety of popular file formats, including MP3, AAC, MP4, Ogg Vorbis, ALAC, FLAC, and many others.
The following are some of the fantastic features that Foobar2000 has to offer:
Keyboard shortcuts in Foobar2000 can be customized. You can easily change and personalize it by going to the "File" button at the top of the screen and then looking under the "Preferences" button for "Keyboard shortcuts".
Foobar2000 has a user interface that is simple and easy to use, making it suitable for all users. Aside from that, the player allows customization, which is useful for someone who wants to customize his player to look exactly how he wants it to be.
---
Part 2. How to Use Foobar2000 Spotify – Best Tool
Foobar2000 is well-known for its extremely modular structure, huge spectrum of features, and significant configuration versatility for users. It has a variety of features for managing directories, files, and metadata. Its specialty is that it supports a wide range of audio formats and has a converter interface with command line encoders.
All you can do is keep in mind that, except for Spotify all music downloaded from Spotify is incompatible with the other players. On the other hand, digital rights management protects all Spotify songs. However, all Spotify music can be played in the OGG format. You are not allowed to play Spotify music on Foobar2000 without permission. Besides, there is no Foobar2000 Spotify integration. Thus, to get rid of Spotify's security & play Spotify through Foobar2000, you'll need to use AudFun Spotify Music Converter.
What Can You Get from AudFun Spotify Music Converter
For Spotify's free and premium users, AudFun Spotify Music Converter is a professional and functional music downloader and converter. It allows you to download songs, playlists, podcasts, audiobooks, albums, and other content from Spotify. Besides that, it focuses on converting Spotify to a wide range of audio formats, including MP3 and FLAC.
You can listen to music offline on all devices on the go thanks to this brilliant Spotify downloader. Now, let us just look at how to use this program to quickly download and convert Spotify URI to MP3. Before you begin, make sure you have the correct version of AudFun Spotify Music Converter installed on your Mac or PC.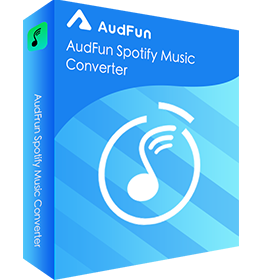 AudFun Spotify Music Converter for Foobar2000
Maintain 100% lossless output audio files, including ID3 tags, and so on
Extract audio from Spotify files at 5X incredible speed
Download Spotify songs to your local computer for offline streaming music
Convert Spotify to MP3, FLAC, WAV, AAC, and other high-compatible formats
---
Part 3. How to Get and Play Spotify in Foobar2000
Step 1 Download and install AudFun software
When you click on the Download button at https://www.audfun.com/download.html, the Download package will be downloaded automatically. To install AudFun Spotify Music Converter on your computer, please select Open when it is fully downloaded. Following that, you can run it from the computers' desktop. First and foremost, please ensure that you have properly installed the Spotify app.
Step 2 Register and activate AudFun Spotify Music Converter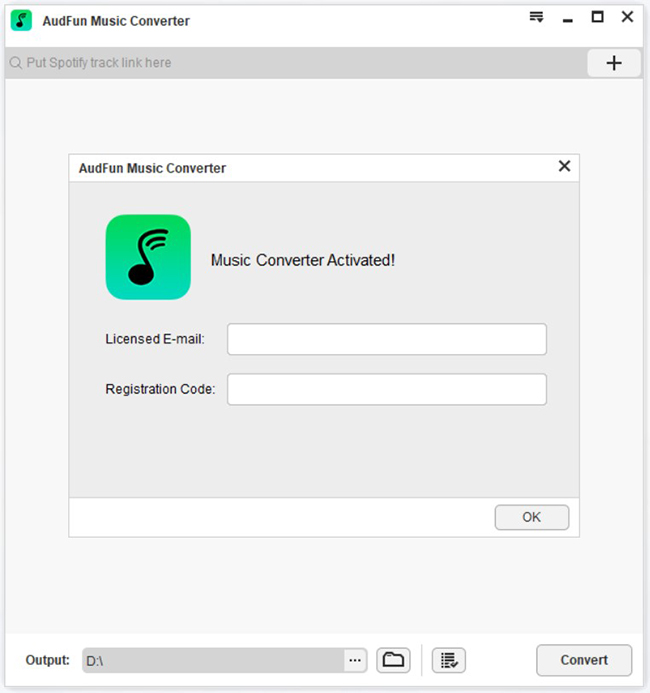 AudFun Spotify Music Converter's free trial version only allows you to download the first 1-minute of each track. To remove this limitation, please buy and initiate the full version. Navigate to the top-right Menu bar on a PC or click the AudFun Spotify Music Converter for Mac in the top-left menu bar on an Apple device. After that, locate and select the Register option to enter your licensed email address and activation codes.
Step 3 Upload your favorite Spotify songs, playlists, albums for rapid conversion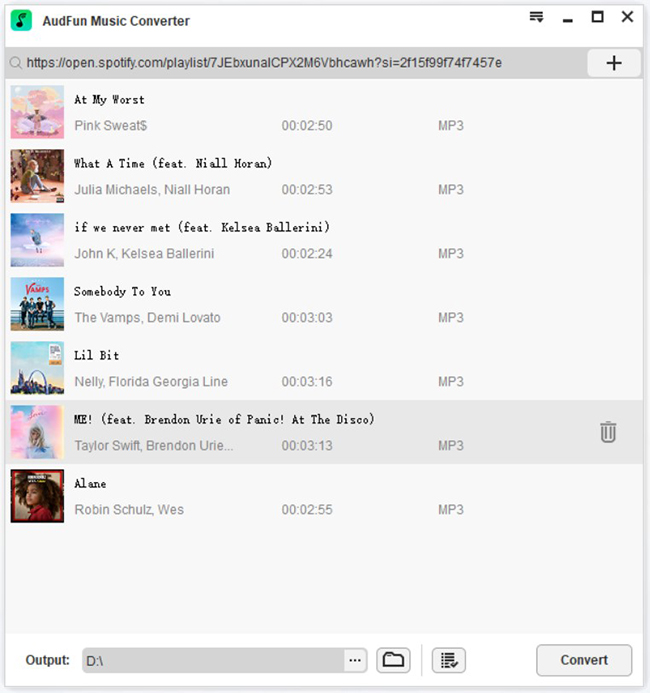 Please use the opened Spotify desktop app to find and download music that you'd like to convert to MP3 in the first place. Then tap the item once you've found it and select … > Share > copy the Spotify URL.
The AudFun Software interface has an address bar, paste it here and press the + button to load them. If you want to convert a few songs from different playlists or albums, you can simply drag and drop them into this tool.
Step 4 Customize Spotify's audio output formats for conversion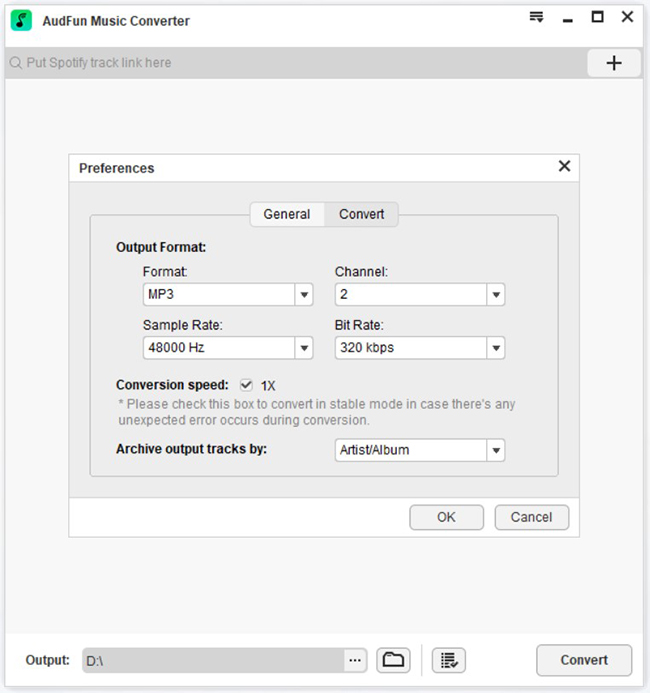 Open the setting window, return to the Mac or PC's Menu bar and select Preferences > Convert from the drop-down menu. Spotify's output format can now be changed to MP3, FLAC, WAV, M4A, M4B, or AAC. You can also customize other output parameters such as bit rate and sample rate, as well as categorize output tracks by artists or albums, for a better music listening experience.
Step 5 Download and convert Spotify songs to MP3 format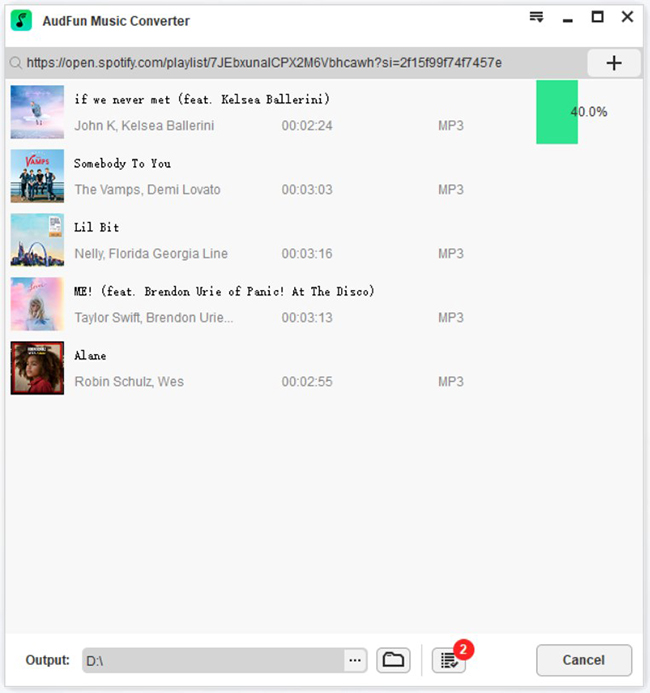 Please press the OK button to confirm all of the settings you've made so far. To begin the conversion process, click the large Convert button in the bottom-right corner of this program. It will download and convert any Spotify songs you've added to the target files according to your preferences. It can locate all offline Spotify tracks on your computer's destination folder after conversion. You can download them to any device and listen to them when you're not connected to the internet.
---
Part 4. Conclusion
After reading this article, you should be able to answer the question of how to use Spotify in Foobar2000? Isn't it simple? You can easily play Spotify in Foobar2000 with the AudFun Spotify Music Converter. Furthermore, you can use Spotify music anywhere and at any time with this tool.