To me, there is nothing better than curling up to read a good book after a long day's work. For some of us, that fun can come from both physical books and audiobooks. I love using audiobooks not only as I fall asleep, but also as a way to get mundane chores done around the house or to block out the background noise at my local grocery store (listening to a classic book while skimming the ice cream aisle? The best!)
When my friends and family ask me where they can get audiobooks, I give them the usual recommendations – Audible, their local library – but also one that they may not have heard of: Spotify.
Are there audiobooks on Spotify? Now, full disclaimer, there aren't that many new books on Spotify, as most of their books are in the public domain. But they are chock full of audiobooks listed as playlists or albums and individual 'songs' as sections of the audiobook.
To get you started, here is a list of what I think to be the best audiobooks on Spotify for you to begin your listening journey.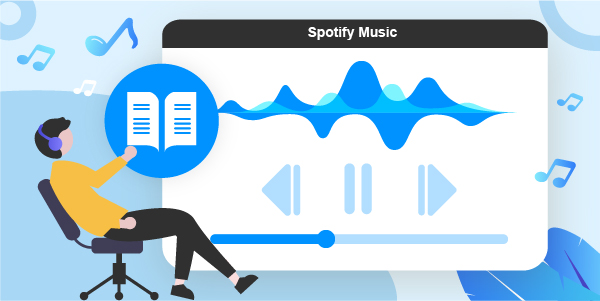 ---
Part 1. Top 10 Best Audiobooks on Spotify
1. The Hunger Games Series by Suzanne Collins
If you were one of the few who didn't catch this series in its heyday, then now would be a perfect time to catch up. This is one of the more recent titles on the list of audiobooks on Spotify, but it is still an excellent story of a young girl, Katniss, who must battle to the death in an arena, to save herself, her friend Peta, and maybe her whole town from the tyrannical control of President Snow. If you haven't read this book, then I highly suggest you check it out on Spotify.
2. Stamped from the Beginning: The Definitive History of Racist Ideas in America by Ibram X. Kendi
Published in 2016, and winner of the National Book Award, this is one of those books that people can't seem to stop talking about. It is one of those books that takes an unapologetic, and yet thoughtful exploration of race in America. It is one of those books that makes you think about what you have been told all your life about the history of your country. A must in today's America.
3. A Christmas Carol by Charles Dickens
As a kid, I never could appreciate the novel for what it was (I always wondered where the singing mice were from A Muppet Christmas Carol). Now, as an adult, I can more fully appreciate Dicken's work. At his shortest novel, this is a nice way to try him out without getting into one of his lengthier and encompassing works. This book, for me, was just as poignant as it was all those years ago, where Dickens teaches us that money does not necessarily mean that one will have happiness.
4. The Great Gatsby by F. Scott Fitzgerald
When I was young, I wondered why Gatsby didn't have a wingman to help him get over his lost love Daisy. Now, as an adult, I still think that, but I can also appreciate how someone can become obsessed with a girl who is already married, and how one needs someone from the outside to look in and tell us when enough is enough, and help us to move on with our life. This was required reading in high school, and one book that I think people should read as it teaches you that money truly can't buy everything.
5. Crime and Punishment by Fyodor Dostoyevsky
This was one of these books that I had always wanted to read, but it always felt so intimidating. Maybe you share my trepidation. Well, now, an audiobook may be just the thing you need to get this beast of a book off your TBR pile. It is a fascinating book about the murder of a landlady at the hands of her tenant, and the tenant's journey as he deals with his crime.
6. 20,000 Leagues Under the Sea by Jules Verne
One of the original Science Fiction novels, this is the best fantasy audiobooks on Spotify about a submarine going on a dangerous journey into the depths of the deep blue sea. Get your sea legs and check your scuba gear for this fun adventure into the depths of the unknown.
7. War of the Worlds by H.G. Wells
With our recent interest in Mars, one should take this opportunity to look back to the original alien invasion novel with H.G. Wells's famous novel. This excellently told book details the first-ever invasion of the British homeland by the Martians and shows just how ill equipped we were to handle them. The invasion book that started it all, this classic will have you reading from the first page to the last.
8. Dracula by Bram Stoker
One of the original epistolary novels (a book written in the form of letters, diary entries, and newspaper articles), Dracula details one of the first uses of vampires in literature. It may be unconventional, but don't let that scare you away. this book has an excellent sense of setting and atmosphere that make it perfect to read on a dark, stormy night. This novel is just in time for Halloween, so if you are looking for an original fight, then this audiobooks on Spotify list is sure to not disappoint.
9. The Call of the Wild by Jack London
Maybe you are in the mood for an adventure? Perhaps you want a dog thrown in to shake things up? Then this is the top audiobooks on Spotify for you. Call of the Wild is a story of a dog stolen from his home and sold into service as a sledding dog in the wilds of northern Canada. Eventually, he has to battle against his nature and the harsh environment if he wants to make his way home. This is a fun and exciting adventure that you don't want to miss.
10. Frankenstein by Mary Shelley
When most people think of scary unintended monsters, we tend to think of superheroes like The Hulk or the Thing. Few realize that these themes of a monster come to life, and man messing with nature can be traced to a novel about the original monster written back in the 1800s. Reading this book is not only a scary tale of unintended consequences when using science, but also provides insight into humanity when the people around us reject us. So find this audiobooks on Spotify and unleash the monster within.
---
Bonus Tip: How to Download Spotify Audiobooks to MP3
Maybe you want to listen to those good audiobooks on Spotify. But you are afraid that you will use too much data, or you will go into a place that has little cell service. Well, don't worry, with the AudFun Spotify Music Converter, the problem can be solved. It can help you download free audiobooks on Spotify and save them forever.
This software takes a Spotify playlist, like your favorite audiobook, and converts it into a wide variety of formats like MP3 or FLAC. And you can adjust the bit rate, audio quality, and more as you want before converting. After the conversion, you can save a list of audiobooks on Spotify onto your computer. Then you can listen to the Spotify audiobooks anytime and anywhere.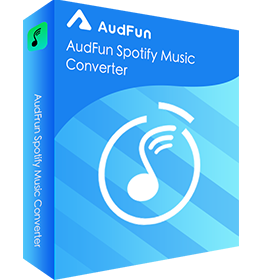 AudFun Spotify Music Converter for Spotify Audiobooks
Conversion of audiobooks on Spotify to any desired file format
Convert at 5X times faster than the normal speed
Download lossless sound quality of Spotify audiobooks for offline playback
It is easy to use with an intuitive and clean interface
How to Download Audiobooks on Spotify via AudFun Spotify Music Converter
To get audiobooks on Spotify, there are a few things you need to do.
Step 1. Make sure you have the Spotify app installed on your computer.
Step 2. Go to this link to begin installing AudFun Spotify Music Converter: https://www.audfun.com/spotify-music-converter.html
Step 3. Click on the computer software download button for either Mac or PC.
Step 4. Click the "Open When Done" option.
Step 5. The free trial of AudFun allows you to only convert the first minute of a song. So, you need to pay for the full version to remove this restriction. You should then get an activation code.
Step 6. Navigate onto the top-right menu bar on PC or the top left menu bar on Mac, and click Register. Enter your email address and your registration code.
Step 7. You are now registered with AudFun software.
The following are the steps to convert Spotify audiobooks into the format of your choice:
Step 8. Open the AudFun software and Spotify desktop app launched also. On Spotify app, find the audiobooks you want to convert.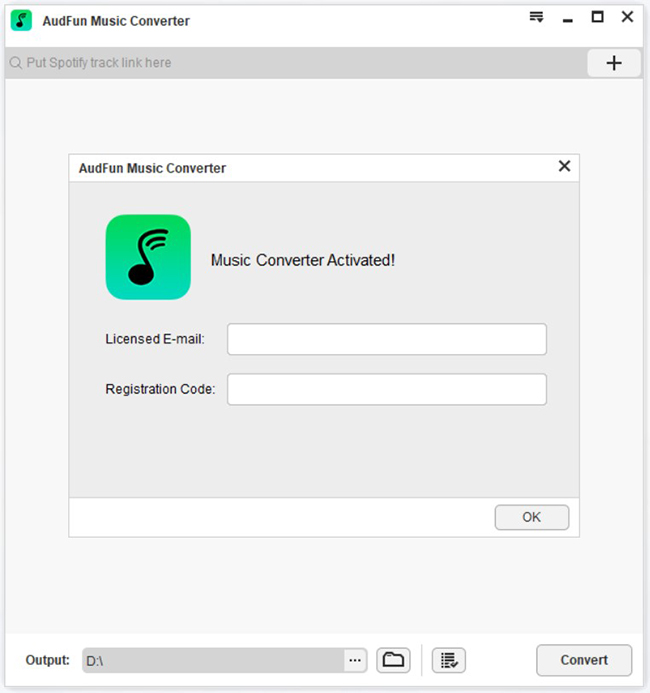 Step 9. Once found, right-click on the song and go down to the 'Share' option, then 'Copy Song Link'.
Step 10. There is an address bar at the top of AudFun's interface. Paste the address into this bar, then click the + (plus) icon to load them.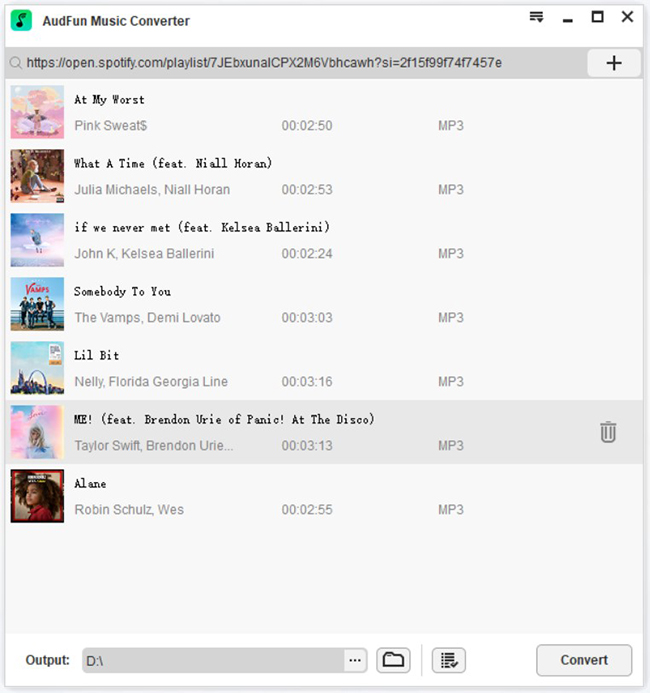 Step 11. Go Back to the Menu bar, and click 'Preferences'. From here, you can choose the audio file format you want to convert to. You can set to convert Spotify to MP3, etc. Then press OK to confirm your choices.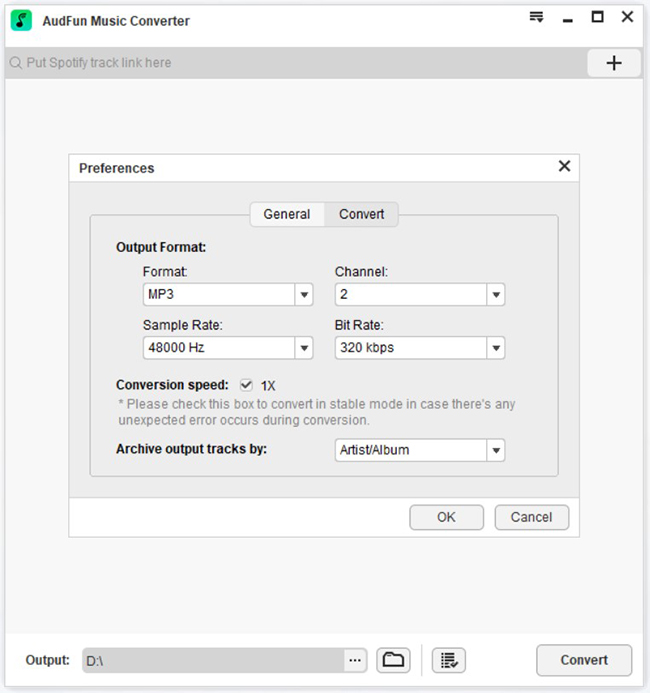 Step 12. Press the "Convert" button. After conversion, you can then transfer Spotify audiobooks to any device to listen to offline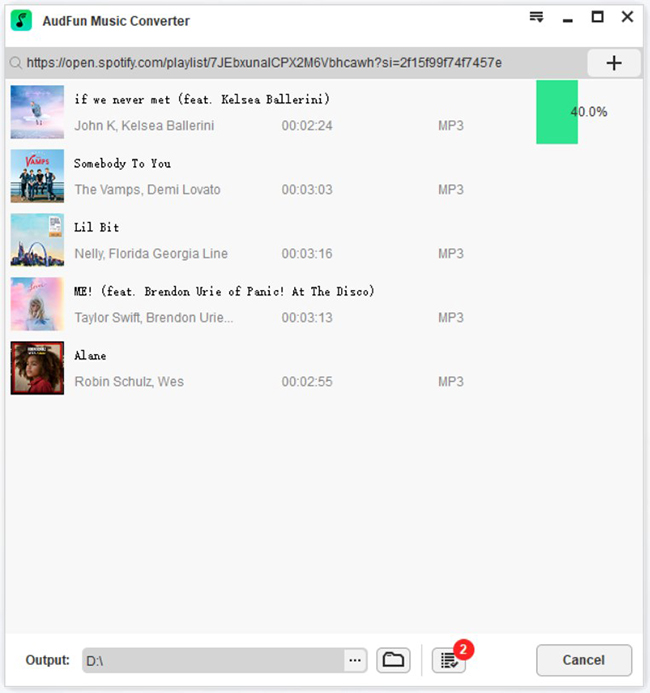 This way you can be listening to your favorite music and audiobooks on Spotify in high-quality formats on the go, enjoyed anywhere, anytime.