Spotify provides users with unlimited entertainment by streaming favorite songs to their desired media players. You can connect with this platform during your leisure time and when you feel like having a break from your routine work schedules. Yet, this app provides limited usage in its free version when you travel to another country for official or personal reasons.
In this article, you will learn about the efficient use of Spotify abroad. There are surplus methods to access Spotify songs using digital tools from the online market. Here we will introduce some tips for you on how to use Spotify abroad. Just learn more details below and get started.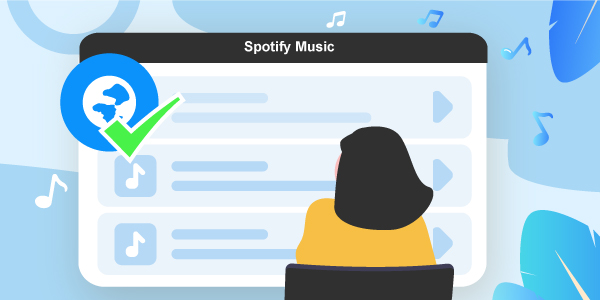 ---
Way 1. Using Spotify Abroad via Changing Your Region or Country
As soon as you download Spotify into your gadget, you will be immediately enabled with its free version scheme. It is integrated with the location and therefore this free version property varies when you switch to a different location around the world.
With the basic version of Spotify, you can only use Spotify abroad for 14 days when it senses that you had moved to another region or country. It restricts the usage of Spotify and therefore you must watch out for its accessibility as soon as you move to a new place globally.
This Spotify abroad option helps you to connect with any Spotify playlists within 14 days from the date of activation. The library locks and you cannot access any of the songs from the playlists after the expiry of the 14-day limits. Few regions globally limit or deny access with Spotify and therefore check out the compatibility with your location before making changes with your Spotify account.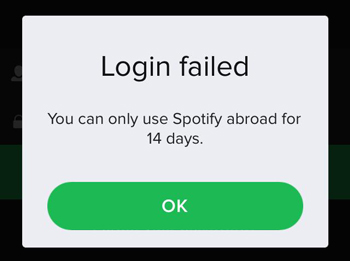 ---
Way 2. Use Spotify Abroad by Upgrading to Spotify Premium Account
To upgrade the Spotify abroad feature, enroll with the Spotify Premium version. The Premium users of Spotify can connect with their favorite playlists despite location changes. The Spotify Premium subscription costs vary with the location you are currently stuck. Asia, Africa, and South America have the cheapest price for individual packs for Spotify that costs $1.037 per month.
Check the Spotify costs in pace with the region you belong to globally. You can watch the price tags from its official webpage. It seems that Denmark has an expensive price for Spotify that is equivalent to $14.39 per month for the individual user. In the UK, it costs around $12.21 for a single user per month. You can check out the detailed subscription fee for Premium from its official webpage for various countries worldwide.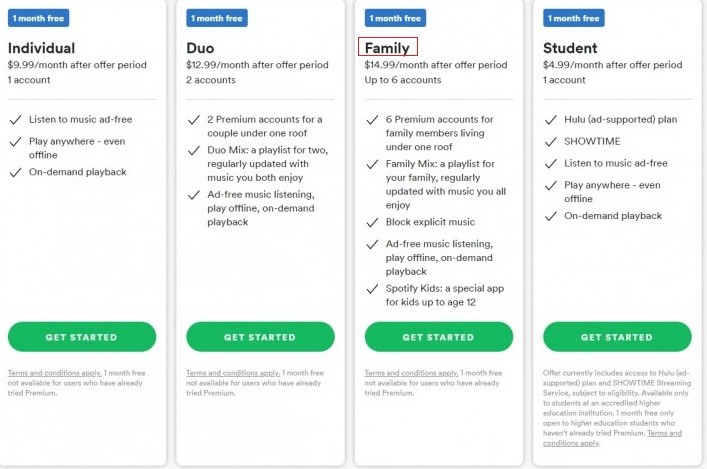 ---
Way 3. Unblock Spotify Abroad Restriction via a VPN
Is it possible to track the location details to overcome the restrictions of Spotify abroad? Yes, you can change the geographical location of your gadget using the best VPN applications. You can switch your gadget location anywhere around the world.
The Nord VPN serves the best and it helps you to remove the location-based restrictions with Spotify abroad. Choose your favorite VPN provider and enroll with a plan. Then, download the app and open the VPN application. Create a login and pin your gadget location anywhere on the globe as per your requirement after analyzing the perfect location for unlimited usage of Spotify services. After completing the connectivity with the desired location, disclose the Spotify app and start surfing your favorite songs without any issues.
---
Way 4. Use Spotify Abroad via AudFun Spotify Music Converter
Why not try a tool to use Spotify abroad flawlessly? The AudFun Spotify Music Converter is a perfect program that helps you connect with Spotify playlists anytime and anywhere. It helps download Spotify songs to your local device for quick access offline.
The AudFun Spotify Music Converter has a simple interface for comfortable working by the newbie users. You do not have any special skills to use it. This software assists you to store the Spotify songs into your system drive and removes the protected format of the Spotify audio tracks. You can convert Spotify soundtracks to audio formats based on your needs and stream them anywhere in the future.
During the conversion process, the AudFun Spotify Music Converter ensures no data loss and the quality of the Spotify audio tracks is retained. It can also preserve the metadata and ID3 tags of the Spotify songs for future reference.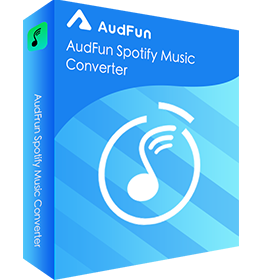 Key Features of AudFun Spotify Music Converter
Convert Spotify songs to any format according to your needs
Download Spotify music tracks at a fast rate
Preserve lossless audio quality of Spotify songs during the conversion
Remove DRM from Spotify and play Spotify on any device
How to Download Spotify Music to Use Spotify Abroad without Any Limit
Below you can learn how to download Spotify music by AudFun Spotify Music Converter. Then you will see how to use Spotify abroad without any restriction.
Step 1 Install the AudFun Spotify Music Converter onto computer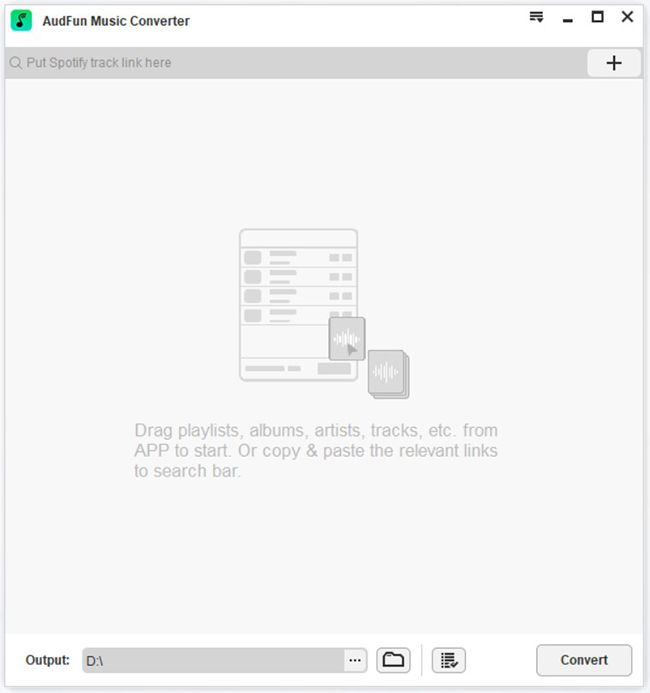 Visit the AudFun Spotify Music Converter website on your computer. And then download the correct version of the tool according to your system OS. Next, install and launch it.
Step 2 Import Spotify playlists and set output audio format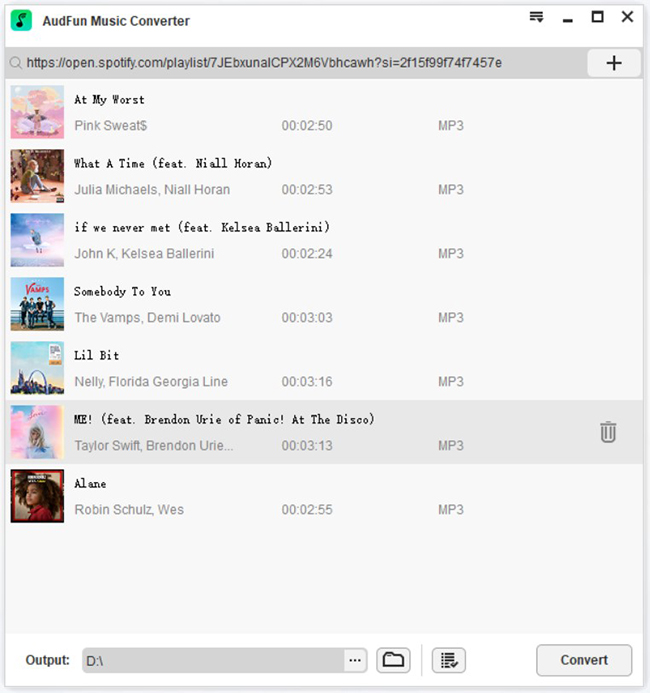 Next, go to the Spotify platform and copy the link to your favorite playlist. Then, paste it to the search bar near the + icon at the AudFun Spotify Music Converter interface. When the Spotify songs are loaded into AudFun, then personalize the output audio parameters by tapping the Preferences icon from the Menu bar. In the customizing window, alter the output file format, bit rate, sample rate, and more.
Step 3 Begin to convert and download music from Spotify for use abroad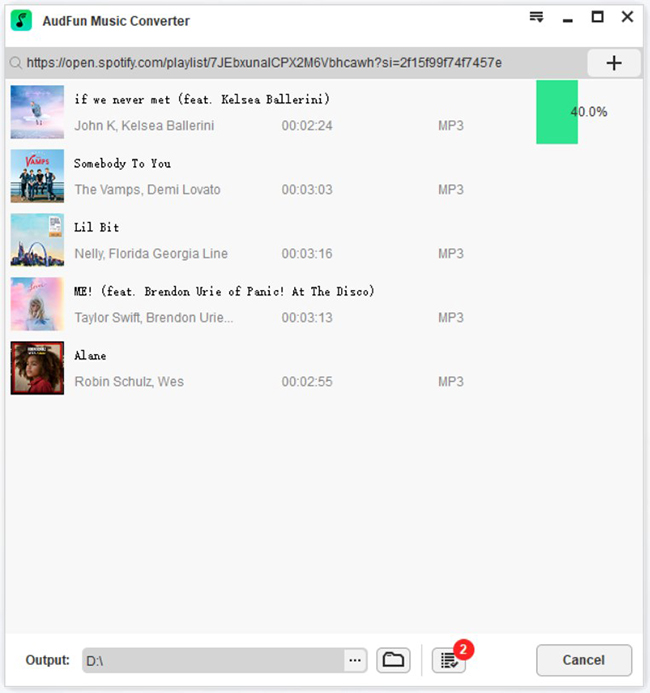 Finally, hit the Convert button to start to download Spotify songs as local audio tracks. The conversion and downloading process of the imported Spotify songs were triggered and it takes a few minutes to complete the entire procedure.
After a few minutes, check out the downloaded songs from the History menu or at the system local drive. Now the songs are available in your drive and you can stream them to any device. At last, you can enjoy your Spotify soundtracks anywhere across the world irrespective of the Spotify abroad restrictions.
---
Conclusion
This article had shown you how to use Spotify abroad efficiently. With the AudFun Spotify Music Converter, you can convert and download Spotify songs for accessing offline. Then you can enjoy Spotify abroad and listen to your favorite Spotify playlists anytime.