Do you want to know all about Spytify and its other alternative options? If so, then you can go ahead to this post. This guide will help you have enough idea about the uses of Spytify, its advantages, and disadvantages, and other important information that you need to know. Also, you will also get to know how does Spytify work. And you will get some alternatives of Spytify and then you can use them to record Spotify music as you want.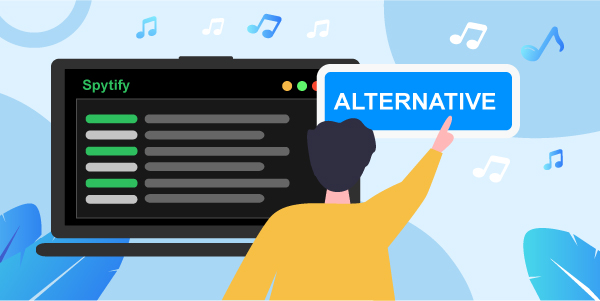 ---
Part 1. Spytify: All You Need to Know
Before we move any further, it is essential that users are aware of this Spytify review and its basic functions. Check the below information to find out what this is, its uses, and its pros and cons.
What Is Spytify
Spytify recorder is known as a recorder used for Spotify for Windows, which keeps track of its audio without even recording or playing any ads. The tool divides tracks into individual songs via automatic processing and records to MP3 so that you can cherish your favorite tracks in offline mode.
How to Use Spytify
You can get Spytify on Github. After that, you can start a recording session with the help of your chosen playlist and allow Spytify to record at night. So, you don't have to wait for it to be recorded. The tool comes along with a Virtual Audio Cable device. If you have issues with your sound card, you can install this virtual device with the help of the Speakers+ icon in the settings of Spytify.
Pros and Cons of Spytify
Below are some pros and cons of Spytify Spotify recorder that you should know about, so just have a look and find out.
Pros:
It is free of cost, so you can use it without paying anything for it
During the process of recording, it does not record any ads
It keeps all the ID3 tags for the recorded tracks
Cons:
Spytify is compatible only with Windows
This tool doesn't support any other popular streaming service except Spotify
Users can't download and are allowed to record the playing tracks
---
Part 2. Spytify Alternative – The Best
AudFun Spotify Music Converter is one of the topmost Spytify alternatives that one can use and rely on. With the help of this Spotify converter, users can convert and download their favorite Spotify music tracks into different formats such as AAC, WAV, MP3, FLAC, M4A, and M4B.
The most appealing thing about this software is that you don't have to be worried about the original quality of the Spotify song as it remains the same and you can enjoy your favorite Spotify audio tracks without being concerned.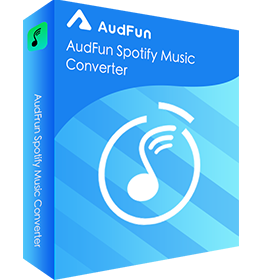 Key Features of AudFun Spotify Music Converter
Remain the same audio quality of the songs form Spotify
Support to convert Spotify music to FLAC, MP3, AAC, etc.
Save 100% ID3 tags and metadata of each Spotify song
Fastly download Spotify music at a 5X speed
How to Download Spotify Music with AudFun Spotify Music Converter
Here we will guide you on how to use this Spytify alternative to download music from Spotify and convert Spotify songs into common audio files. Let's check them out here.
Step 1 Open the AudFun Spotify Music Converter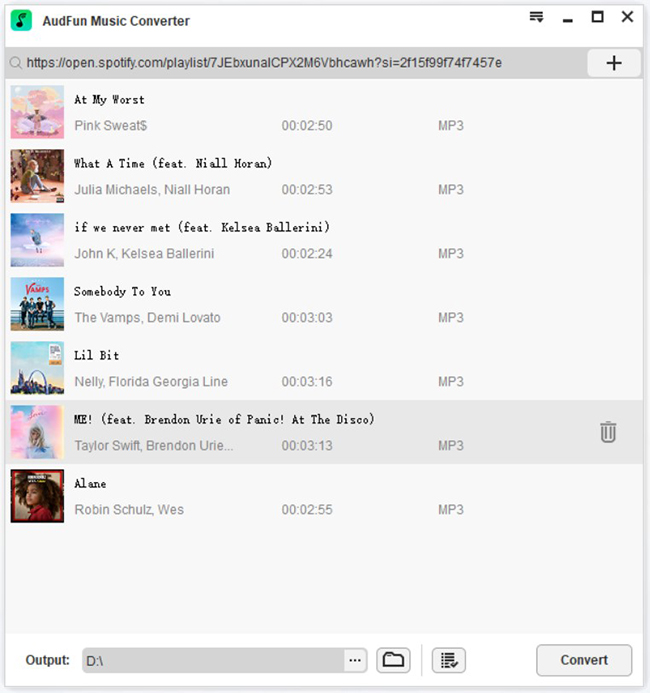 At the start, set up the AudFun Spotify Music Converter. Here you can see the Spotify app opened as well. Then drag & drop Spotify music from the Spotify application to the AudFun interface. Also, you can get the song link from Spotify and put them into the search bar on AudFun program. And then hit on the '+' icon. The Spotify songs will then be loaded into AudFun for converting.
Step 2 Reset audio format for Spotify music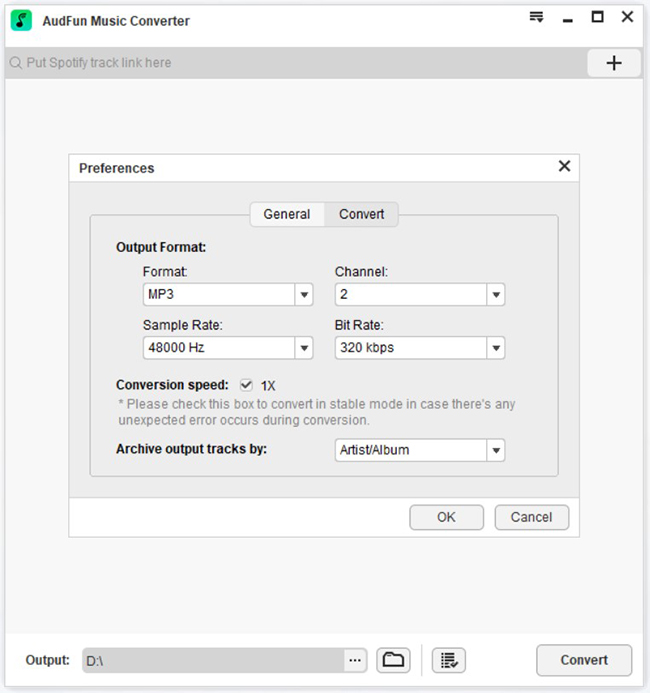 Now press the top-right menu icon on AudFun to choose the option of 'Preferences' > 'Convert' to organize the output format of Spotify music as MP3. In the setting window, you can change the audio format, sample rate and more as you like. Also, you can alter the output folder to save the converted Spotify music files on your computer. And then click 'OK' to finish.
Step 3 Download Spotify music as plain audio files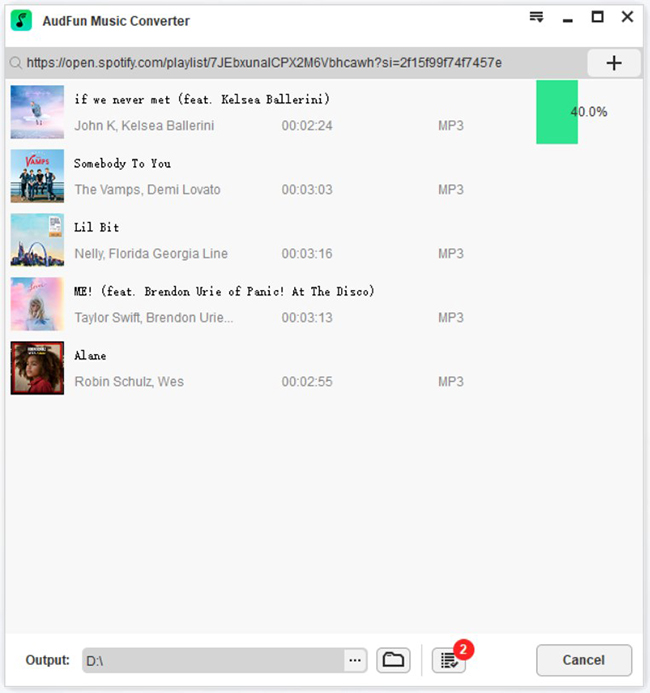 In the end, click the 'Convert' button to download and convert Spotify to MP3 or the format that you had set before. After the conversion, you will get the converted Spotify songs on your computer. You can find them via the History icon. After that, you can move Spotify songs to other devices and listen to Spotify music for free.
---
Part 3. Another Spytify Alternative – DRmare Music Converter
DRmare Music Converter is another best substitute for Spytify. All the work is done professionally and there is no need to be worried about losing the original sound quality of the song. This tool will keep the lossless audio quality of Spotify music for you. You not only can get Spotify songs in MP3, but also convert Spotify audios to other formats such as M4A, M4B, AAC, WAV, and FLAC.
Steps to Download Spotify Music via DRmare Music Converter
In this section, we will show you how to use DRmare Music Converter to convert and download music from Spotify to computer. Then you can enjoy Spotify music anytime and anywhere.
Step 1. Launch DRmare Music Converter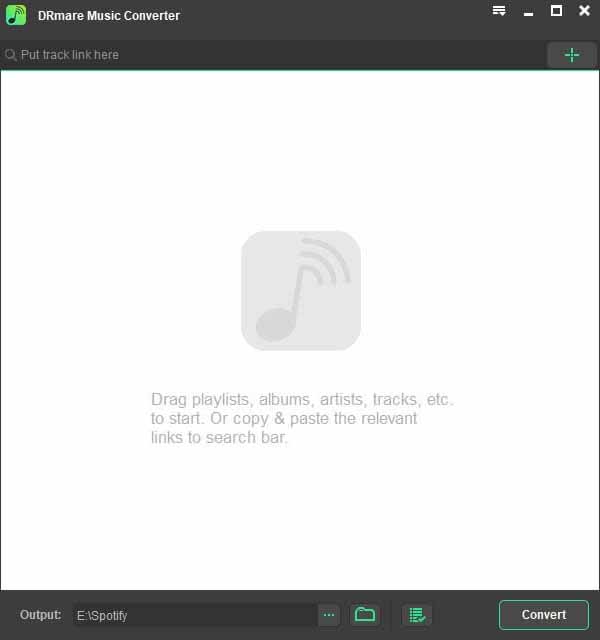 While opening this tool, you should see Spotify opened automatically. Next, you need to add Spotify songs into DRmare. Please drag and drop the Spotify tracks you like to have in the DRmare converter main interface. If you have the link to the Spotify song, you can paste it in the search bar on the DRmare program and tap the "+" option to add them via the URL.
Step 2. Alter audio format for Spotify songs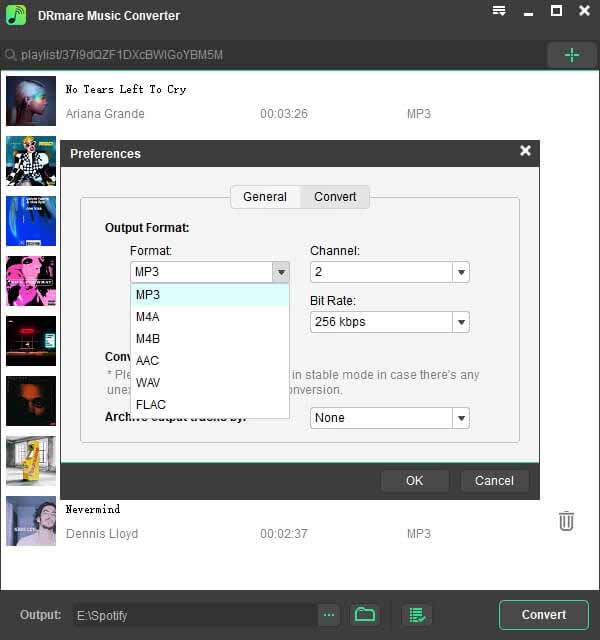 Click on the menu icon and choose the 'Preferences'. Then in the new window, hit on the 'Convert'. And here you can start to set the audio format for Spotify songs as you want. If you don't know which audio format to choose, you can select the option of MP3. It is available for almost all devices and platforms. You are also allowed to arrange the bit rate, audio channel, and a lot more for Spotify music for any device.
Step 3. Convert music from Spotify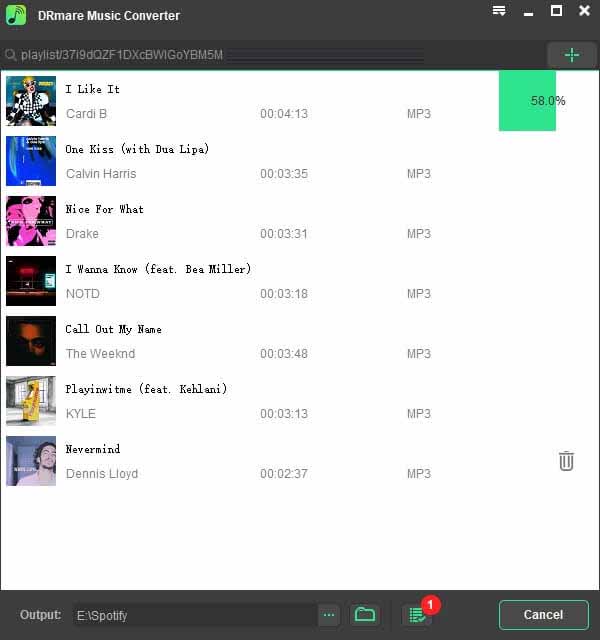 Just press the big "Convert" button and the conversion will begin. After conversion, you can tap the 'Converted' icon to find the local Spotify music on your computer.
---
Part 4. Other Spytify Alternatives
Till now, we hope users have sufficient idea about how to use Spytify and its best alternatives. But there are a few other alternatives that you can try out in need. Please find out them by reading the following details.
1. Audacity
Audacity is an audio recording tool that can record and edit songs. It is free to use and it is available on Windows, Mac, Linux operating systems.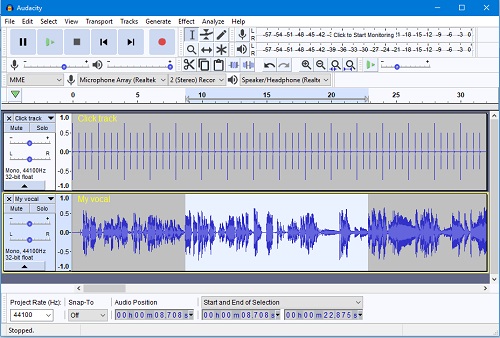 How to Record Music from Spotify via Audacity
1) At the start, set up Audacity on your PC. You need to choose an audio interface input for recording Spotify tracks on your computer.
2) Remember that Software Playthrough should be turned off while you are at recording computer playback. This can be turned off by tapping Transport > Transport Options > Software Playthrough (on/off).
3) You can also set sound levels by playing similar material from your Spotify and keeping a check on it in Audacity. You can turn monitoring on and off in the Recording Meter Toolbar, by left-click in the right-hand recording meter to turn Monitoring on, then clicking again to turn it off.
4) To get a better recording, you can adjust both the recording and playback level sliders on Mixer Toolbar.
5) Press the option of Record in the Transport Toolbar then start playing songs from Spotify. Proceed to record for as long as you like, but keep track of the "disk space remaining" message and on the Recording Meter. When the song ends, tap the option of Stop to finish the process of recording.
6) In the end, save the recorded Spotify music to your computer in your chosen format. You can also customize the recorded Spotify music once you find there are some issues in some clips of the recordings. Tap Effect > Clip Fix on Audacity to fix the clipping.
2. Deezify
Deezify is a Chrome extension that can help download music from Spotify to MP3 without any limits. It is also a free Spytify alternative.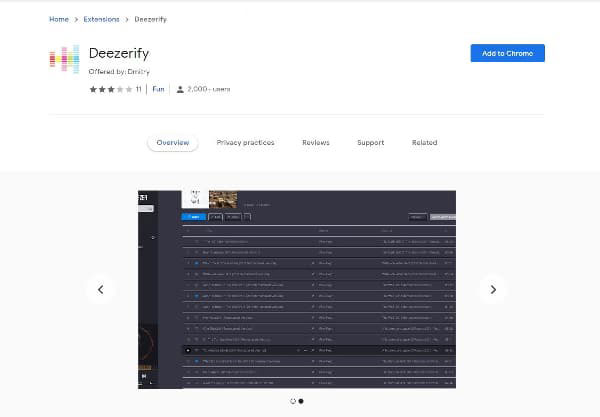 How to Record Music from Spotify by Deezify
2) Then Deezify will guide you to convert the file into an MP3 file.
---
Part 5. Conclusion
We hope that the above article will be helpful for all the users who needed to know how Spytify works, and what other options are there for users to avail themselves. Besides that, you will get the pros and cons of Spytify. And you will learn the Spytify alternatives that can help you download Spotify music for use anytime and anywhere.