Making excellent music that will impress the listeners requires skills and the right audio workstation. Gone are the days when you used multiple tools to create one piece of music. Now with Avid Pro Tools, music production has become seamless and effortless. Music creators often use Avid Pro Tools mainly because it is accessible and gives music creators the freedom to mix, create, and edit their music pieces.
Avid Pro Tools has become a benchmark for the music production industry. Indeed, many other music production tools are available, but Avid Pro Tools is one of the best music production tools. This industry-standard software helps music creators with recording and post-production.
But if you are a music creator and want to know how to add music from Spotify to Pro Tools, this article will introduce a third-party tool that will teach you how to import music to Pro Tools from Spotify seamlessly. With this professional tool, you can add any Spotify songs to Pro Tools. Keep reading to learn more.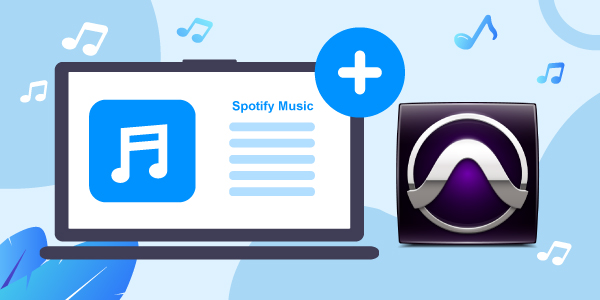 ---
Part 1. What Is Avid Pro Tools?
Avid Pro Tools, or as you may call it, Pro Tools had its humble beginning in the 1980s. It started as a simple Mac-based sample editing tool, which users used to edit samples. Initially, it was launched as Sound Designer but gradually evolved into Sound Tools. Pro Tools is a complete music editing and two-track digital recording software. With all the new hardware offerings and software updates, Pro Tools is available for both Mac and Windows. In addition, it has up to 128 audio tracks and 60 virtual instruments.
With Avid Pro Tools, you get EQs, classic compressors, stompboxes, virtual instruments, guitar amps, reverbs, and more! When it comes to its price, there are three versions of Pro Tools, and each has a different price.
Pro Tools first comes for free, where you get cloud storage only with a 96Khz limit. You can save up to three projects, and a few loops, plugins, and virtual instruments are included.
Pro Tools paid version comes for $599/$299 per year, $29 per month for a perpetual license. This version gives you 32 simultaneous inputs, sample rates up to 192 Khz, 129 audio tracks, stereo, and mono mixing, and 125 plugins.
Finally, you have Pro Tools Unlimited, available for $799 per year, $79 per month. This version gives you HDX hardware, 192 inputs, 384 tracks, 115 plugins, surround, immersive, stereo, and mono mixing, and sample rates up to 192 Khz.
---
Part 2. How to Download Spotify to Pro Tools – Tool You'll Need
As you can see, Avid Pro Tools is fantastic, but the issue arises when you try to find a solution for how to add music in pro tools from Spotify? Spotify is currently leading the music streaming sphere. It has 50 million songs from all over the world and 248 million monthly subscribers! But the challenge is that Spotify doesn't allow anyone to upload its songs to Pro Tools directly.
So, the only way to get it done is to convert and download your favorite Spotify songs and then add them to Pro Tools. And the recommended tool to add music from Spotify to Pro Tools is AudFun Spotify Music Converter.
AudFun Spotify Music Converter is a trustworthy and professional music converter with thousands of users. One can download this software on their Mac or Windows PC. Once you download the tool, you can convert your Spotify songs into multiple audio formats, such as MP3, WAV, FLAC, and others.
On top of everything, the converted songs will be downloaded to your local folder, which means you can listen to them offline on any device. In addition, the converted songs will not lose their original music quality, and the conversion will happen at 5X speed, which means a lesser waiting time.
Whether you want to download Spotify albums, playlists, podcasts, or else, AudFun Spotify Music Converter makes everything easy. The best part about AudFun Spotify Music Converter is that it saves lossless ID3 tags and meta descriptions of every song. So, you can then easily manage your Spotify music files on your device.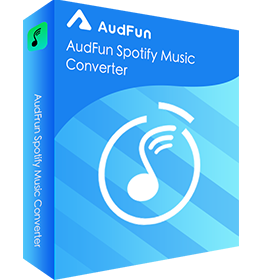 AudFun Spotify Music Converter for Pro Tools
It converts Spotify songs into different audio formats
It retails all ID3 tags from Spotify music
It converts Spotify songs fast to save your time
It supports to listen to Spotify offline on multiple devices
---
Part 3. How to Convert Spotify Music for Pro Tools
Before you start learning the steps, we recommend downloading AudFun Spotify Music Converter on your Mac or Windows computer. Once you have downloaded it, install it, then launch the tool and follow the steps mentioned below.
Step 1 Upload Spotify songs to AudFun program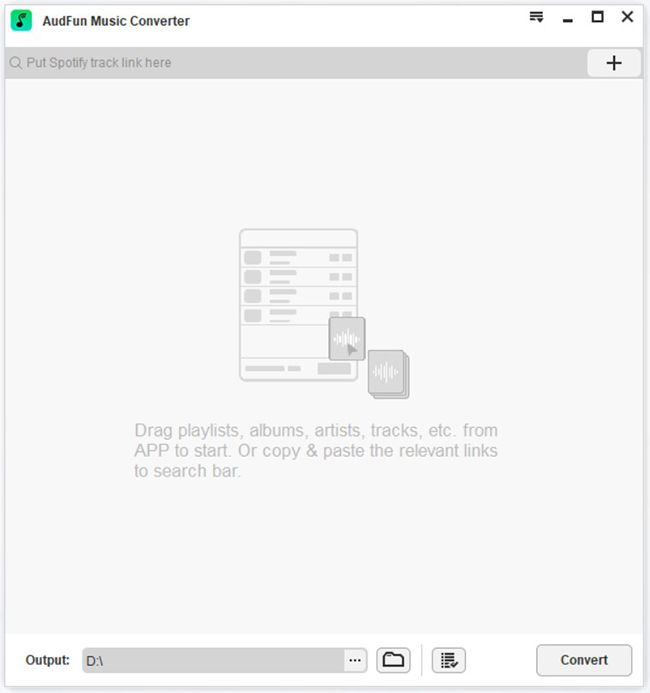 Please launch the AudFun tool and it will simultaneously open the Spotify app as well. Now, look for the songs you like on Spotify and click on the Share option next to the song title. Once you do, you will see the sharable link, copy that, and head over to AudFun. On the address bar, please paste the copied link of the Spotify song and click on the + icon. Alternatively, you can drag and drop the Spotify songs if you want.
Step 2 Customize audio parameters of Spotify songs for Pro Tools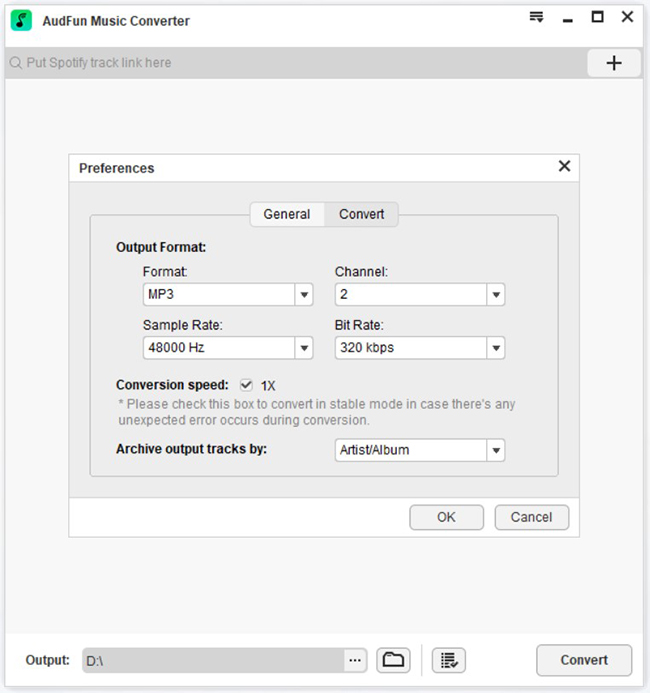 On the AudFun tool's interface, you need to click on the Menu > Preferences option. There, you will see the Convert option. Click on that to open the settings option. Now, you can select the audio output for the Spotify songs for Pro Tools. You can also reset the sample rate, bit rate, and output folder.
Step 3 Convert Spotify audio files for Pro Tools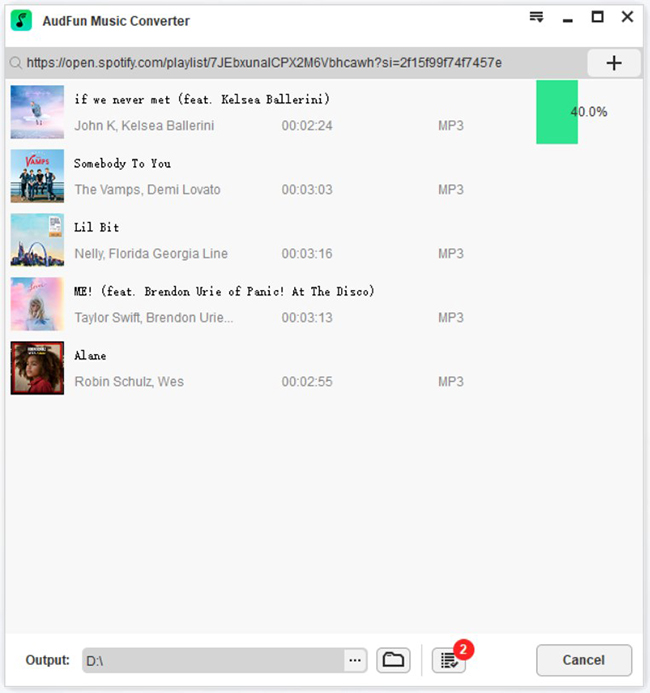 After you are done with the first and second steps, you need to click on the OK option. This will confirm all the settings that you have chosen. Then, you need to hit the Convert option. After that, the Spotify songs will begin to get converted at 5X speed, and they will be saved in the target folder you have picked before. Then you can find the local Spotify music files via the converted icon on AudFun.
---
Part 4. How to Import Music to Pro Tools from Spotify
You are all done with the conversion of the Spotify songs from the steps above. The next part is to import Spotify to Avid Pro Tools. There are two ways to make it. You can use the drag audio files option or the Import Audio Command option.
We will explain both the options. All the songs will be already saved on your computer since you will convert and download them using AudFun. This will make routing the converted songs to Avid Pro Tools convenient.
Way 1. Add Spotify Music to Pro Tools by Dragging & Dropping
Step 1: First, go to the folder where the converted Spotify songs are stored.
Step 2: Select the song you would like to work on using Pro Tools.
Step 3: Just drag the song and drop it to the empty space, existing songs, or clip list. You will see these options in the interface of the Pro Tools.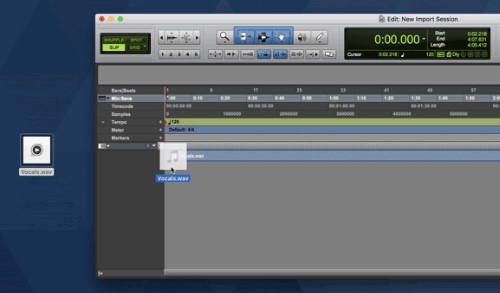 Way 2. Import Music from Spotify to Pro Tools via the Import Audio Command
Step 1: Launch Pro Tools and click on the Files option. After that, click on the Import option followed by Audio.
Step 2: Go to the Import Audio dialogue and choose a Spotify track to learn about the associated clips and properties.
Step 3: To preview, click on the Play option.
Step 4: To add the track, click on the Add option or Convert.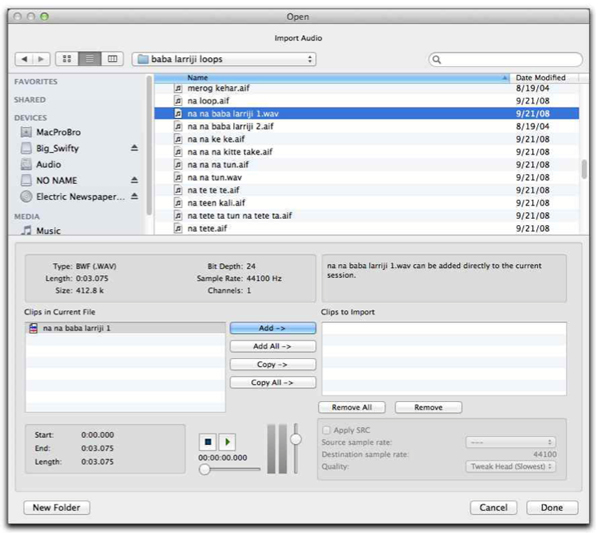 ---
Part 5. Conclusion
Avid Pro Tools is a fantastic audio mixing and editing tool for music converters, and now that you have learned how to add songs from Spotify to Avid Pro Tools via the AudFun Spotify Music Converter. AudFun is a nice tool for you to convert and download Spotify podcasts, albums, playlists, etc. fast and effortlessly. And then you can enjoy Spotify music offline on the devices and platforms that you want.