Pioneered and first designed by Saul Marantz in the 1950s, the Marantz high-end audio production brand is an authentic definition of legendary, unchanging standards and timeless passion for music. Since the 70s, the company has dominated the industry with outstanding, high-quality AV Receivers and Amplifiers. They are crafted with a fascinating uniqueness that lets you wholesomely master the art of listening to music.
Marantz has integrated its audio products with online streaming services such as Spotify to rhyme with the current trends. Now, Spotify premium users can enjoy Marantz Spotify via Spotify Connect. Even though Spotify has ceased integrating older hi-fi and AV kits, Marantz lovers can still use Spotify with Marantz 1506, Marantz NR1504, Marantz SR5007, to mention a few.
If you are a Spotify fan and Marantz user, this article is for you! We will feature an easy guide on how to connect Spotify to Marantz receiver, troubleshoot connectivity problems and also introduce a fantastic new way for free Spotify users to play Spotify through Marantz offline. So, let's get at it now!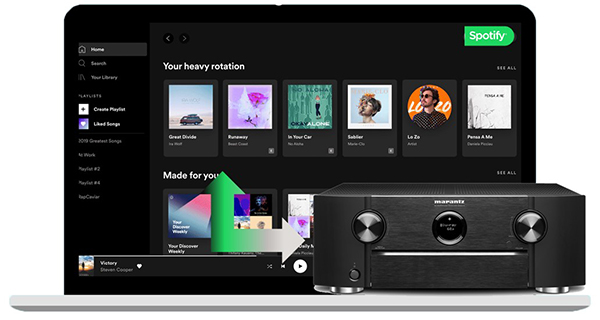 ---
Part 1. How to Connect Marantz Spotify
As we hinted earlier, premium Spotify users can easily enjoy Marantz Spotify, but first, you need to connect your player device, iPhone or Android smartphone, to the Marantz receiver. Before connecting your device to Marantz, you need to download the Spotify app on your smartphone and then subscribe to a Spotify premium package. After that, follow the steps below to connect Spotify to Marantz receiver.
Step 1: Check to see if the Wi-Fi settings for your smartphone and the Marantz receiver are connected to the same network.
Step 2: Fire up the Spotify app on your smartphone.
Step 3: Select the Spotify track or playlist you want to play.
Step 4: Tap on the Spotify Connect icon to select the unit to set up Spotify on Marantz receiver.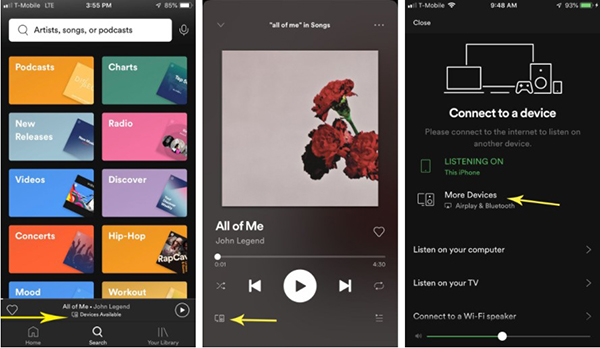 Step 5: Your selected Spotify track will automatically play on Marantz.
---
Part 2. Marantz Spotify Doesn't Work: How to Fix
Often, there have been complaints that Marantz users have had problems connecting Marantz units to Spotify. Well, if you are one of them, then you are looking at the right place. This part of the article will fetch and furnish you with the easiest method to troubleshoot your Marantz Spotify not working problem.
Problem 1: Marantz not showing on Spotify Connect
If your unit is not showing on Spotify Connect, then here are a few workable solutions.
i. Check to see if all other networks are functioning properly (Internet radio, DLNA streaming).
ii. Update the firmware for all components used, i.e., smartphone, router, and Spotify app.
iii. Ensure your phone and unit are connected to the same network.
iv. Ensure you have a premium Spotify account.
v. Disconnect the power supply and internet connection to your devices. Next, reboot your device, and when it is on, select ONLINE MUSIC. Once the connection is complete, confirm whether Network Standby or IP Control is turned to Always On.
vi. Ensure you have a stable network connection.
vii. Add exceptions to any firewall or internet security software to avoid compromising the Spotify Connect communication.
Problem 2: Listed device won't play
i. Check to see if the network environment is running properly.
ii. Reboot your router.
iii. Manually enter a new IP address (Process differs from one device to another. Check your device manual).
iv. Enter the following addresses as DNS servers:
• DNS Server: 8.8.8.8
• Secondary DNS Server: 8.8.4.4
v. Confirm that your Marantz and Spotify app is up to date
vi. Put your wireless router on the 2.4 frequency. You do not need a five frequency for Spotify.
---
Part 3. How to Play Spotify through Marantz Offline
Marantz Spotify only works for premium Spotify users. Unfortunately, that means that free users cannot directly listen to Spotify on Marantz receiver. Luckily, we have an excellent way out for you- the AudFun Spotify Music Converter software.
It is a top professional third-party software designed with the sole purpose of helping Spotify users download and convert OGG Spotify audio to universal audio formats playable on most media playing devices. The program works for both premium and free Spotify users.
The app functions smoothly and quickly and guarantees users high-quality music after conversion. So, premium users do not have to worry about low-quality Spotify music when their internet is weak. This, coupled with its amazingly simple interface, makes it a darling for many Spotify users. Below are some other notable features and a quick guide on how to get Spotify on Marantz using AudFun Spotify song converter.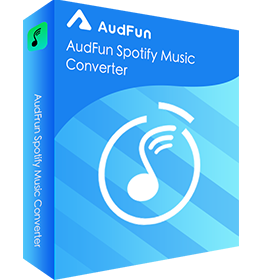 AudFun Spotify Music Converter
Converts Spotify music to common audios supported by Marantz
Retains ID3 tags and metadata for all songs
Allow music customization
Fast conversion speeds of up to 5X
Supports multiple devices and players
How to Get Spotify on Marantz for Free Spotify Users
First, you need to download and install the AudFun Spotify Music Converter on your PC. Afterward, follow the guide below to get the job done.
Step 1 Register and Activate AudFun Softwre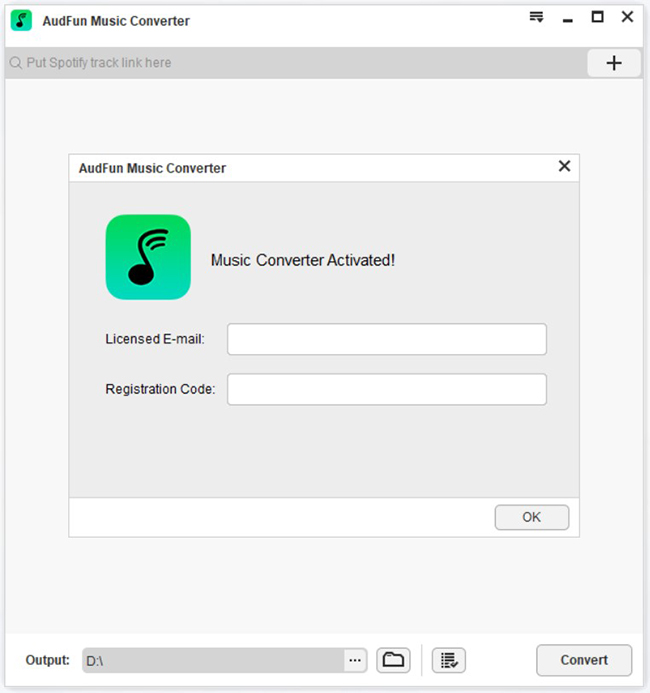 Launch AudFun software on your PC. Check on the top-right and select the menu bar. If you are using a Mac computer, the menu bar is on the top-left. Hit on the "Register" option and enter your licensed email and code to activate the app.
Note: AudFun has a free trial version. However, it is limited to process only 1- minute of each song. Therefore, you should consider purchasing the app to access the full version.
Step 2 Upload Spotify Songs, Albums for Conversion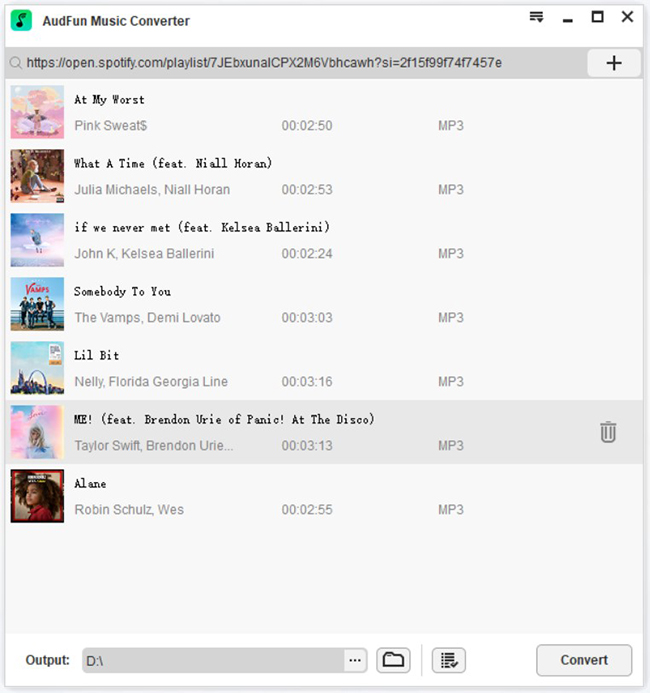 Log in to your Spotify account on your PC. Find the playlist you want to download. Click on the music item and select "Share" >> "Copy Spotify Link" to copy the item's URL. Next, paste the link to the AudFun address bar and hit "+" to add the song for conversion.
Alternatively, you use the drag and drop method to add the music items on the AudFun Software's interface.
Step 3 Customize Spotify Output Audio Formats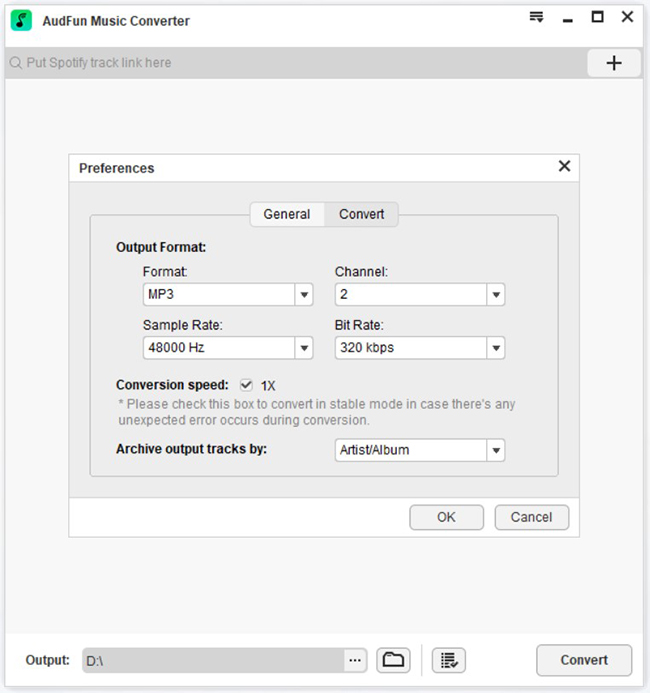 Go back to the menu bar and select "Preferences" > "Convert" to open the audio settings window. Here, you can choose your preferred audio output format (MP3, FLAC, WAV, M4A, M4B, or AAC) to use Spotify with Marantz. You can also enhance your music sound by altering a few specs such as the bit rate, sample rate, channel, etc.
Step 4 Download and get Spotify on Marantz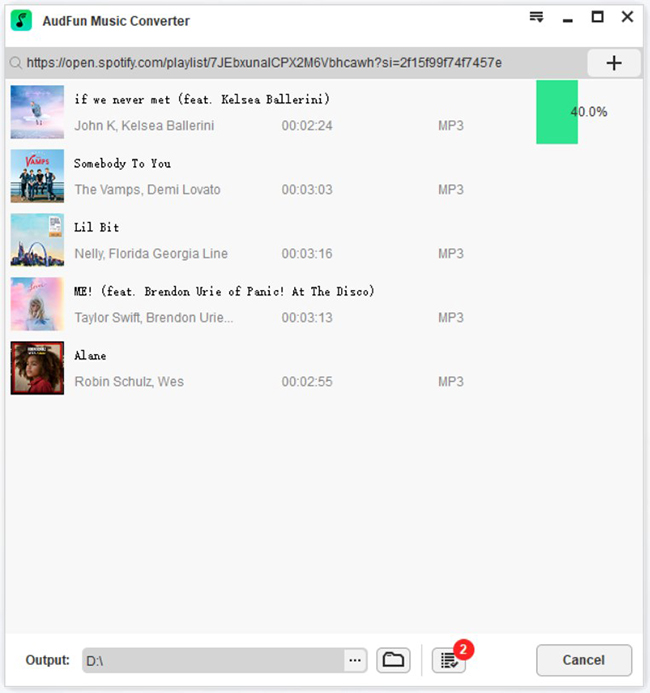 Click the "OK" option to confirm the changes you made. Find and select the "Convert" button at the bottom to start the download and conversion process. All the downloaded songs will automatically be saved on the specified files on your settings. From here, you can locate the local destination folder with all the converted Spotify audio files.
Transfer the music file to your smartphone using a USB cable. You can now play Spotify songs on Marantz via Bluetooth.
---
Part 4. In Conclusion
Marantz Spotify only works for premium users. However, free users now can play Spotify on Marantz offline via Bluetooth using the AudFun Spotify Music Converter software. It is an excellent tool that allows users to download and convert Spotify music for offline playback on Marantz units. So don't get yourself limited! Purchase, download, install AudFun Spotify songs converter today and enjoy a lifetime of free Spotify music on your Marantz.