Spotify has more than 300 million users. This should tell you that many users want to play their Spotify songs on different devices, including playing Spotify on Yamaha receiver. If you want to connect Yamaha and Spotify, there are two ways to go about it.
One is the official way for those who have a Spotify premium subscription. The second is for those who want to listen to their favorite Spotify tracks on Yamaha receiver offline without having a Spotify premium account. This article will help you learn how to go for the Spotify connect to Yamaha receiver process. Keep reading to know the full detail.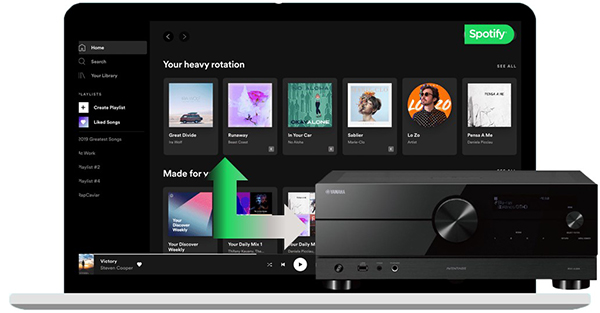 ---
Part 1. How to Stream Spotify to Yamaha Receiver via Spotify Connect
Since you can do Yamaha rn500 Spotify connect effortlessly, you can play all your favorite songs on Yamaha Receiver whenever you want to. Just remember that you will need a Spotify Premium account to get started.
The Yamaha MusicCast feature will not just let you stream Spotify seamlessly but other music streaming platforms as well. This feature has been available since 2013. Yamaha receiver is known for its superb audio quality; hence, let's try and figure out the steps that you will have to follow to make the connection.
Step 1: First, start your Yamaha receiver and make sure it is connected to the WiFi.
Step 2: Now, go to your Spotify application and log in to your premium account. Please note that you will need a premium account for Spotify to play Spotify on Yamaha 867 receiver.
Step 3: Once done, please launch the Spotify application on your device. In case Yamaha receiver Spotify is not working, double-check if you have a premium subscription or not. Then, browse through the Spotify songs that you will like to play.
Step 4: Click on the Connect option and go through the list of devices that appear. Next, you need to hit on the Yamaha receiver model that you see. Once done, you can start playing all the Spotify songs.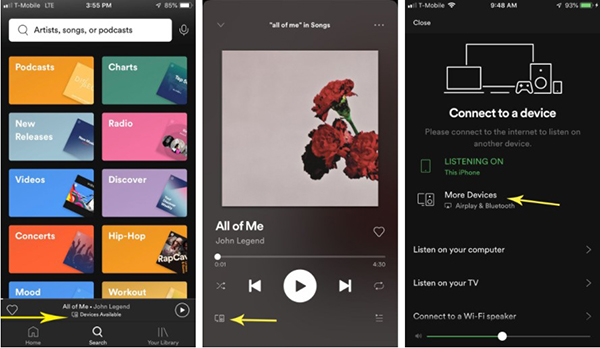 Now you know how to play Spotify on Yamaha receiver RX-v673. If you don't have a Spotify Premium account, try part two because that will let you convert and download Spotify songs and play them directly on your Yamaha receiver.
---
Part 2. How to Play Spotify on Yamaha Receiver without Premium
Since to connect Spotify to the Yamaha receiver, you will need a premium subscription, this section will help you understand how to play Spotify on Yamaha receiver for free. The best way to go about it is to get a Spotify converter and downloader, and the recommended tool to use is AudFun Spotify Music Converter.
It is a robust and easy-to-use converter and downloader that lets you conveniently convert an unlimited number of Spotify songs. Moreover, it will let you convert the songs into multiple formats, such as MP3, WAC, FLAC, M2A, and much more. Once you download the songs, you can play the songs on the Yamaha receiver and on different devices.
The biggest highlight with AudFun Spotify Music Converter is that it allows you to connect Spotify to other devices without Premium. So, it is better to get the Spotify songs because they are of good quality.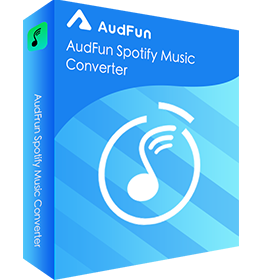 Key Features of AudFun Spotify Music Converter
Convert Spotify songs to Yamaha receiver-supported audio files conveniently.
Play Spotify songs on Yamaha receiver offline and on many other devices.
Spotify songs can be converted to MP3, FLAC, WAV, M4A, M4B, etc.
The conversion will happen at 5X speed, which means you will not have to wait much.
Play Spotify on Yamaha Receiver
If you are new to AudFun Spotify Music Converter and you don't know how to use it, this guide will become helpful. Just go through each step carefully and in order, and you will be able to convert Spotify songs for Yamaha receiver without any hassle. There are just three steps to follow, here they are:
Step 1 Add Spotify Songs for Conversion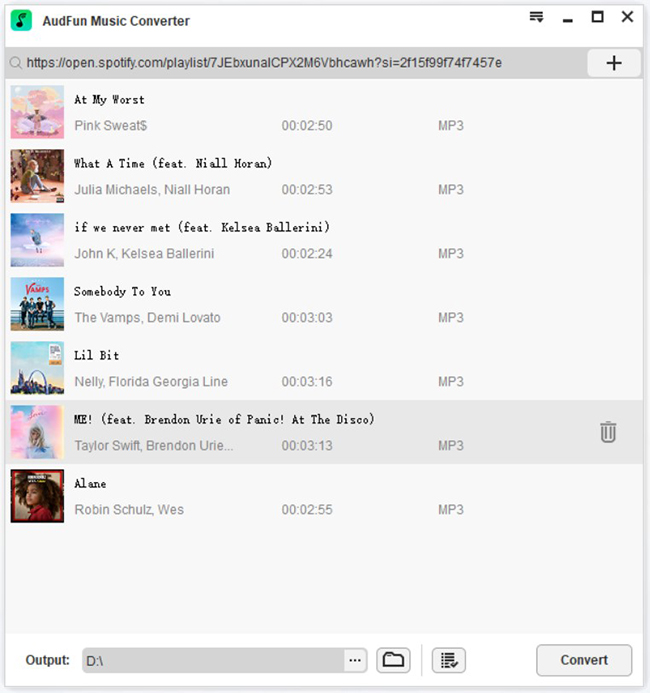 The first thing that you will have to do is download and install AudFun Spotify Music Converter on your computer. Please note that AudFun Spotify Music Converter is available for both Windows users and Mac users. Once AudFun Spotify Music Converter is installed, you need to launch it on your computer and then find the songs you want to convert in the opening Spotify app.
On the Spotify app, you need to click on the Share option and copy the link and then paste it on the search bar of AudFun Spotify Music Converter. Next, you will see the + button; please click on that to add the song.
Step 2 Adjust Spotify Audio Formats for Yamaha Receiver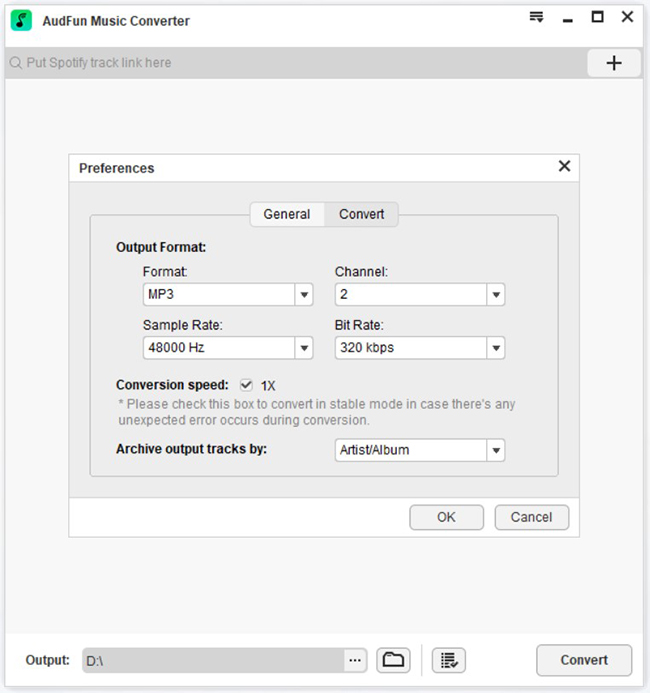 The next step will be to adjust the audio parameters of Spotify music for playing on Yamaha receiver. Here, you will have to choose the correct audio format, including MP3 and WAV. Because the compatible audio formats of Yamaha receiver are MP3 and WAV. After that, please make some adjustments to different parameters, such as channel, sample rate, and bit rate to get a better listening experience.
Step 3 Convert Spotify Music to Yamaha Receiver-supported Files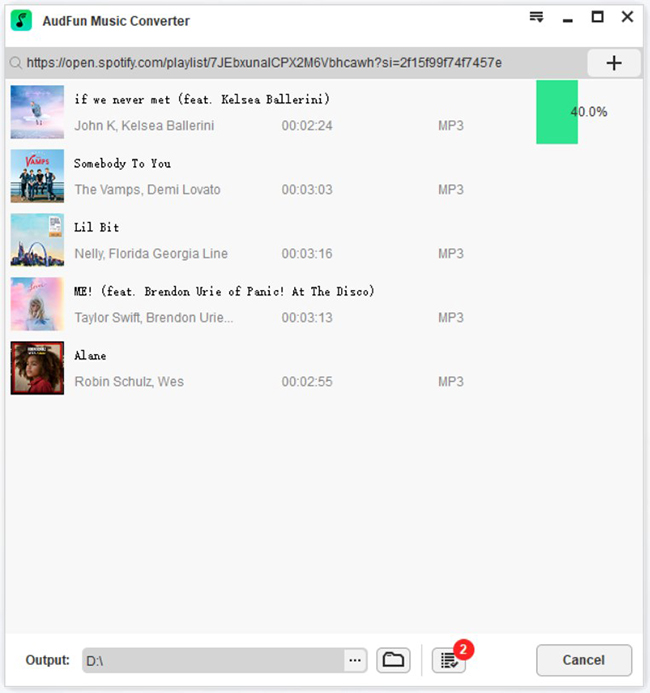 Once you are done with the settings, please press the Convert option to begin the download process. AudFun Spotify Music Converter will run at 5X conversion speed to convert Spotify songs to WAV or MP3 files for the Yamaha receiver, which means the waiting time will be less. All the songs will get downloaded to the targeted folder automatically.
Step 4 Transfer and Play Spotify on Yamaha Receiver
Now that the songs are there on the local folder of your computer. You can either connect your laptop to the Yamaha receiver via a USB cable, or else transfer the files to your mobile phone, and then connect the phone to the Yamaha receiver and start playing Spotify songs on Yamaha receiver.
---
Part 3. Bottom Line
Here are two effective workarounds on how to play Spotify on Yamaha receiver! You can connect Spotify to Yamaha receiver via Spotify Connect and Yamaha MusicCast with a Spotify Premium account. But if you are a free Spotify user, you can get help from AudFun Spotify Music Converter because it will let you play Spotify songs offline on all devices whenever you want to.