Spotify requires a reliable WiFi or mobile data internet connection to stream music. However, it also created an offline mode so that Spotify Premium users could continue listening to its music even when they are not connected to an internet connection. This allowed Spotify Premium users to take their music wherever they go. In general, customers of Spotify Premium can download tracks for offline playing on as many as three different devices.
Nevertheless, Spotify Free users can also stream the music without an internet connection. And if you are not aware of how to do that, don't worry, we have the magic trick. In this article, you'll discover how to play Spotify without Internet on the PC and phone for premium users on Spotify, along with a method to enjoy the music from Spotify offline for free users. Let's get started!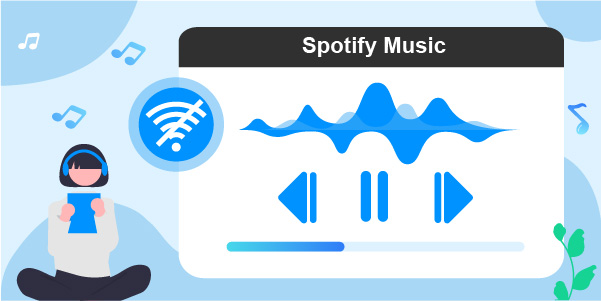 ---
Part 1. Does Spotify Play without Internet?
Yes, Spotify offers the offline mode for premium users to play their songs while out of the zone with WiFi. Spotify Premium subscribers can access the streaming service's vast collection even if they don't have internet service. You can download and save albums, playlists, and podcasts from hearing to them while you're not connected to the internet.
Up to 10,000 songs may be downloaded on five devices simultaneously using Spotify app with the paid account. It's possible to stream millions of music to your computer without needing an internet connection using services like Spotify.
To utilize this feature, you must have a current premium membership and connect to Spotify at least once every 30 days, using the device holding all of your offline music files. It is only possible to play the music that has been synchronized for offline listening using the Spotify app.
---
Part 2. How to Listen to Spotify without WiFi on Computer and Mobile Phones
You need to get the Spotify Premium to download music from Spotify and listen to it offline. Only with premium, it allows you to immediately download and save any music you want to listen to on your device. If you are a student, you are eligible for a special price discount on the premium service. In most cases, Spotify Premium customers can download music from Spotify for offline playing on a maximum of three devices.
While although downloading the podcast is an option for users of the free version of Spotify, the Offline Mode feature is only available to subscribers of the Spotify service.
How to Listen to Spotify without Internet on Mobile Phones
Although getting Spotify Premium is the same for PCs and mobile devices, getting offline music on these devices is somehow different. You need to enable the offline mode from Spotify settings to play Spotify without WiFi on mobile devices.
To understand how to use Spotify without WiFi on mobile phones, follow these steps:
Step 1: Launch Spotify on your phone, and navigate to the playlist or song you wish to download.
Step 2: Hit the Download button in the playlist or three dots against the song, and then press Download to download the playlist or song.
Step 3: Once the song is downloaded, go to the Settings on Spotify and scroll down until you find the Playback option; click on it.
Step 4: Toggle the Offline Mode on to play Spotify music without the Internet.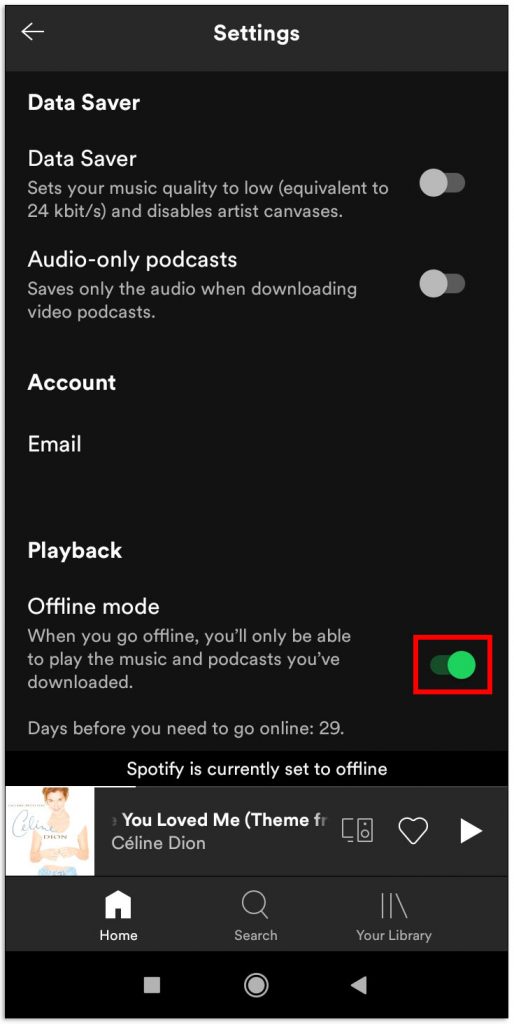 How to Play Spotify without Internet on Computer
Since some people prefer listening to music while working on their computer, you can also play Spotify without internet on your computer. Getting offline Spotify music on a computer is almost similar to mobile devices.
To understand how to listen to Spotify without WiFi on your computer, follow these steps:
Step 1: Launch Spotify on your computer, and navigate to the song or playlist you wish to download.
Step 2: After that, click the Download button to download the playlist or song.
Step 3: For Windows computer, once you've downloaded the song, click on three dots on the left top, and pick File from the dropdown menu. And for Mac, find the Spotify option on the top.
Step 4: Now, click on the Offline Mode in the next menu to set it ON. After that, you can easily play the downloaded playlist or song on your computer.
---
Part 3. How to Play Spotify without Internet on Any Device
Wondering how to play songs on Spotify without internet on any device for free? Although you need a Spotify Premium membership to download the music, there's a way to get Spotify music downloaded for offline playback with no plan. You need a third-party professional app that lets you download Spotify music directly to your device. If you want such a tool, AudFun Spotify Music Converter is your best option.
AudFun Spotify Music Converter is a powerful and easy-to-use music downloader and converter for free and premium Spotify users. It allows you to download songs, playlists, albums, and other content from Spotify. Furthermore, it is dedicated to converting Spotify to a broad range of audio formats, including MP3, FLAC, AAC, etc.
Songs converted by the AudFun app can be accessed with no internet on your phone, speaker, media player, and many more. With the sound quality and ID3 tags preserved, you can find the one you downloaded quickly. Thanks to this fantastic Spotify downloader, you may listen to music offline on all devices while traveling.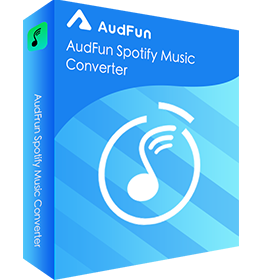 Key Features of AudFun Spotify Music Converter
Spotify tracks can be downloaded for offline listening
Convert Spotify to FLAC, MP3, WAV, and other high-quality formats
Maintain 100% lossless Spotify audio files containing ID3 tags, etc.
Support for 5X lightning-fast audio extraction from Spotify songs
How to Listen to Music without WiFi on Spotify for Free
To understand how to play Spotify music without internet for free using AudFun Spotify Music Converter, stick to the following four steps to ensure its success.
Step 1 Install and sign in to the AudFun program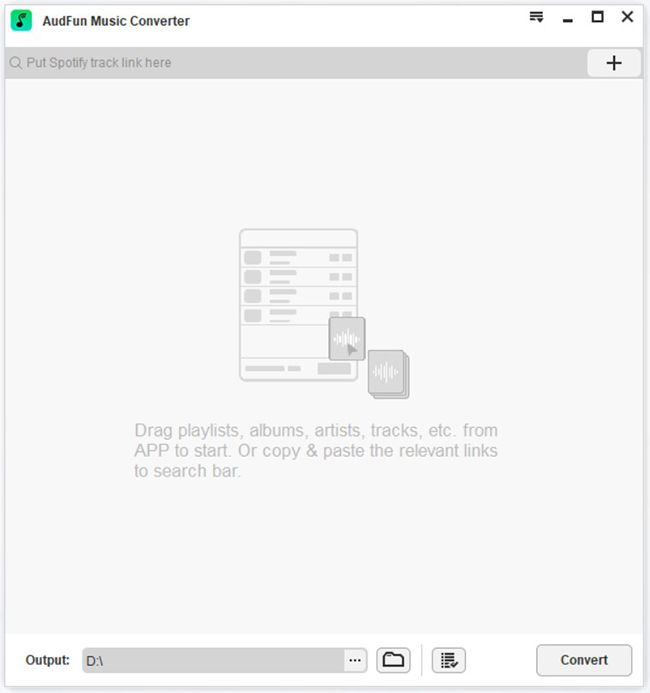 From the AudFun official website or the Download button above, click Download to install AudFun Spotify Music Converter on your PC. And then you open the AudFun software, while the Spotify app will launch as well. Click on the Register to activate AudFun.
Step 2 Customize the Spotify output parameters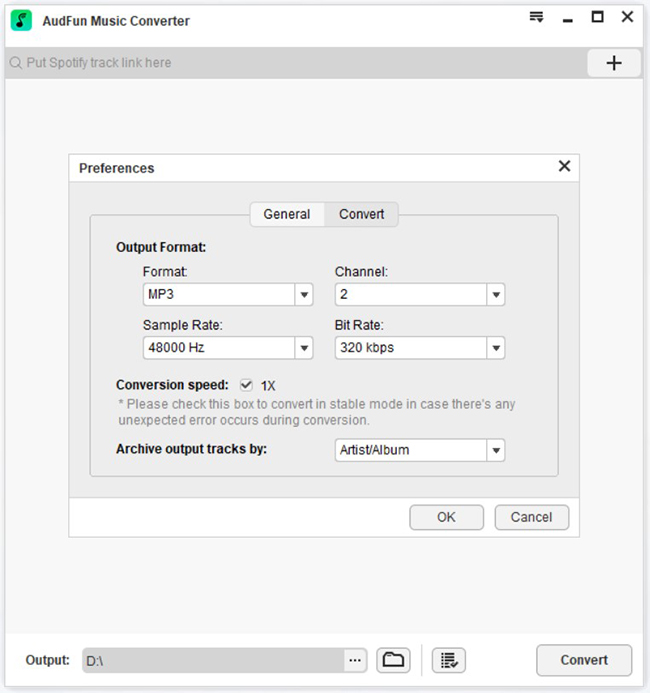 Now, before adding Spotify music to the converter, you can adjust the output parameters in advance. Select the Preferences option by moving your mouse to the menu icon located on the top-right. Click Convert from the popping setting windows to customize your output of Spotify. You can choose the output audio format from MP3, FLAC, WAV, AAC, etc. To get sound quality improved, sample rate and bit rate are of your choice. Finally, you can archive output tracks by the album or artist.
Step 3 Add your Spotify playlists to AudFun for playing without WiFi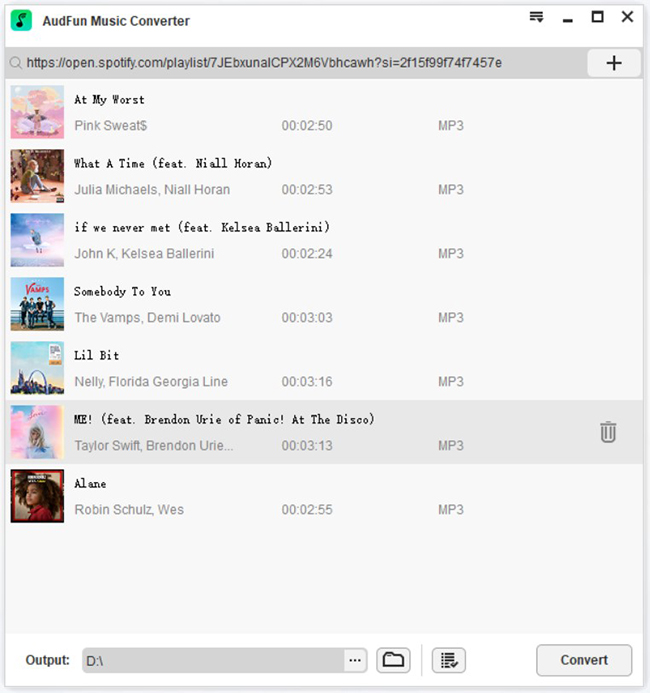 After finishing your customization of preferences, it's necessary to click OK to save them as your default. To import playlists from Spotify to AudFun, copy the song/playlist link once you decide which one to download, and then paste the URL into the AudFun's search box. Click on the + icon to proceed. You'll see all the songs uploaded to the conversion interface.
Step 4 Download and play Spotify without internet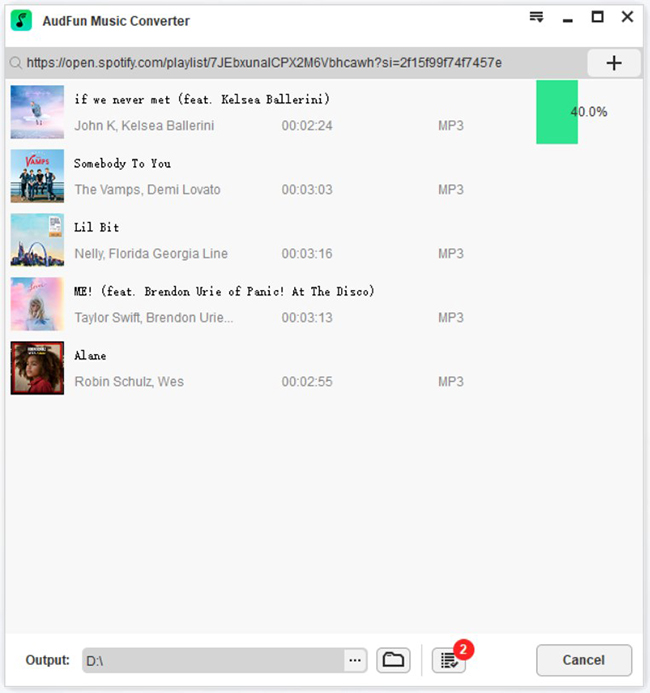 Click on Convert to download Spotify music on Mac or Windows computer. Please wait patiently until the downloading process completes. The AudFun converter will take place at a 5X speed rate according to your previous setting. You can locate the songs folder by tapping the Converted icon after the conversion. You now can use Spotify without internet on any device.
---
Part 4. FAQs about Listening to Spotify without Internet
1. Can I Listen to Music on Spotify without Internet?
Yes, you can listen to Spotify music without the internet if you've downloaded the song or playlist. However, for downloading Spotify music, you would require Spotify Premium.
2. Why Can't I Play Spotify without Internet?
If you have downloaded the songs from Spotify with the subscription plan and still can't play music, you need to enable the Offline Mode. To enable the offline mode, please refers to the steps in Part 2.
3. How Can I Use Spotify without Internet without Premium?
To get Spotify music for free without premium, you need a third-party professional Spotify Music Converter. We recommend you download AudFun Spotify Music Converter and listen to Spotify offline without premium.
---
Part 5. Wrap Up
Spotify is the absolute best when it comes to music streaming services. It has millions of high-quality songs you can listen to. However, you need a Premium membership to play music on Spotify without internet. And we hope that you know how to use Spotify music without WiFi on your phone and computer after reading this article. Moreover, we recommend using AudFun Spotify Music Converter if you wish to get Spotify on your device without premium.