When boarding an airplane, you are required to turn on the airplane mode. That means you can't use WiFi, cellular data and others. So, what can one do to pass the time when riding a plane? Listening to music would be a fantastic idea. It is where Spotify music comes into the picture!
Wait, is Spotify airplane mode even possible? Well, yes. Spotify lets you listen to great music. It works for both premium and non-premium users.
Are you excited to know how to do this? Keep on reading this article! We will teach you two incredible ways to use Spotify while your smartphone, tablet, or any gadget is in airplane mode. You can now make your plane rides more relaxing and enjoyable by chilling and listening to great music or your very own playlists.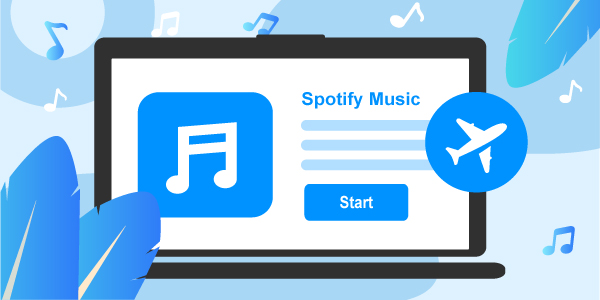 ---
Part 1. Can You Use Spotify in Airplane Mode?
You may have been asking "Can you use Spotify in airplane mode?". Indeed, the answer would not disappoint you.
Whether using Spotify for free or on a premium subscription, you can play Spotify in airplane mode. However, remember that the tutorials teaching you how to use Spotify while in airplane mode would differ if you are a premium subscriber or a free user. Below is the guide if you want to have a nitty-gritty of the process.
---
Part 2. How to Get Spotify Airplane Mode with Premium
Now, here is the answer to the question "Does Spotify work in airplane mode?".
Create your playlists and save them for offline use if you are a Spotify Premium user. The offline mode is the most beautiful perk of a premium account. It lets you download Spotify songs, playlists, or podcasts to mobile devices in advance. You can then listen to music without WiFi or a mobile network connection.
It is amongst the main reasons free users are eager to spend money to pay for a premium subscription. You can download music or playlists for offline use when connected to an internet connection. Then, stream songs while on airplane mode with ease. Just ensure your Spotify Premium account is up to date.
Follow these steps on how to listen to Spotify on airplane mode with a premium subscription:
Step 1: Go to the Spotify application on your device and launch it.
Step 2: Log in to your Spotify Premium account.
Step 3: Start discovering playlists and songs you love.
Step 4: Click the Download button to start downloading music from Spotify.
Step 5: Turn on Offline Mode by clicking Home > Settings> Playback.
After then, you can play Spotify on airplane mode with your premium account.
---
Part 3. How to Listen to Spotify on Airplane Mode without Premium
More than 70 million songs are found in Spotify, making it a paradise for music enthusiasts. So, how to listen to Spotify on airplane mode without premium? It is where AudFun Spotify Music Converter will make it all possible.
AudFun Spotify Music Converter allows music playback to become better and more manageable. It is committed to downloading Spotify songs and ripping tracks from Spotify in the highest quality. It can save 100% metadata information and original ID3 tags for Spotify songs.
On top of downloading songs from Spotify and converting them to MP3, it also allows you to convert Spotify songs to FLAC, WAV, and other formats. You can also download Spotify playlists at up to a 5X fast conversion speed.
Now, let's see how to use AudFun Spotify Music Converter to convert Spotify songs as local files. Then you can move them to your device for use on airplane mode.
Step 1 Install AudFun Music Converter
Download the AudFun Spotify Music Converter and install it on your computer or laptop. Please download it only from the official AudFun website. And this tool is available for both Windows and Mac. You can choose the right version and go ahead to download it.
Step 2 Import Spotify music to AudFun Music Converter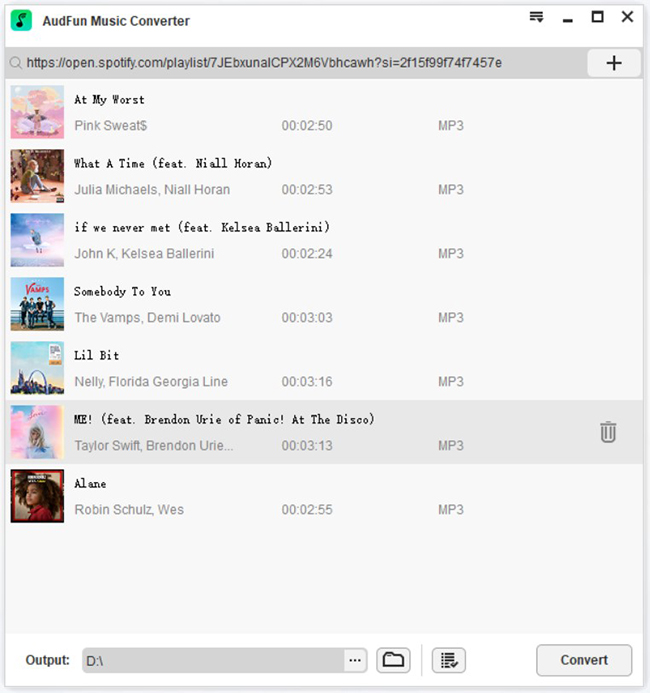 Launch the AudFun converter on your laptop or computer. Go to the pop-up Spotify application and find the tracks you want to download. Afterward, click on the tracks, click "Share" and select "Copy Spotify Link" to copy the URL of the Spotify song.
Go to the main interface of AudFun and paste the song URL or link on the address bar. At that time, click "+" to load the Spotify music in it, or you can drag & drop the music from Spotify to the AudFun converter.
Step 3 Adjust Spotify output format for use on airplane mode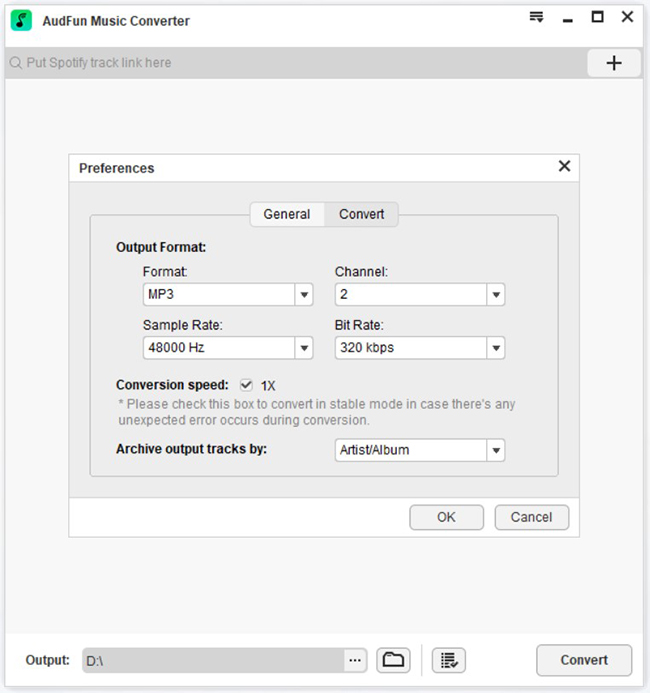 You can personalize audio formats to convert and download Spotify songs to MP3. Go to the AudFun Menu bar and select "Preferences". Click "Convert" and the audio settings window will appear. You can now set the Spotify audio tracks to your preferred audio format, such as AAC, M4B, M4A, MP3, WAV, and FLAC.
Step 4 Convert and download Spotify for play on airplane mode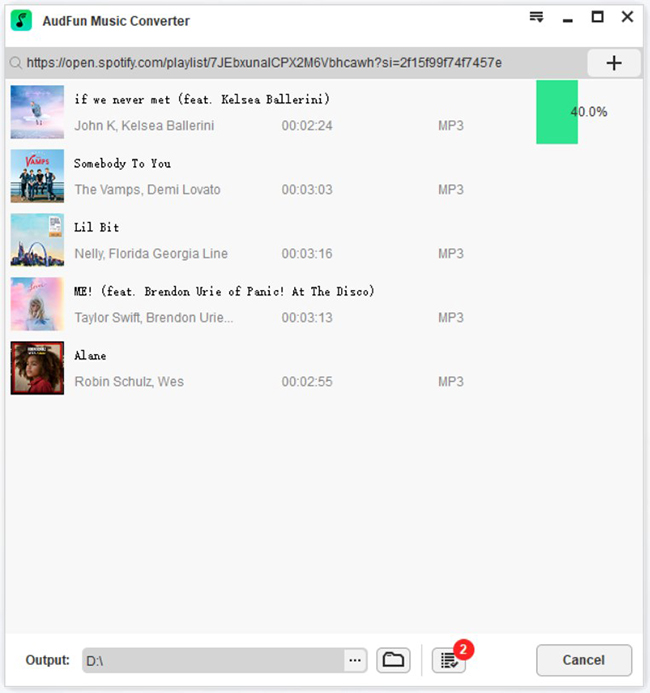 Confirm the audio setting you customized by hitting the "OK" button. Lastly, click the "Convert" button to start the conversion. All the downloaded files are saved on your laptop or computer. You can now transfer the tracks to any device for offline playback.
How to Transfer Downloaded Spotify Songs to Device for Use on Airplane Mode
Now you can transfer the downloaded Spotify songs to any device for playback in airplane mode.
1) For Android devices or tablets
Connect the Android device with the computer via USB cable, then directly drag and drop the downloaded Spotify MP3 songs to the device. So you can enjoy them in flight without Wi-Fi or an Internet connection.
2) For iOS device
Please import Spotify music to iTunes library, then connect the iDevice with iTunes via USB cable. Finally, sync the songs to the iOS device for offline playback.
---
Part 4. How to Fix Spotify Not Working in Airplane Mode
Spotify not working in airplane mode might become an issue, especially not being able to play songs. Always you can try to uninstall Spotify and reinstall it to fix the problem. Otherwise, go to Settings and check that the Offline Mode is activated.
---
Part 5. Music Apps that Work on Airplane Mode
Several music applications are now available to let you listen to music, even on airplane mode. Below are some of them:
SoundCloud
SoundCloud allows you to playback music on airplane mode. It is so popular with so many users because it has a social platform. Users can create and share their music, gain recognition from others, and meet people from all over the world.
Google Play Music
Google Play Music lets you play and listen to your favorite music through airplane mode. You only need to download music from the application, and you are good to go.
Apple Music
Apple Music is now available to both iOS and Android users. You only need to download songs to your device through this application, then open it to listen via airplane mode.
Deezer
It permits users to listen to their favorite music anywhere and 24/7. They can even create playlists, download the songs to their phone, and play them back via airplane mode. It will also recommend music according to the user's hobbies.
---
Final Thoughts
Spotify is a blessing to music lovers and gurus. You can enjoy listening to music offline, even on a plane with the Spotify Premium account. Using Spotify on airplane mode is indeed a convenience to almost anyone.
What's more, you need not have a premium Spotify account to enjoy this innovation with the help of AudFun Spotify Music Converter.