Q: I thought there could be no problem in playing Spotify on GAT V. But that's not the case. I couldn't figure out what I did wrong and how to play Spotify on GTA 5 PC. Is there an uncomplicated and straightforward tutorial to connect Spotify to GTA V for playback?
Listening to Spotify while playing GTA online is what many Spotify users hope for. They tried to do so but to no avail. The Grand Theft Auto 5 PC is an irresistible player that everyone is itching to play Spotify music. The game gets exciting as you travel the world on foot or in a car while listening to Spotify tunes.
But you may not be able to do that in a flash – you'll need to convert Spotify tracks to a playable format that self-Radio, the built-in music player in GTA 5 can support. If you don't know how to do that, please follow the below complete guide to learn how to get Spotify in GAT 5.
---
Part 1. Why Can't You Connect Spotify to GTA 5 Open PC
Automatically linking Spotify and GAT 5 is no walk in the park. Several reasons have blocked this, prompting many users to delve into why they can't connect Spotify to GAT V and various other media players directly. Before introducing the solution, let's know the reasons.
Spotify is not integrated with GTA 5 PC currently. Therefore, you are not able to connect Spotify to GTA directly. Yes, GTA V features a built-in music player, self-Radio allowing users to play their own music files while playing GTA games.
But Spotify includes the unique Ogg Vorbis format in their songs, preventing users from listening to Spotify on other players. In this case, you should download and convert Spotify music to GTA compatible files, like MP3, M4A, and WMA.
---
Part 2. Best Tool to Get Spotify in GTA 5
AudFun Spotify Music Converter comes in handy to take you away from this dilemma. It is capable of helping you play Spotify on GAT 5 PC. No need to upgrade to Spotify Premium, you can put Spotify favorite songs into GTA self-Radio player for free.
Thanks to this professional music converter for Spotify, it will keep tracks 100% original, and maintain all ID3 tags and metadata information. Other features of AudFun Spotify Music Converter are listed below: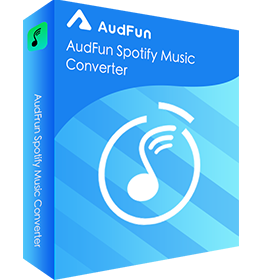 AudFun Spotify Music Converter
Download Spotify songs to local computer for GTA 5 PC
Convert Spotify to GTA 5-supported formats, like M4A
Play Spotify music while playing games on GTA 5
Listen to Spotify songs on all games consoles
How to Download Spotify Music to GTA V-support Tracks
The following is the one-by-one tutorial on how to convert Spotify to GTA V compatible files. Please download AudFun Spotify Music Converter for GAT 5 PC on your computer ahead of time.
Step 1 Upload Spotify songs and playlists for conversion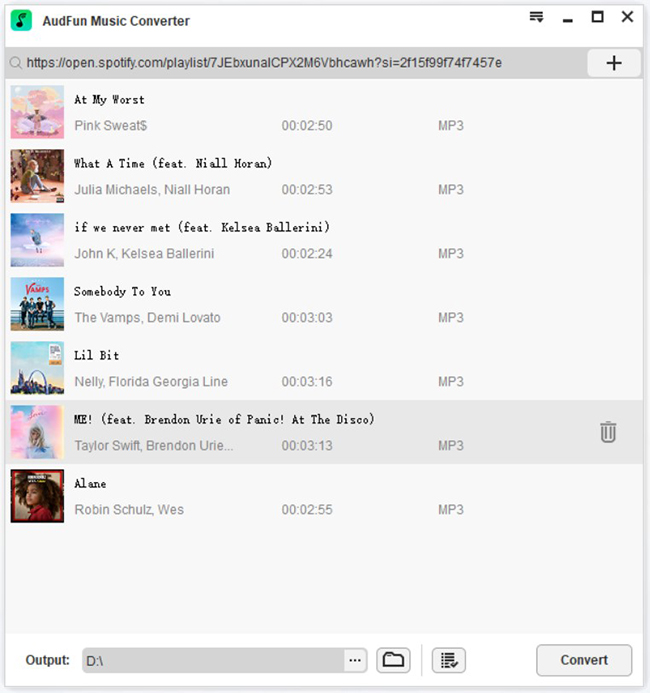 Install and launch AudFun Spotify Music Converter on your Windows or Mac computer and the Spotify app will open automatically. Then, log in to your Spotify account with your name and password. Now, you can browse for the songs you want to play on GTA 5 PC. You can drag them to AudFun's main window or copy and paste the URL of the Spotify track into the search bar, click the + button to load them.
Step 2 Customize Spotify music output settings for GTA V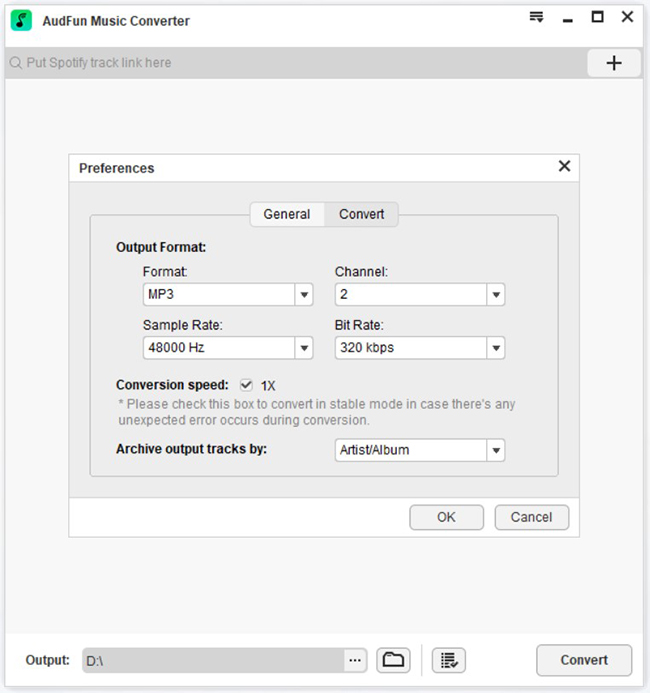 This step allows you to customize the output preferences of Spotify tunes. Click the Menu bar to select the Preferences > Convert option to make the changes. You can personalize the output format, sample rate, bit rate, audio channel, conversion speed, and more as required. Don't forget that GTA V supports MP3, M4A, and WMA. Please choose the Spotify output format as one of them.
Step 3 Convert Spotify songs to GTA 5 compatible files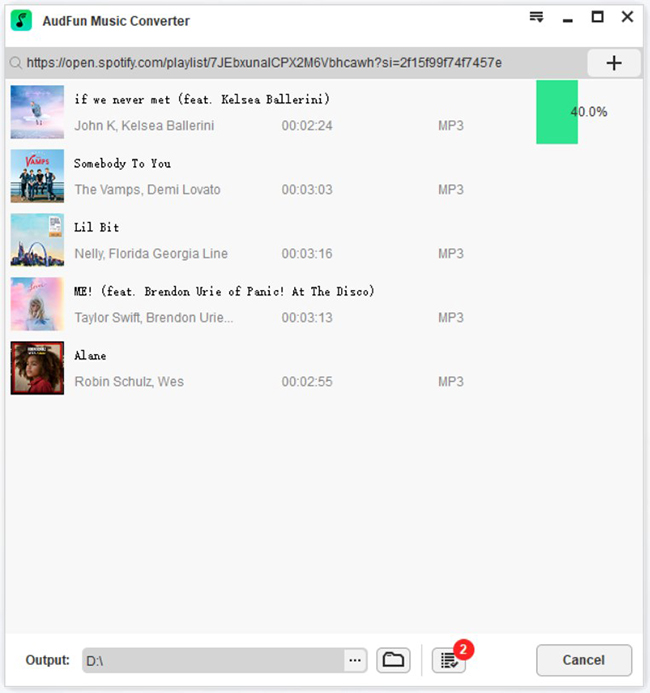 After all settings are correct, please hit on the OK to apply them. You can start to click the Convert button to download and convert Spotify tracks based on the demand of GTA 5. View them in the Converted folder of the History icon. Finally, you can transfer converted Spotify songs into the GAT 5 PC player.
---
Part 3. How to Play Spotify on GTA 5 PC
Spotify music downloads are now ready to use. All that remains is how to play Spotify on GTA 5 PC. Let's take a look at the following easy guide.
How to Add Spotify Music to GTA 5
Step 1. Start your desktop computer or laptop and go to the Documents partition. You can enter to Rockstar Games > GTA V > User Music folder.
Step 2. Next, please hit on the File icon to locate the Converted folder. You will find all downloaded Spotify playlists. Please drag them to the User Music folder.
Step 3. Launch a new game in GAT 5 PC to incorporate your converted Spotify music. And then, you need to go to Settings by clicking the ESC key on your keyboard.
Step 4. Open the Game Settings window by tapping the Enter key and select the Audio. You can perform a Quick Scan or Full Scan. A quick scan will peruse your songs in a short time. A full scan, on the other hand, will search your entire track, filling 99% of it.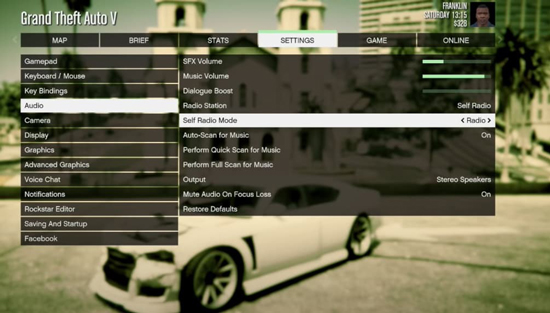 How to Listen to Spotify on GTA V
Step 1. Now, all Spotify files are added to GTA 5 PC. Please exit the in-game Settings window and restart the GTA game. You will go back to the game screen again.
Step 2. Go to Settings > Audio, then switch to Self-Radio mode from the list of available options.
Step 3. Start playing games, and the in-car radio in GTA 5 will automatically play Spotify music you added to the User Music folder.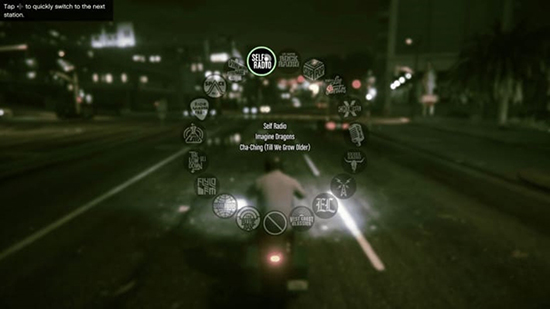 ---
Part 4. In Conclusion
Can't leave the music when playing games with GAT 5 PC. There's no better way to start this amazing game than with a favorite Spotify track. It's a nice experience of listening to Spotify music while doing character selection, choosing vehicle types, and doing other unique skills in GAT V. Now, you can refer to the above steps to play Spotify on your GAT 5 PC while playing the game.