A decision on the choice of broadcast platform that is suitable for your radio and podcast needs is essential. That's because it helps to fundamentally utilize the best options possible. When choosing a broadcasting platform, lots of features are necessary for consideration as this can aid the productivity you require.
A major key player in the efficacy of a radio or podcast is the ability to be interactive and engaging, such that the message intended is well passed on to the audience intended. Some extra features such as TalkBack incorporated in the broadcasting platform can ensure that audience interaction is achieved, this also helps to provide a feedback system suitable for your message.
Here a detailed review of iHeartRadio vs Spotify broadcasting platforms will help you decide on which of the platforms to choose while considering radio or podcast. The peculiarity of these platforms differs as it brings to mind the relevance of each depending on the need intended.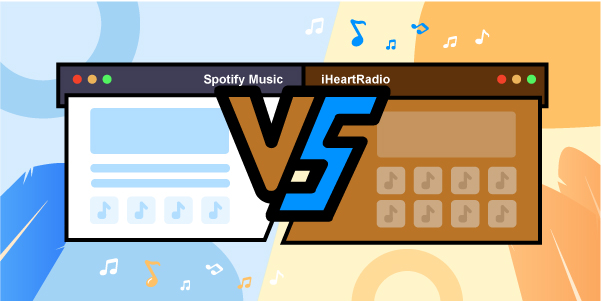 ---
Part 1. Know More about Spotify and iHeartRadio
Before choosing between Spotify or iHeartRadio, here we need to learn more about what is iHeartRadio and what is Spotify. Below is the detailed information about them. Just check them out.
What Is Spotify
Spotify is one of the largest music streaming broadcasting providers with its headquarters in Stockholm, Sweden. Spotify was founded in April 2006 by Martin Lorentzon and Daniel Ek with an increasing rate of subscribers since it was founded.
Spotify is not a free platform. It has subscription plans depending on the package determined by its premium users. In December 2021, its paying subscribers were at 180 million. There is, however, a 3-months free-trial package for new users.
Spotify also has special discount offers for its users at different times of the year. Its offers are limited and exist for a specified period. Spotify has millions of tracks and episodes that help its users choose the right music or podcast to listen to depending on their preference or activity at that time. Spotify is widely available globally in Europe, Asia, and some parts of Africa.
What Is iHeartRadio
iHeartRadio is an internet radio and podcast broadcasting platform founded in April 2008 and owned by iHeartMedia. Clear Channel was the initial name of iHeartMedia's broadcasting platform until 2014 when the name was branded to iHeartRadio. It stands as the largest broadcaster in the United States with an increasing number of yearly subscribers.
iHeartRadio is however available in other countries such as Canada, Mexico, and Australia, with availability on several devices including home audio, gaming consoles, and smartphones. iHeartRadio has a free and paid plan suitable for her subscribers. The paid plan has upgraded features from the free version that is available for users who want to upgrade their listening experience. iHeartRadio has features that enable its users to personalize their music station as well as create their desired playlists.
---
Part 2. iHeartRadio vs Spotify: Comparison
After learning about Spotify and iHeartRadio, here in this section, we will learn the differences between Spotify vs. iHeartRadio. Here we go.
1. Spotify vs iHeartRadio Music Library
The library structure of Spotify vs iHeartRadio is quite distinct and unique to each of the platforms. When considering a larger collection of music and podcast, the library collection of either Spotify or iHeartRadio should be considered due to the varieties that can be gotten from one of the platforms over another.
Spotify has been known to have over 50 million songs in its library. Considering that Spotify is a paid platform, it is available for her subscribers. On the other hand, iHeartRadio has approximately 30 million tracks for its premium users. iHeartRadio provides a more limited track collection for music lovers compared to Spotify.
2. iHeartRadio vs Spotify: Features
There are common features for most broadcasting providers that enable these platforms to carry out their services. However, there are extra and specific features dedicated to each platform that enables them to provide a service that makes them stand unique from the other platforms. Features seen in iHeartRadio vs Spotify are also a major factor to consider while choosing a broadcasting platform.
Depending on the user's subscription plan, Spotify has features of unlimited skipping, offline playback, on-demand play, and getting Spotify no ads on their platform. iHeartRadio, on the other hand, has extra features such as custom radio stations, unlimited song skips, entertainment updates in form of celebrity news and the latest viral shows, and access to live events and live radio.
3. Spotify vs iHeartRadio Audio Quality
You can as well guess the audio quality of Spotify vs iHeartRadio. The audio quality of these platforms depends greatly on the data transfer speed of the provider measured in kilobit per second (kbps). The higher the data transfer speed, the better the audio quality of the broadcasting provider.
Spotify has a transfer speed of 96kbps for its free trial plan and 320kbps for its premium subscription plan. iHeartRadio, however, has a data transfer speed of 128kbps, which makes the audio quality of Spotify to be more preferable compared to that of iHeartRadio.
4. iHeartRadio vs Spotify: UI and Device Compatibility
Spotify has a visual architecture that enables its users to pay attention to the most important details promptly and this is brought about by the UI system incorporated by Spotify. Spotify's library uses a Chromium embedded framework to display a web-based user interface on devices like Windows and Mac.
iHeartRadio, however, has a stylish user interface that is compatible with most devices such as smart TVs and Windows. iHeartRadio can also be downloaded to your PC using the Microsoft store.
5. Spotify vs iHeartRadio: Supported Platforms
Spotify and iHeartRadio are internet-enhanced broadcasting platforms, which makes it easy for any user to access these providers. However, the supported platforms of these providers are also important considerations while planning to use any of these platforms.
Spotify is well supported on Windows, iOS, macOS, Linux, Android, streaming boxes, and game consoles. iHeartRadio is supported on Windows, macOS, iOS, smart TVs, Fire OS, and Alexa.
6. Spotify vs iHeartRadio: Price Plan
The subscription plan of Spotify vs iHeartRadio determines the price plan of any of these platforms. Spotify Premium comes in four plans:
| | |
| --- | --- |
| Spotify Plan | Price |
| Individual (single) account | $9.99 per month |
| Duo Account | $12.99 per month |
| Family Plan | $15.99 per month |
| Student Plan | $4.99 per month |
iHeartRadio Premium subscription plan depends on the type of device the user intends to use. For Android, Amazon, or web sign up it costs $9.99 per month to have access to all iHeartRadio content. Meanwhile, iOS users will pay $12.99 per month.
7. Spotify vs iHeartRadio: Offline Listening
Users often need a broadcasting provider that enables them to have access to their favorite music and podcast even when offline. iHeartRadio, on one hand, does not have the feature that enables downloads but it allows its users to create playlists and custom radio station that enables users to gain easy access to their favorite music content.
Comparing iHeartRadio to Spotify, unlike iHeartRadio, Spotify supports offline listening of audio content. Yet, only Spotify Premium users can do that. What if you are a Spotify Free user? How to make it? No worry. Here is the best solution for you.
AudFun Spotify Music Converter is a professional music converter that works excellently on Mac and Windows for both the free and the paid Spotify users. This program can be downloaded via its official website. Also, it can download any Spotify song in the form of MP3, FLAC, AAC, WAV for use offline on any device you want.
AudFun Spotify Music Converter works in a simple way by doing the following steps:
Step 1. First, download, install and open your AudFun Spotify Music Converter on your PC.
Step 2. Drag and drop the Spotify music you want to convert from the Spotify app to the AudFun interface, then it will load the Spotify song onto AudFun.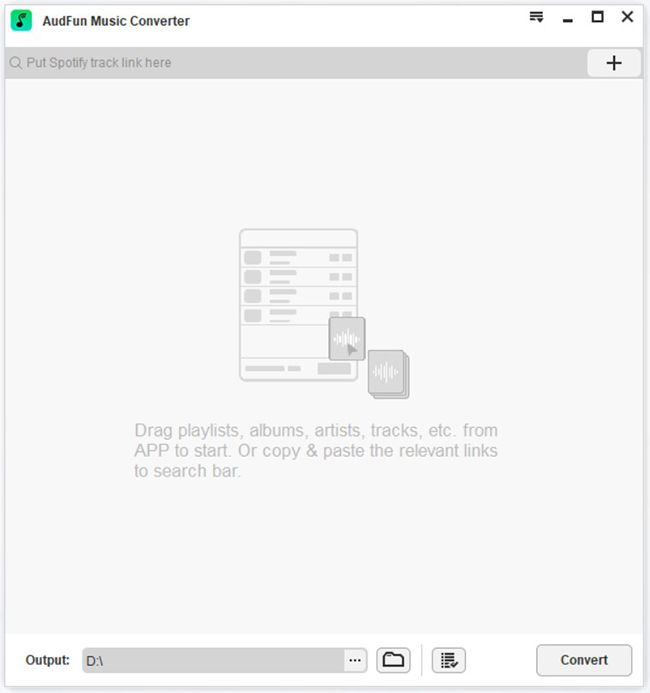 Step 3. Go to the menu bar and click to select the 'Preferences' option from the top-right corner on AudFun. And then click on the 'Convert' tab to reset the audio format and other audio parameters for Spotify audio files.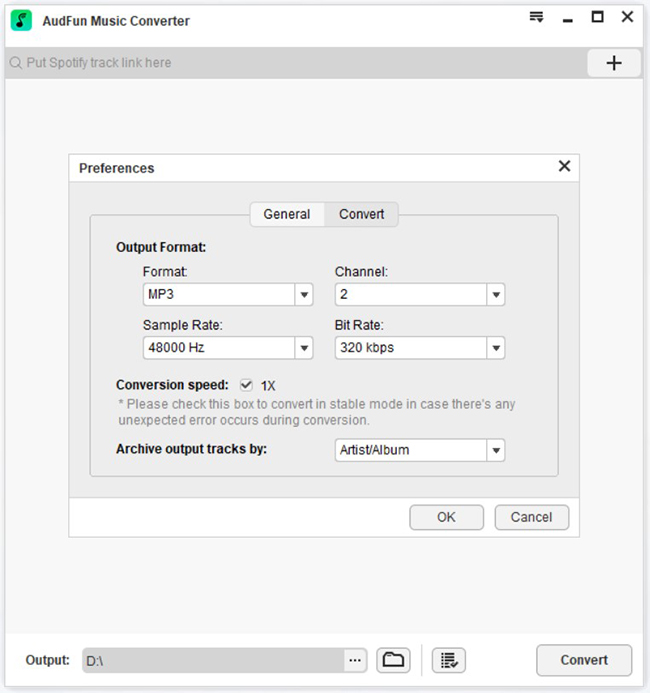 Step 4. Then click on the 'Convert' button to download and convert the Spotify songs. You then can play and listen to Spotify offline without premium.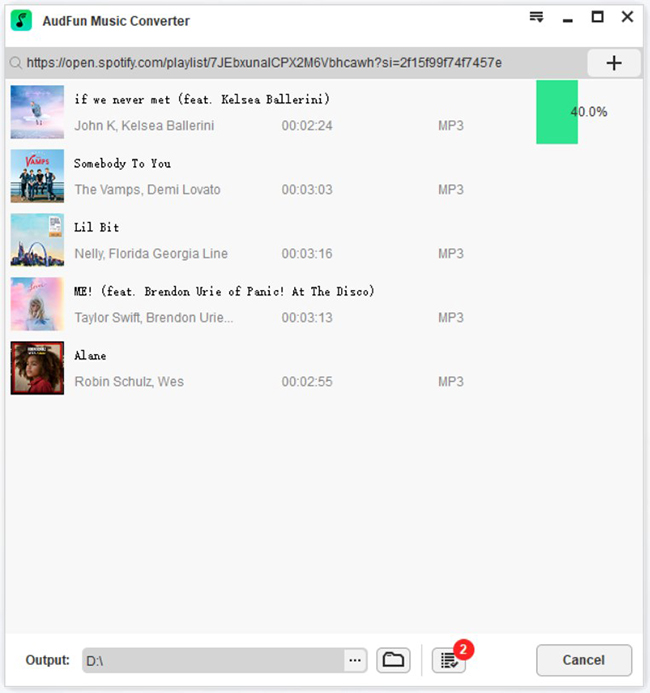 Without any doubt, AudFun Spotify Music Converter provides the comfort and opportunity to enjoy your music and podcasts offline irrespective of the Spotify subscription plan you are using.
---
Part 3. Final Words
A critical analysis of the comparative features of iHeartRadio vs Spotify has shown greatly the advantages of each of the broadcasting providers and why one is better than the other. While selecting a platform that will serve all your music and podcast needs, it is important to consider all the features highlighted and to make use of the advantages as it pertains to the peculiarity of what you want. Your ability to rightly choose the platform that fits your need will determine how well you will utilize and enjoy your desired music and podcasts.