Music is a powerful thing, and no one should be deprived of it. No matter how old your device is or what version of Android you have, or the data restrictions, everyone deserves music. And that is why Spotify introduced a lite version of its app, the "Spotify Lite".
Spotify Lite is a lightweight app specifically designed for low-end mobile phone users with low storage or slow internet connections. Unlike the Spotify app which measures 85MBs, this Spotify Lite version only occupies 10MBs. Besides that, there are more obvious differences between the two versions.
In this article, we will take a closer look to compare Spotify Lite vs Spotify, so you can choose which one suits you best. Further ahead, we will also explore a top-notch Spotify music converter to convert and download your favorite music for offline playback. Let's dive in!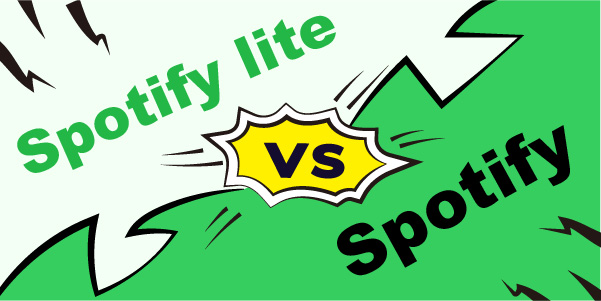 ---
Part 1. Spotify vs Spotify Lite: Comparison
As mentioned earlier, Spotify and Spotify Lite have quite a few differences. Here you will find a detailed discussion on the key parameters.
1. Sound Quality
When it comes to Spotify vs Spotify Lite sound quality is one of the major aspects to consider. The Spotify main app offers four music qualities for users – namely, Low, Normal, High, and Very High. Although the highest quality is only available for Spotify Premium users. On the flip side, Spotify Lite comes with only three sound quality options that are, Basic, Normal, and High. So, The audio quality of Spotify's main version is an attraction for avid music lovers.
2. User Interface
The user interface of the two Spotify apps is almost identical. However, one worthwhile dissimilarity is the arrangement of the tabs on the main screen.
On Spotify Lite's main interface, you will see the "Recently played playlists" tab located at the top. But on Spotify's regular app, it shows a "Frequently played playlists" tab on the top, while the "Recently played playlists" tab is further down.
Moreover, the navigation bar of the lite version of Spotify shows the Home, Favorites, and Search buttons, while the Spotify main app presents Home, Browse, Search, Radio, and Your Library buttons.
3. Size
The main difference between Spotify Lite vs Spotify is the size. The former, designed for low storage devices, is much smaller and lighter in weight taking only about 10MBs storage. The latter takes about 85MBs space.
Additionally, the regular Spotify keeps collecting cache and growing storage with the number of songs you listen to. Simply put, Spotify main app's size depends on your listening habit. While this is not the case with Spotify Lite. So, it's safe to say that if you are a little low on phone memory, the Spotify Lite version is your best choice. 
4. Data Usage
Like any other streaming platform, Spotify requires a data connection to play high-quality music. The Premium users on Spotify, however, have the perks of downloading and saving Spotify music when connected to a Wi-Fi connection and enjoy offline playback another time. On normal settings, the Spotify app consumes about 45MBs of data and does not allow you to set any limits. Alternatively, the Spotify Lite version enables you to set a data limit and offers automatic notifications when you go beyond the limit.
5. Device Broadcast Status
The device broadcast status feature allows you to broadcast your activity on other apps. For instance, if you've connected Spotify to Tinder, you can have a chat with your crush on Tinder and the broadcast status feature will tell the app what you are listening to on Spotify. Unfortunately, this feature is available on the regular Spotify version and absent on the Spotify Lite app.
6. Library
The absence of music library in the Spotify Lite version is a major shortcoming. While it allows you to create playlists, the unavailability of Podcasts is a sacrifice.
7. Offline Mode
Premium users on the Spotify app can save and download any song for offline playback anytime anywhere. On the other hand, Spotify Lite does not offer an offline mode, even if you upgrade to premium. If you're hesitant to choose between Spotify Lite or Spotify, then it's a win for Spotify's main app in this regard.
8. Spotify Connect
Spotify Connect is a fantastic feature that allows playback access from your smartphone to a laptop or speaker using a Wi-Fi connection. But this premium feature is trimmed on the Spotify Lite app.
---
Part 2. How to Listen to Spotify Offline without Premium
Even with so many differences between Spotify and Spotify Lite, there is a noticeable feature that remains the same: the restricted Spotify music format. Regardless of the version, music from Spotify is encoded in an OGG Vorbis format, that restricts offline playback on other devices. Luckily, there is an amazing tool that gets rid of this restriction and allows you to stream Spotify songs offline on any device.
The AudFun Spotify Music Converter is a powerful tool that converts and downloads Spotify music as local files. It converts the Spotify OGG Vorbis to MP3, M4A, FLAC, WAV, and other common audio formats so that the downloaded Spotify music files can be played without the network on other media players, speakers, etc.
The AudFun tool comes with an efficient conversion technology that downloads Spotify playlists at a 5X speed in batches. Plus, the output audio quality is 100% lossless. The converter allows users to manage and organize Spotify audio files by preserving the original ID3 tags. Furthermore, it is compatible with both Windows and Mac OS. So, anyone can take advantage of AudFun Spotify Music Converter.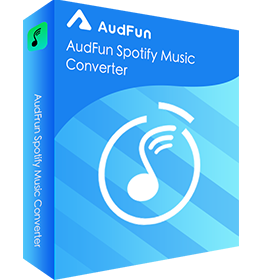 Key Features of AudFun Spotify Music Converter
Convert Spotify encoded audio format to MP3, M4A, FLAC, etc.
Remove the Spotify song restricts and ads to play music on any device
Batch conversion for playlists from Spotify with a 5X rapid speed
Retain all ID3 tags and offer lossless audio quality for Spotify music
Highly compatible with Windows and Mac operating systems
Below you will find a quick tutorial on how to convert and download Spotify music offline using the AudFun Spotify Music Converter.
Step 1: Begin by downloading the AudFun Spotify Music Converter tool on your PC. Then launch it, and you will notice that the Spotify app appears on your desktop as well. Sign in with your Spotify account on the music streaming and register AudFun software by entering the licensed e-mail and registration code.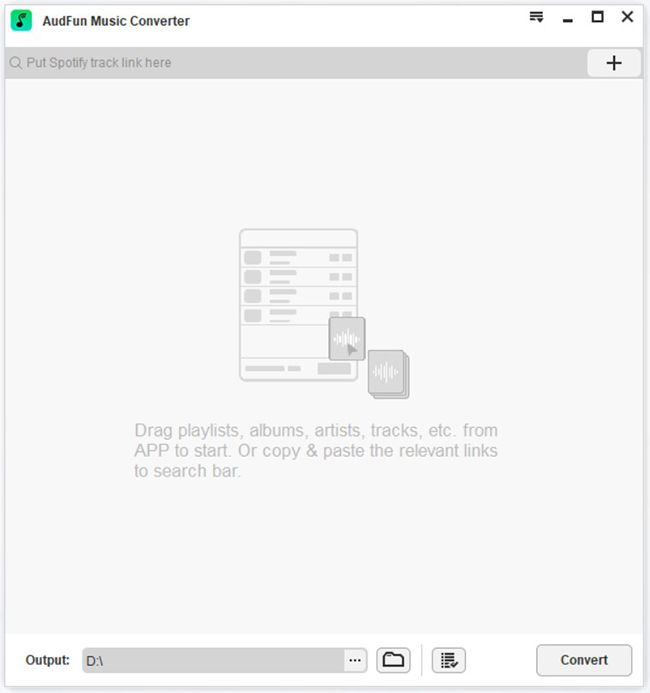 Step 2: Navigate to the Spotify app and drag and drop your favorite tracks on the main interface of AudFun software. Or copy and paste the Spotify song/playlist/album link in the AudFun tool's search box. Then, click on the + sign to import all the Spotify playlists and tracks.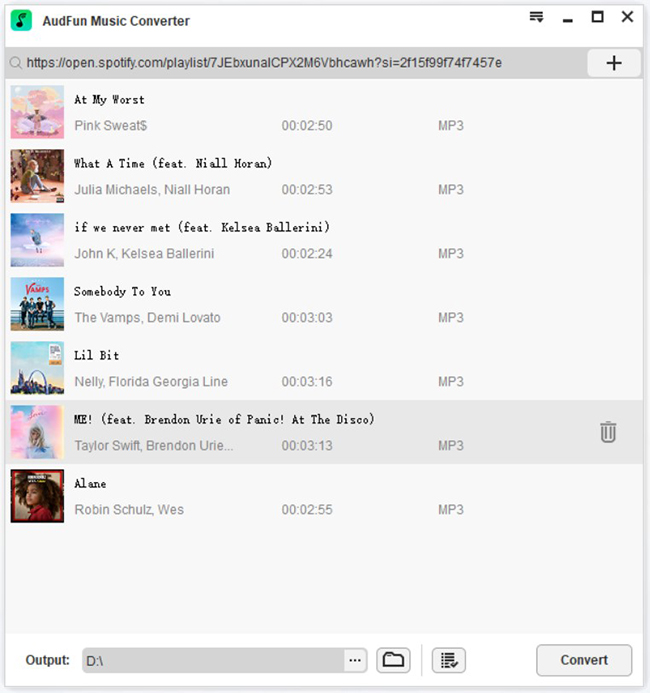 Step 3: Head to the top right corner of the AudFun software screen to open the menu. Click on Preferences and choose the Convert section. On the setting window, adjust the audio output format of your choice. You can choose to convert Spotify OGG Vorbis to MP3, M4A, M4B, FLAC, etc. Apart from that, customize other audio parameters according to your needs.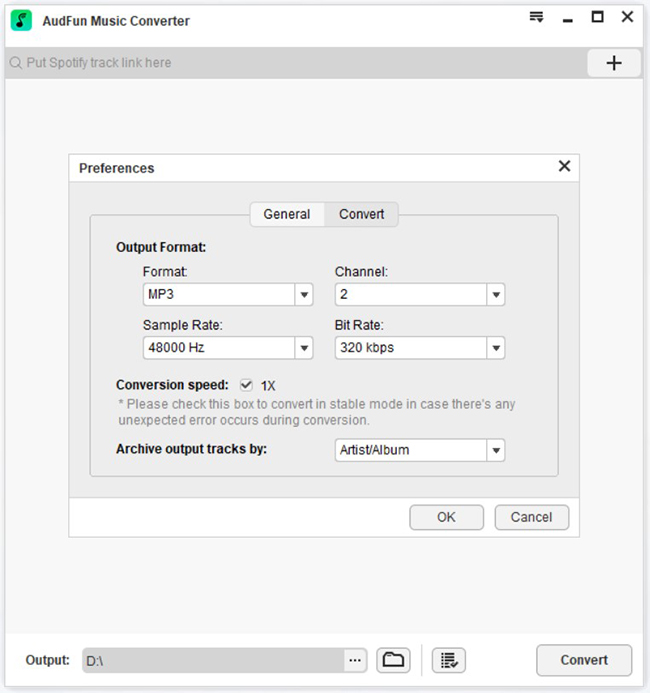 Step 4: Once the settings are done, press the OK button. Finally, hit the Convert button to download Spotify music to computer. The Spotify converting process will take place at 5X speed with no audio quality damage. After the conversion completes, locate the downloaded Spotify files in the destination folder of your PC by tapping the Converted icon left next to the Convert button. You then can listen to Spotify offline without premium on wherever you like.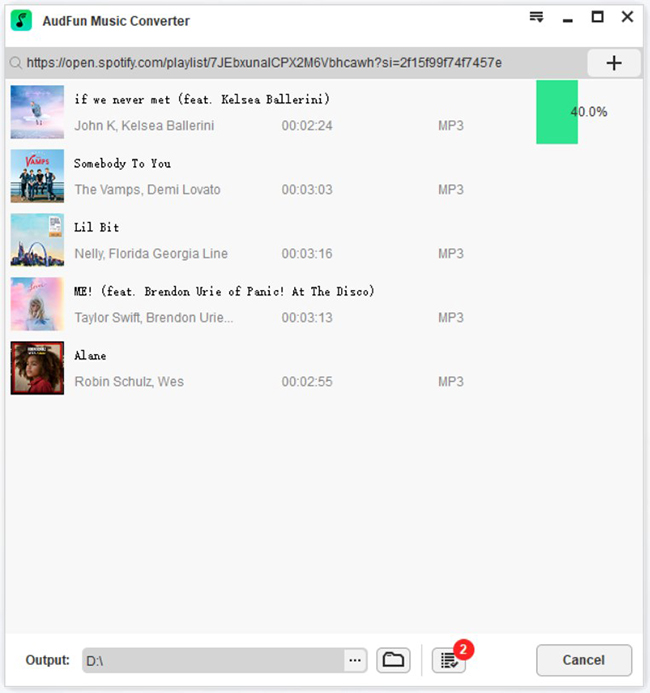 ---
Part 3. FAQs about Spotify vs Spotify Lite
1. Is Spotify Better than Spotify Lite?
No doubt, Spotify is better than Spotify Lite. Even though the lite version is smaller in size, it does not offer HD quality sound. Additionally, premium features like Spotify Connect and Offline Mode make the Spotify main app a better choice. But if you're short on space, Spotify Lite is worth a try.
2. Is Spotify Lite Completely Free?
Yes. With Spotify Lite, you can enjoy millions of songs completely free while saving up space on the go.
3. Can We Download Songs on Spotify Lite?
Unfortunately, no. Spotify Lite version lacks the offline mode so you cannot download songs even with a Spotify Premium account.
4. Does Spotify Lite Have Ads?
Yes, Spotify Lite has ads. However, Spotify is testing an ad-skipping feature in select markets. You may also use the AudFun Spotify Music Converter to download Spotify playlists and get Spotify no ads on the computer.
---
Part 4. Conclusion
Now that you have closely observed Spotify Lite vs Spotify, you can make an informed choice. In a nutshell, the two versions have subtle variations, each serving a different purpose. The Spotify Lite version will benefit you if you have a low-end phone or an unstable data connection. Contrarily, the Spotify app occupies much space but offers HD quality sound and a bunch of premium features. Lastly, you can also convert Spotify music using AudFun Spotify Music Converter to break the limitation in audio format and enjoy your favorite playlist anywhere anytime without the Internet.