We all know about YouTube and Spotify because both of these platforms are for music. Some people like to use YouTube more, and others prefer Spotify for different reasons. We all have our different preferences according to our comfort and ease, but can you compare YouTube Music vs Spotify? To do that, one needs to do some detailed research in this area and then list down all the features, pros, and cons of both platforms before deciding which one is the best and on what grounds.
If are looking for the details between Spotify vs YouTube Music, then you can read this post. Here we will give a complete comparison of these two platforms for you. Please follow us and learn more in the following parts.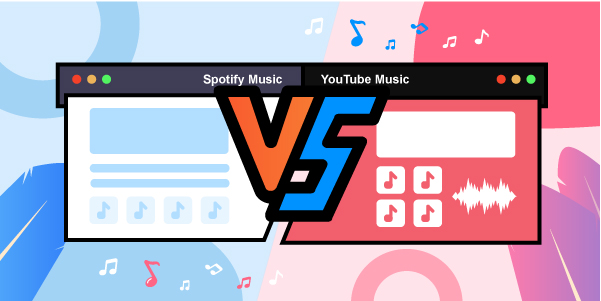 ---
Part 1. Know More about Spotify and YouTube Music
Before we move towards knowing more about YouTube Music vs Spotify, it is essential to know about both of these services, so have a look and find out.
What Is Spotify?
Spotify is a digital streaming service for music. It offers you easy access to a vast online library of music and podcasts that lets you enjoy the music of your choice. Users will find millions of songs from several genres and artists, including rock and pop, movie soundtracks, classical music, and more. It also has a complex algorithm to suggest music based on your users' listening history and made playlists and internet radio stations.
What Is YouTube Music?
YouTube Music initially had music videos, though it has improved into a complete music streaming service. Its subscription contains similar stuff but is locked to the YouTube Music application. With the help of a music subscription, users can open YouTube Music and enjoy ad-free music for offline downloads. Users can get the YouTube Music service by paying $9.99 per month for one user and $14.99 per month if they need a family plan.
---
Part 2. YouTube Music vs Spotify: Comparison
While comparing Spotify vs YouTube Music, there are multiple things that one needs to keep in mind because we can't compare both of these apps on the grounds of a single feature. Have a look at the below details to find out how these apps are different from one another.
1) YouTube Music Library vs Spotify
Talking about the first factor of YouTube Music library vs Spotify, both of these services have huge libraries. You can choose the best option by checking both and finding which one has most of your favorite artists or music to explore. YouTube only offers a generic 'millions' number for their library, though Spotify is a bit more on the specific side. Spotify has most of the official songs that they have contracted with labels to provide that also come along with more podcasts.
2) YouTube Music Quality vs Spotify
In terms of YouTube Music vs Spotify audio quality, YouTube Music allows users to enjoy their favorite content at a bit rate of up to 256kbps AAC. At the same time, Spotify bitrate lets you stream up to 320kbps. If you want to keep data, YouTube Music is the best choice as its data saver mode turns down the level to 48kbps AAC, whereas Spotify can stream at 96kbps. If you want to have the best quality in terms of audio, then Spotify is better. But if you need better stream music at a cost-effective range, then YouTube Music will work fine.
3) Spotify vs YouTube Music Price Plan
When we talk about Spotify vs YouTube Music price, both of these streaming services offer different plans for users. Initially, you can use any music service for 30 days without paying anything.
The basic plans of both come along at $9.99 per month. YouTube Music's family plan can be accessed for $14.99 per month, whereas Spotify offers it for $14.99, and the two-user plan for $12.99. The student plan is a good deal for both and is available for $4.99 per month.
4) Spotify Premium vs YouTube Music
Both streaming services, Spotify Premium vs YouTube Music, offer premium subscription plans for users, but Spotify is on the expensive side. If you are looking just for better audio quality and a massive list of artists to explore, then YouTube Music is better. With Spotify's Premium plan, users can have some extra features that they will not find on YouTube Music.
5) YouTube Music vs Spotify Limitations
While talking about the limitations of YouTube Music vs. Spotify, the latter allows users to explore more music and have access to podcasts and unlimited features. To gain access to that, users are supposed to pay monthly charges, but not anymore as AudFun Spotify Music Converter, allows you to have some extra perks. Using this dynamic music converter lets you have access to Spotify's cracked version for premium on PC.
Now exploring Spotify music better, by blocking ads and downloading their favorite tracks is not impossible. AudFun Spotify Music Converter lets you download your favorite Spotify music tracks in multiple file formats such as WAV, MP3, M4B, AAC, M4A, and FLAC without ruining the original sound quality. You can customize the bit rate, sample rate to enhance the audio quality of Spotify songs you want.
The best thing about using this tool is that you can now easily stream your favorite Spotify music on any device and platform without limits, even for offline usage. These songs can't only be heard on a mobile phone as you can cherish your free time by listening to these tracks on any chosen device, by playing them wherever you like.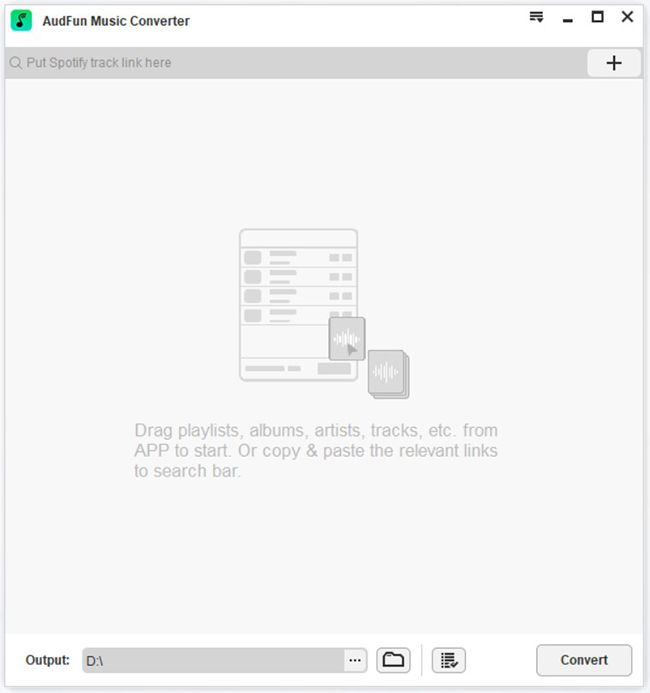 6) Easy to Use
YouTube Music and Spotify are both easy to use, and there is no need to have some technical know-how to make them run. Spotify is better in terms of some cool-looking header images, finest cover art, and playlist descriptions.
YouTube Music gives an unfinished look in its design. Spotify comes along with the stationary navigation sidebar if you use the desktop app. By using it, users can access its functions and feature way too quickly regardless of how far down the Spotify content is. With YouTube Music, you can enjoy that ease of utilization.
---
Part 3. Final Words
We hope that the above features while comparing Spotify music vs YouTube Music is accessible for you to understand which music streaming service you need to try out. Both of these platforms have their pros and cons, and it depends on the users which one they think better suits their needs.
If you don't have any issue paying for a few extra bucks to explore better options for music, then Spotify is our best shot. Still, if you don't want to invest additional money, then YouTube Music is the one that you should definitely use go for.