People like to listen to remix music because it gives old songs a new look. Moreover, remixed songs make you more energetic, due to which many gym junkies prefer listening to them while doing gym. Editing songs with plain formats like MP3 is an easy task, but the process of editing gets complicated when you are dealing with the Ogg Vorbis format from Spotify.
How to make this task less unchallenging? The versatile tool, UkeySoft Spotify Music Converter can professionally do that task in no time. Later, this article will introduce the UkeySoft Spotify Music Converter review and its best alternative for you to convert Spotify Ogg Vorbis to MP3 for editing.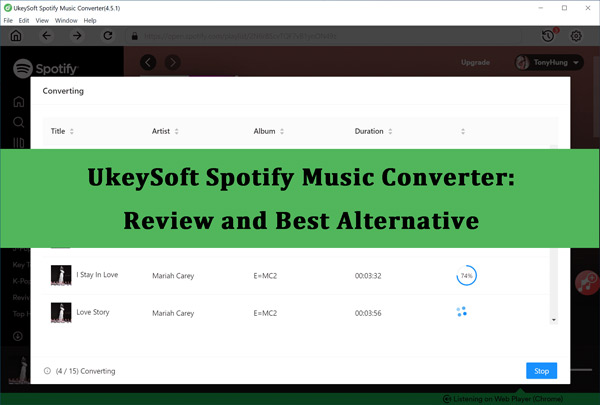 ---
Part 1. A Full Review of UkeySoft Spotify Music Converter
Facing difficulty in removing the protection lock from Spotify songs? Such a task is quite easy for this innovative tool, UkeySoft Spotify Music Converter. With the UkeySoft app, the music quality won't be compromised while downloading any track from Spotify. Additionally, it also works at ultra-fast speed on converting due to its high-performing system. Whether you want to convert Spotify music for editing or sharing, this app gives high-quality results in no time.
Moreover, if you have UkeySoft Spotify Music Converter on your device, it has an embedded Spotify Web Player to import tracks without the Spotify app. Also, there is no need for an additional media player to enjoy offline music because it has built-in media players. Thus, enjoy your music library anywhere and anytime you want.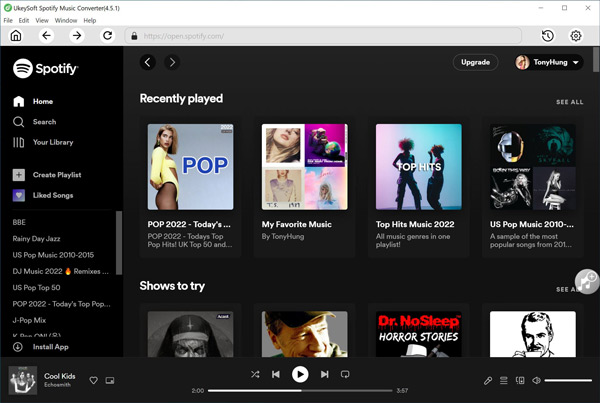 Key Features
Hope the above-given information was beneficial to get first-hand knowledge about UkeySoft Spotify Music Converter. However, there is a lot more which is hiding inside it. To get an idea about the key features of this tool, let's dive into the following points:
1. Batch Conversion: Irrespective of other outdated tools, the UkeySoft music converter can convert Spotify playlists or songs in batch at 10X fast speed. You can also convert them to WAV or AIFF formats, which are greatly used for making remix songs.
2. Built-in Web and Music Players: You are not required to set up media players to listen to the songs you have converted or downloaded. This makes UkeySoft a cost-effective application for converting Spotify songs. Above all, its integral music manager allows you to organize the music library according to the date and album of the artist.
3. Download Music with Free Spotify: Spotify free version users will be delighted to know that now they can download any songs or albums for free without subscribing to Spotify Premium. This could be done by using UkeySoft Spotify Music Converter. Moreover, the song it downloads is saved at 320Kbps which is high sound quality.
4. Share Spotify Music Anywhere: Every piece of music from Spotify can be enjoyed on PS4, Apple Watch, and Xbox One without limitation after converting using the UkeySoft converter. It allows its users to share, burn, or play any Spotify playlist freely. You can also transfer Spotify to a USB drive or blank CD disc, which otherwise is impossible.
Guide to Use UkeySoft Spotify Music Converter
Step 1: Download UkeySoft Spotify Music Converter
Go to the internet browser and search for UkeySoft Spotify Music Converter. From the official website, download and install it accordingly to the guidelines of the installer. After completing the installation, open it on your device.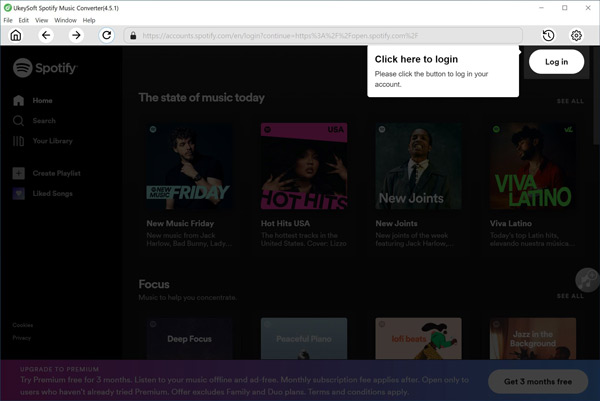 Step 2: Log in to the Spotify Account
At the top right side of the tool, the "Login" button is present. Click on it and add your Spotify account login information. Afterward, browse your target song from Spotify and press the "Plus" icon to add the song to the "Pending Converting" list. In this way, you can add as many songs as you want.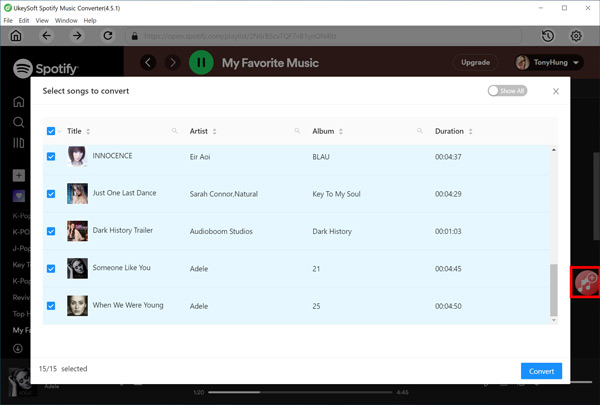 Step 3: Select the Spotify Audio Format
Now go to the "Settings" icon in the upper right corner and select the output format like MP3, M4A, and AAC as required. However, if you don't change the format, then the file will be converted to the default format, which is M4A. Moreover, other output audio parameters can be adjusted here, like "Output Quality," "Output Folder," and much more.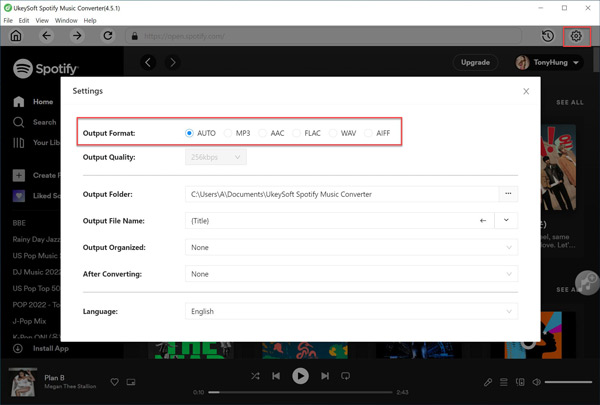 Step 4: Convert the Spotify Songs
Click the "Pending Converting" list, and you will get the list of songs you have added. All the songs will be checked by default, but if you want to unselect any, then unmark them. Hit the "Convert" button present at the lower right corner to start the conversion process. Once completed, click on the "History" icon and select the "Output Folder" to access the converted songs.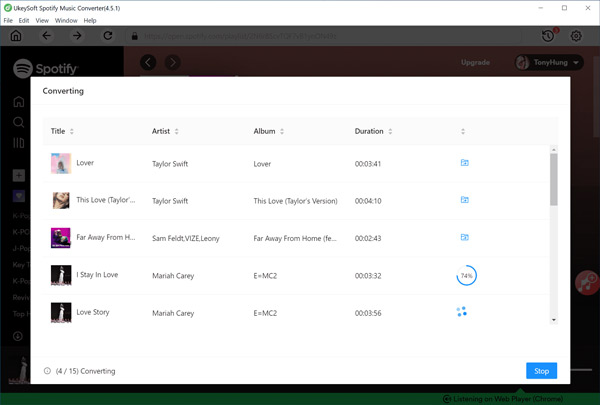 Pros and Cons
The above guide to using UkeySoft Spotify Music Converter is relatively easy to follow for every new beginner. The following pros and cons are given, which will enhance your knowledge about this tool:
Pros
It has a built-in Spotify web player, so you don't have to install the Spotify application for listening or streaming.
This tool is secure for downloading and converting Spotify songs because it doesn't access any of the Spotify account details or other information.
It can act as a media player to play downloaded Spotify music files.
It saves songs from Spotify with 320kbps audio quality and downloads tracks at 10X speed.
Con
UkeySoft doesn't work on smartphone operating systems like iOS and Android because it shows compatibility with desktop OS.
FAQs about UkeySoft Spotify Music Converter
1. Can free users of Spotify use UkeySoft Spotify Music Converter?
Whether you are Spotify free or premium user, you can convert Spotify music, podcast, or playlist to any format just by logging into your account.
2. Is it possible to play Spotify music on UkeySoft without any media players?
Yes, it is possible because this tool has built-in media players so you can listen to Spotify content within the UkeySoft app.
3. Does UkeySoft control computer or Spotify accounts?
No, this secure app has nothing to do with your computer or Spotify data. It just converts and downloads Spotify music offline at a blazing-fast speed.
4. Is it illegal to use UkeySoft Spotify Music Converter crack?
Yes, it is illegal if you are using UkeySoft Spotify Music Converter cracked version. You have to buy its Premium account if you want to enjoy this tool for a lifetime.
---
Part 2. Best Alternative to UkeySoft Music Converter – AudFun Spotify Music Converter
AudFun Spotify Music Converter is the best music converting tool among all the UkeySoft Spotify Music Converter alternatives. It is converter software that specializes in converting Spotify music to other formats such as MP3, AAC, WAV, FLAC, and others. With this tool, users can download and convert Spotify tracks, playlists, and albums to these formats without any quality loss. It also allows users to edit ID3 tags and metadata for Spotify.
It has a high degree of compatibility with major operating systems like Windows and macOS. Moreover, the AudFun Spotify Music Converter stands out as the most reliable application due to its security and privacy parameters. Above all, without any technical or professional help, even a kid can operate this tool to convert songs from Spotify offline with a free Spotify account.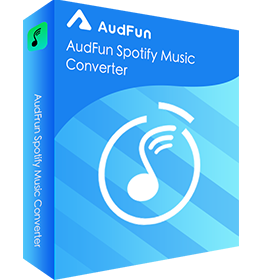 AudFun Spotify Music Converter
Download Spotify playlists and albums at 5X speed without showing glitches
Allow users to save Spotify tracks to MP3, WAV, FLAC, and other formats
Spotify Audio file quality and ID3 tags will not get affected while downloading
Listen to Spotify music on multiple devices offline freely
Guide to Use AudFun Music Converter for Spotify
AudFun Spotify Music Converter is a professional music converter application for every Spotify user. To learn how to convert songs of it, read below provided steps:
Step 1 Drop Spotify playlist to AudFun software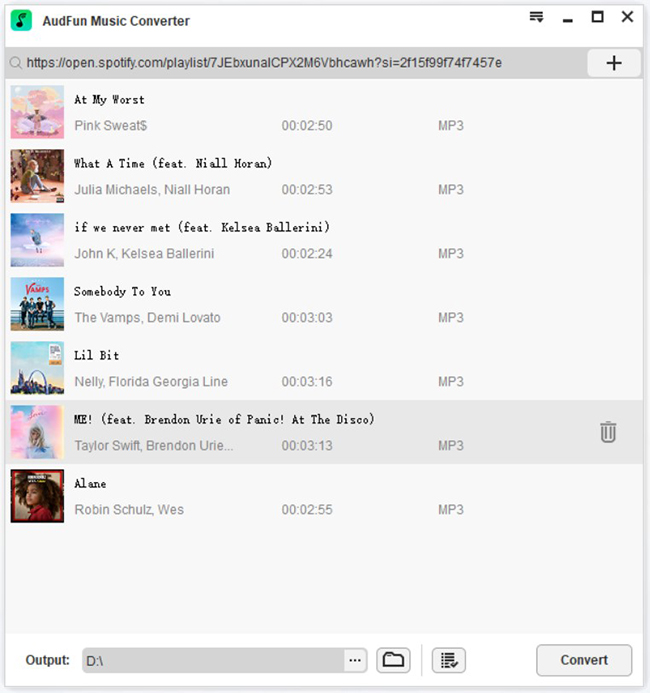 After installing and starting the AudFun Spotify Music Converter, log your Spotify account in the Spotify app. Next, locate the songs or playlists from Spotify, drag the song, and then drop it on the interface of AudFun Spotify Music Converter. You can also copy the link to the playlist and paste it into the AudFun app, and hit "+" to load all songs.
Step 2 Manage Spotify output audio format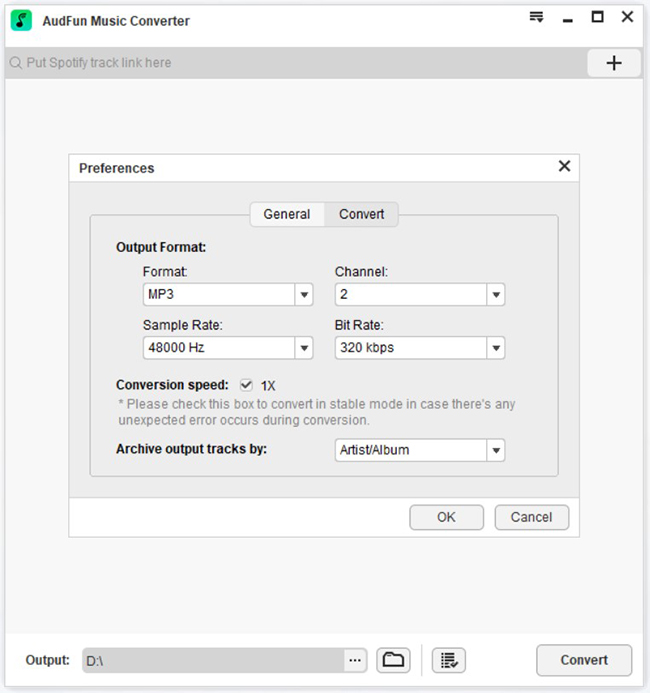 Now, on the AudFun app's interface, go to the "Menu" icon and select "Preferences". A new window will pop up, and access the "Convert" section. Expand the drop-down menu of the "Format" option and select the desired format, like FLAC, AAC, M4A, etc. Other audio parameters like bit rate, sample rate, and conversion speed can be adjusted as well.
Step 3 Launch the Spotify music downloading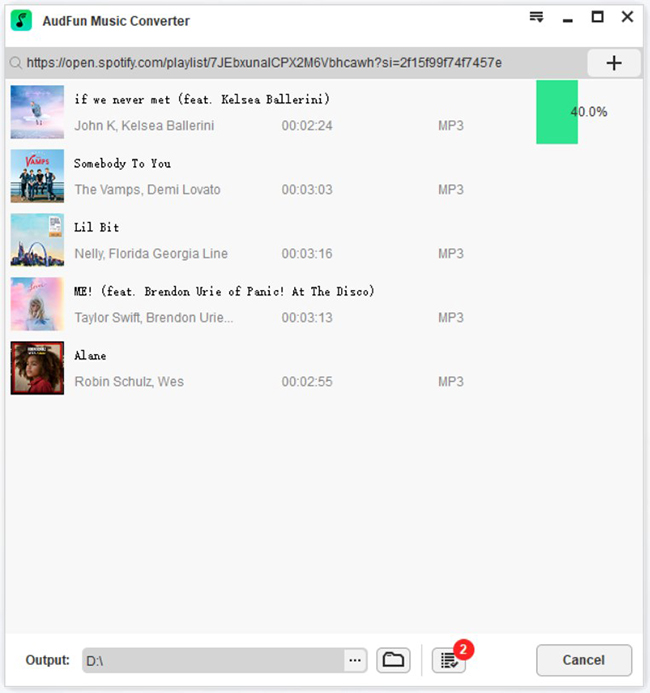 Press the "OK" button after making all the adjustments. Afterward, start the conversion process by clicking the "Convert" button. Once the process gets completed, Spotify-converted soundtracks will be saved in the selected target folder of your computer. You then will be able to add Spotify to DJ software like Serato DJ, and Traktor DJ for audio mixing.
---
Part 3. Conclusion
In this article, we have discussed the UkeySoft Spotify Music Converter review, which can be pretty helpful for you. Instead of using unreliable and unsecured Spotify music converters, you can opt for UkeySoft Spotify Music Converter. Apart from this tool, you can also use its best alternative, AudFun Spotify Music Converter which shares the best features for you. The choice is all yours but remembers that both these tools are fast, intuitive, and innovative.