Uber is a popular cab service that helps you to reach any destination on time. But while going to a destination, the journey can be quite boring when you are all alone. So, to make your trip comfortable and enjoyable, Uber and Spotify joined hands to integrate Spotify with Uber so that you can start playing the Spotify songs on Uber whenever you book a ride. If you want to know how to connect Spotify with Uber, this article will help you understand how to go about that.
Since Spotify is a leading music streaming platform and offers a wide range of songs of every genre, it is pretty apparent that users of Spotify want this song streaming application to be integrated into multiple devices. So, let's find out how Spotify and Uber's integration works and how to go about playing Spotify songs on Uber!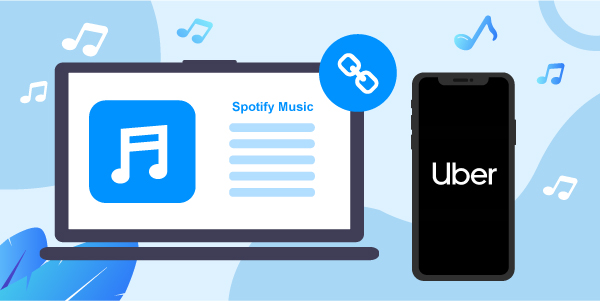 ---
Part 1. Spotify and Uber Strategic Alliance – Everything We Need to Know
Uber had its inception in 2009, and since then, it has become a preferred way to commute to different places. Be it for short distances or long distances; one can easily book an Uber cab and find the car ready at the pick-up point. Uber has made everyone's life easy.
In 2014, Uber joined hands with Spotify so that users can play Spotify songs while they are in their Uber cab and have a great time listening to their favorite songs. So, in 2014, Spotify and Uber collaborated. This strategic alliance allowed both brands to market themselves better, benefit from each other's service, and increase recognition.
For example, in the case of Spotify and Uber's strategic alliance, Uber gave an option to its customers to connect their Spotify account and play any of their favorite Spotify songs. So, when users connect Uber to Spotify, it allows both companies to create a personal connection with the customers. Moreover, the Uber and Spotify partnership benefited both companies for a long time.
But unfortunately, Uber Spotify integration has finally come to an end. Meaning, Uber customers will no longer be able to find the Spotify connect option in their Uber app. But that doesn't mean that you can't play Spotify songs on Uber. Even though the partnership has ended, you can still play Spotify songs when you hire an Uber can. Just that, the way to do that will be a little different.
---
Part 2. How to Connect Spotify to Uber without Integration
Now that Spotify and Uber have ended their partnership, you won't be able to play Spotify songs directly through the app, but what you can do instead is download the Spotify songs and play them in the Uber cab via Bluetooth or by transferring the songs to a USB Flash Drive.
And to be able to do that, you will need a Spotify Music converter. The recommended tool to use is AudFun Spotify Music Converter. It is a well-recognized and popular Spotify music converter that allows you to convert an end number of Spotify songs into a jiffy.
AudFun Spotify Music Converter is reliable and robust. All you will have to do is download the software on your computer and start using it. Moreover, this music converter can convert the songs in multiple audio formats, such as MP3, M4B, M4A, WAC, AAC, and FLAC. These are the available audio formats.
Moreover, the songs will be converted at 5x speed. In addition, using AudFun Spotify Music Converter is convenient. You don't need to have the technical knowledge to start using it.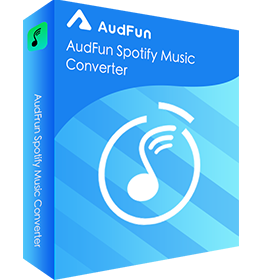 AudFun Spotify Music Converter
Download unlimited Spotify songs and listen to them offline on any device you want.
The songs can be converted into multiple audio formats for Uber.
The songs will retain their ID3 tags and 100% lossless audio quality.
AudFun Spotify Music Converter converts songs at 5X speed.
How to Play Spotify on Uber
If you are new to AudFun Spotify Music Converter, you may want to know how to use it. The first thing that you will have to do is download AudFun Spotify Music Converter on your Mac or Windows computer. Then, visit the official website to download AudFun Spotify Music Converter. Once done, you need to install it. Now, follow the steps that we have mentioned below.
Step 1 Launch AudFun Spotify Music Converter and Upload Spotify Songs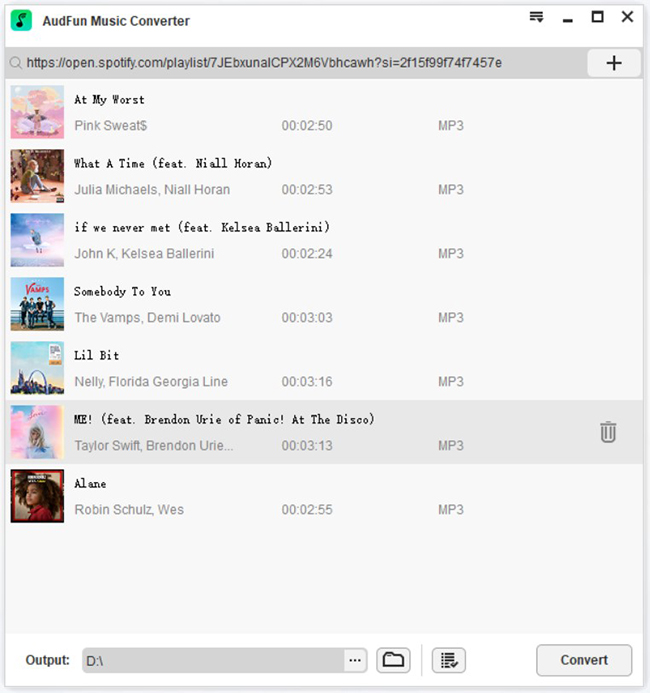 Launch AudFun Spotify Music Converter on your Mac or Windows computer. The main screen will appear. There you can paste the link of your Spotify song, else simply drag and drop the songs. The drag and drop option is better if you have a few Spotify songs to convert and download.
Step 2 Customize the Spotify Audio Parameters for Uber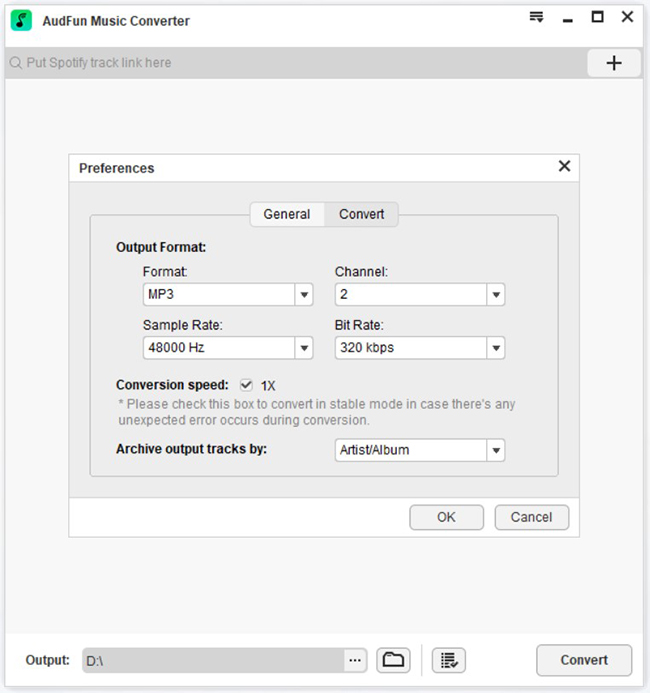 After the Spotify songs are uploaded that you'd like to listen to during your Uber ride, you need to customize the audio parameters of Spotify playlists. First, go to the Preferences page. You can start to change the output format for the audio, bit rate, sample rate, and channel under the Convert option.
Step 3 Convert Spotify Songs to Uber-supported File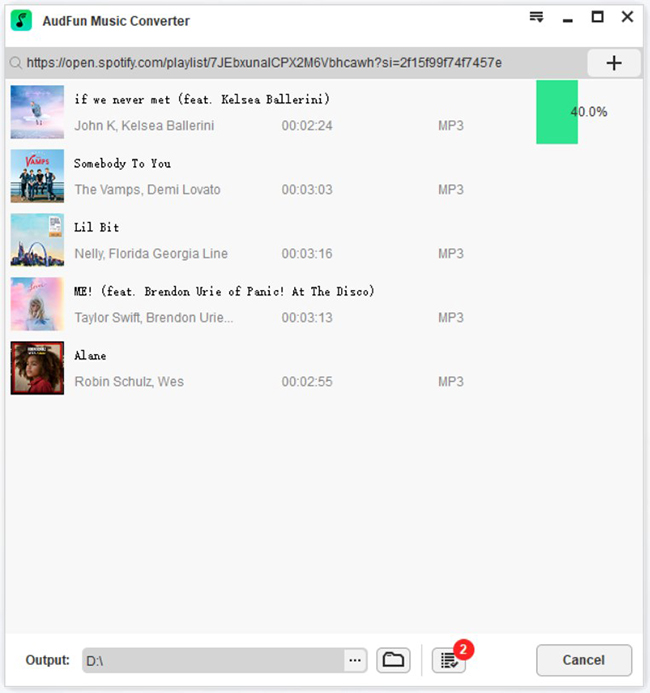 Finally, you need to click on the Convert option, which you will see towards the bottom right. The Spotify songs will begin to get converted at 5X speed. Once done, you will find the songs that can be playable on Uber in the destination folder.
Step 4 Play Spotify Songs in Uber Offline
Transfer Spotify songs to a USB Flash Drive and insert the USB Flash Drive into Uber's audio system. Once it is connected, you can play Spotify songs one by one. Else, you can transfer the songs to your smartphone and play the songs via Bluetooth.
---
Part 3. In Conclusion
Spotify has all the songs that you need. That's why people want to connect Uber to Spotify. But since the integration between Spotify and Uber is over, you can download AudFun Spotify Music Converter to download the songs you want to listen to no matter where you go. Using Spotify during your Uber ride could be a nice experience.