Smart TV like Toshiba offers better wireless connectivity and stream desired entertaining channels precisely. There are many applications in the online platform exclusively designed to play on smart TVs without any compatibility issues. For a Spotify user, you may ask "Can I get Spotify on my Toshiba Smart TV?" Fortunately, the Spotify app is supported by the Toshiba TV.
If you don't know how to get Spotify on Toshiba Smart TV, you will be learning how to download and play music from Spotify on Toshiba Smart TV flawlessly in 2 ways. Keep reading!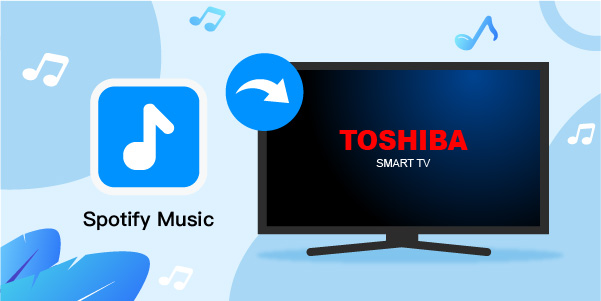 ---
Part 1. How to Get Spotify on Toshiba Smart TV with the Spotify App
For Toshiba Android TV
If you want to get Spotify on Toshiba Android TV, the steps are following.
Step 1. Go to the Apps section, and navigate Google Play Store to download the Spotify app.
Step 2. Then, install the Spotify app and launch it on your Toshiba Android TV.
Step 3. To stream your favorite Spotify songs, activate the account by pairing it with the Spotify account either from your mobile or computer to stream it on your Android TV from Toshiba.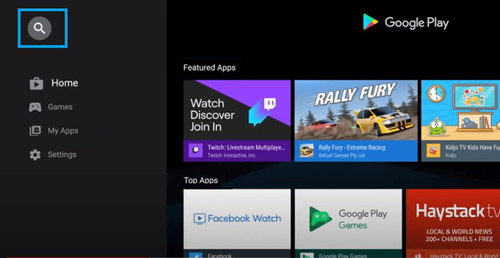 For Toshiba Fire TV
Step 1. Go to the Search option and type Spotify.
Step 2. Then, tap the Get button to trigger the Spotify download process.
Step 3. Launch the Spotify app and log in to your Spotify account. Activate the account using the PIN sent to your registered phone. Start listening to Spotify songs on the Toshiba Fire TV effortlessly.
---
Part 2. How to Play Spotify on Toshiba Smart TV Offline
You've already got the details of how to connect Spotify to Toshiba Smart TV in the guide in the first part. And the above methods are only for online Spotify music streaming on TV. To listen to Spotify songs offline on Toshiba Smart TV, you will need to try another way. Here, an excellent method to stream Spotify playlists on Toshiba Smart TV offline is by using a third-party application like the AudFun Spotify Music Converter app.
AudFun Spotify Music Converter is a reliable tool that helps users to listen to their favorite Spotify soundtracks anywhere effortlessly. This tool downloads and converts the desired Spotify playlists to the system drive for offline access. During the conversion, the protected format of the songs is removed to overcome compatibility problems since it can let you download Spotify to audio formats compatible with Toshiba Smart TV and other music.
The conversion for Spotify playlists takes place at a faster 5X rate without any sound quality loss. And the tool aids in maintaining vital facts like metadata, and ID3 tags. These credentials help to refer the playlists in the future. The downloaded tracks are available for quick access. You can find and stream the converted Spotify files on the Toshiba Smart TV hassle-free by using a USB drive.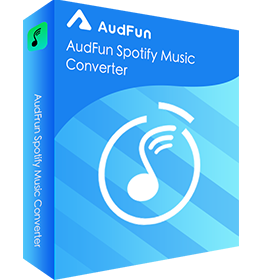 Main Features of AudFun Spotify Music Converter
Listen to Spotify offline without premium on Toshiba Smart TV
Download Spotify soundtracks at a 5X faster rate without quality loss
Easily convert Spotify songs to audio formats supported by Toshiba Smart TV
Retain the metadata and ID3 tags of Spotify playlists for future reference
Step 1 Install and register AudFun Spotify Music Converter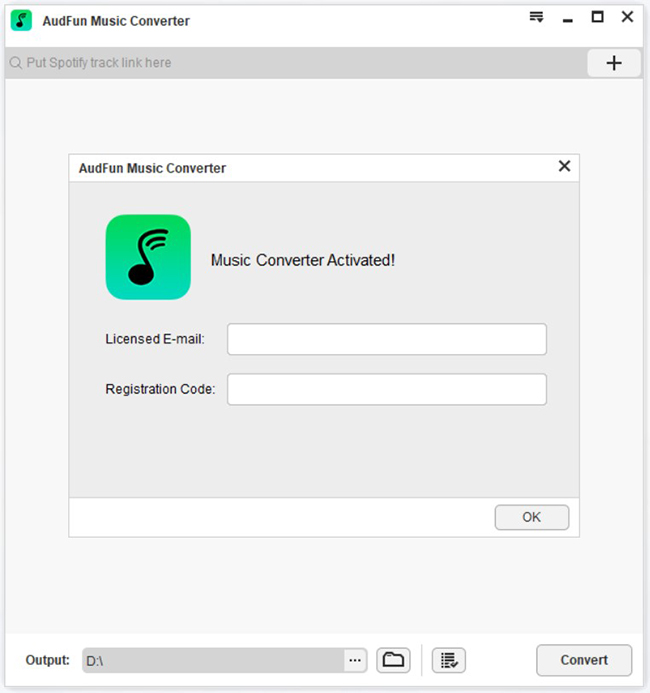 Download AudFun Spotify Music Converter from its website based on your system OS and install it. It supports both Windows and Mac computers. Launch the AudFun app and press the Register option from the menu. Enter the credentials like Licensed Email and Registration Code to get full access to this tool.
Step 2 Include Spotify playlists to AudFun software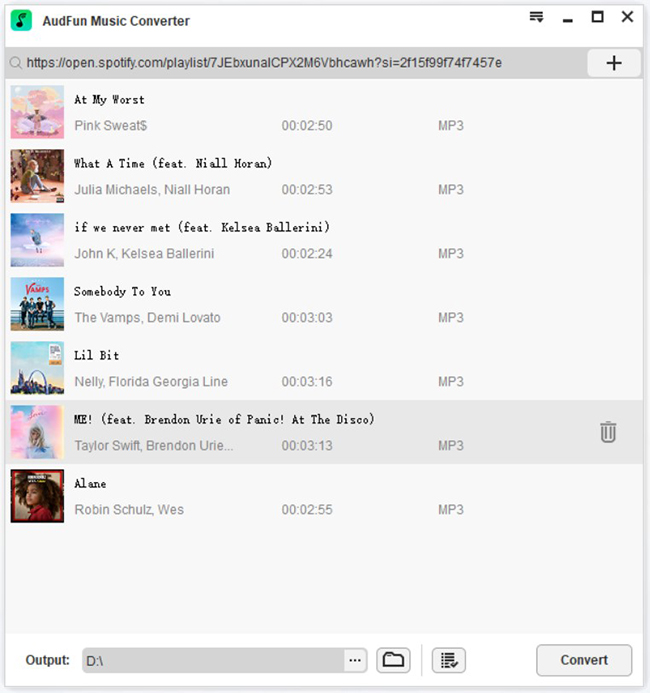 Next, head to the Spotify app, copy your favorite Spotify playlist link, paste it into the search box and click the nearby + icon in the AudFun Spotify Music Converter. While another simpler way is to drag and drop the selected Spotify playlist to the conversion interface of AudFun software.
Step 3 Set Spotify audio formats for Toshiba Smart TV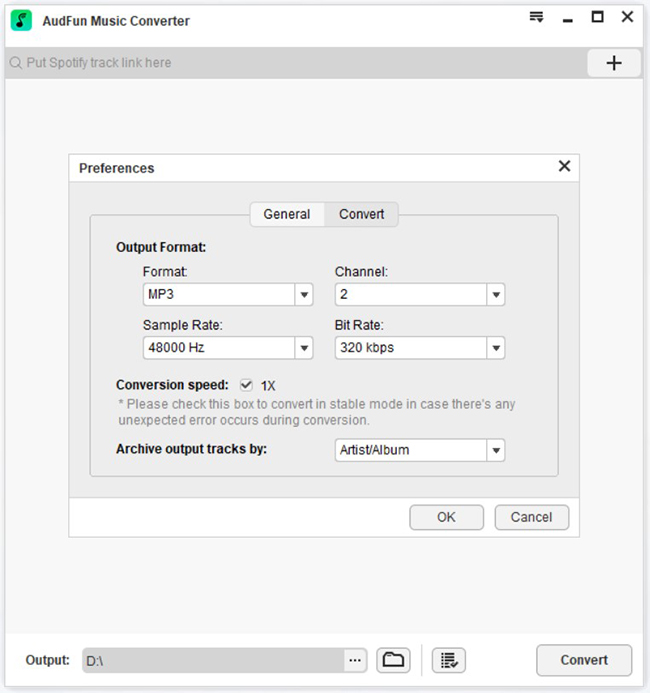 Customize the output settings by hitting the Preference option from the top-right dropdown menu. Here, assign values for output audio format, channel, sample rate, conversion speed, etc. You can choose AAC as an output audio format for Toshiba Smart TV for playing offline. After that, save the output changes by pressing the OK button.
Step 4 Download Spotify for Toshiba Smart TV offline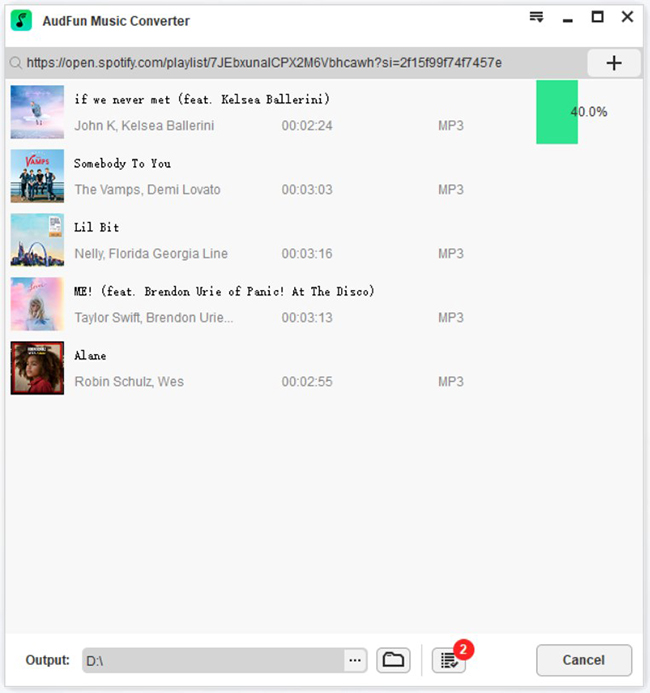 Finally, tap the Convert button to start the conversion and download process of the inserted Spotify playlists. Wait until the process completes successfully and access the download Spotify music files from the system drive or History menu on AudFun Spotify Music Converter.
How to put Spotify on Toshiba Smart TV? Now, copy the downloaded Spotify music to USB and plug in the USB to the Toshiba Smart TV. The Spotify soundtracks are on your TV. You then can play the Spotify songs on Toshiba Smart TV without the Internet.
---
Part 3. FAQs about Toshiba Smart TV
1. What Apps Are Available on Toshiba Smart TV?
Toshiba Smart TV has Netflix, Amazon Prime, YouTube, Freeview Play, and more that add to the list.
2. How to Download Apps on Toshiba Smart TV?
To download the apps on Toshiba Smart TV, go to the Google Play Store. Install the desired applications like you used to do with your Android phone.
3. How to Update Toshiba Smart TV?
Go to the Settings > About > System Update and follow up on the on-screen instructions to complete the update process on Toshiba Smart TV.
4. Does Toshiba have Bluetooth?
Yes, Toshiba TV has Bluetooth mode and you can enable it by tapping Settings > Sound > Bluetooth. Press the Discover option to find nearby Bluetooth devices to establish connectivity.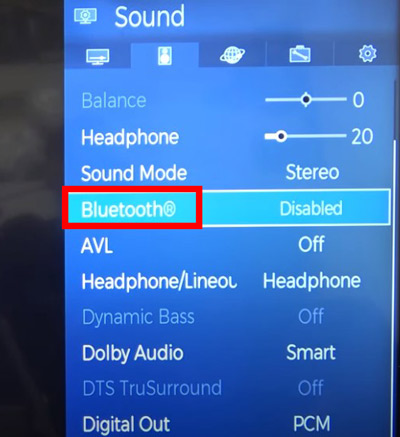 5. Does Toshiba have Spotify?
By default, the Toshiba TV does not have a Spotify app installed. You need to download the Spotify app from the Google Play Store for flawless streaming.
6. Can I Stream Spotify from My Phone to Toshiba TV?
Yes, you can stream Spotify from your phone to Toshiba TV by enabling the Bluetooth mode. Alternatively, you can use a USB cable connecting your phone with the TV to play the Spotify playlists hassle-free.
---
Part 4. In Conclusion
Thus, this article had given a better understanding of how to download Spotify on Toshiba Smart TV. You can listen to Spotify online by downloading the Spotify app on the Toshiba TV or stream Spotify offline by using AudFun Spotify Music Converter. The AudFun converter will download the Spotify restricted format to the one supported by Toshiba Smart TV, which makes it convenient to play Spotify songs offline on Toshiba TV via a USB drive.