The Spotify app is one of the best audio streaming platforms. It has different kinds of music, podcast, and more. The best part about Spotify is that one can enjoy it on multiple devices, provided the device has the Spotify app. You can play Spotify on smartphones, computers, smart TVs, speakers, smartwatches, etc. Since Spotify has millions of songs, and you can find songs easily here, users like to play Spotify on different devices. But quite recently, Spotify users have been trying to find out how to watch Spotify podcast on TV!
If this is what you have been looking for too, this guide is all you need. We will tell you whether you can watch a Spotify video podcast on TV conveniently. So, without further ado, let's start this guide and help you find out how.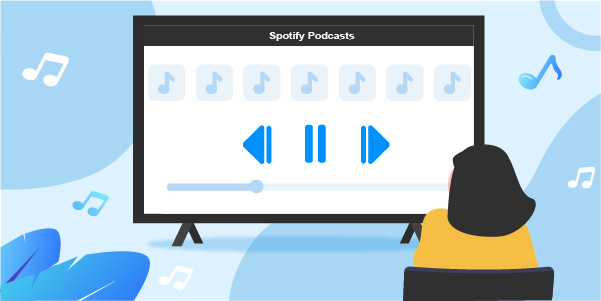 ---
Part 1. Can You Listen to Podcasts on Spotify on TV?
Here's the good news. If your smart TV offers the Spotify app, then yes, you can listen to a TV show podcast on Spotify on a smart TV. There are many smart TVs compatible with Spotify. You can check the app on your TV, and if it's not already installed, you can simply find whether it is in the app store to download. If not, then your TV doesn't support Spotify.
However, for some people who want to watch podcasts on the TV, this function is currently unavailable. You can only listen to podcasts, songs, etc., but not watch Spotify podcasts on TV. The Spotify podcast video only appears on the mobile, desktop app, and web player.
If your TV has no Spotify app, we will tell you an alternative that will let you play the podcast from Spotify without installing the app. And not just on your TV, but you will have the freedom to get them on any device.
---
Part 2. Tool to Listen to Spotify Podcasts on TV
Since users of Spotify won't be able to watch podcasts, so the answer to your question "how to watch video podcasts on Spotify on TV" is unsolved. But to the question "can you listen to video podcasts on Spotify TV", the answer is positive for the smart TVs that can use the Spotify app. Therefore, for users who cannot use Spotify on TV, we're here to help you figure out the way to get podcasts on it.
To play the podcast on TV, you will need to download it first. The AudFun Spotify Music Converter will be your choice. This amazing Spotify music converter is available for both Mac and Windows users and is super easy to use. It lets you download Spotify songs, podcasts, playlists, and much more. All you need to do is download the tool and get started.
The podcasts that you will download using AudFun Spotify Music Converter will be all yours, and you can listen to them on any device you want offline. The AudFun software will convert Spotify podcasts to multiple formats audio formats depending on the audio format that your device accepts (FLAC, MP3, WAV, etc.), and play them as much as your heart desires. With its 5X conversion speed, the download will not be time-consuming.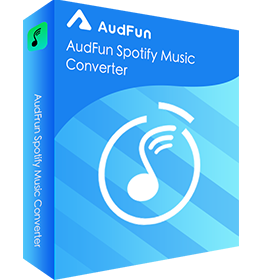 Key Features of AudFun Spotify Music Converter
Download Spotify podcasts and listen to them on TV offline
Convert podcasts from Spotify into different audio formats
Keep the podcast metadata information and quality intact
The podcasts conversion will start with the speed up to 5X
---
Part 3. How to Download Podcasts on Spotify for Casting on TV
To listen to Spotify podcasts on TV regardless of the TV model, now we show you the detailed steps to download Spotify podcasts to MP3 and other audio forms. First, download and install AudFun Spotify Music Converter on your computer. Once done, launch the tool and follow the steps that we have written below.
Step 1 Add Spotify podcasts to AudFun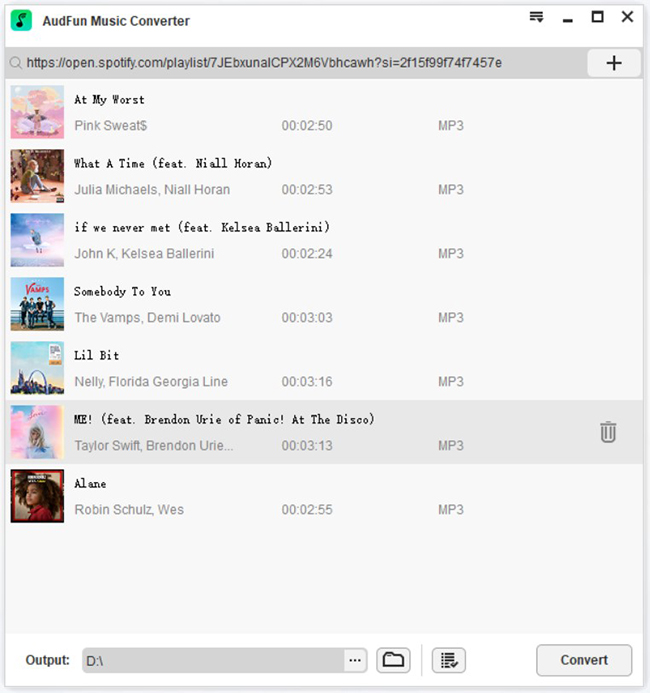 Open AudFun Spotify Music Converter and go to the Spotify app. Look for the podcast that you want to listen to on TV. You can use the Spotify search bar to find it. Once decided, click on the three dots and then select the "Share" option to copy the show/episode link. Then, back to AudFun Spotify Music Converter and paste the copied URL. Finally, hit the "+" button to load the podcast.
Step 2 Reset Spotify podcasts to MP3 format supported by TV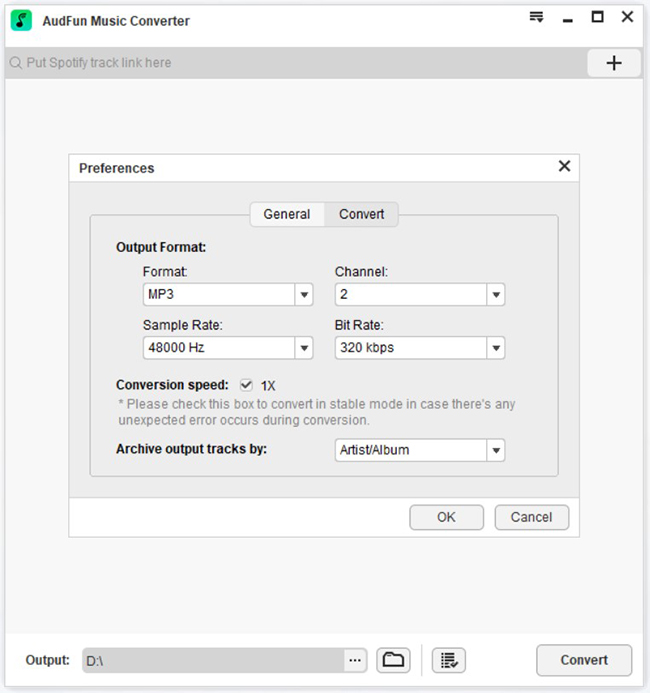 On the top-right menu icon, click on the "Preferences" option and select the option that says "Convert". Here, you need to pick the audio format for the file, such as MP3, M4A, FLAC, AAC, M4B, and WAV. These are the options that are available. You can also work on the other output settings, such as channel, sample rate, bit rate, and conversion speed. You will also have to set the output destination for the converted podcasts. This is where the audio files will be saved once converted.
Step 3 Download podcasts from Spotify on the computer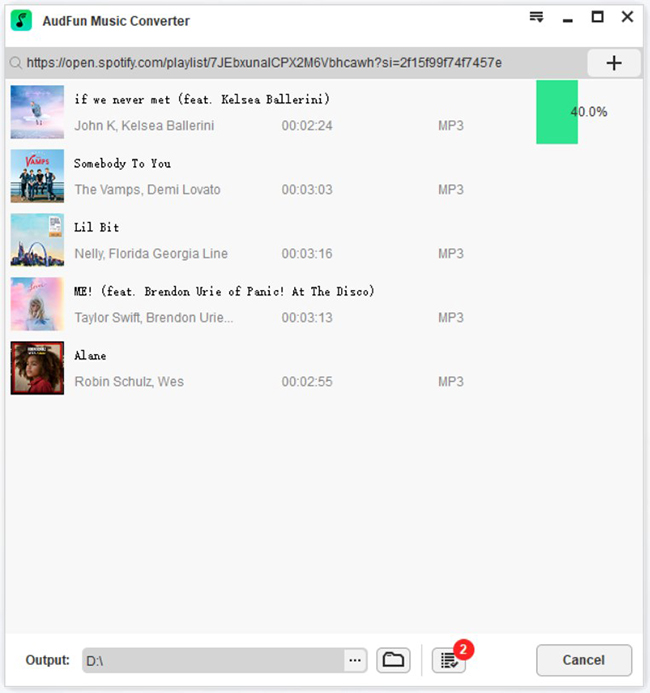 After you are satisfied with the settings and have saved the preferences, you are ready for the downloading process. Click on the "Convert" option, and the conversion process will start right away. Once converted, the podcast files will be stored in the folder you have chosen in step two. You can locate the files by pressing the Converted list and then play Spotify on TV.
---
Part 4. How to Watch Spotify Podcasts on TV
Now all your Spotify podcasts are saved offline to the MP3 files, and you can stream them anywhere you want. You are just one final step away from finally listening to Spotify podcast on your TV. So, here's what you need to do.
Step 1: Take your computer and bring it close to your TV.
Step 2: Now, take an HDMI cable and connect one end to the computer and the other end to the TV.
Step 3: Copy and paste the downloaded podcast from the computer to the TV storage, and then you can listen to Spotify podcasts on it.
---
Part 5. In Conclusion
And that's about it. We hope this guide has clarified your doubt about how to watch Spotify podcast on TV. Just remember that you can't watch Spotify podcasts on the TV because this feature isn't available yet. But if you only want to listen to the podcast, you may just install the Spotify app and click on it to play. For those whose TVs and Spotify have no compatibility, now you know the approach to play it out of the app.
Always go for an alternative that is safe to use. And this is the reason why we highly recommend AudFun Spotify Music Converter. So, why not get AudFun Spotify Music Converter and download your favorite Spotify podcasts today? Go on and download the tool today to start listening and enjoying the podcast you like!