Among the Dj apps that stand out is djay Pro. It is the hub of a complete toolkit for all your DJ skills. Available for a variety of operating systems including Windows, Mac, iOS, and Android, djay Pro brings a powerful set of features including four decks, waveforms, and audio effects, among others. With the application, you gain instant access to millions of tracks, with multi-channel output options. More so, you can perform other tasks like previewing and preparing the next song through headphones, plug & play out of the box and also use several DJ controllers.
But Spotify users recently got the real shock of their lives. The music streaming giant canceled all integration with third-party DJ apps including djay Pro as of July 1, 2020. So, is that possible to continue using Spotify on djay Pro? Fortunately, we got a positive answer for you. In the following paragraphs, we'll show you an alternative way to do that with ease.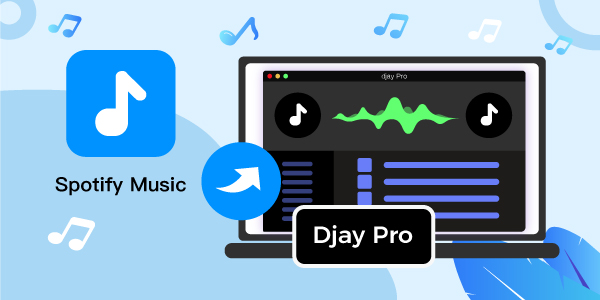 ---
Part 1. Get djay Pro Spotify to Work – Tool Required
As we know, Spotify tracks are encoded in a special Ogg Vorbis format, which makes them playable within the authorized app or official Spotify app only. To enjoy djay Pro Spotify, you have to convert your Spotify playlist to common output formats such as MP3. AudFun Spotify Music Converter comes to your rescue in such a scenario.
AudFun supports the download of Spotify podcasts, audiobooks, playlists, etc., and converts Spotify to MP3, or numerous output formats like WAV, FLAC, AAC, etc. You'll get 100% lossless quality with ID3 tags retained which include artist, album, etc. This app also manages to download your songs at X5 speed while supporting batch conversion.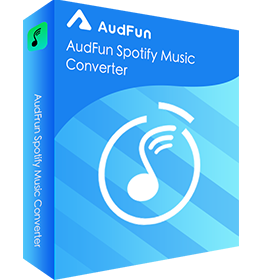 AudFun Spotify Music Converter Key Features:
Convert Spotify music to WAV, FLAC, AAC, MP3, M4A, M4B
Support extracting Spotify files at an X5 speed rate
Support to stream your Spotify music on multiple devices and players
Retain 100% lossless output audio files from Spotify
---
Part 2. How to Convert Spotify for djay Pro – Detailed Steps
This section guides you on how to download and convert Spotify to MP3 for use on the DJ app. First, download AudFun and install it on your computer before launching it. Also, ensure you have installed the Spotify app already. Likewise, continue to buy it and then register the app by clicking on the "Register" tab, and filling in your licensed email address and codes to unlock all potential.
Step 1 Add Spotify playlists to AudFun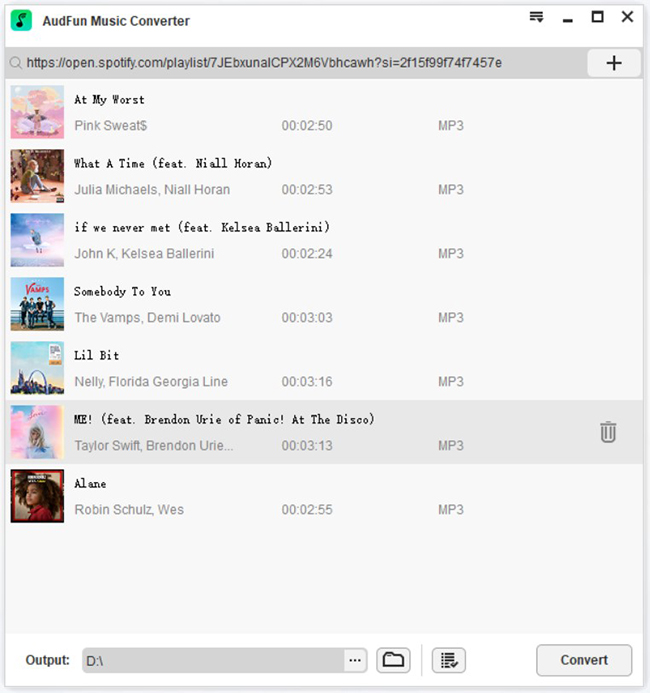 Go to your Spotify music library and choose the files you wish to convert. Next, tap the file and choose the "Share" button. Then copy and paste the URL link of the song to AudFun's interface address bar. Next, click on the "+" button to add the files to the interface. Alternatively, you can just drag and drop the tracks to AudFun's interface.
Step 2 Customize format and output parameters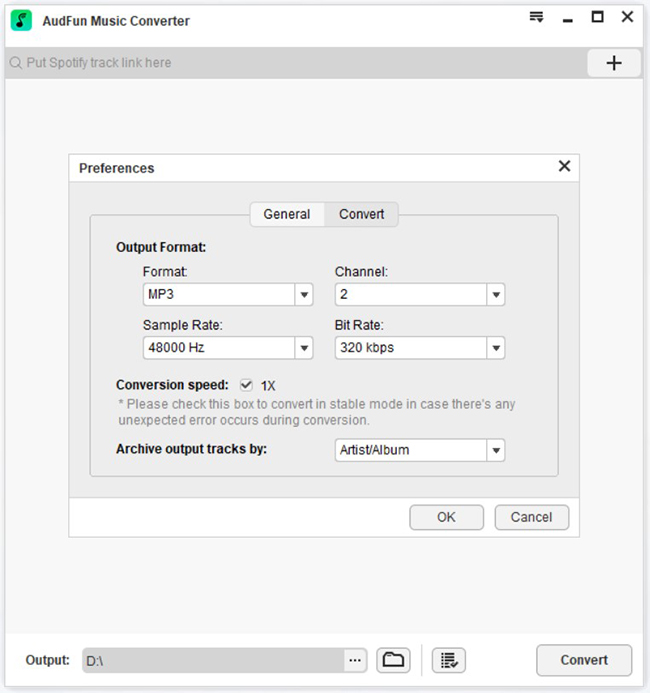 AudFun Spotify Music Converter lets you customize output parameters as you wish. Click on the "Menu" button and hit on the "Preferences" option, then go to the "Convert" section. Then choose the output format as MP3, as djay Pro is compatible with many audio formats such as MP3, FLAC, WAV, M4A, etc. And adjust parameters like bit rate and sample rate, etc. based on your needs.
Step 3 Convert Spotify songs to MP3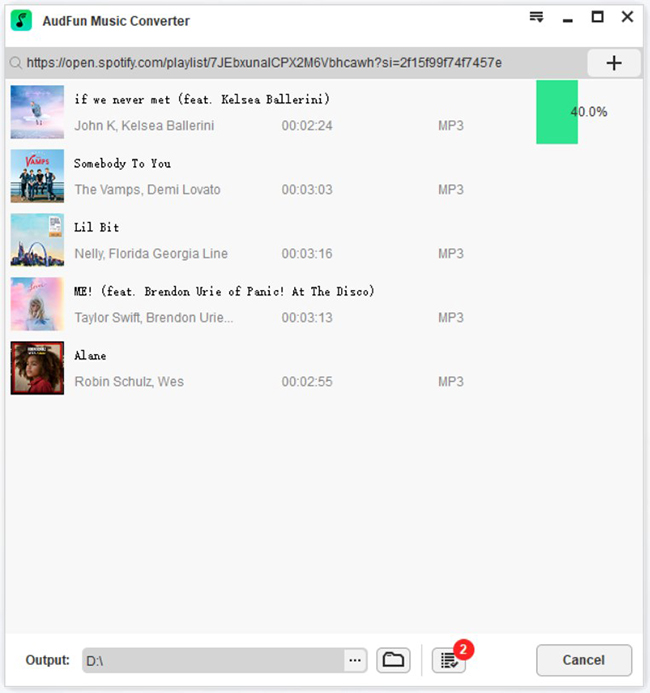 Confirm your settings and then touch on the "OK" button. Next, hit the "Convert" tab and the program will begin to download and convert Spotify music to MP3. Wait for the process to complete and then locate the "Converted" files on your local computer. Finally, you are free to use Spotify on djay Pro without any further limitations.
---
Part 3. How to Use Spotify with djay Pro on Computer and Mobile
As stated above, djay Pro software is compatible with many operating systems. In the following, we'll teach you how to easily use the downloaded Spotify tracks on Windows or Mac computers, as well as Android and iOS devices, respectively.
#1 Stream Spotify djay Pro with a Windows computer
For this, engage the "Library Browser" tool that is supported by Windows.
Step 1. Install and open the djay Pro for Windows on your computer. And then go to the "Library Browser" and hit on it.
Step 2. You'll access all your music files from the Library Browser. So, add your Spotify music here as well. You can add your Spotify files from the iTunes playlists, Explorer folders, or music playlists.
Step 3. Your playlists will be loaded into djay Pro for access and free mixing as you Dj along.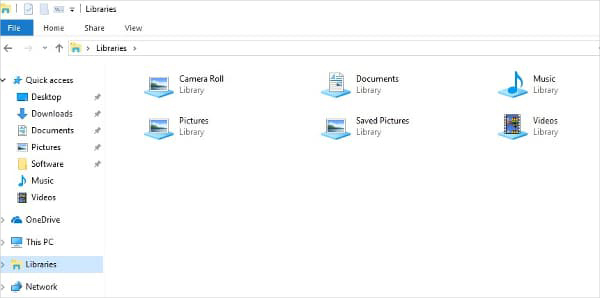 #2 Use djay Pro Spotify for Mac computer
You can also save your music collection and access it on a browser on djay Pro for Mac. Follow these steps to load Spotify music into djay Pro.
Step 1. First, launch the djay Pro software on your Mac and head to the library browser of the djay Pro window.
Step 2. Mac offers you three options to get Spotify on djay Pro. You can extract music from the "My Library" section, "Music Playlists" from the iTunes icon, or the "Finder" tab where you simply click the "Add Folder" to add your music files from your computer's hard drive.
Step 3. After you sync your Spotify playlists to djay Pro, begin to mix and enjoy them on the Dj app.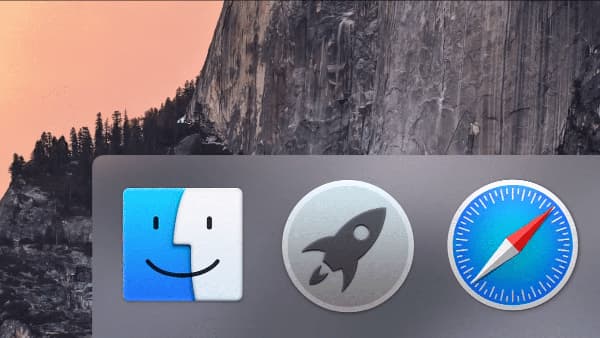 #3 Stream djay Pro Spotify on an Android device
To add Spotify to djay Pro on your Android device, you need to first transfer the converted Spotify hits to your phone. Then automatically play it.
Step 1. First, connect your Android device to your PC or Mac computer using a USB cable or Wi-Fi connection.
Step 2. Sync the converted Spotify music from your computer to your Android phone. You can copy and paste the "Converted" Spotify folder from your computer's local storage to the Android icon. Alternatively, you can right-click on the Converted Spotify folder. Then hit the "Send to" option to send the folder to your Android phone.
Step 3. Then launch the djay Pro on your Android phone and click on the "Playlists" option at the bottom corner of the screen. Then choose the "My Music" option to load the songs into djay Pro. Finally, mix your playlists and tracks offline.
#4 Stream djay Pro on an iOS device
Once you transfer your Spotify playlist to your iPhone, you can access the local iOS device storage via iCloud Drive, iOS hard drives, WiFi hard drives, among other options. Then use these steps to get djay Pro Spotify to work.
Step 1. Launch djay for iOS and go to the "My Library" option and find the location where you want to add Spotify tracks. Then select the "Add from Files" option.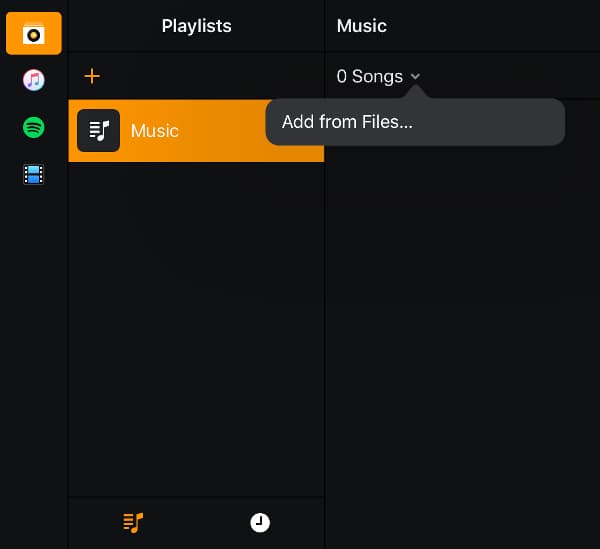 Step 2. Next, browse the "Converted" Spotify songs that you had transferred to your iPhone and begin to add them to the djay Pro software.
Step 3. Finally, drag and drop the Converted Spotify playlists directly to the djay Pro deck. Now, continue to DJ as you mix and play along with your favorite Spotify hits.
---
Part 4. FAQs
Here are some hot questions related to Spotify and djay. And we also list the short answers to them.
1. Is Spotify still working with djay Pro?
No. Spotify stopped cooperation with 3rd party DJ apps including the djay app as of July 1, 2020. Yet, you can still use AudFun Music Converter to add Spotify to djay for mixing.
2. Why did Spotify stop working with djay?
It's not so clear. Maybe it's still related to the license issue. If you mix Spotify tracks in DJ app, it would not be covered in its terms and conditions.
3. What other music streaming services can we use in djay?
According to its official announcement, djay will continue to partner with other services like Tidal, SoundCloud, Beatport, and Beatsource.
---
Part 5. Conclusion
Even though Spotify pulled out from incorporating djay apps, the best music converter still makes it a win-win for djay Pro Spotify. AudFun Spotify Music Converter enables you to keep Spotify music forever. You can, therefore, move your collection to djay Pro and mix the gig like a professional DJ master. Neither are there limits to DJ from your mobile phone. Simply transfer the converted Spotify hits to your phone and keep the party going on the move.