A visualizer applied as a screensaver will keep you entertained as you listen to heart-throbbing Spotify music. By combining Plane9 with Spotify, you can brighten up your blank screen with hundreds of screensavers that are amazing to look at. With a visual effect occupying your screen, you will find the music more interesting and exciting.
We all know what Spotify is. Spotify is the best music streaming site that houses billions of songs for music lovers. Unable to find the track you are looking for? Go to Spotify and you are sure to get the melody you are looking for. The quality and smoothness of every music track on Spotify are extremely high making it a reliable option for music fans.
But what is Plane9? The energetic lines and patterns of Plane9 appear on the screen, aligning your thoughts with the track you are listening to. Let's explore more about this application and how to use it on your Mac or Windows computer.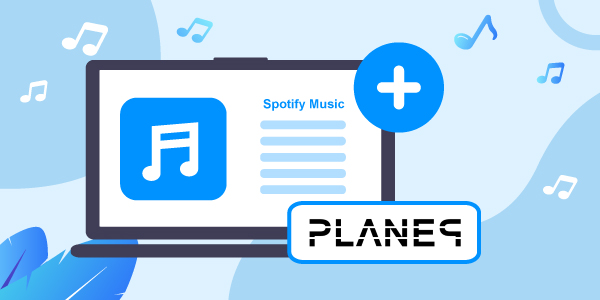 ---
Part 1. What Is Plane9?
Plane9 is a 3D visualizer app for Windows that keeps your screen filled with interesting patterns and effects. The free app comes with over 250 predefined scenes that give you more options to choose from making sure the screen remains colorful.
The application allows users to enjoy multiple effects that truly correspond with the music they are listening to on the operating system. Besides the unlimited supply of visual effects, it also has about 39 different transitions keeping things interesting on the Windows screen. Moreover, it can be easily adjusted as a standalone window and screensaver and is fully compatible with Oculus Rift, and HTC Vive.
Main Features of Plane9
The main features of Plane9 visualizer include:
It is sound-sensitive and reflects the music being played on the operating system.
Being sound-sensitive, you can use it both as wallpaper and in a window allowing users to control and adjust it easily.
The app can also detect when a computer enters power-saving mode.
It works perfectly well with music streaming apps such as Spotify and also works smoothly with web browsers.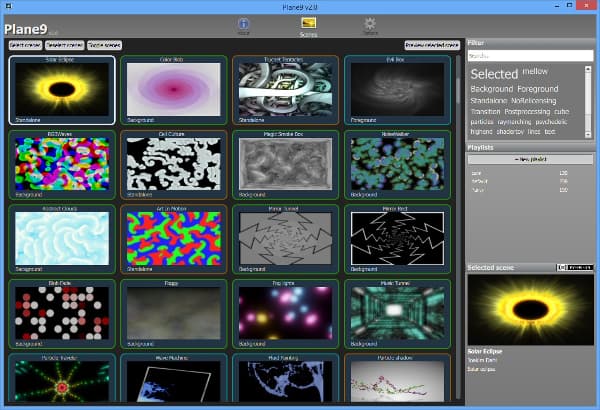 ---
Part 2. How to Use Plane9 with Spotify: Direct Way
As there is no Spotify visualizer, so, to get indulged with the music on every level, using Plane9 is the best option. By creating a Plane9 Spotify connection, your screen will be as interesting as the music itself.
So, how to set up Plane9 with Spotify? Plane9 works with the concept of audio loops. This means the sound card receives the audio delivered by the speakers. Then it loops back as input and retains the quality of the music files. To use Plane9 along with Spotify, you just need to follow the given steps.
Step 1. Download the Plane9 visualizer. Then, open it on your desktop screen.
Step 2. Select "Configure Plane9". This will allow you to set the screensavers for Spotify music.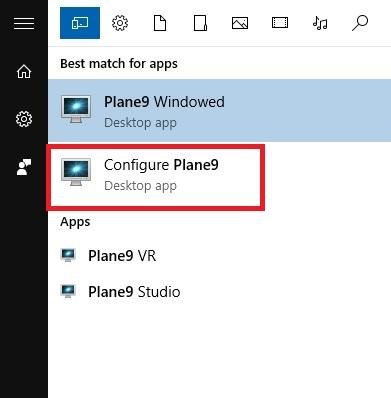 Step 3. Plane9 has immense screensaver options. Select the effects and visualizer from the unlimited choices. Then, go to the windows on the right side of the screen and add a playlist from Spotify. Enjoy the Plane9 Spotify duo with ease.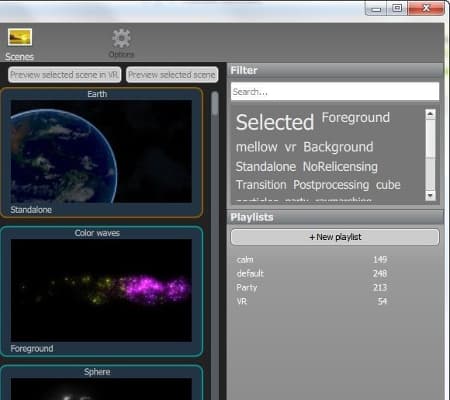 ---
Part 3. Get Plane9 Spotify to Work: Best Way
But what if you want to enjoy visual effects on your offline Spotify music, what should you do?
Getting Plane9 and Spotify together is no big deal only if you have the right music converter installed within your Windows. AudFun Spotify Music Converter is an incredible music converter that effortlessly works with Spotify music.
The program with its flexible settings allows you to access Spotify playlists and soundtracks. The software is specifically beneficial to amateurs since it does not demand any obvious knowledge and skills. Few clicks and all of Spotify's songs are right on your Windows and macOS.
AudFun supports multiple audio formats allowing users to download Spotify songs to MP3 and any format of their preference. From MP3 to FLAC, it supports all popular formats and brings quality output formats right at your fingertips. The speed of the converter is 5 times faster while ensuring optimal conversion of Spotify songs.
It also ensures that your music library remains up to the mark. It saves all Spotify songs with 100% original ID3 tags and metadata facilitating you to find your favorite track instantly. With this software installed on your desktop, you can get Spotify music for offline listening with ease. Moreover, you can easily set the Plane9 visualizer for Spotify songs using AudFun Music Converter.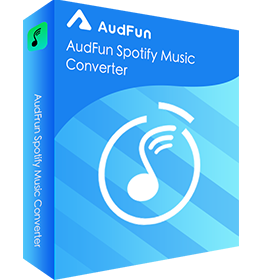 AudFun Spotify Music Converter for Plane9
Super easy to use
Compatible with both Windows and Mac computers
It supports batch conversion of Spotify songs
Download Spotify songs to 320 Kbps audio quality
Classify output songs by artists or albums
Downloaded songs can be played on a range of different devices including gaming consoles, and so on
It also converts Spotify podcasts, audiobooks, and radios for offline listening
How to Play Spotify Playlist on Plane9
Is it easy to download and convert Spotify music with AudFun Music Converter? Of course!
Using AudFun is a pretty straightforward process. Before you start the conversion process, you must download and install the AudFun Music Converter on your Windows PC. For a safe conversion, make sure you use the official site of the music converter software. Then you need to activate an account on the music converter. Register an account by using your licensed email address and codes to activate your account on AudFun.
Now, you are set to download Spotify music to computer for Plane9 in just three simple steps.
Step 1 Upload songs and music from Spotify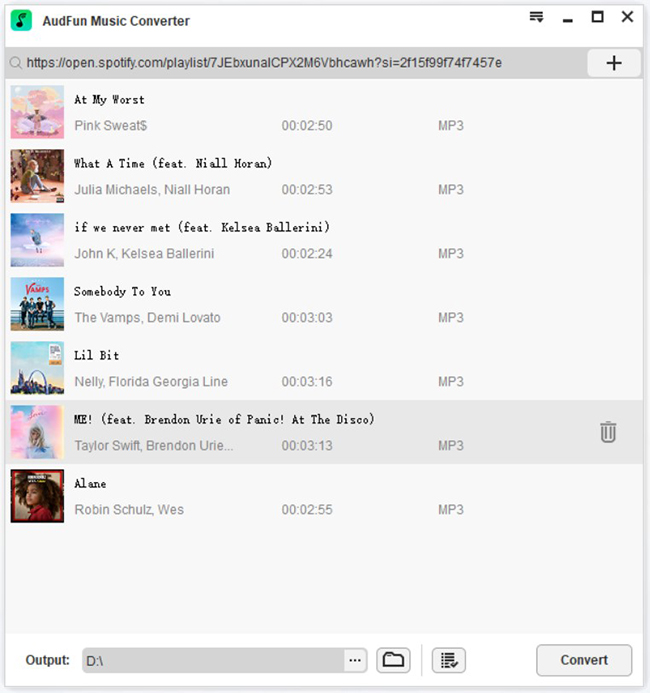 Find all the playlists and tracks you wish to convert to MP3 on the Spotify app. Select the songs and click on "Share". Copy the link to the Spotify soundtrack you wish to convert. Then go to the address bar at the top of AudFun software and paste the link. Click on "+" to continue loading songs on the converter.
Step 2 Adjust the parameters of Spotify for Plane9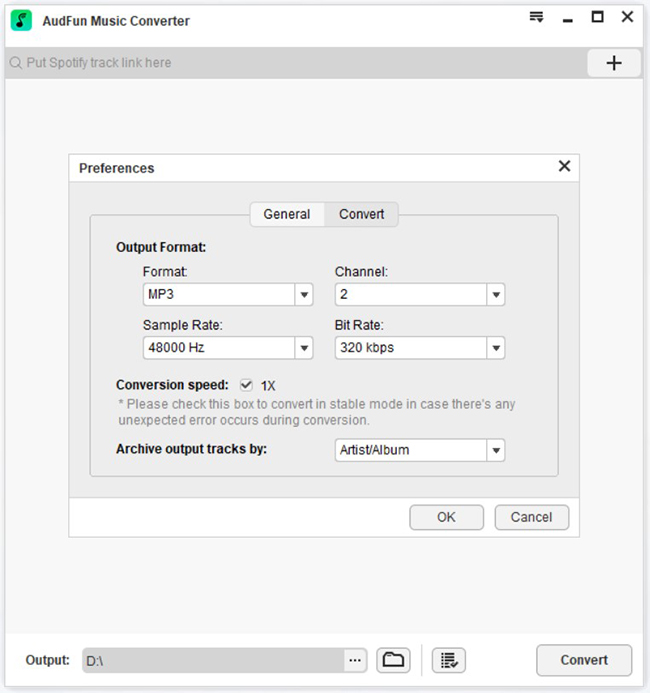 Go to the "Menu" bar from AudFun. Then you can customize the audio parameters for Spotify music before moving on to the conversion process. From the Menu bar, choose Preferences and choose the Convert option to adjust the output format for your Spotify audio files. For obtaining high-quality audio files, set the file format to MP3, bitrate as 320 kbps, and sample rate as 48000 Hz. Also, you can set the output path for your audio files.
Step 3 Start to convert Spotify for Plane9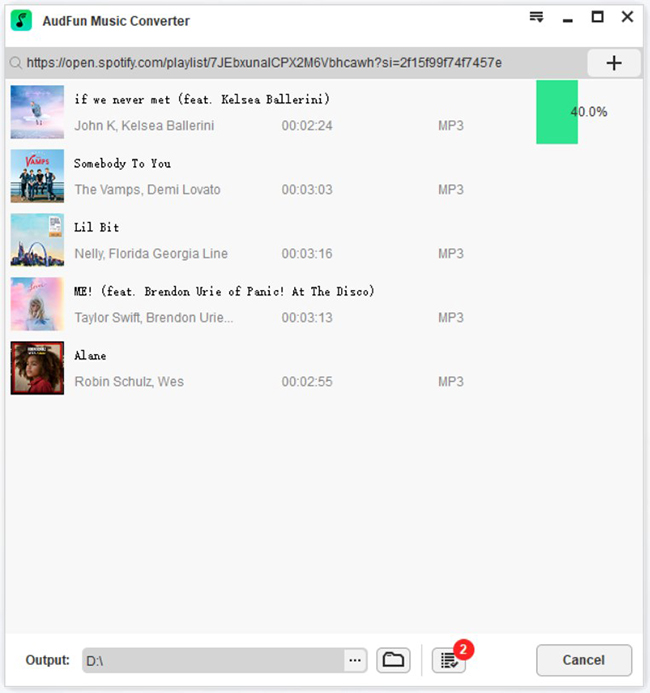 After finalizing all your output settings, click on OK. To initiate the conversion process, press "Convert" and the software will download and transfer all the loaded Spotify audio files in a minute. All the files will be saved to your computer and you can enjoy them while being offline.
Step 4 How to use Plane9 with Spotify
Now, you had the Spotify songs kept on your computer as local files. Then you are ready to get Plane9 Spotify to work. Here let's see how to make it.
Go ahead Plane9 program to download the visualizers you want. And then import the converted Spotify music from your computer to it. Next, play the Spotify songs and the soundtracks will play along with Plane9 visualizers.
---
Part 4. Conclusion
Listening to Spotify is an interesting experience and when you have amazing effects and visualizers on the screen, the experience becomes even more exciting. With Plane9, you can have a wide range of visual effects for you to apply as your screensaver and listen to Spotify music with a colorful screen right in front of you. With AudFun Spotify Music Converter, you can download Spotify music and play with Plane9 will have the best visualizers on your Windows screen.