Spotify and Twitter are two highly desired and used applications for music streaming and microblogging respectively. But what many users strive to know is "how to connect Spotify with Twitter"?
Among the list of features that make Spotify great music streaming, sharing songs and tracks you are listening to on the app can be easily shared on your social media platforms including Facebook and Twitter. You can also copy the link of Spotify songs and also embed codes on your Twitter account.
So, yes, you can connect Spotify to Twitter using the "sharing" settings, but directly sharing Spotify music on Twitter may not work for you.
Why is it not possible to share Spotify music on Twitter and what is your best alternative to this problem? Let's plunge into the article to learn everything about this matter and find a solution that is sure to work for every Spotify Twitter user.
---
Part 1. Can You Link Spotify Songs on Twitter?
Before you can share the Spotify songs on Twitter, you must link your Spotify account with Twitter. Using the sharing settings, users can easily and quickly share their Spotify playlist and tracks on Twitter. After connecting Spotify to Twitter, you can share the songs with your friends and followers on Twitter.
To connect Spotify with Twitter, all you have to do is to open the song and share it with your buddies on Twitter. If your friends on Twitter login to Spotify, they will be able to listen to the song and enjoy it with you.
But this feature is no longer available to Spotify users. The streaming app updated some of its features in 2021. This removed the direct song-sharing feature of Spotify songs on Twitter.
---
Part 2. How to Connect Spotify to Twitter Officially
Since you can't share Spotify songs on Twitter, there is another way of letting your Twitter audience know what music you are currently listening to. If your users are logged in to their Spotify account, they will be able to connect with your mood. If your Twitter followers are not subscribed to a Spotify account, they will be able to listen to the 30-second preview of the song you just shared. Here is how you can copy the link or copy embed code in your Tweet.
Step 1. Copy Spotify URL
Right-click on the song, playlist, or podcasts you want to share from Spotify. Click the "Share" option, then choose "Copy Album link". In the popup window, you will be able to see the URL of the Spotify song.
Step 2. Share on Twitter
On your Twitter account, paste the link you just copied. The link for the song will appear on your Twitter profile.
Twitter allows a Tweet of only 140 characters. In the text field, you can have a look at how many characters the URL contains.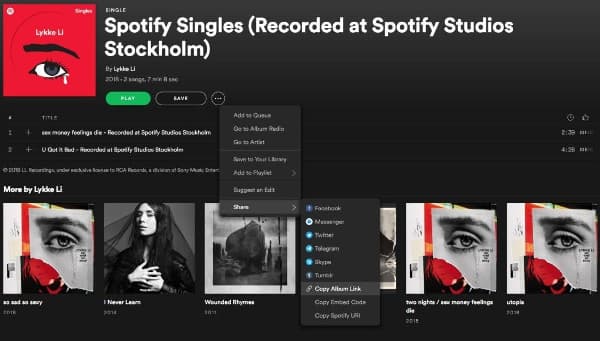 ---
Part 3. How to Connect Spotify to Twitter – Best Way
There are various drawbacks to copying the link of Spotify songs on Twitter, such as:
Maybe your friend is not available on Spotify.
Maybe your viewers (If you are a blogger) faced connectivity issues.
Maybe they have a free account that limits them from fully enjoying the Spotify songs.
There are so many "Maybe" by simply pasting the link of the Spotify song. So, we came up with a better alternative for our readers. You can use AudFun Spotify Music Converter that offers a quick download procedure of Spotify songs. AudFun is reliable, safe, and efficient when it comes to converting Spotify music files for offline listening.
AudFun uses smart and advanced technology to convert Spotify songs without losing their high quality. As Spotify songs are protected by Ogg Vorbis format, this tool can rip them apart from Spotify but won't destroy their original sound quality.
With AudFun, you can enjoy Spotify soundtracks from all genres in any format compatible with your device. It can download Spotify playlist to MP3, WAV, FLAC, and countless formats. It saves Spotify music along with the ID3 tag keeping things organized within your music library. Besides, the output files can be easily transferred to any device of your choice.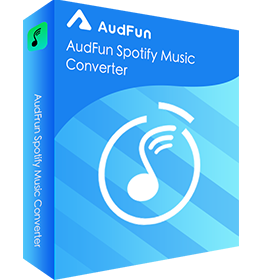 AudFun Spotify Music Converter for Twitter
The software has a simple user-friendly interface
It supports a wide range of output formats for Spotify, including FLAC, MP3, WAV, AAC, and more
It offers batch conversion, saving you time and energy
The conversion speed is 5 times faster as compared to other audio converters
It is compatible with both Windows and Mac computers
The software is updated to benefit users in every possible way
Besides the soundtracks, it also converts podcasts, audiobooks, and radio from Spotify for offline listening
How to Use AudFun Spotify Music Converter
The plus point of using AudFun Music Converter is its ease of convenience. The converter does not require complex computer knowledge and skill. Simply download the converter from its official website. Launch the converter on your desktop and register an account to swiftly convert as many Spotify songs as you like. After you have downloaded Spotify songs using the AudFun converter, you can share Spotify on Twitter, email it to your friends, or transfer it via USB.
To get Spotify Twitter together all, you need to do is to use AudFun Music Converter and download the Spotify playlist to MP3 in three simple steps.
Step 1 Import Spotify music to AudFun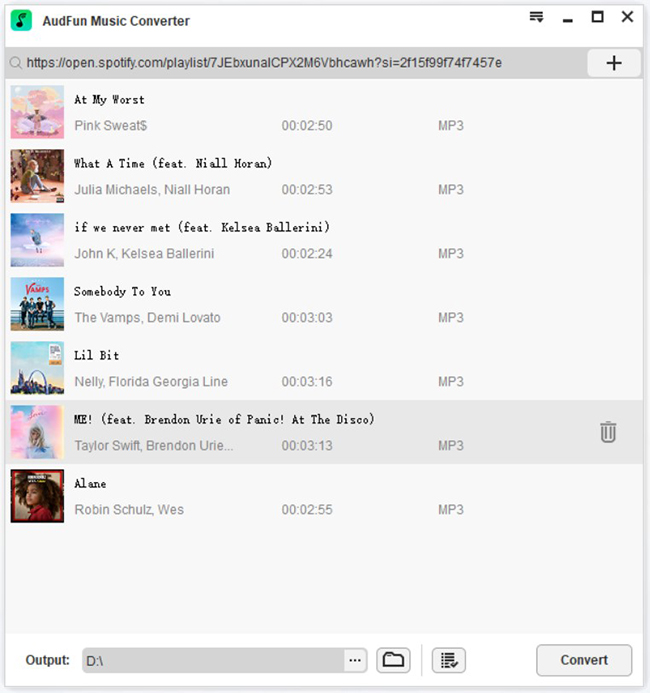 Go to the opened Spotify app on your computer and find the tracks you want to convert. Then tap on the song and select the Share option. Click on the "Copy Spotify Link" option to copy the URL of the song. Now, go to the address bar on the top of AudFun converter. Paste the link in the search bar and press the "+" sign to keep adding songs.
Step 2 Set the output format of Spotify for Twitter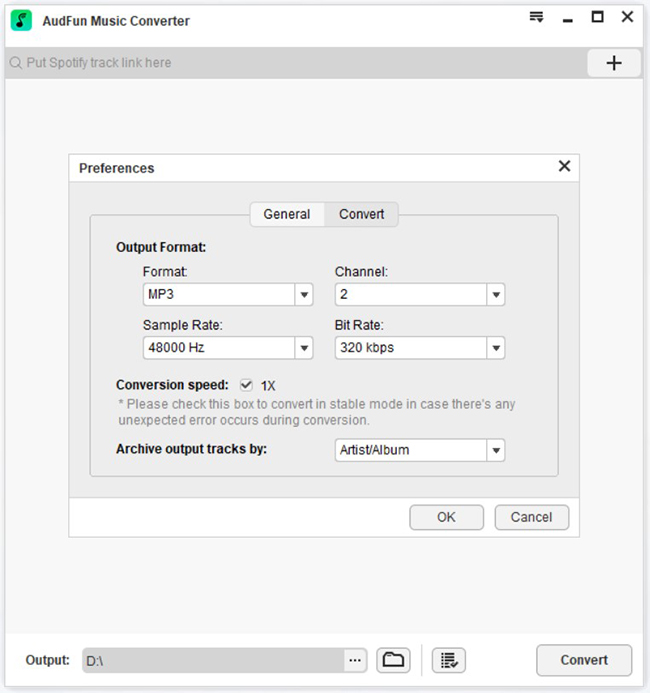 Before moving on to the download and conversion, you must set output formats for your Spotify audio files. Go to the menu from the top bar and choose Preferences > Convert. In the Settings, the option adjusts the output parameters for your audio files. Select the output format as MP3. And you can also set the bitrate, sample rate, and channel. At the end classify output tracks by artists or albums.
Step 3 Download and convert Spotify music for Twitter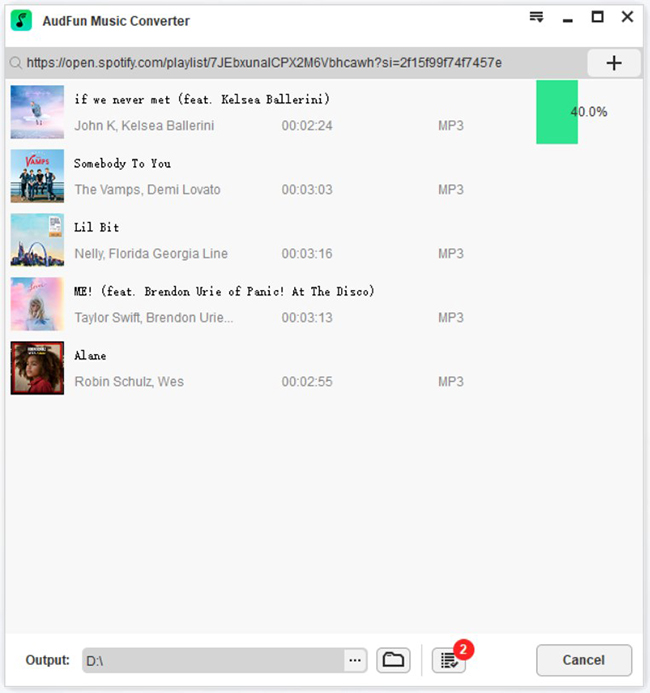 Then, press OK saving all your settings for the output formats. And then click on the big Convert button to start the conversion. When you press the convert option, the converter will start downloading and converting Spotify songs at the same time.
After the conversion, you can check the local Spotify music files on your computer. Then you can share Spotify songs on Twitter with your friends. Or, you can send the Spotify songs to them through email or others.
---
Part 4. Final Takeaway
Spotify is an amazing platform that brings millions of songs and tracks only a few clicks away. However, you cannot share Spotify to Twitter due to the latest update on the music streaming site. But AudFun Spotify Music Converter is a powerful tool for converting and downloading music files to your PC. It can even download songs from Spotify without Premium. Then the downloaded Spotify files can be enjoyed while being offline or when you don't have a premium Spotify account.