Bose SoundTouch portable wireless speakers have been ruling the hearts of millions ever since it was launched. The premium quality music, compact designs, and easy controls make it tops the list of best speakers in town.
It brings wireless audio streaming technology to its users and works by connecting directly to the Wi-Fi network or Bluetooth. It makes heartwarming music available in just a few clicks. The recent models now support FLAC and WAV files as well.
Where it supports popular streaming music players such as Pandora, Amazon Alexa, Deezer, and Spotify, it limits the use of Bose SoundTouch Spotify for free account users.
If you are planning to have an ear-blasting party this weekend, then adding your favorite playlists from Spotify on Bose SoundTouch is sure to be needed. Today, we bring you the quickest ways to connect Spotify to Bose SoundTouchand have an amazing time whether it's a party night or a relaxing time after a hectic day.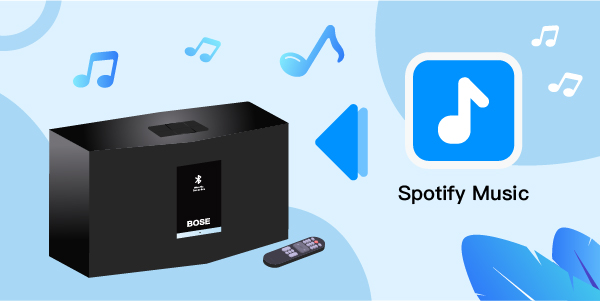 ---
Part 1. Get Bose SoundTouch Spotify Work with Premium
Bose SoundTouch app empowers its users to control their music systematically. With just a touch browse popular music services, radio stations, and music stored in your library using the Bose SoundTouch app.
The app simplifies the user experience as all music gets available under a single umbrella and makes switching through numerous playlists, stations, and streaming services quick and easy. Let's take a look at how to connect Spotify to Bose SoundTouchapp for a seamless and amazing music experience.
Play Spotify on Bose SoundTouch with Premium:
Multiple music services can be added to the Bose account. To add a Bose SoundTouch and Spotify account follow these steps:
This method is for Spotify's premium account, to play Spotify on Bose SoundTouch with premium, you will need a third-party app.
Step 1: Download the Bose SoundTouch app
From the App Store or Google Play Store download the Bose SoundTouch app. Once downloaded, open it up on your phone and click on Get Started button. Make sure your mobile device is linked to the Wi-Fi network.
You can keep your phone's Bluetooth switched on for faster results.
Step 2: Create a Bose account
If you do not have an account, fill out the form to create a new account. Otherwise, go to 'sign in to existing account' and log into your Bose account.
Step 3: Add a Spotify account
From the Menu icon in the upper left corner choose 'Add Service' > 'Spotify'. Here also select Add Account if you have a Spotify account or 'Login with Facebook' if your account is linked with it. You can also create a new Spotify account if you do not have one.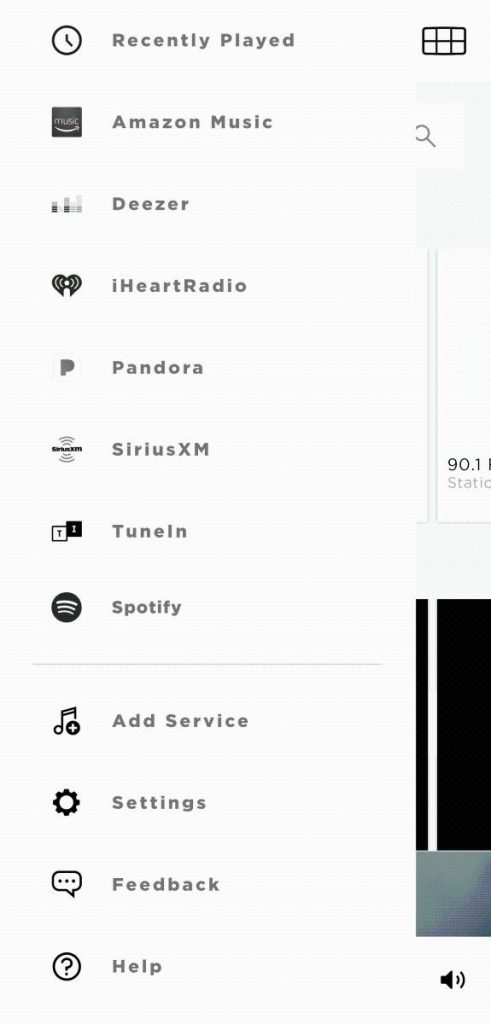 For accessing Spotify directly go to Menu and then to Spotify. All the listed accounts will appear with the linked email address. Multiple accounts could be added here. Just select your desired address and you would be allowed access.
If you wish to use your account with a Facebook login, you will need to create an account first using the Spotify app or website and then log in with those details.
If you do not find the Spotify icon, then:
Click My Bose icon
Then go to My Account
Click Manage Music Services and select Add New Service
Find the Spotify icon and select it
Continue with the login procedure mentioned above.
---
Part 2. How to Use Bose SoundTouch Spotify Free
The limitations for playing Spotify on Bose SoundTouchthrough a free account ruins the entire music experience with browser limitation, playlist creation, or skip and repeat restrictions. To overcome these challenges and to download Spotify music to your phone library without making any payment, using AudFun is the ideal way for you.
AudFun Spotify Music Converter is a complete package to download and convert your favorite tracks into your desired file formats. From changing the file formats to adjusting the bit or frame rate, the converter is easy to use and to download Spotify music without premium.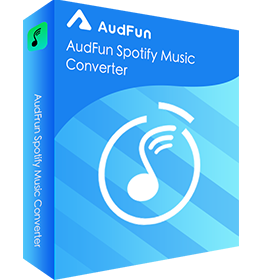 AudFun Music Converter for Bose SoundTouch Spotify
100% lossless output audio quality including ID3 tags and more
Promises 5X conversion speed
Supported formats MP3, FLAC, AAC, WAV, and other such high compatible formats
Download music from Spotify with ease
Step 1 Download the software
Download the AudFun Spotify Music Converter from their official website. Launch the program and get yourself registered with a licensed email to initiate the process further, as the free trial only offers a download of 1 minute of each track.
Step 2 Upload music from Spotify to AudFun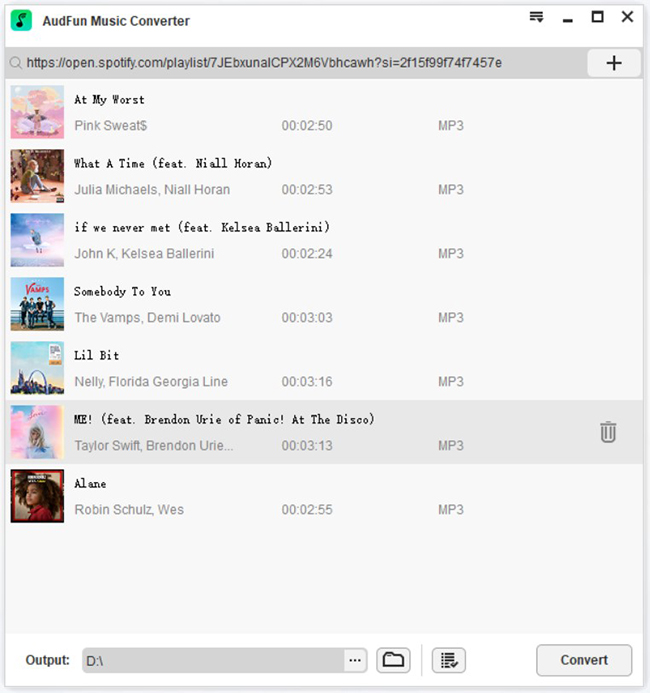 Launch the app on your PC and drag and drop the tracks you want to add the music files to the AudFun. If you want to add more songs to the list, then copy the URL of each track. The program will smartly recognize the music files and import them to the main interface.
The software can support up to 200 different files at a time.
Step 3 Customize the output formats for Bose SoundTouch Spotify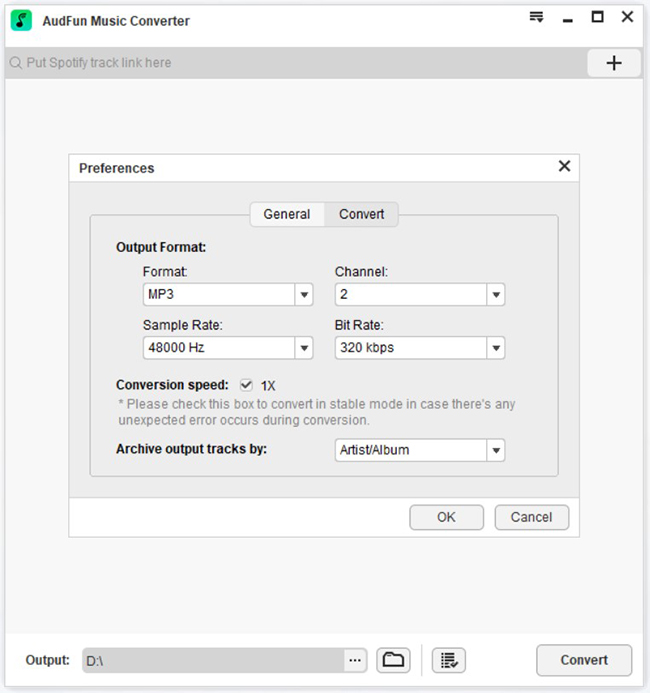 On your PC, go to the Menu bar and select Preference > Convert to open detail settings. Adjust the output formats and convert Spotify music to MP3, FLAC, WAV, M4A, AAC, or M4B, therefore, try to select these formats only. To enhance your music experience, customize parameters such as sample rate, bit rate, etc. that suit you the best.
Step 4 Start conversion process Bose SoundTouch Spotify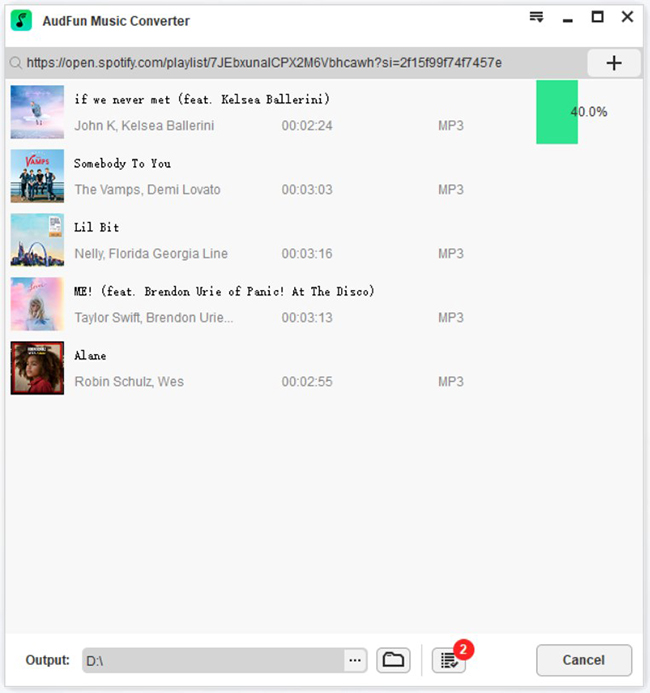 Now click OK to confirm your set parameters. Hit on the Convert button to start the conversion process. All the files will be saved to your desktop. The software converts the files with 5X speed but you can choose between 1X and 5X speed to set it according to your internet capacity. Once done you can relocate the tracks easily.
Step 5 Play Spotify on Bose SoundTouch without premium
After the downloading process completes, add the files to the Bose SoundTouch local music library from your computer or phone. Launch the Bose SoundTouch app and sync the files by following the app's guidance. Once syncing completes enjoy the Spotify Bose SoundTouch for free.
---
Part 3. Conclusion
AudFun Spotify Music Converter is a great way to enjoy awesome music without any limitations whatsoever. You can download as many songs as you want from the popular streaming app Spotify and connect to Bose SoundTouch Spotify free of cost.
It allows millions of users to enjoy quality music without any loss of precious money. The process needs some time to download the song. But once done, it's a lifetime of great music only.