Q: "Spotify is my principal streaming music platform to discover and listen to music. And as time goes on, I also collected many wonderful MP3 files shared by my friends, some of which are not available on Spotify. Can I add local files to Spotify for better music management and classification?" – Jane from Quora
Spotify provides all users with direct and easy access to its large internal music library via its app and web player. To make matters better, it has perfect compatibility with local files. By default, you can easily search for stored local music using the Spotify app. It automatically detects local files from three options, respectively iTunes, Downloads, and Music Library.
Besides, Spotify has an 'ADD A SOURCE' option, so users can add local files from target music folders on hard drives or external storage properly. Didn't know how to add local files to Spotify for listening? Read the complete tutorial here to learn the easy ways.
---
Part 1. How to Add Local Files to Spotify on PC/Mac
Before we go further, you should keep one thing in mind. The prerequisite of accessing local files on Spotify is that your local music is encoded in Spotify-compatible audio formats.
Spotify supports adding files with the following audio formats: MP3 and M4P (unless it includes video). Besides, if you have QuickTime installed on your computer, MP4 also can be supported by Spotify.
Make sure your own songs are in line with the Spotify file upload guide. You can then follow the guide below to import local music to Spotify on computers.
1.1 How to Upload Local Files to Spotify
Step 1. Launch Spotify desktop client on Mac or Windows computers and fill in your personal Spotify account details to authorize it.
Step 2. For Mac users, you can click the Spotify menu tab to select the Preferences option. For Windows users, you can find it by clicking the three-dot menu on to upper-left corner > Edit option. Alternatively, you can go to your Account > Settings to open the settings window.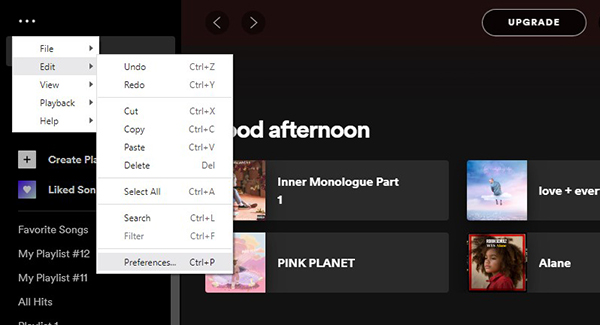 Step 3. In a settings window, you can scroll down to the Local Files section. Just tap the Add A Source button to browse files stored locally on your computer. Then, choose the target music folder that contains the music files you want to import. Local files will be synced to the library for a while.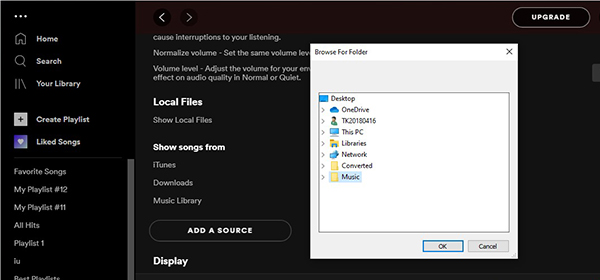 Step 4. You can find local files in the Your Library on the left side of Spotify's home screen > Local Files section.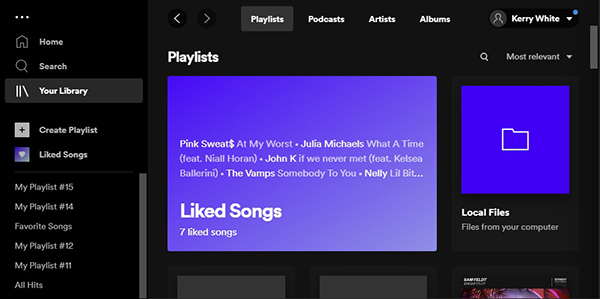 1.2 How to Add Local Files to Spotify Playlist
Step 1. First, open the Spotify app on your computer. Click the New Playlist button in the bottom-left corner to create a new playlist for storing local files.
Step 2. You can define a name, image, and description of your new Spotify playlist as required. Then click the Save button to apply them.
Step 3. Now, please return to the Local Files tab and start adding songs to Spotify playlist by tapping the Add to playlist button. After that, it's able to play local files on Spotify for free as you want.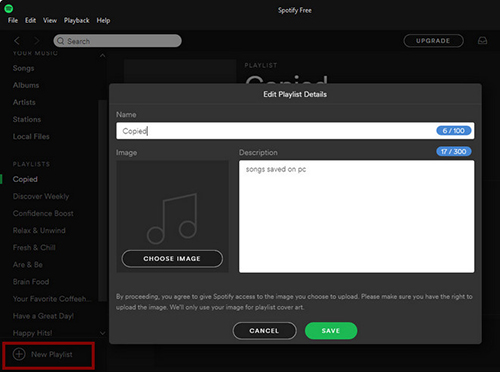 ---
Part 2. How to Add Local Files to Spotify on iPhone/Android
Would you prefer to use mobile devices to explore music entertainment via the Spotify mobile app? Then, how can you import local music to Spotify on iPhone and Android phones? As a matter of fact, you still need to follow the guidelines in Part 1 to add local files to Spotify ahead of time. You can only sync local songs to your mobile device from the Spotify desktop application with the same account. And then, let's look at how to sync local songs to Spotify on mobile devices.
Step 1. Open your Spotify mobile app on iPhone or Android devices and sign in to the same Spotify account you used previously.
Step 2. Create and open a new playlist. There is a Play Offline switch in the upper right corner. Activate the switch, and it will sync local files to Spotify on mobile devices.
Step 3. When this process is complete, you will be able to listen to your local music on Spotify on iPhone and Android phones.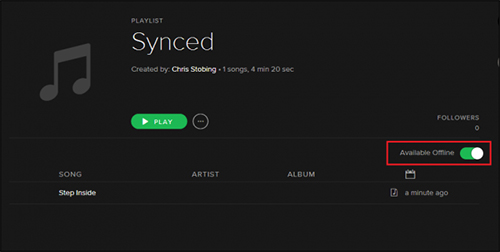 Note: When you turn 'Play Offline' on, please connect your desktop and phone to the same local WiFi network.
---
Part 3. How to Save Spotify Songs as Local Files
Now you know how to import local music to Spotify. So, have you ever wondered how to download Spotify songs and save as local files for listening on any device anywhere? Is there any possibility?
As you might know, Spotify offers a Premium service that allows users to download Spotify songs for listening offline. But they're just cache files, and you don't really own them. In other words, if you cancel your Premium account, all your downloaded Spotify music files will be gone. To save Spotify songs as local files, you'll need a third-party professional tool named AudFun Spotify Music Converter.
It can help you record and download any Spotify songs, playlists, albums, etc. to MP3 and save them on your computer. Other audio formats it support are WAV, AAC, FLAC, W4A, M4B. That's to say, you'll keep all your favorite Spotify songs forever, and listen to them on any device at any time anywhere. Moreover, AudFun Spotify Music Converter will keep a lossless quality while downloading Spotify songs at up to 5x speed.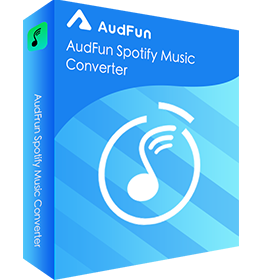 Why Choose AudFun Spotify Music Converter?
Download Spotify music for listening forever
Convert Spotify to MP3, WAV, AAC, FLAC, M4A, and M4B
Convert Spotify at a super fast speed
Download Spotify songs with no quality loss
The following is quick guide to show you how to use AudFun to download and save Spotify songs as local files.
Step 1. Click the Download button above to install AudFun Spotify Music Converter on your computer. The Spotify app will be opened automatically.
Step 2. Browse the songs on Spotify app, and find the songs you want to download. Drag and drop it to AudFun interface. Or, go to the three-dot menu > Share > Copy Spotify Link, and then paste it on the search bar of AudFun.
Step 3. Go to the menu bar of AudFun and choose the Preferences > Convert to see if you want to change any output settings. If no, just click the Convert button on the main interface to download Spotify automatically. When the process is done, you can find the local file by clicking the Converted icon.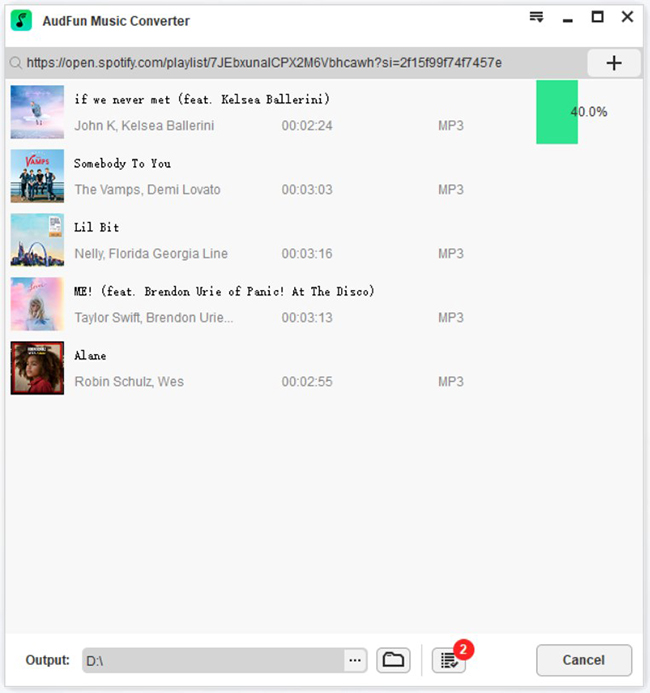 ---
Part 4: Troubleshooting
Meet some problems while using Spotify local files? Just refer to the following solutions. Hope all your issues have been fixed and enjoy Spotify music without limits.
#1. Can't add or sync local files to Spotify mobile app?
It's worth noting that adding local files to Spotify on iPhone and Android phones is not an upload but sync. If you encounter Spotify local files not syncing problem, you have to check whether your devices are on the same WiFi network. Unless both are bound to the same wireless MAC address, the system won't let you synchronize anything.
#2. Can I upload local files to Spotify from iTunes?
The answer is probably YES because there is an iTunes option on Spotify's Local Files section. But before adding them from the iTunes library, navigate to the iTunes > Preferences > Advanced section. You should activate the Share iTunes Library XML with other applications function.
#3. How to transfer Spotify music to the iTunes library?
Speaking of this topic, you should know that Spotify music files are encoded in Ogg Vorbis format. But iTunes supports adding MP3, M4A files only. If you'd like to transfer Spotify songs to the iTunes library, please use AudFun Spotify Music Converter to convert Spotify songs to iTunes-compatible files. When you do that, it's easy to transfer Spotify playlists to iTunes.
---
Part 5: Bottom Line
Now, you can easily add local files to the Spotify library. You can not only play Spotify music but also your own tracks through the Spotify desktop and mobile apps. If you run into some roadblocks, please leave them in the comments section. We will give possible solutions to fix them as soon as possible. Finally, we strongly recommend you try AudFun Spotify Music Converter for free. It will help you download and convert Spotify songs for offline listening on any device. Just have a try, and it won't let you down.