Spotify is the best entertainer in the online space carrying millions of soundtracks in different languages. Many music lovers opt for this platform to grab their favorite playlists. Most would have subscribed and become premium members of this online product. And it offers gift cards to users. But do you have any ideas about redeeming Spotify gift cards?
If not, here, you will learn what is Spotify gift cards and how to redeem Spotify gift card to complete the monthly Spotify subscription process. You can connect with this article to get a complete picture of premium cards, how it works and where to buy them for gifting them to loved ones. Additionally, you can fix your Spotify gift card not working issues by browsing the below discussions carefully. Now, just follow us and learn more about Spotify gift cards.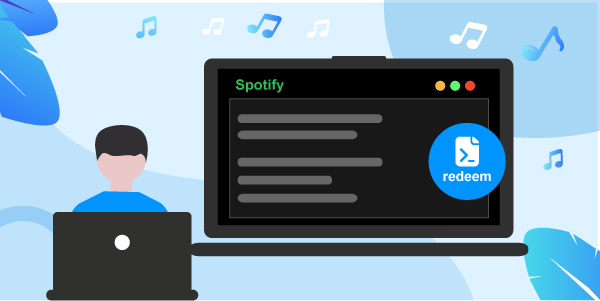 ---
Part 1. Know More about Spotify Gift Card
Most of you must be wondering what is Spotify gift card. Now, you can take a quick look at the Spotify Premium gift cards and their benefits in accessing the Spotify playlists effortlessly.
What Is Spotify Premium Gift Card?
The Spotify Premium gift card helps to renew your subscription Spotify account flawlessly in an online mode. You can use this card as a token of appreciation to your dear ones. With the help of this card, the users can extend their subscription period using the codes available on this card. This gift suit aptly for music lovers and surprise them during occasions. You can also consider this card as a funded one which helps to complete your subscription process in a cashless mode. This card carries the relevant amount necessary to pay for the monthly subscription for Premium Spotify users.
How Do Spotify Gift Cards Work?
The basic working procedure of this card is that it holds cash in the form of a code. When you redeem Spotify code in your Spotify account, the Spotify Premium subscription scheme continues and you do not have to pay your subscription bills after completing this process.
---
Part 2. Where to Get and Buy Spotify Gift Card
In this section, you will be learning the outlets to buy the Spotify gift card for your needs. You can choose the best space to make your purchase and connect with your comfort zones to buy your gift card.
1. Get a Spotify Gift Card on Spotify Official Website
Officially, the Spotify gift cards are available for purchase on its webpage. Visit the website and buy the desired card as per your needs. You can use this card to gift your dear ones on occasions.
On the Spotify website, follow up the E-Card link and choose the desired subscription gift card. Then, continue with the purchase process through the online payment method. Enter your email address to ensure flawless delivery of the card. Ensure the Spotify account and this gift card detail belongs to the same countries to avoid errors during the redeem process.
2. Buy a Spotify Gift Card from Other Authorized Sites by Spotify
You can get your E-cards at Spotify-authorized web pages like Amazon, PayPal, eBay and Best Buy. These are the online stores to purchase Spotify gift cards effortlessly at your comfort. If you have discovered any other online space for purchase, check for its authenticity before making the purchase. Here Amazon, PayPal, eBay, and Best Buy are legitimate online stores where you can go for the purchase without any hesitation.
3. Get a Spotify Gift Card at Offline Approved Stores
There are offline stores to buy Spotify gift cards for your needs. You can connect with Staples, Target, and Walmart to purchase the desired Spotify gift card. These are the approved stores to purchase the cards without any hesitation.
4. Buy Spotify Gift Cards on Coupon Giveaway Websites
If you are looking for giveaway websites, then check spotifycoupon.blogspot.com to update with the arrivals of Spotify gift cards. Step into this blog post at regular intervals to grab the coupons at the right time before the expiry period.
---
Part 3. How to Redeem Spotify Gift Card
How to redeem a Spotify gift card? The Spotify gift card works with a simple procedure. Just follow up on the steps given below.
Step 1: Step into the webpage www.spotify.com/redeem on your computer and sign in to your Spotify account.
Step 2: Next, you must enter the PIN available in this card and type in the Zip code too. At last, hit the Enter Code button to complete this redeem process.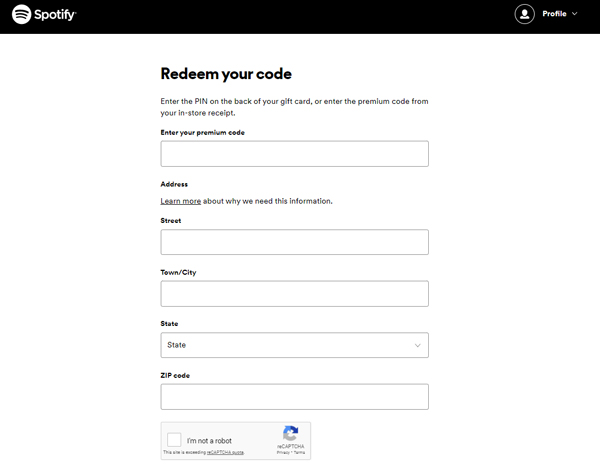 The funds associated with this Spotify Premium gift card will be added to your Spotify user account in the online mode. You can listen to the Spotify soundtracks effortlessly.
---
Part 4. How to Fix Spotify Gift Card Not Working Issue
The usual error that occurs while processing the Spotify gift card is the mismatch of the country codes. Ensure the Spotify account and the gift card country codes are the same for a successful redeeming process. Next, due to poor internet connectivity, you might face issues while using your gift cards.
Investigate the authenticity of the card before processing them into the Spotify account. Use a genuine card for the successful completion of this redeeming process.
---
Part 5. Get Spotify Premium without Spotify Premium Gift Card
Here is a great idea to get Spotify Premium without redeeming a Spotify gift card. You can connect with the third-party application AudFun Spotify Music Converter. It is an incredible app that assists in listening to Spotify soundtracks in an offline mode. With this tool, you can convert and download Spotify songs by overcoming its encrypted format. This app helps to get rid of file-type compatibility issues during the streaming process. By using this tool, you can access the Spotify songs anytime and store them in the desired space for future access.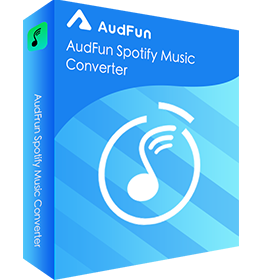 Key Features of AudFun Spotify Music Converter
The Spotify playlists can be converted to assigned file type at 5X conversion speed
The lossless download quality of the Spotify playlist is ensured using this application
This app retains the ID3 tags and metadata of Spotify music tracks
Manages the downloaded Spotify soundtracks in an organized format for quick access
It has a simple interface and there are no compatibility issues while using it
Now, it is high time to learn how to get Spotify without redeeming Spotify gift cards. You can use the AudFun Spotify Music Converter to access the playlists anytime without any premium subscriptions.
Step 1 Install the AudFun program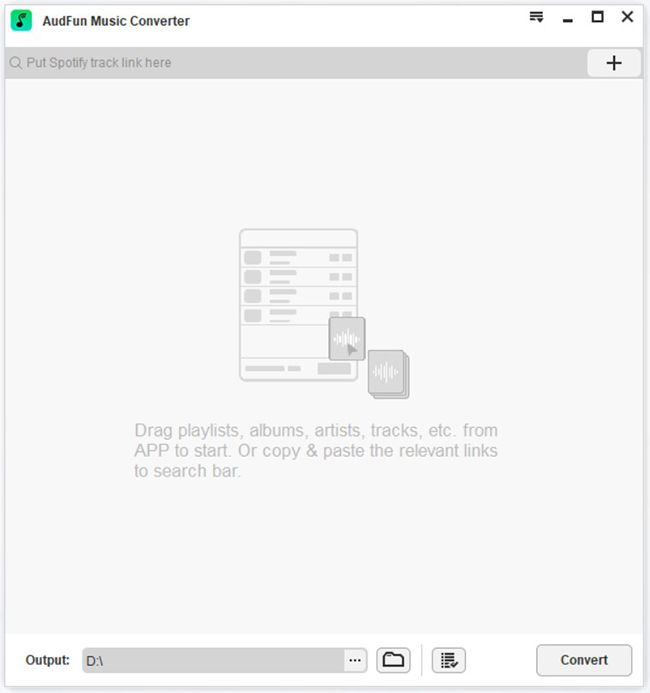 Download this app from AudFun's official webpage in pace with your system OS version. Then, install and launch the program. And at the same time, the Spotify app will open as well.
Step 2 Add the playlists from Spotify to AudFun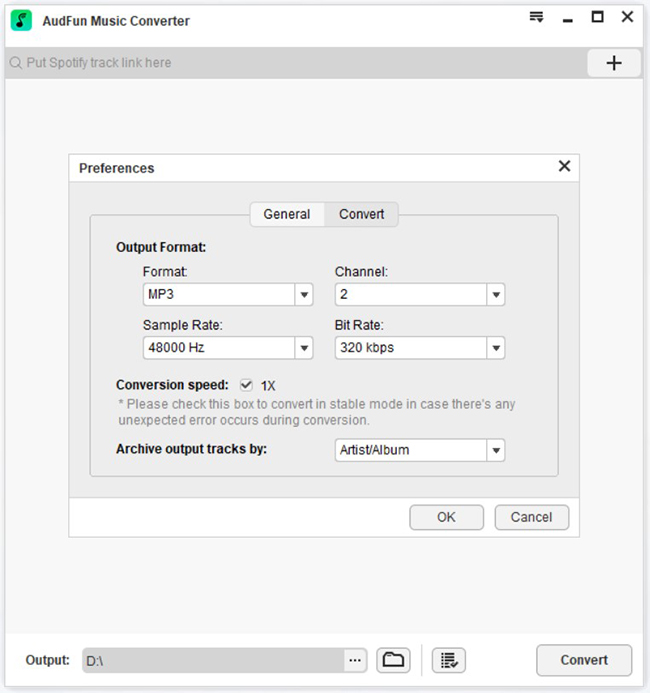 Now, copy the playlist link from the Spotify platform and paste it nearby the + icon. Click on the '+' icon and wait until all the songs load at the working interface of this app. Click the Preference option from the Menu and customize the output file format of Spotify to WAV, FLAC, MP3, etc., as well as bit rate, sample rate, and conversion speed for the Spotify music converting. After then, press the OK button to save the changes.
Step 3 Start to convert and download Spotify music without Premium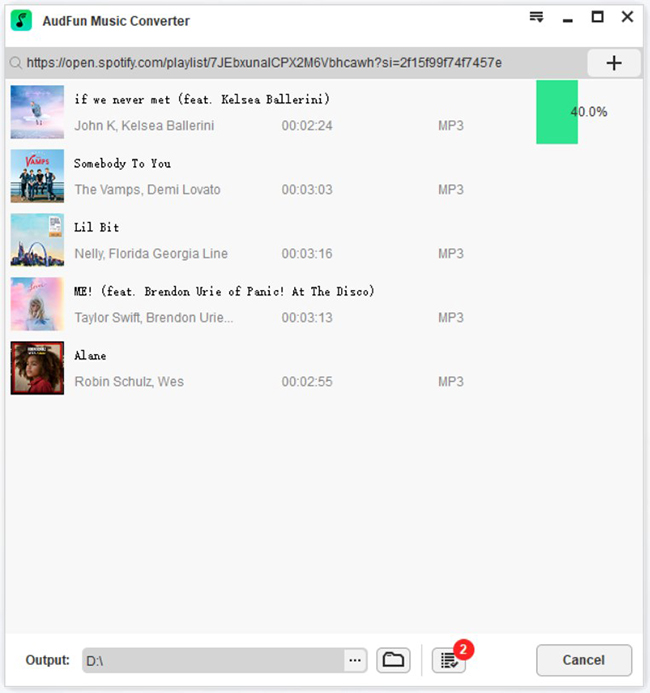 ---
Part 6. Conclusion
Thus, you had learned how to redeem Spotify gift card and the best way to access the Spotify playlists in this post. Besides, you can choose the AudFun Spotify Music Converter to connect with the Spotify soundtracks anytime and anywhere. And then you can download and enjoy Spotify music without Premium. Also, you can use Spotify songs anywhere and anytime.